It's not always easy to maintain a steady stream of new and creative content. Ideas can run dry, and the whole thing can start to feel more like a chore than an interesting project.
That's why we, as marketers, are constantly on the lookout for innovative tools that can help streamline the idea generation and implementation processes when it comes to building a content calendar.
In this post, we'll explore five of our favorite content creation tools that can help you scale up your content and save you a ton of time along the way.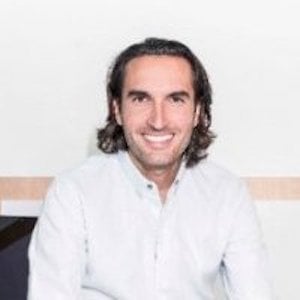 Yaniv Masjedi
CMO, Nextiva
Their expertise has helped Nextiva grow its brand and overall business
1) Jasper: Streamline Your Writing Process with AI
The ability to produce high-quality content efficiently can make all the difference in staying ahead of the competition.
That's where Jasper, an exceptional AI-powered content writing tool, comes to the rescue. With its innovative features and intelligent algorithms, this tool is designed to optimize your writing process, elevate the quality of your content, and effortlessly craft engaging social media captions.
One of the standout features of Jasper is its ability to understand specific commands and prompts. This means that whether you're upgrading existing content or creating fresh pieces from scratch, it acts as your reliable virtual assistant, helping you produce high-quality material swiftly: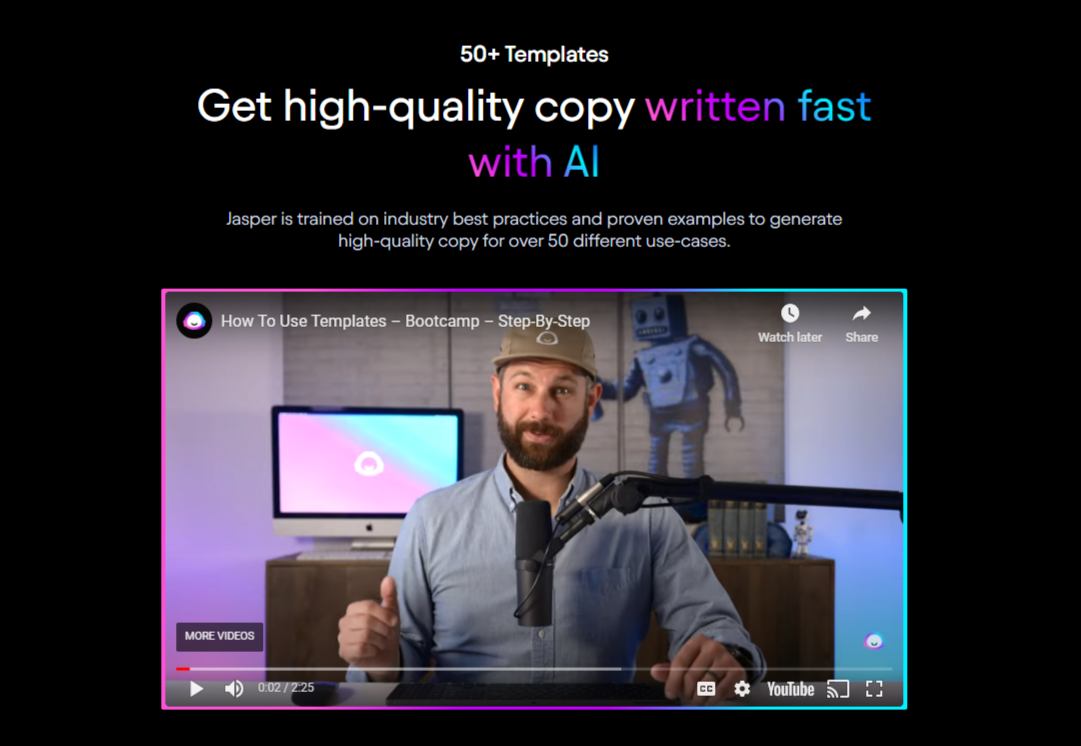 The time-saving benefits of using Jasper.ai are invaluable for those striving to maximize their productivity.
Crafting engaging social media captions is another area where Jasper truly shines. Social media platforms demand concise and captivating content that grabs attention right away and encourages interaction.
With Jasper's assistance, you can effortlessly generate social media captions that captivate your audience and compel them to take action. Whether it's writing catchy hooks for your Instagram posts or composing succinct and impactful tweets, this tool makes it easy to create compelling content that resonates with your audience.
And the convenience and efficiency of using Jasper extend beyond its writing capabilities. The tool's intelligent algorithms analyze trends, popular topics and audience preferences, providing you with a wellspring of inspiration and guidance.
Related Content: How to Drive Effective Content Creation with Efficient Production Workflows
2) Frame.io: Collaborate and Enhance Video Content Production
Producing captivating video content is an essential part of any comprehensive content strategy. That's where Frame.io enters the picture — this is a powerful tool designed to enhance collaboration and optimize your video content creation workflow.
One of the standout features of Frame.io is its ability to foster seamless collaboration among team members. Gone are the days of cumbersome email threads and scattered feedback. Instead, you can centralize the feedback process by leaving comments and annotations directly on the videos. This eliminates confusion and ensures that everyone involved in the video production process is on the same page.
This real-time collaboration eliminates unnecessary back-and-forth communication, saving you valuable time and expediting the entire video production cycle.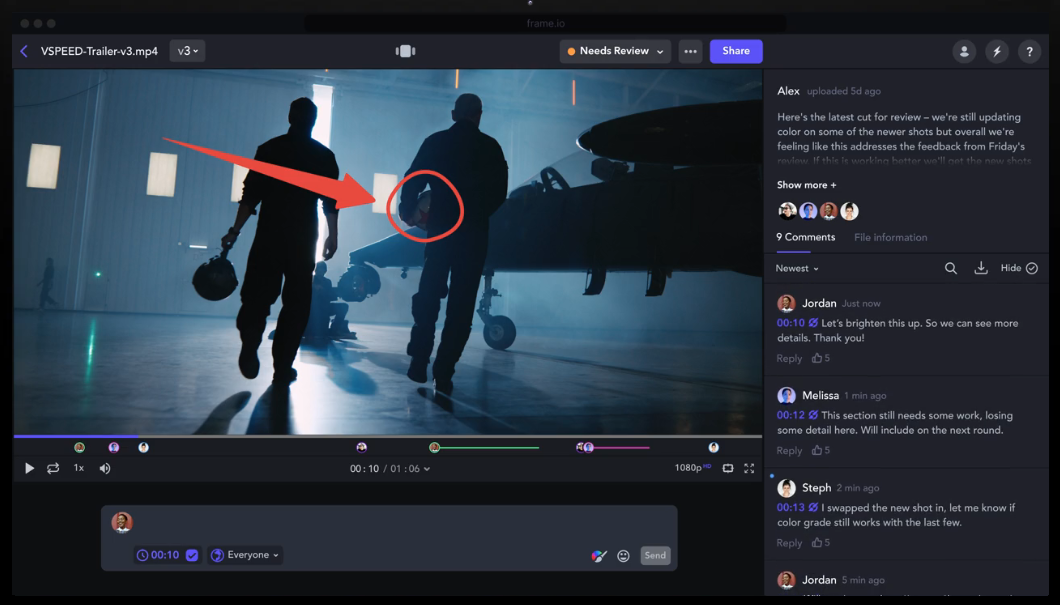 The result? Enhanced video quality and quicker turnaround times, allowing you to meet deadlines and deliver exceptional content to your audience.
Frame.io's intuitive interface and user-friendly features make it a breeze to navigate and utilize, even for those who may not be tech-savvy. You can easily organize your video projects, create folders and manage access permissions for team members, ensuring smooth project management and a streamlined workflow.
Another notable advantage of Frame.io is its ability to facilitate feedback from clients or stakeholders who may not be directly involved in the video production process. This eliminates the need for juggling multiple platforms or sending large video files through email, making the feedback collection process seamless and efficient.
Furthermore, Frame.io offers a range of additional features that enhance your video production process. From version control and asset management to integration with popular editing software like Adobe Premiere Pro and Final Cut Pro X, Frame.io provides a comprehensive suite of tools to streamline your video content creation workflow.
Related Content: 18 Engaging Video Content Types that People Love to Watch
3) Canva: Effortless Graphic Design for All
Graphics play a crucial role in capturing the attention of your audience. But not everyone has the luxury of having advanced design skills or the resources to hire professional graphic designers.
Cue Canva.
This user-friendly raster platform has revolutionized graphic design by empowering individuals, regardless of their design expertise, to create stunning visuals with nominal effort.
One of the most significant advantages of using Canva is its extensive library of templates. These templates serve as a starting point, providing you with a foundation to build upon and customize according to your brand's unique style and message.
The beauty of Canva lies in its simplicity and intuitive interface.
Even if you have no prior design experience, you can navigate the platform with ease. The drag-and-drop functionality allows you to effortlessly add and arrange elements on your canvas, while the user-friendly editing tools enable you to customize colors, fonts, and layouts to align with your brand identity.
One of the time-saving benefits of Canva is its ability to repurpose content across different formats. Let's say you have a compelling tweet that you want to repurpose as a PDF for a LinkedIn carousel.
With Canva, you can easily import your tweet text and transform it into a visually appealing PDF using one of the platform's carousel templates. This streamlined process saves you valuable time and eliminates the need to start from scratch, ensuring consistency in your brand's visual presentation across various platforms.
Fostering teamwork is another area where Canva shines. With its built-in collaboration features, your team can work together seamlessly on projects that amount to visually stunning graphics.
Maintaining a visually appealing and consistent brand presence is crucial for businesses of all sizes. Canva recognizes this and provides features that enable you to establish brand guidelines and maintain a cohesive visual identity.
4) Airtable: Efficient Content Planning and Scheduling
When it comes to content creation, staying organized and maintaining a well-planned content strategy is paramount. This is why we love using Airtable.
While traditional content calendars are useful, Airtable goes above and beyond, offering a comprehensive set of features that streamline your content creation workflow, ensuring that your content is created, published, and delivered promptly to resonate with your audience.
One of the standout features of Airtable is its ability to visualize your content pipeline. With its intuitive interface and flexible workspace, you can create a bird's-eye view of your content production process. From brainstorming ideas to creating drafts, reviewing, and publishing, Airtable allows you to track the progress of each content piece and ensure that nothing falls through the cracks:
Whether you're planning blog posts, social media campaigns or even podcasts, Airtable offers a wide range of customizable templates to suit your specific goals. This saves you time and energy in setting up a content planning framework from scratch, allowing you to dive right into creating impactful content.
But Airtable's flexibility extends beyond just templates. The platform allows you to customize your workflow to align with your team's unique content creation process. With customizable fields, you can tailor Airtable to fit your specific requirements, ensuring that it adapts seamlessly to your team's existing workflows and preferences.
5) VidIQ: Unlock YouTube Content Ideas and Insights
YouTube has become a powerhouse platform for content creators, and having a well-defined content strategy is crucial for success.
If you're serious about your YouTube channel, VidIQ is a tool that should not be overlooked. Offering a suite of powerful features, including competitive analysis and trend monitoring, it helps YouTube content creators expand their bandwidth.
When it comes down to it, it's VidIQ's content scaling capabilities that truly set it apart from the competition.
One of the standout features of VidIQ is its ability to generate content ideas tailored to your niche: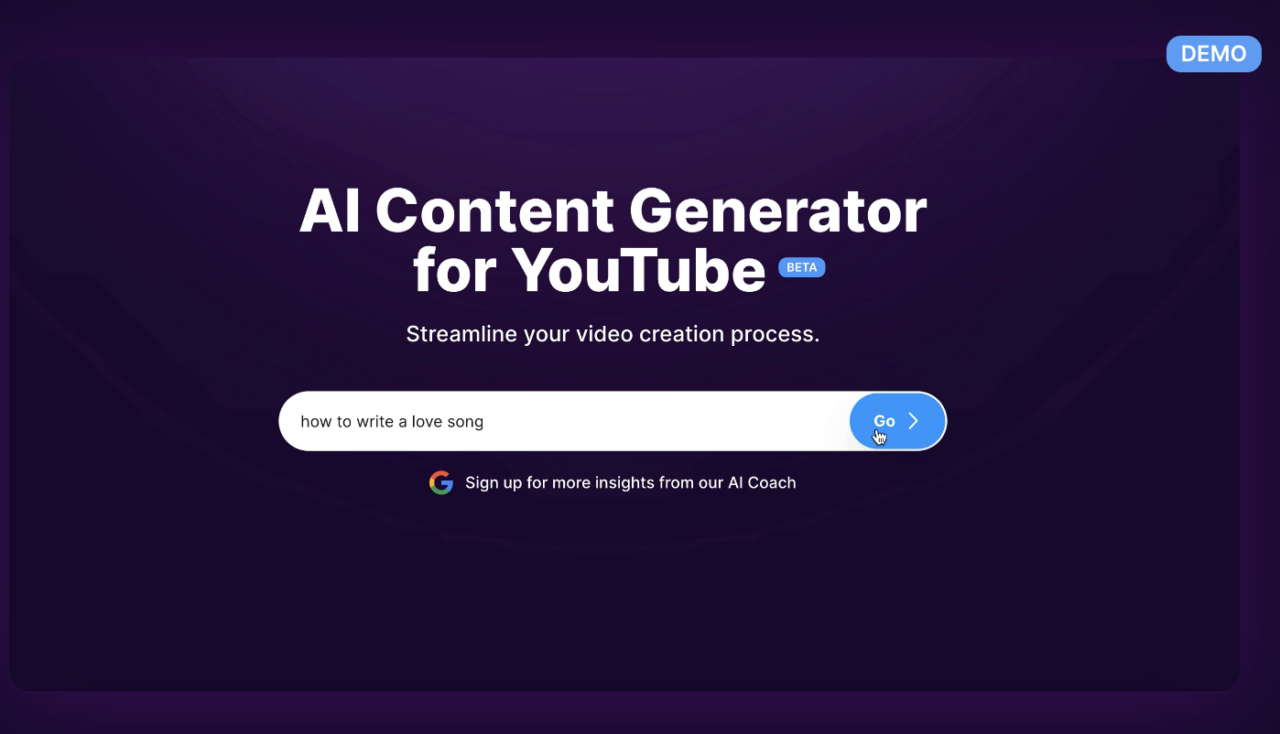 With VidIQ, you no longer have to struggle with brainstorming or researching topics for your YouTube videos. This feature saves you considerable time and effort, ensuring that you always have a wellspring of inspiration to draw from. What sets VidIQ apart from other content idea generators is its assessment of the chances of success for each topic idea.
VidIQ's algorithms analyze various factors, such as search volume, competition, and audience engagement, to determine the likelihood of a particular topic resonating with your target audience. This assessment gives you valuable insights into the potential reach and impact of each content idea, enabling you to make informed decisions about the topics you choose to pursue.
Last Thoughts on Our Preferred Content Creation Tools
Leveraging the right content creation tools can significantly improve your productivity and enable you to produce high-quality content consistently. By integrating tools like Jasper, Frame.io, Canva, Airtable, and VidIQ into your content creation workflow, you can streamline processes and achieve better, more consistent results in the long run.
Remember, the key to success lies not only in utilizing the best content creation tools but also in developing effective strategies that align with your goals and target audience.
Give these tools a try and see how they can turn your content-generation process into a well-oiled machine. It's worth it!
If you're ready to level up your content, Single Grain's

content experts

 can help!👇
Repurposed from our Marketing School podcast.