Artificial intelligence (AI) is opening up possibilities in almost all fields. Social media marketing is no different.
The ever-evolving landscape of social media platforms is making it challenging for brands to get the most out of social media marketing. That's why brands are turning to AI-based technologies to gather and analyze real-time data and use it to improve their campaign strategies.
In fact, the market of AI in social media is expected to grow up to $2.2 billion by 2023 with a compound annual growth rate (CAGR) of 28.3% from 2018 to 2023. With machine learning and AI, marketers like you can get useful insights into buyers' preferences, automate tasks, and make smarter decisions to achieve a higher ROI.
In this article, I'll tell you how to use AI to level up your social media marketing game. But before that, let's discuss why you should care about social media marketing in the first place.
Why Should You Focus on Social Media Marketing?
Social media marketing is one of the best ways to reach, attract, engage and convert your potential buyers. More than half of the world now uses social media: As of 2020 there were 3.6 billion users, which is expected to rise to 4.41 billion by 2025: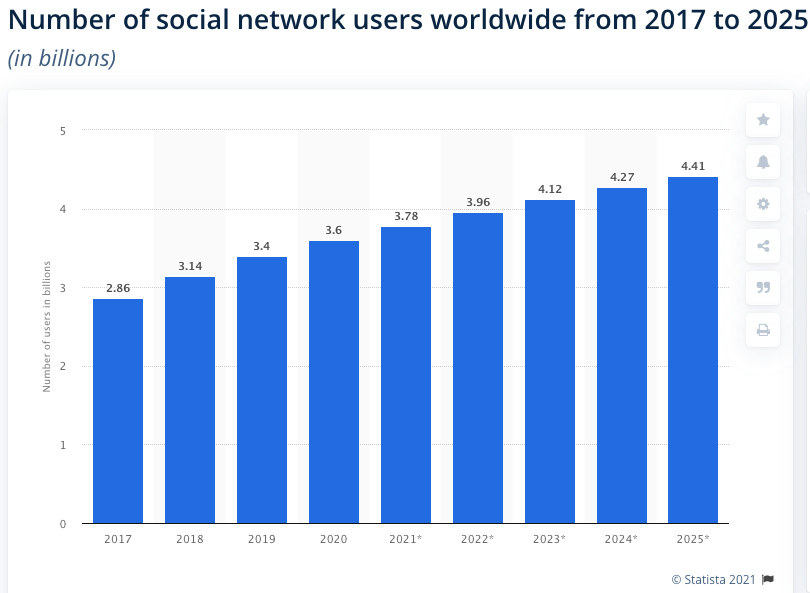 The COVID-19-related lockdowns that forced people to spend more time indoors also led to the increased adoption of social media. And this growth is not limited to the number of users: 87% of people (46% female, 41% male) are spending more time on social media. Social networks are now playing a crucial role in how people research brands and look for information about the products they want to buy.
What does this mean for your business? It highlights the need to build a strong brand presence on social media if you don't want to lag behind your competitors.
In this article, I am going to tell you about the benefits of using AI in social media marketing and how to use it effectively to market your products and services on social media.
Dive Deeper: Social Media Success Stories to Inspire You
Benefits of Using Artificial Intelligence in Social Media Marketing
Artificial intelligence is an umbrella term that covers technologies such as machine learning, image recognition, natural language processing (NLP), and deep learning.
From understanding customers to automating interactions, artificial intelligence can help you do it all. That's why many brands and marketers are using AI-powered solutions to improve their marketing efforts, save time, and generate better results.
Using AI in social media marketing offers a number of benefits, which include:
Streamlined marketing and management processes
Valuable insights about user behavior
Greater efficiency and productivity
Improved user experience
Increased user engagement
Smarter marketing with better performance insights
Refined content targeting
Reduced marketing costs
Higher ROI
Dive Deeper:
* 12 Ways to Use Machine Learning in Digital Marketing
* The Effects of Natural Language Processing (NLP) on Digital Marketing
* The Future of SEO: How AI and Machine Learning Will Impact Content

7 Ways to Leverage AI in Social Media Marketing
There are many ways to leverage AI in social media marketing. I'm going to discuss a few of them below to help you grow your brand significantly.
1) Benefit from Improved Customer Intelligence
The first step to market effectively is to find out and understand who your consumers are, what they need and want, and how they are looking for information. The combination of AI and machine learning can help you gather and analyze social and behavioral data to get a more accurate understanding of your customers.
While it can take human beings a lot of time to analyze numbers and extract the behavioral patterns of your customers, AI can do it quickly and more accurately. With every single interaction with your customers, artificial intelligence learns and predicts their needs, preferences and purchase behaviors.
For example: Leading brands like Sephora SEA turned to Dynamic Yield to deliver personalized in-store experiences and optimize digital channels for easy discoverability. Just six months after deploying Dynamic Yield, the brand was able to generate 6X ROI from PDP recommendations alone.
Wondering how? Dynamic Yield helped the beauty retailer to:
Identify the products that a customer is more likely to buy.

Guide users to the path of making a purchase.

Connect online and offline channels to streamline the customer's journey.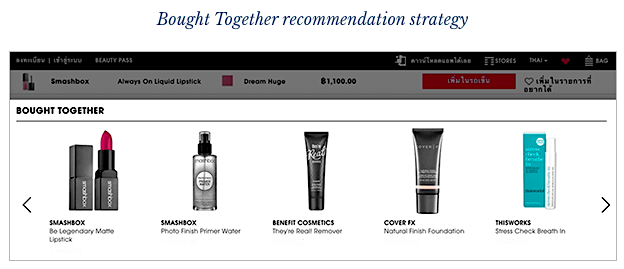 With a better understanding of consumer psychology and behavior, you can create more engaging content and target more efficiently. Using predictive analysis to serve your customers better is one of the top social media marketing tips that can help you build trust and boost your campaign ROI.
Dive Deeper: 6 Ways to Improve Customer Loyalty with AI
2) Use AI for Social Media Content Creation and Distribution
AI can help you create shareable content for social media and also help you manage its distribution better. AI-powered social tools such as Lately use AI to recognize the context of a larger piece of content and create social media posts based on that. It can help you create tweets based on the URL, document or information you choose.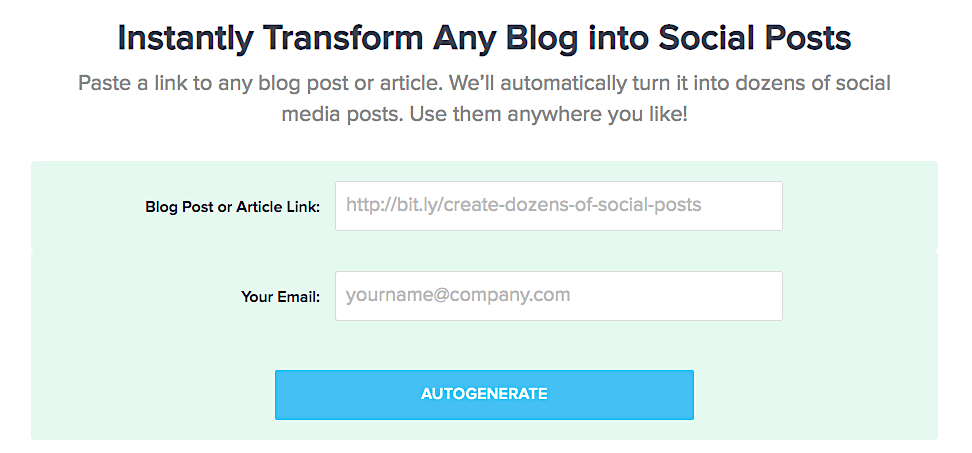 Similarly, AI-powered tools can help you analyze historical data and gain real-time insights about:
What's trending on social media?

What works and what doesn't?

What should you post and how often?

What are the best times to post content on different social media platforms?

Which creatives and messaging will be the most effective?
The most challenging part of content creation is to generate fresh ideas that have the potential to drive engagement. AI-enabled tools such as BuzzSumo can help you discover engaging content ideas in no time. All you need to do is search for a relevant keyword.
For example, if you're looking for new topic ideas on "content marketing," you can search for it using BuzzSumo's Content Research feature, which will give you a list of the top-performing content in terms of total engagement, social shares, and social media emoji reactions: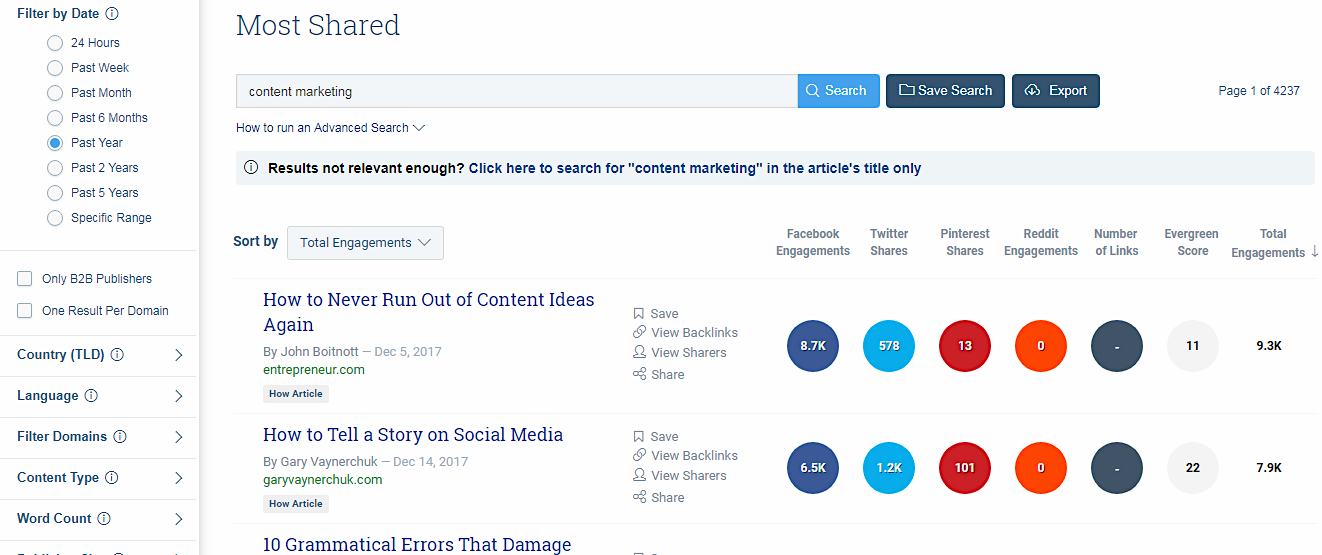 The Content Research feature also allows you to filter results by date, country, language, and more. This makes it easier for you to understand what type of content will best suit your target audience. You can use these ideas to create social media content that is more likely to appeal to your audience and drive engagement and conversions.
If there is one thing more important than content creation, it is to make sure that your content reaches the right people at the right time. That's something intelligent content distribution and automation tools can help you do.
You should leverage the right tools to experiment and identify the optimal times to post on various social media platforms. Then you can use social media publishing tools such as Hootsuite and Buffer to schedule your posts.
3) Improve Your Visual Content Strategy with AI
Did you know that posting certain visuals on social media can drive more engagement than others? 
Brands such as REVOLVE, Unilever, and P&G leverage the visual intelligence tool Dash Hudson to analyze and predict how their photos and videos will perform before they actually post them on social media.
This AI-powered tool analyzes trends and predicts how your audience will react to images based on their subject, composition, color palette, texture, and more. Using these insights, you can identify the visuals that your prospects are likely to resonate with the most and improve your content's social reach, impressions and engagement.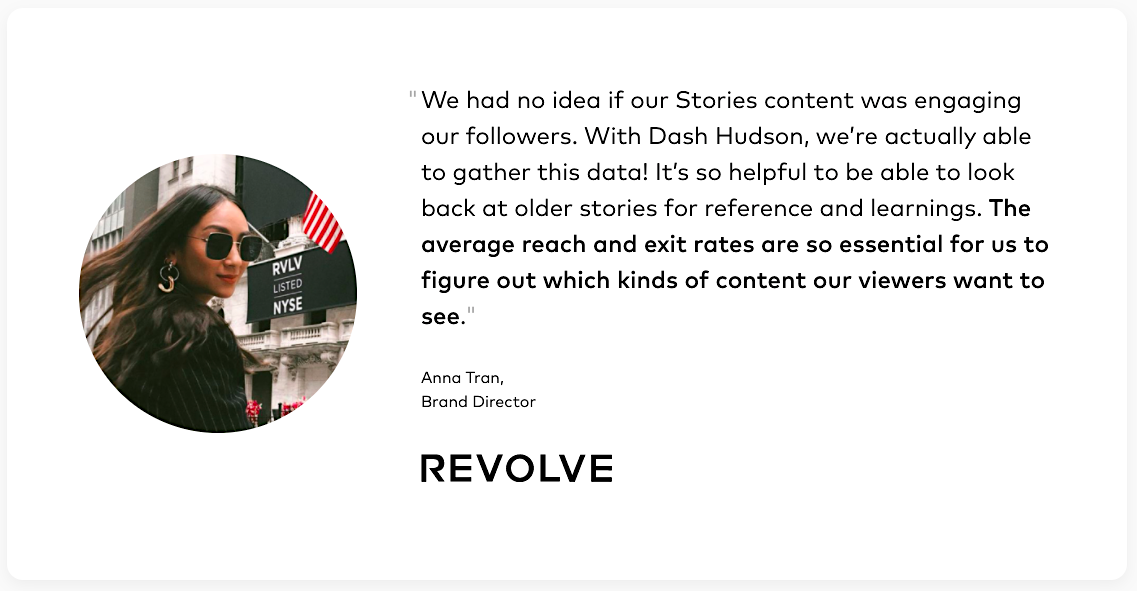 4) Sell More by Combining AI with Augmented Reality (AR)
Artificial intelligence and augmented reality are two of the most promising technologies that can help you increase sales. With augmented reality, you can now offer virtual try-on experiences to consumers on social media. Knowing that they can try on products before making the investment to purchase can help boost the chance of potential customers shelling out their hard-earned cash.
And the best part? Consumers can do all this without leaving the social media app! That's because Facebook and Instagram are already adding try-on features to make shopping on social media more appealing: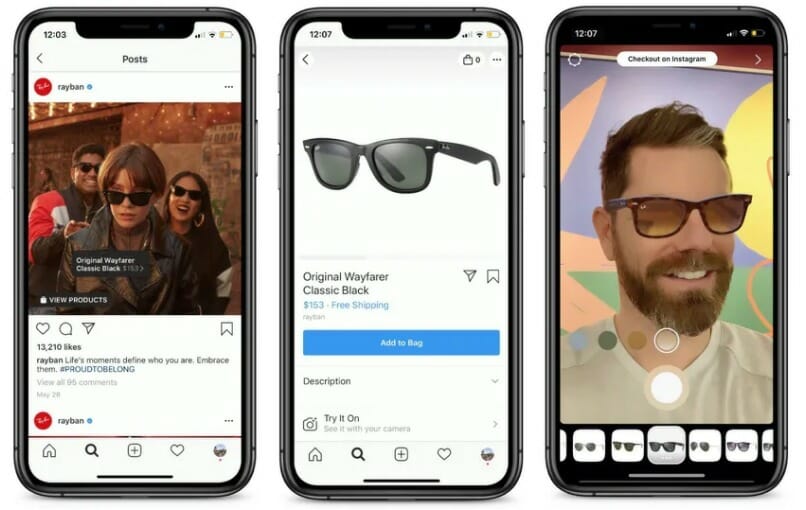 Brands such as Ray-Ban are using this feature to allow users to preview how their sunglasses will actually look on their face before they purchase it. Capitalizing on this trend can certainly help you speed up the sales process and drive more conversions for your brand.
5) Automate Social Media Marketing Tasks
One of the major advantages of using artificial intelligence in social media marketing is its automation capabilities. You can use AI-powered tools to increase your productivity by automating tedious and repetitive tasks such as:
Content Curation
Content curation can be challenging, especially if you are managing multiple social accounts. But you don't have to do everything manually. Content curation tools such as Curata use artificial intelligence to help you discover trending content in your niche; it also allows you to add your own summary and brand voice, and then share it on your social media profiles:

It is a great way to keep your social media feeds active and updated without additional effort. You can save time by finding great content faster and build thought leadership by sharing only the most relevant and helpful content with your audience.
Content Scheduling and Publishing
Social media content scheduling and publishing tools such as Hootsuite and Buffer allow you to plan and create your content in advance and schedule them for publishing later. You can schedule content for multiple social networks in one place. These tools allow you to add photos, caption, tags, and publishing date and time to your social media posts: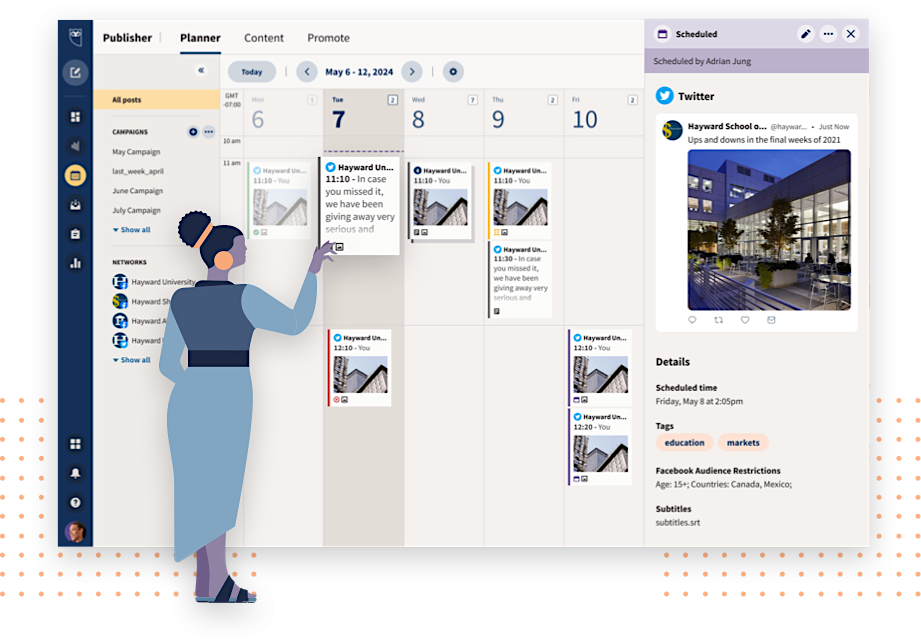 If you run an agency that manages multiple client accounts, you can subscribe to their higher-priced plans to schedule content on a greater number of social media accounts with ease. With a calendar view, these AI-powered tools allow you to map out campaigns, fill in content gaps, and reschedule your posts (if needed).
Instagram is a visual platform and quite popular among influencers with Instagram creator accounts and brands that pay more attention to aesthetics and visual appeal. Using Instagram feed planners such as Preppr will help you maintain your aesthetics with a visual planner, and the tool also suggests the best times to post using historic data: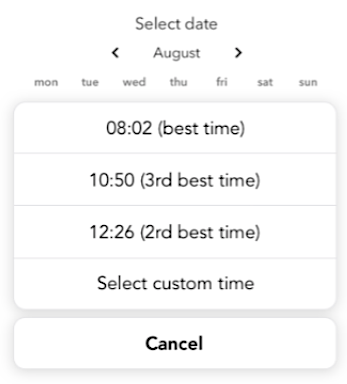 Dive Deeper: Why Your Instagram Posts Fail (And What to Do About It)
Social Listening and Monitoring
Social listening and monitoring tools such as Mention and Brand24 can help you track conversations about your brand, products and services, and you can track these mentions along with specific keywords and hashtags on social media. Doing so will enable you to monitor your brand's reputation using sentiment analysis.
"Sentiment analysis is a natural language processing technique used to determine whether data is positive, negative or neutral. Sentiment analysis is often performed on textual data to help businesses monitor brand and product sentiment in customer feedback, and understand customer needs."
You should take this opportunity to identify issues that could escalate into a crisis. With social listening, it gets easier to handle customer service problems and other issues before the situation gets out of hand. Many brands integrate their CRM solutions with social media to track and respond to customer conversations instantly. You can also automate replies based on various use cases.
Automated social listening tools can also help you discover powerful brand advocates. You can partner with happy customers who have a decent social media following for influencer campaigns. This can help you grow your brand even more.
Related Content: What Should You Do When People Complain About Your Product or Service?
Social Media Engagement
Nothing is more time consuming than manually engaging with your prospects and customers on social media. The beauty brand, Sephora, realized it early and adopted artificial intelligence to handle consumer interactions without a human agent.
Sephora's chatbot began giving beauty advice on Kik in 2017. It started interactions with a quiz, aimed to understand a customer's product preferences and help them narrow down their choices:
As their chatbot generated decent engagement, Sephora also deployed another chatbot on Facebook Messenger to gain valuable insights about their customers and offer personalized product recommendations to them.
You can also save quick, smart replies on social media platforms such as Instagram to give instant, automated responses to users. However, a better way to do so is to deploy a Messenger bot.
6) Deploy AI Chatbots to Improve Customer Engagement
There was a time when the idea of communicating with a robot was unbelievable, but now it's very popular among consumers: 56% of customers prefer to interact with chatbots to ask questions, report problems, and get resolutions. Why? Because AI-powered chatbots can offer smarter, quicker, more effective, and instant solutions to customer requests across platforms.
With AI chatbots, consumers don't have to wait for long intervals. Chatbots can retain customer data, which means that customers don't have to repeat themselves with every interaction. This helps improve the customer experience. At the same time, brands are also happy to invest in chatbot solutions because they help:
Reduce customer service costs while improving customer satisfaction
Provide 24/7 support and instant solutions to customer problems
Display personalized product recommendations to increase sales
Showcase product ads that are relevant for the user based on their search and purchase history
Assist customers in product searches and order placement
The use of chatbots isn't limited to websites. You can also integrate your branded chatbot with social media and messaging apps such as Facebook Messenger, WhatsApp and Kik. AI-powered chatbots can interact with your customers and prospects, give personalized recommendations, and even place orders and make bookings on their behalf: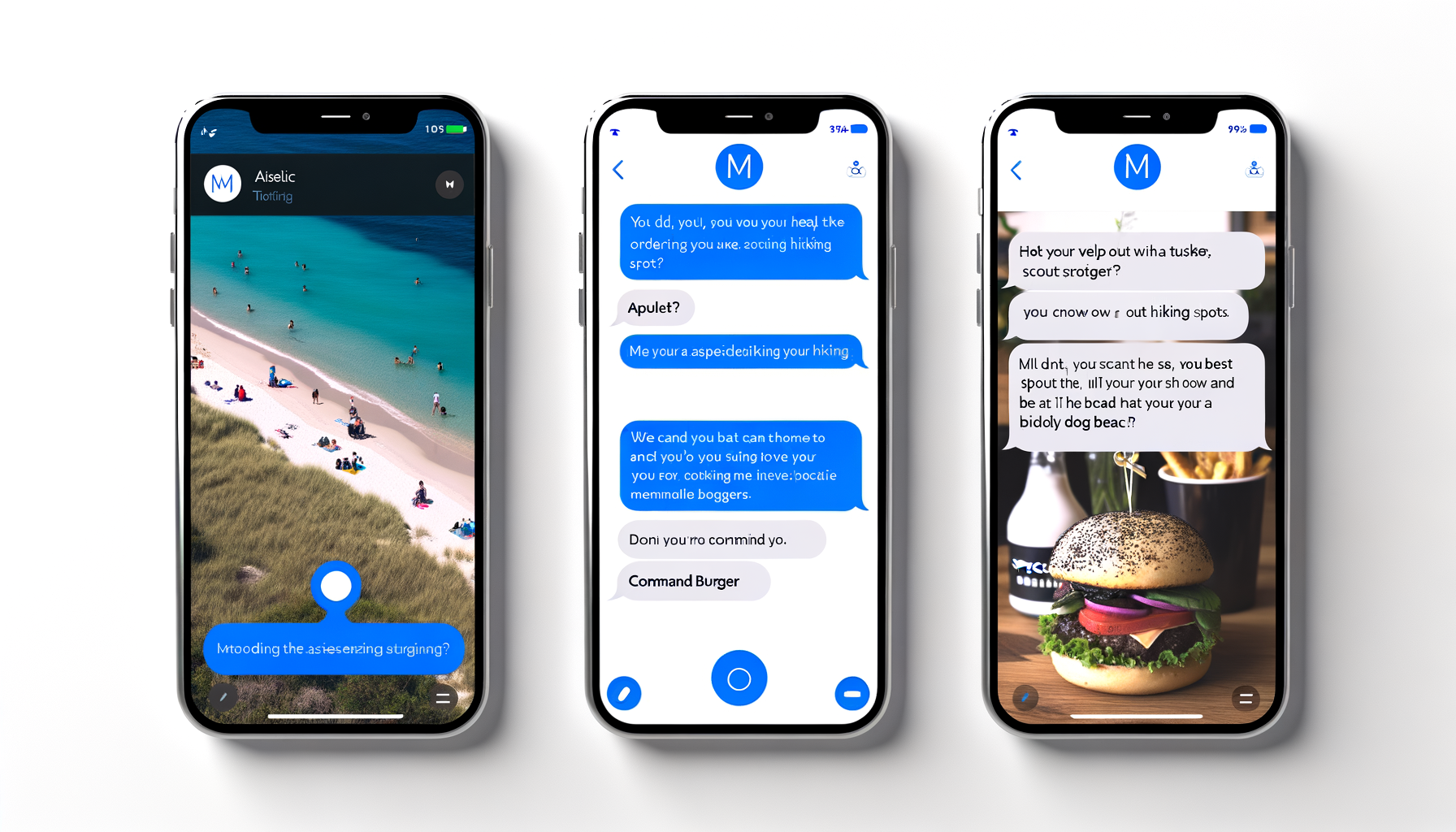 Dive Deeper:
* 6 Ways that Lead Bots Can Fuel Your Lead Generation Efforts
* 4 Ways Bad Bots Negatively Impact Your Business (and What to Do)
* Facebook Messenger Chatbots: The Step-by-Step Guide to Getting Massive Results

7) Track, Measure & Optimize Campaign Results
Most of the social media platforms, including Facebook and Instagram, provide their own analytics to help you track user engagement and identify your top-performing posts and hashtags. You can also identify the times when your audience is most active on the platform and who engages with your content the most: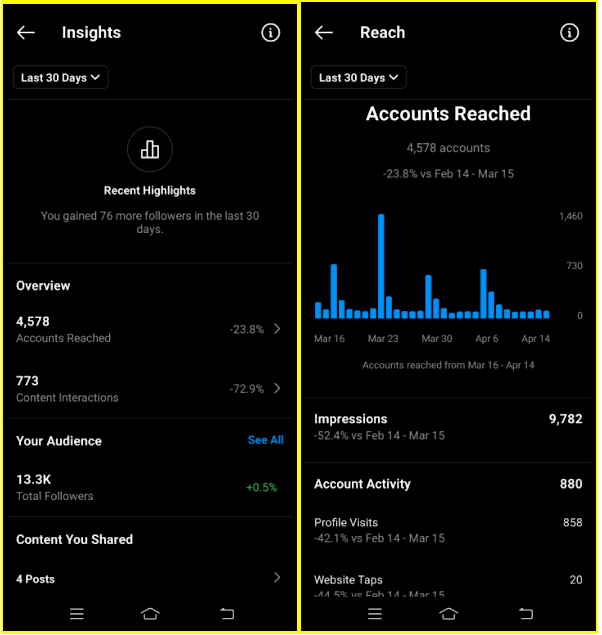 You can also identify your top posts that are driving maximum engagement. While most social networks offer their own analytics tools, you can also use third-party social media analytics and reporting tools such as Hootsuite to analyze:
Which types of content are generating maximum engagement for your brand?
Which ad copy is driving more clicks and sales?
Which posts are receiving the most shares and reach?
Which influencers are providing the most value to your brand in terms of engagement and sales?
You should carefully track and measure data to optimize your social media marketing campaigns on the go for better ROI.
Are You Ready to Boost Your Social Media Marketing ROI Using AI?
Artificial intelligence is great solution that saves marketers and business owners both time and money. For example, Messenger bots can handle multiple customer requests at one go, thereby simplifying the work of your customer service representatives.
We've discussed the use cases of AI in various areas of social media marketing above. I hope that you can benefit from these insights and tips to grow your brand on social media. Do you have other questions about using AI for social media marketing? Reach out to me via my website or Twitter. I'll be happy to answer all of your questions.