A Week of Social Media Insanity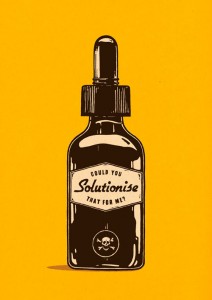 The social media world is ALWAYS changing. That requires us to stay on our toes and be ready to adapt to just about anything. Usually the updates and new features roll out slowly or, if we're lucky, one at a time, but every now and then the social media world gets turned upside down when a ton of BIG news hits all at once.
This has been one of those weeks.
Facebook started out the week by announcing their new photo comments feature. This is exactly what it sounds like, people can add photos to their comments. I saw it show up on my personal profile immediately and now have seen it show up on a couple of my pages.
Facebook Photo Comments? What does it mean?!
1. People are continuing to rely on visual communication more and more, and it's not going to slow down any time soon. 
2.  Brands now have a new creative way to keep conversations going. 
 3. More people will be creating content because they want to and more brands will be creating content because they HAVE to. 
At the same time, Facebook announced a more advanced analytics platform. Their current dashboard has provided marketers with actionable data using their "Talking About This" metric. Now they're going to provide data on what actually makes up that metric. We'll be able to see specific data into the demographics of each engagement action and more.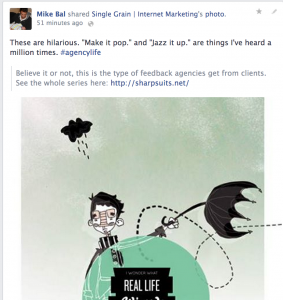 New Facebook Analytics? What does it mean!?
1. Facebook is making good money from marketers and they're trying to be the go-to platform for advertising. 
2. Marketers will be able to make even smarter decisions about their ad spends. 
Facebook had previously announced verified accounts and hashtags. I don't really think verified accounts is worth discussing and I had forgotten about hashtags until they started working on my profile. The way that Facebook displays conversations after clicking on the hashtag is not very intriguing, so I'm guessing it will take some time for users to adopt the new feature. Marketers will jump on it quickly.
Facebook adds Hashtags? What does it mean?!
1. They're trying to make other social networks seem pointless to their users. 
2. Organic discovery should improve with hashtags complimenting their new graph search. 
While rumors about Facebook's biggest announcement started circulating, the creators of Twitter's Vine App started teasing new features of their own. Vine has grown in popularity and engagement to the point of meriting it's own unofficial talent agency, founded by Gary V. himself. While there have been no official announcements made as of 9:00 am this morning, we expect to see the ability to ad text to your vine videos, a new conversation feature, and more.
What does it mean?
1. Instead of being a simple platform for content creation, Vine is going to be a place for more personal engagement.
2. More users will become designers with the added element of typography. 
The visual social network and commerce monster known as Pinterest is back in the eyes of developers everywhere as talk about the release of the long awaited API increases.  Giving all of us marketers hope for more control and information.
Pinterest API? Now you really lost me… What does it mean?
1. Once the API is released, there will be a new arsenal of tools for marketers to measure the impact Pinterest actually has on ecommerce platforms. 
2. More tools to manage the social network and maximize efforts will start appearing, keep an eye out. 
Finally! Drum roll…..
Instagram rolls out it's 15 second video feature with 13 brand new filters and the "cinema" technology that makes your shaky mobile video looks like something created for the silver screen. Putting magic in the hands of over 130 billion users.
Holy cow, Instagram is doing video? I think my heads going to explode! 
1. Despite Vine's growing popularity, Instagram has a much larger network already trained and ready to use the new feature, and most people are going to choose one or the other. In other words: Battle Royale of social video.