Successful social media requires a lot of work and a long list of skills and talents. At the top of that list you'll find content curation and content creation.
Content curation is the ability to find content from other sources that your audience will engage with and we'll talk about that next time.
Content creation is probably the most powerful social media strategy there is and most people are too scared or lazy to take advantage of it. There are a few assumptions that usually lead to the pre-mentioned fear and depleted motivation. Let's address those first.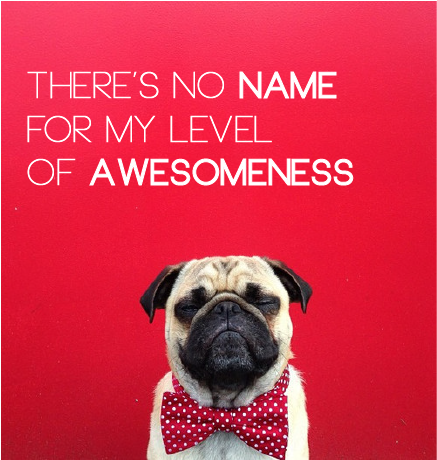 You need to be a designer to create content – Some of the most successful pieces of content on the web make real designers want to vomit i.g. The meme.
Creating original content takes a lot of time and planning – If you're looking to make something like an ebook or an infographic you're right, but creating a simple piece of content for social media can be done on the fly and doesn't need to take much more time than a regular post.
"I'm not clever enough to make my own content" – Some of the most successful content pieces on the social web are nothing more than obvious statements or complete nonsense.
Now that we've taken care of some of the most popular excuses of why people don't create their own content, It's time for the good stuff. Here are some of my favorite tools for creating top shelf social content.
1. iPhone – I'm not a snobby Apple fan, I just know that a lot of the apps I'm going to recommend are only on iOS. If you don't have or don't want an iPhone one of the newer iPads will do the trick. Just keep in mind, the quality of the camera will affect the quality of your content.
2. Photojojo Lenses – These are low-cost high-quality add ons to help give your mobile shots a unique look. Having options for the types of photos you want to shoot will come in handy when you're creating content for different networks. This is also a great option for standing out above the competition in the visual networks like Instagram and Pinterest.
3. Mini Tripod – Being able to keep your camera in the exact same position will come in handy when creation short animated clips for Vine or Instagram Video. The nice thing about something like this is that it fits in your pocket and can attach to almost everything, giving you the ability to film just about anything you can think of from any perspective.
4. Stylus – Finger painting/drawing has its limits. Getting yourself a decent stylus makes it easy to illustrate ideas, messages, check lists, or anything else that might be deemed sharable.
5. Dropbox – Dropbox allows you to save bits and pieces of your content to use and finish on any of your devices later on. I find the images I want to use on my computer and save them in a folder in Dropbox and then download them onto my phone and import them into whatever app I'm using at the time. You can figure out your own process but it's going to be a key tool if you want to make content quickly or on the go.
6. Adobe Creative Cloud / Creative Suite – I know, I know, I said you didn't have to be a designer. You don't, but figuring out the very basics of these programs will break down a lot of the creative barriers you'll run into with other tools.
6.5. YouTube – There are millions of tutorials and tips on how to use the Adobe programs, put them to use.
7. Dafont.com – There are plenty of free font sites out there but Dafont is my favorite. Most newer computers will automatically install a font file when you open it up. You can access the fonts from any of your programs that can type so, even if you don't have the adobe programs, you can create cool typography content using basic tools like Word or Power Point.
8. This – When you can, take the time to size your content specifically for the channel you're sharing it on. I've seen this increase engagement by an average of 200% – People don't like to see images that are cut off and sloppy looking.
Bonus: 99 graphic design resources
9. Snapseed – This is essentially a really easy to use version of photoshop. You can make an average picture look like it was edited by a pro with a few swipes of your thumb. The best part is that you can just play with it until the photo looks good, you don't have to have any idea what you're actually doing.
10. Over App – Add great typography over any image, via your iPhone. This app has icons and pre-designed words to compliment its great font selection so you can make something like you see here, in less than 10 minutes.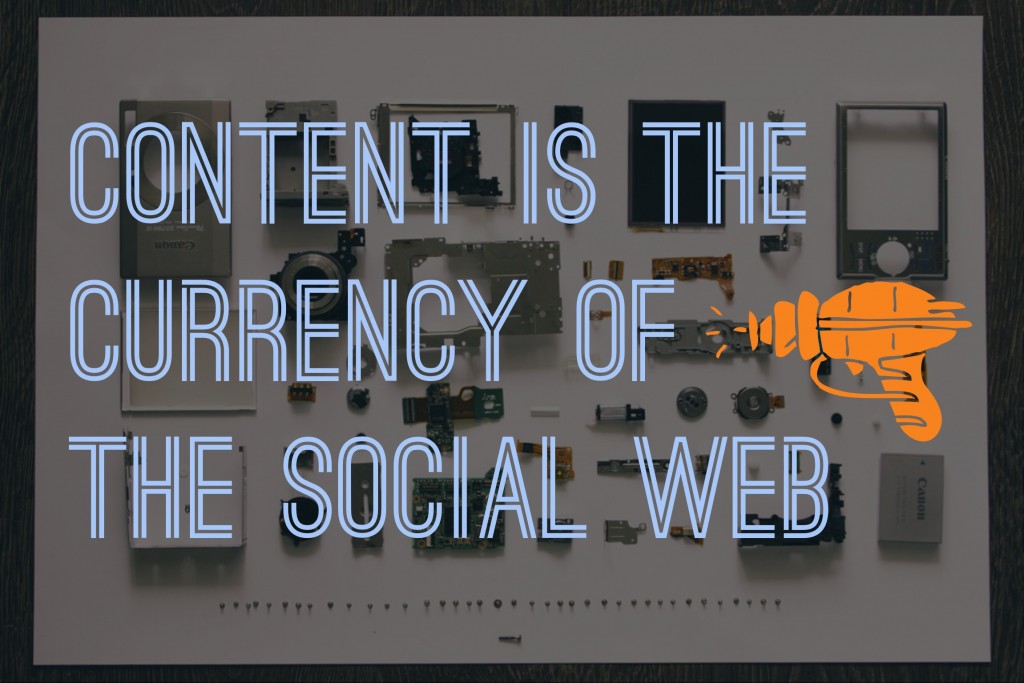 11. Whims App – Have a great idea or a favorite quote? Don't waste it on plain text updates. Type it in to Whims and pick a theme you like, a couple styling adjustments and you've got something share worthy in 5 minutes or less.
12. Vine App – Create a 6 second endless loop of creativity. It has really evolved into a social network of its own at this point but it's also a source for creative content to share on any channel. You can send a quick message, capture a ridiculous moment, or animate an idea.  Here are a few pieces of inspiration.
13. Instagram – Instagram is another, purely visual, social network that is worth your time for a number of reasons. It's an easy way to make your ordinary photos more artistic than they really are. It's also a great channeling for telling a great story with minimal text. The app makes it easy to share your images across multiple social networks and you now have the ability to embed your photos and videos anywhere on the web.
14. Paper app – Whether you're a true artist or an avid doodler, Paper is hands down my favorite app for drawing. Use the pre-mentioned stylus to create something that can't, or shouldn't, be described with words.
15. Thinglink: App, Plugin, and Network – Have a really great image that needs a bit of context or a ton of information that should really be shared all at once? Use ThingLink. It's a great tool that lets you add interactive tags and buttons to images. These can be used for showing locations, playing audio and video, linking to other sites/sources, or just to add commentary or thoughts. I haven't done much with the mobile app but I LOVE the WordPress plugin.
16. Visually Labs: Great infographics generally take a lot of time and research, but that doesn't mean all data visualization has to. Visual.ly is an incredible database for info graphics that also lets you create simple visualizations for your own use.
17. Recite This: Have something you want to say or share that shouldn't be wasted on a plain text update? Oh wait, I already covered that… Let's go beyond, adding "And don't have the time/patience to design something?"  Copy your text and paste it into the site. You'll then have a handful of popular styles to choose from with the option to share it out via social or download the actual image itself.
18. Poster My Wall: From business events to garage sales, Poster My Wall has got you covered with their Flyer Maker. Create professionally designed flyers with thousands of templates and free downloads to promote your business or event that are easily customizable for sharing on social media – and no design skills needed!
These are just a few of the countless tools out there that can help revolutionize your social strategy. I've found them incredibly useful and I hope you do too. If you've got any favorites that didn't make my list, please share them with me via the comment box below.