DAO marketing agencies are becoming more and more popular as the world moves towards decentralization. But with so many choices, how can you be sure you're picking the best one for your needs? There are a lot of different things to consider, but we've got you covered.
We'll go through the top five DAO marketing agencies, why they're the best, and how you can determine which is right for your business needs.
---
---
Top 5 DAO Marketing Agencies
Every cryptocurrency marketing agency is unique and their marketing services will vary. Here are the five best DAO marketing agencies to consider.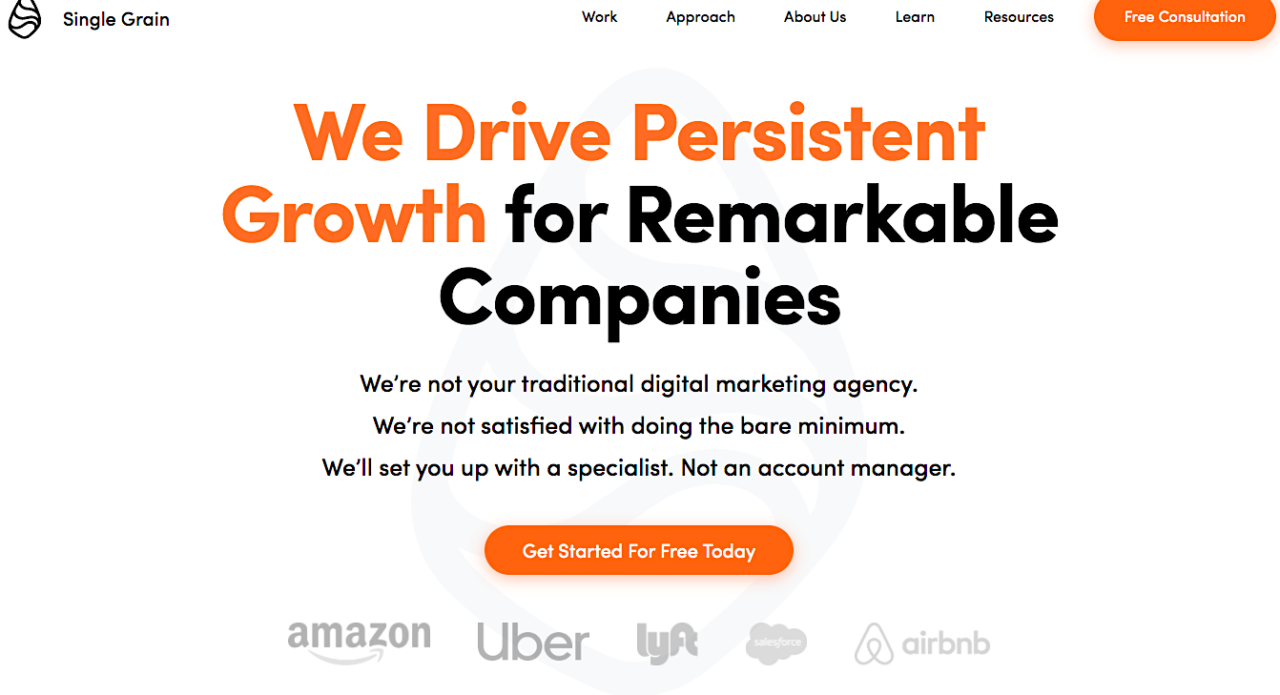 Single Grain is a full-service digital marketing agency based in the United States that specializes in decentralized organizations. They are one of the best DAO marketing agencies because they offer a comprehensive suite of services, they're experts in the DeFi space, and they're able to customize their marketing strategy to achieve your specific goals.
As a cryptocurrency marketing agency with blockchain marketing services, they offer a wide range of services, including website design, marketing materials and PR.
Single Grain specializes in:
Boosting your business's online visibility, search engine rankings, and organic traffic with SEO, link building, content marketing, and keyword research.
Personalizing search engine marketing for generating quality business leads with custom ad campaigns the improve the CTR.
Boosting your audience reach on major social media platforms and create exceptional social media ads.
Improving your conversion rate to convert site traffic to leads.
Creating relevant content like blog posts, email copy, guest posts, landing page copy, ad copy, and social media posts.
Improving your e-commerce store optimization from design to content to SEO.
Creating product ads and Amazon ad campaign management.
Whereas most marketing agencies are full of generalists, Single Grain's team of world-class marketing experts in the crypto industry has unparalleled knowledge and experience in their specific field — whether that's paid media, search engine optimization, content marketing, PR agency tactics, or many other disciplines.
Their DAO marketing strategy comprises a wealth of tactics, including:
Paid ads (PPC, Google, display, LinkedIn, podcast, Amazon, YouTube)
Organic media (SEO, content marketing)
Strategy (marketing funnels, conversion optimization, marketing consulting)
Creative (video production, content creators for all content formats)
They also have extensive experience with current technologies required by blockchain, NFT, crypto and DAO marketing. This makes them a truly full-service digital marketing company that is better equipped to deliver high-ROI marketing campaigns for your DAO.
Key Clients:
Uber
Amazon
Airbnb
Alexa
Intuit
TurboTax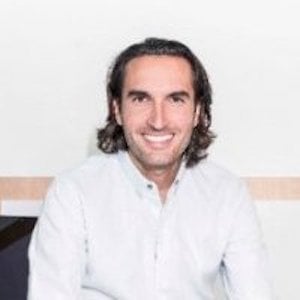 Yaniv Masjedi
CMO, Nextiva
Their expertise has helped Nextiva grow its brand and overall business
2) GrowthChain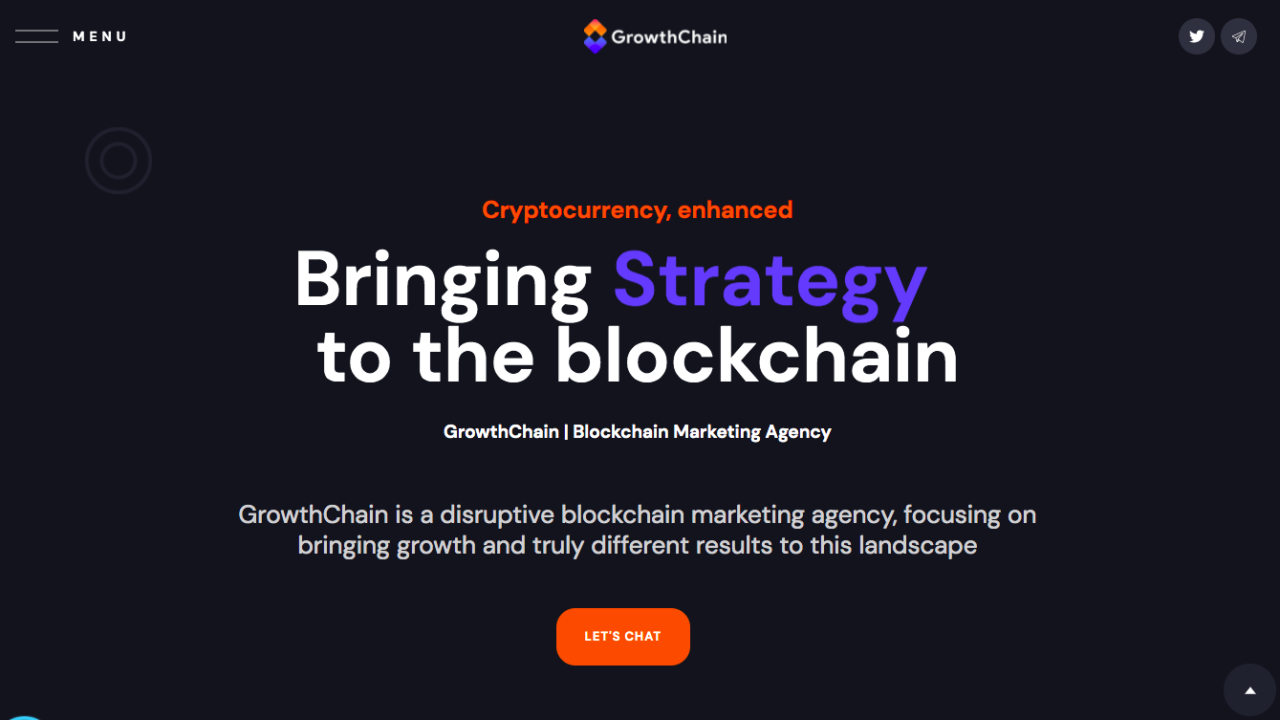 GrowthChain is a DAO marketing agency based in Spain. They focus on DAO and crypto project and are truly focused on disrupting the space. They strive to bring results to your project because they know the industry far better than a traditional marketing agency would.
They have a passion for the blockchain and believe it will be one of the most influential technical revolutions of our lifetime. They work to remain relevant and ensure that you do, too.
GrowthChain specializes in:
Social media ad campaigns on leading social media platforms to increase your relevance and visibility.
SEO, copywriting, and social media marketing to ensure that you always appear at the top of search results.
Building brand recognition and positioning your brand with logos, fonts, and colors that represent what you stand for.
Advising new DAO businesses in the crypto space and next steps they should take to succeed in the space.
Creating a custom marketing strategy that works for your specific project and implementing it.
Related Content: How to Think About Investing in Long-Term NFTs
3) DAO Maker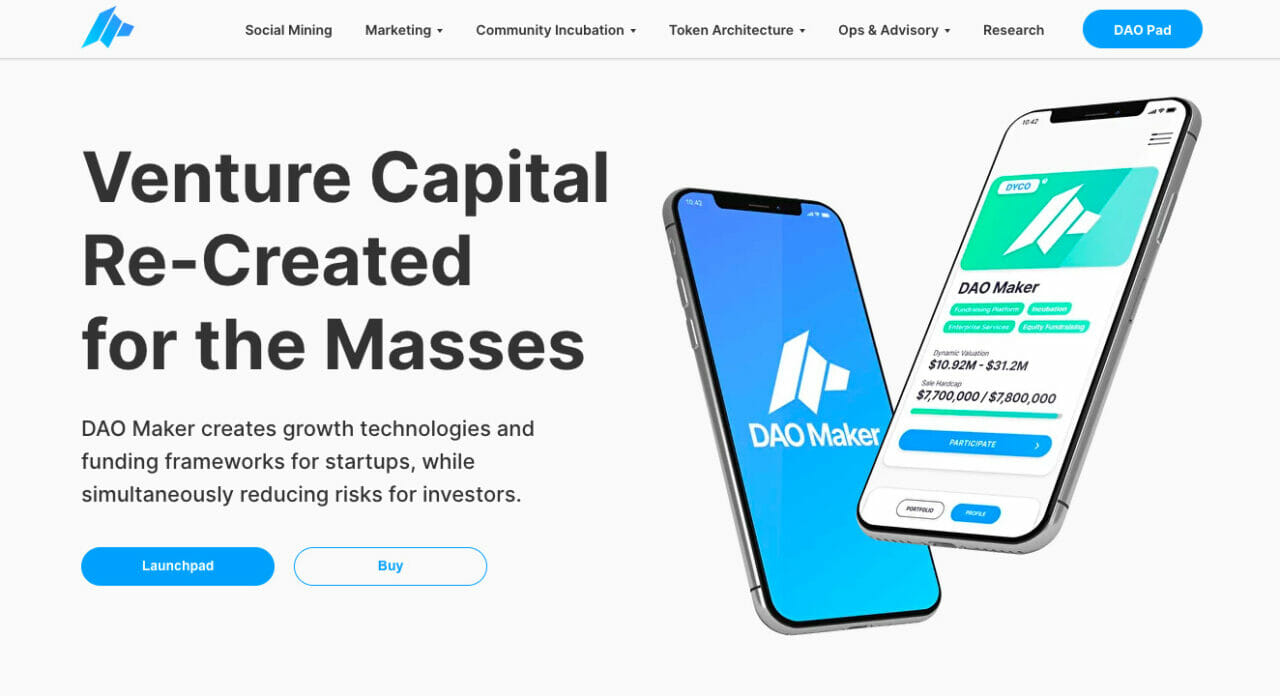 DAO Maker offers a unique model for a cryptocurrency marketing agency. Not only do they offer influencer marketing, guerrilla marketing, public relations, SEO, and paid advertising, but they also have a community incubation program.
You can use DAO Maker to launch your project and get the support you need through the incubator and then take advantage of the marketing services to grow and thrive. This is a great option if you're looking for an all-in-one marketing solution.
DAO Maker specializes in:
Communicating in six languages to reach your audience, no matter where they are or how they communicate.
Building long-term influencer campaigns that position your brand as one of the top crypto influencers in the space with the knowledge and information your audience needs.
Content creation with the goal of community building that adds value and gives feedback, while mentioning the client at every possible opportunity.
Manipulating your public perception and sharing the right narratives at the right time to hype exposure and stay in tune with the audience's emotions.
Related Content: Influencer Marketing Strategy: The Ultimate Guide to Growing Your Business with Brand Partnerships
4) CRE8R DAO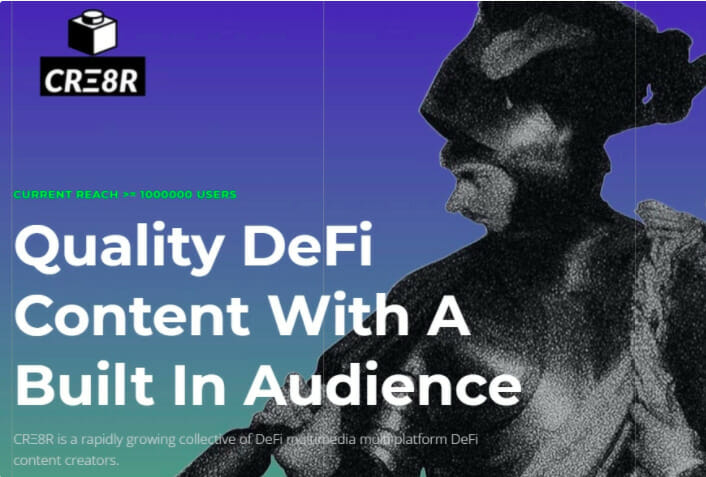 CRE8R DAO marketing agency offers GOD MODE, a unique, trademarked product that is one of the industry's first scalable solutions. They'll create marketing campaigns specifically for your decentralized organization. They focus on content strategy and pair you with a project manager to ensure that your content calendar is synced.
You'll enjoy weekly meetings with the team to stay on track and keep your project's content fresh and relevant. They create content to expand your reach, but they'll also tack on KPI tracking, incentives, and video marketing.
CRE8R DAO specializes in:
Content creation and content calendar management to ensure that a consistent release cadence is maintained for your audience's enjoyment.
Building scalable marketing campaigns for promising DAO projects by using growth hacking mechanisms and incentives.
Creating top-tier video productions by editors who have extensive experience in organizations such as Netflix.
Key Clients:
5) YAP DAO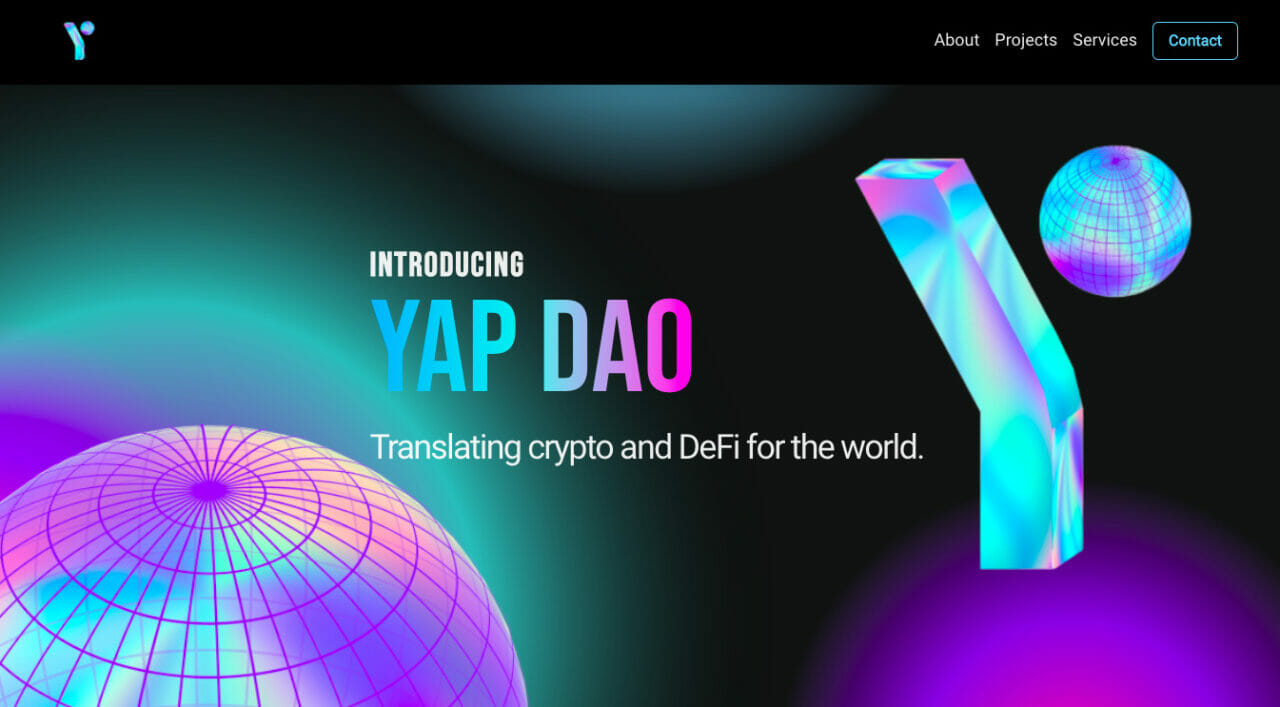 YAP DAO takes a proactive approach to public relations by positioning your brand in a positive light and ensuring that you're viewed as a knowledgeable influencer in the space. They excel at communications for emerging technologies and translating concepts to non-technical people.
They offer a great partnership for established DAOs because they provide:
Public relations
Media relations
Strategic communications
Investor relations
Crisis communications
Event training
Event management
Social media
Content
They have helped dozens of flourishing projects enhance their communications and tell their stories.
YAP DAO specializes in:
Public relations and communications support that translates technical DAO projects to the non-technical world.
Announcements, product development, and launches for emerging and legacy projects.
Booking and training media appearances like conferences, podcasts, interviews, in-person, and virtual obligations.
Creating content like opinion pieces and feature stories to expand your reach and engage your audience.
Key Clients:
DAOhaus
PrimeDAO
AladdinDAO
What Is a DAO Marketing Agency?
DAO stands for decentralized autonomous organization and is an automated computer network organization model controlled by its community members rather than a single establishment like the government or a financial institution, and whose transaction records are maintained on a blockchain.
A DAO marketing agency is a company that helps market your decentralized autonomous organization to attract more investors, grow your funding and achieve your core objectives. They typically have a lot of experience with blockchain technology.
A DAO marketing firm can help you develop marketing materials, build your website, and make your DAO visible to the right people. Once you've launched your decentralized business, they continue to support you by helping you grow by finding new members, get more funding, and scaling your DAO.
The aim of DAO marketing is no different from any other type of marketing strategy. Your organization wants to attract new investors and gather more funding, which help you reach the shared goals of your stakeholders. But while the target is the same, the specifics can be very different. With no overarching leadership structure, decentralized autonomous organizations are 100% democratized. This creates opportunities for innovation and challenges for communication.
DAOs have unique needs that can't be fulfilled by a bunch of generalists. Unlike other marketing agencies, their team is made up of bona fide experts in their discipline, whether SEO, paid media, conversion optimization, or another marketing tactic.
You need to work with an agency that understands DAOs. Your future-proof, bottom-up decision-making structure presents challenges that simply don't exist in a traditional client-agency relationship.
This is an important distinction because what you should be looking for are marketing firms that employs people who not only know the ins and outs of good marketing campaigns, but also know how to translate that into the DAO space, which is completely different than any other technical industry today.
Dive Deeper:
* What Is Web 3.0? The Future of the Internet
* An NFT Marketing Checklist for Your Crypto Project
* The Ultimate Guide to Blockchain Digital Marketing and Cryptocurrency

Why Hire a DAO Marketing Agency?
There are many reasons why you would want to hire a DAO marketing agency. Technology is rapidly changing and the DeFi space is different than any other technology. These marketing experts will be able to translate your marketing and communications in a way that's most effective for your brand and project, leading to a more effective marketing strategy and campaign for your DAO's goals.
Save Time and Money
A DAO marketing agency can save you a lot of time and energy by doing all the work for you.
Marketing agencies have the experience and knowledge to help you save time and money. They know what works and what doesn't, so you can avoid costly mistakes. And they can help you get the most bang for your buck by using their blockchain and and crypto community relationships and negotiating power to get you the best rates.
Secure Brand Coverage in DAO Publications
DAO publications are a great way to get your brand in front of the right audience. By working with a DAO marketing agency, you'll have access to their relationships with these publications and be able to secure more brand coverage.
Gain Insights from the Agency's Experience
A cryptocurrency marketing agency has a lot of experience working with different brands and projects. They can provide you with insights into what's working and what's not, so you can make adjustments to your marketing strategy.
Related Content: How NFTs Can Be Used for Marketing
Get an Outside Perspective
A good marketing agency will provide you with an objective perspective. They'll take a look at your project and brand and offer honest feedback. This is invaluable because it's easy to get too close to your project and lose sight of the bigger picture.
A DAO marketing agency has a team of experts who can help you with everything from launching your DAO to marketing it, which is especially important when you've never done it before and they've helped numerous others.
Access to a Team of Experts
When you partner with a DAO marketing agency, you have access to a whole team of experts. This includes copywriters, designers, web developers, and strategists. This is a great way to get a comprehensive marketing campaign without having to hire a full-time team.
More importantly, you get access to cryptocurrency marketing agencies that specialize in the DAO industry. A traditional marketing agency won't understand the space or how to attract the right audience. If you're not familiar with blockchain technology, it can be risky to try to launch a DAO on your own. A DAO marketing agency will help make sure everything goes smoothly.
Flexible and Scalable
Marketing agencies are flexible and scalable. They can ramp up or down your marketing campaign as needed, so you're only paying for what you need. And if your project or brand grows, they can adjust your marketing strategy accordingly.
Improved ROI
Good marketing agencies will help you improve your marketing ROI. They'll create a customized marketing strategy that's designed to achieve your specific goals. They'll track your progress and adjust your campaign as needed to make sure you're getting you're money's worth.
Reach Targeted Audience with Niche Specialization
DAO marketing agencies have a team of experts who specialize in the DeFi space. They know how to reach your target audience and get them interested in your project. They also have the experience and knowledge to translate your marketing and communications in a way that's most effective for your brand and project, leading to a more effective marketing strategy and campaign.
Stay Up to Date with Relevant Marketing Trends
Cryptocurrency marketing agencies are always up to date with the latest marketing trends. They can help you stay ahead of the curve and make sure your marketing campaign is using the most effective tactics.
Related Content: 38 Digital Marketing Trends You Can't Ignore in 2023
Get Help with Branding
A DAO marketing agency can help you with everything from naming your project to creating a logo and branding guidelines, colors, and fonts. They have a lot of experience in this area and can help you create a brand that's aligned with your values.
Get Help with Marketing Communications
Cryptocurrency marketing agencies can help you create a marketing communications plan. This includes figuring out what message you want to communicate, who your target audience is, and how you're going to reach them. They can also help you create marketing materials, such as a website, white paper, or pitch deck.
What to Consider When Choosing a DAO Marketing Agency
There are a few things you'll want to keep in mind when choosing a DAO marketing agency.
1) Their Experience
Select marketing companies with experience launching and marketing DAOs. They should have a good understanding of the technology and how to navigate the often Select marketing companies with experience launching and marketing DAOs. They should have a good understanding of the technology and how to navigate the often complex blockchain and cryptocurrency world.
With a track record of success in launching other DAO and blockchain projects, you need to be able to trust that they'll help you with yours. Choosing a traditional marketing agency without any DAO experience may not sound like a bad idea, especially if you like their approach or their graphics, but you likely won't have the level of success you're looking for.
Experience is the single most important factor. You need to seek out crypto marketing agencies that understands how to translate effective marketing strategies to the DAO space.
2) Their Services
Not all agencies offer the same services. Make sure the agency you choose offers the services you need, such as:
Website design
Marketing materials
PR
Email marketing campaigns
Social media
Video production
Infographics
Content creation
Blog management
You may also want to look for an agency that can build custom packages based on your unique needs. You're paying for it, so you need to make sure you're getting exactly what you need.
Related Content: How Gary Vee Sold 1 Million Copies of His Book Through NFTs
3) Their Cost
Be sure to get an estimate of the cost before you commit to working with an agency. Make sure it's within your budget and that you're getting good value for your money.
You don't want to overspend on your DAO marketing, but you also don't want to skimp and end up with a subpar product. DAO marketing agencies can be expensive, but it's important to remember that they can save you a lot of time and energy in the long run.
4) Their Reputation
Take some time to research the agency's reputation. See what other companies they've worked with have said and read reviews from past clients. You want to be sure you're working with a reputable agency that will do a good job on your project.
After you read reviews, look at some of the other projects they've worked on to see their style. You can get a good idea of their expertise and how they approach marketing by looking at their previous work.
5) Their Location
Location isn't as important as it used to be, but it can still be a factor in your decision. If you're looking for a local agency, make sure they have experience working with DAOs in your area. For some, staying local is still a matter of pride.
If you're looking for an agency that's based in a different country, be sure to research the laws and regulations around DAOs in that country. They may or may not be able to offer the particular services you need based on these regulations.
Red Flags to Look for Before Hiring a DAO Marketing Agency
The unfortunate reality is that not all marketing agencies are legit or professional. Here are a few red flags to watch out for before signing a contract.
🚩 Lack of Communication
It's important to be able to communicate with your agency. If they're not responsive to your emails or phone calls, it could be a sign that they're not taking your project seriously.
Lagging communication can also set your project back when it comes to deadlines. If the agency is not responsive, it will take longer to get things done. This can end up costing you more money in the long run, disappointing your investors and your customers, and reflect poorly on your project.
🚩 Unrealistic Promises
If an agency makes unrealistic promises, it's probably best to stay away. They may say they can get you to the top of Google in a matter of weeks or that they can guarantee results, but these are empty promises and should be avoided at all costs.
Good marketing takes time and effort, and there's no agency out there that can guarantee results. Instead, what you should be looking for are agencies that say they can help you achieve your goals with hard work and dedication built on years' of experience.
🚩 Unwillingness to Offer Custom Services
As mentioned earlier, not all marketing agencies offer the same services. If an agency isn't willing to provide custom services or put together a package that's tailored to your unique needs, it's not the right agency for you.
You want an agency that's flexible and willing to work with you to create a plan that's perfect for your project. If they're not open to customizing their services, it's likely that you won't get the results you're looking for. It also means they're not going to be willing to put in the time and effort to get to know you and your project. This is an important part of the marketing process and you want an agency that's willing to invest in you and your project.
You may also like:
* NFT Strategy: Everything You Need to Know to Get Started
* How to Promote Your NFTs the Right Way
* Best Crypto PR Agency: Top 8 Choices for 2023

Ready to Start Working with a DAO Marketing Agency?
Now that you know what to look for in a DAO marketing agency, it's time to start your search. Be sure to keep the factors mentioned here in mind so you can find the perfect agency for your needs.
Once you've found an agency that looks promising, set up a meeting and go over your project with them. This is a great opportunity for them to learn more about your organization and goals and for you to get a feel for how they work.
Just remember, you need to find an agency that will dedicate the time and energy to learning about your project and offer the custom services you need. You also need to be comfortable with them and be able to trust them to represent your project in the best light possible.
If you're not sure where to start, the team at Single Grain would be happy to help. We have years' of experience working with DAOs and know how to help them reach their goals.
Schedule your FREE consultation with Single Grain's DAO experts to discuss your DAO marketing requirements.  👇
Or learn more about what we can do for you here 👉   DAO Marketing Agency