This post was updated January 2022
Need an alternative to RankScience to climb the SERPs and maximize the ROI from your SEO efforts? RankScience can be a great tool in some circumstances, but it has its downsides as well.
So in this post, we'll explore:
What RankScience is
Reasons you might be looking for RankScience alternatives
The 5 best alternatives to RankScience
Without further ado, let's jump in!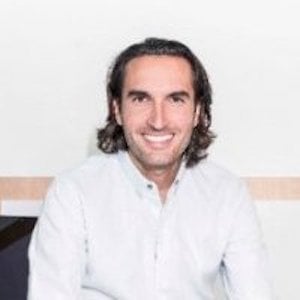 Yaniv Masjedi
CMO, Nextiva
Their expertise has helped Nextiva grow its brand and overall business
What Is RankScience?
RankScience is a dedicated piece of software that allows A/B testing for SEO. Similar in concept to conversion rate optimization, It enables users to make changes to title tags, on-page copy, and other important elements like headings and alt tags.
RankScience doesn't make their pricing explicitly clear, which is always a bit of a worry. However, when you sign up, you'll see that you get a 30-day trial. After that, it costs $295/month.
Unfortunately, nowhere on their site does it say how many tests you can run for that price or what limitations there are on searches and checks.
So, is RankScience the right tool? Well, it can be for some people. However, there are a few downsides that should be kept in mind….
Reasons You Might Need an Alternative to RankScience
Expensive: At $295 per month, the basic plan is pricey, particularly if you have a startup or small business with a limited budget.
Limited Tool: While there are some features that you won't find in free software, paying for and committing to a tool that essentially just does A/B testing isn't sufficient for most SEO needs.
Underwhelming Support: Have a problem and need some help from RankScience about using their tool? Well, you need to send an email and play the back-and-forth game instead of hopping on live chat, which they don't offer.
With all of this in mind, you're probably wondering which SEO tools are viable alternatives to RankScience? Let's take a look at four excellent platforms you should look at.
2) SEOprofiler
Boasting 150K users, SEOprofiler is one of the strongest competitors to RankScience. It provides an elegant SEO solution for small- and medium-sized agencies.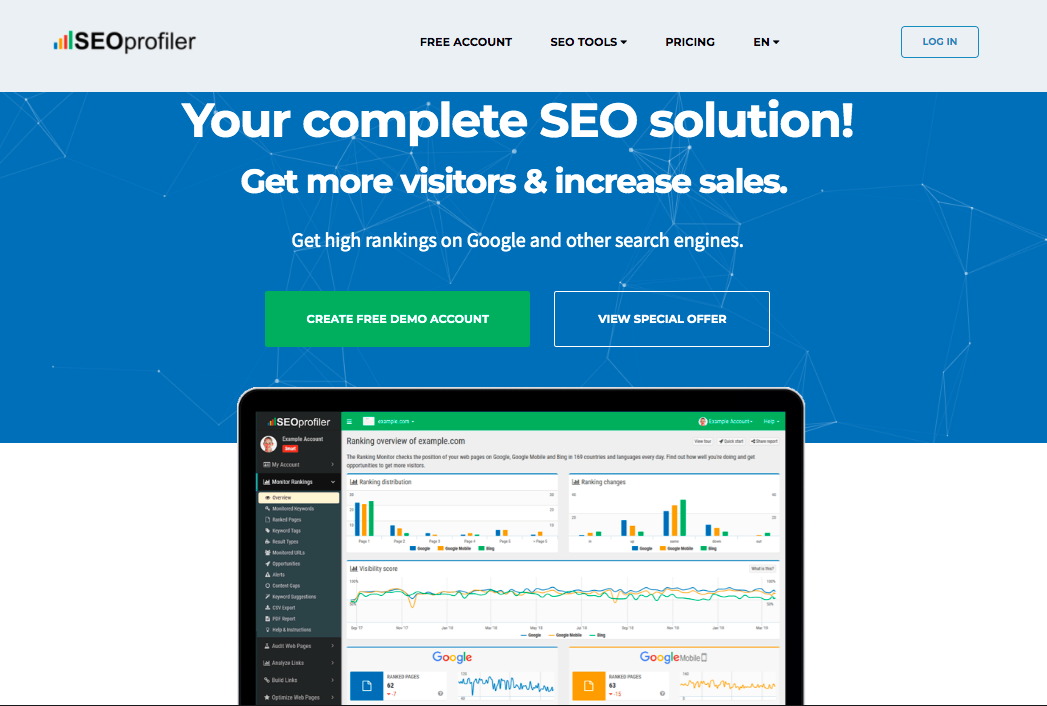 Why Choose SEOprofiler?
SEOProfiler has a great Keyword Suggestion Tool that helps you identify the best keywords to target. The database includes 249 million keywords and displays suggestions like difficulty, search volume and CPC among 72 countries.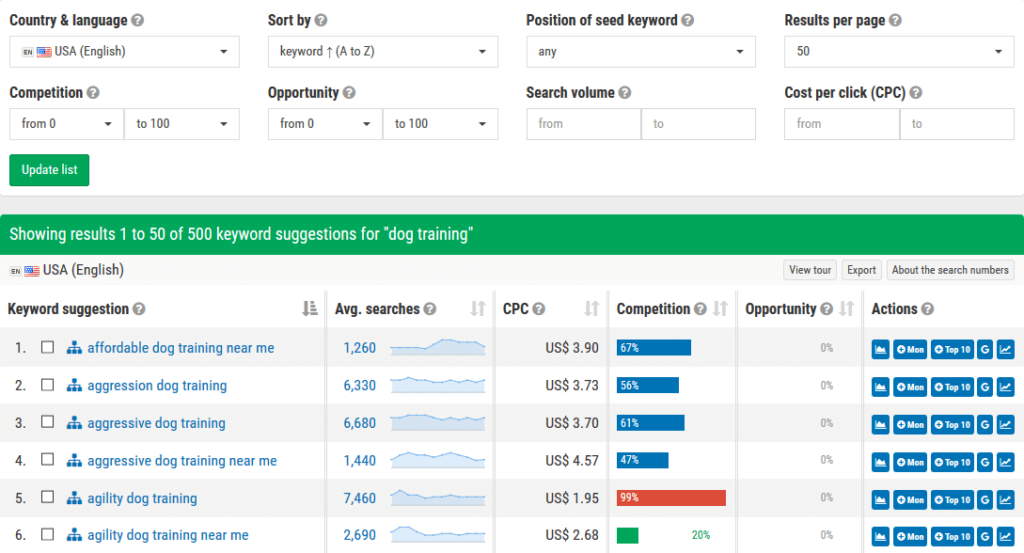 Additional features include:
Ranking Checker, a feature that allows you to see site rankings in 162 countries.
SEO Audit tool to find and fix crucial SEO errors on your site.
Link Analysis to analyze backlinks of any domain, and even filter by category or industry.
White Label SEO Reports help you deliver professional, branded reports to clients.
SEOprofiler Pricing: SEOprofiler costs $250/month for 150 projects, tracking 7,500 keywords, and auditing 150,000 pages.
Dive Deeper: Targeting Branded vs. SEO Keywords: Which Should You Focus On?
3) Ahrefs
Ahrefs is used by Uber and Netflix to manage their SEO content creation, optimization, and competitive analysis.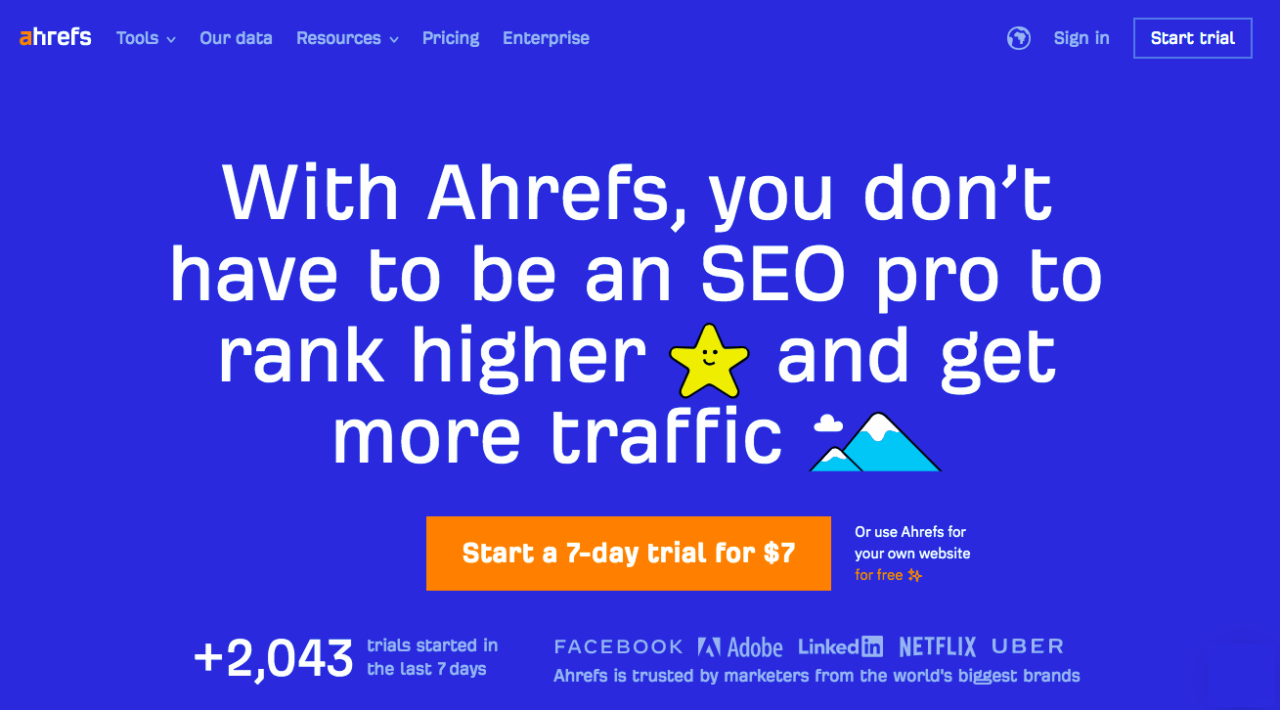 Why Choose Ahrefs?
The Site Explorer tool from Ahrefs helps you find insights into any website in terms of its DR (Domain Rating), UR (URL Rating), traffic cost, backlinks and organic traffic.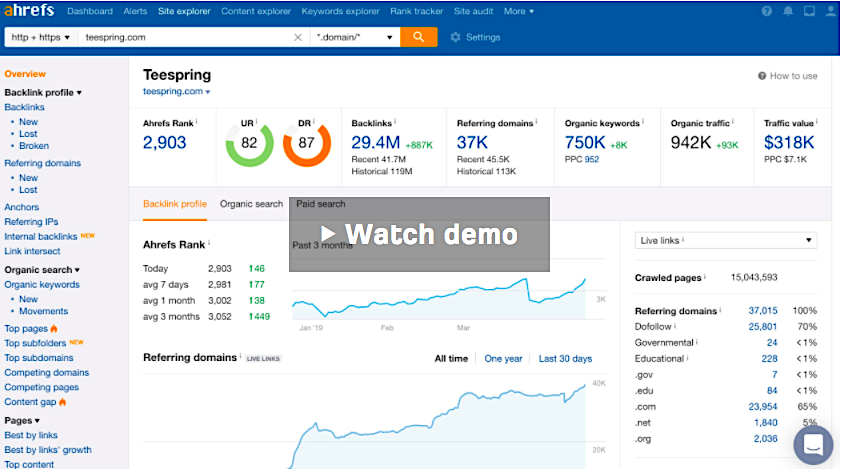 Additional features include:
Site Audit is a feature used to identify gaps in your website that are preventing your pages from ranking higher in the SERPs.
Top Pages is a report that analyzes the top-ranking pages on your domain to optimize conversions higher in your marketing funnel.
Organic Keyword allows you to spy on your competition. View over 150 million keywords and estimate the level of difficulty to compete for rankings.
Ahrefs Pricing: There are four tiers of Ahrefs pricing:
Lite: $99/month
Standard: $179/month
Advanced: $399/month
Agency: $999/month
Dive Deeper: How – and Why – to Build a Backlink Portfolio
4) Serpstat
Serpstat provides an all-in-one solution for SEO marketing. It works for agencies, enterprise companies, and freelancers to help you boost your rankings and save time.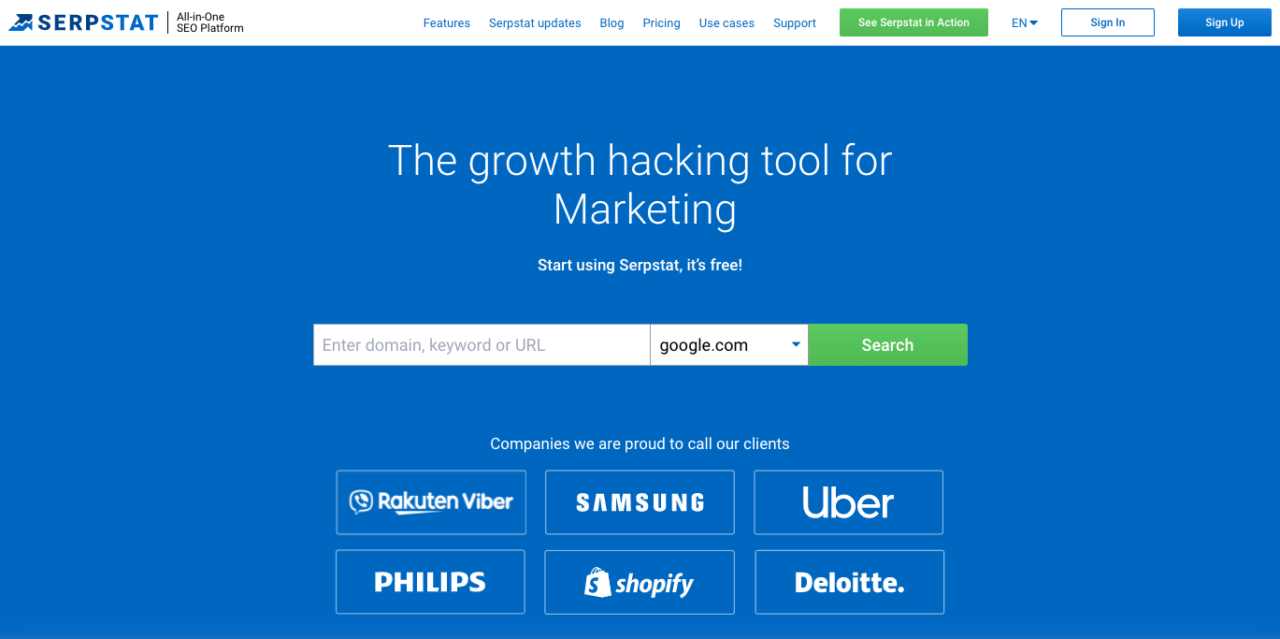 Why Choose Serpstat?
If you're looking to increase your ROI, the Domain Analysis tool is a great place to begin. It lets you analyze URLs and domains in-depth, seeing estimated traffic, keyword stats, and domain visibility:
Additional features include:
Visibility Trend, a tool that lets you see how frequently your domain shows up in search results for the keywords you're targeting. You can view yearly or all-time stats.
Traffic and Keywords Trends, a feature that helps you look at the top pages of your website and those of competitors.
Backlink Analysis, a tool that allows you to determine great opportunities for link building by estimated links, link source, and link type.
Serpstat Pricing: Small businesses can take advantage of the Lite Plan for $55/month, which allows you to track up to 15K keywords and create 10 projects.
Dive Deeper:
* How to Rank Your Brand-New Website When You Don't Know SEO
* How to Write a Strong SEO Title Tag (with Formulas & Templates!)
* 9 Quick SEO Tactics That Only Take 10 Minutes to Implement
5) SpyFu
SpyFu is a competitor to RankScience and, like the other tools mentioned, has more features for SEO content marketing, making it a viable alternative. It focuses on competitive "spying" to help you adjust your strategy around other top-ranking pages.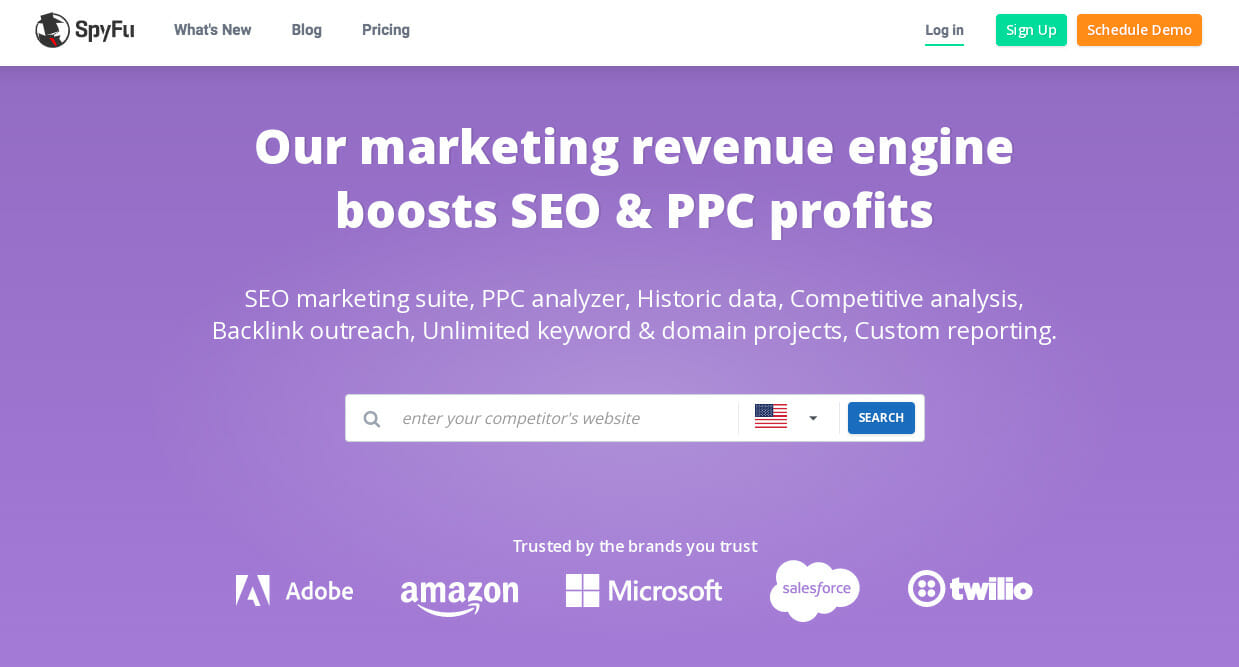 Why Choose SpyFu?
SpyFu provides a Keyword Tool, which is a great way to discover new opportunities for ranking. It provides mobile data, desktop data, estimated clicks, search volume, and difficulty ratings for keywords.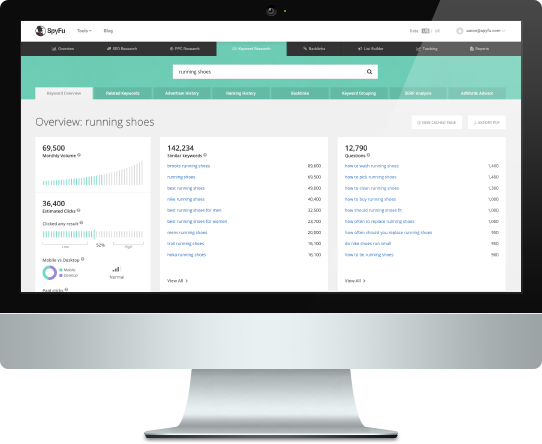 Additional features include:
Bulk Analysis, a feature that helps you upload a thousand keywords and view their data all at once.
Top Organic Competitors is a feature that lets you spy on your biggest opponents for a niche, keyword or industry so you can change your strategy accordingly.
Organic Ranking History helps you visualize your keywords and how they're performing to catch any slippage in traffic and keep content fresh.
SpyFu Pricing: There are three SpyFu plans to choose from:
Basic: $39/month (track 5K keywords)
Professional: $79/month (track 15K keywords)
Team: $299/month (track 40K keywords and receive custom branding)
Conclusion
Finding the right tool to manage your SEO campaigns is vital. However, with so many software options such as RankScience, it can be difficult to make a decision.
Don't worry — we've done the work for you! The five tools above are all excellent RankScience alternatives to help you boost organic reach and revenue from your SEO marketing.