ClickFlow as a RankScience Alternative (for SEO Testing)
Want to grow your organic traffic by 20-100%? We built ClickFlow, a suite of SEO tools designed to increase your organic rankings and scale qualified traffic for your website. Click here to learn more and get started.
If you've been working in SEO for any amount of time, you probably have a bunch of checklists to refer to each time you work on a webpage. Something like:
✅  Conduct keyword research
✅  Check the title tag and optimize
✅  Check and optimize the meta description
✅  Make sure that your headings are optimized and structured correctly
✅  Ensure that you have optimized alt tags
You've probably been using the same checklists for years, and that makes sense. The basics are essential and you always need to have these in place.
That said, SEO is in constant flux. Checklists are important, but they're not the be-all and end-all. You need to change your processes to keep up with the times.
But how do you do that? What tools are best to achieve this?
Benchmarking and testing are the new tools in your SEO arsenal. In fact, benchmarking and testing are your new checklists.
You don't need to throw out the old checklists; just bring in new ones.
What Is SEO Testing?
In the golden days of SEO, you could optimize pages based on known ranking factors and experience. But things aren't that easy anymore, so that's where SEO testing comes in.
SEO testing is the process of taking a hypothesis on what could potentially help a page rank better, rolling out those changes, and then monitoring its impact. This can be done with A/B testing or by making changes and then tracking how they affect traffic and rankings.
What helps a page rank differs from niche to niche and keyword to keyword, but no matter which niche or keyword, SEO testing is essential.
Learn More: Why You Should Run SEO Tests
Why Is SEO Testing Necessary?
As mentioned, what helps a page rank changes according to niche and keyword. In addition, what works on one part of your site might not work on another part. Best practice flies out the window when you realize this.
SEO testing is about relying on your data to make decisions. It's about gathering intel on your own site and that of your competitors, and discovering what helps each of them to rank. SEO testing is not about relying on the word of this expert or that expert.
So what tools can help you with SEO testing and benchmarking?
While this is still a relatively new concept for SEO, a number of tools are entering the market. In this article we'll look at two of them: RankScience and ClickFlow.
We'll review each of them separately, analyzing their features and pricing, and then finish off by comparing the two and giving you a few suggestions on which might be better for your needs.
Learn More: How to Decide What SEO Tests to Run
What Can I Do with
RankScience

?

RankScience is a dedicated piece of software that allows A/B testing for SEO. Similar in concept to conversion rate optimization, RankScience enables users to make changes to title tags, on-page copy, and other important elements like headings and alt tags.

By simply adding one line of javascript to your site, you can make changes on the fly. Add the code and you can split your landing pages into two groups: your original HTML in the first version of the page, and the new page with changes. These are both served up to Google, and you can work out which page performs better in the search results.

Once the test is complete, you can see if the variant page performs better, and then make the new page. You can then move onto your next test.
RankScience Features
SEO A/B Testing
As mentioned above, RankScience's main feature is the ability to apply changes to a page and serve up different pages to Google and users.
Many SEO testing tools ask you to make changes to a given page, and then it's your job to see if the new page outperforms the old one. With RankScience, you minimize the risk associated with this because you still have your variant page and can switch it back at any point.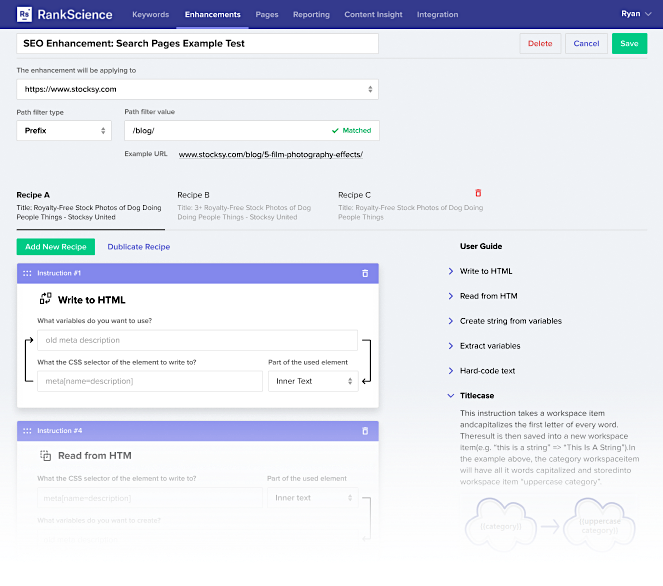 Content Insights
One of the most talked about advancements in SEO over the last few years is Google's advanced use of machine learning and Natural Language Processing (NLP).
No longer is it enough for you to drop a few extra keywords into your pages and expect to rocket up the search results — these days, you need to apply a more data-based solution.
The Content Insights tool in RankScience helps you do this. Using real-time search data and NLP, RankScience helps you craft content that's more likely to rank, and likely to rank higher.
Simply drop your current content and focus keyword into the tool. RankScience then immediately grades the content based on your competitors so you have a benchmark of where your copy needs to be.
This isn't about blindly following a checklist — this is looking at the words that your SERP competitors use and then helping you apply those learnings to your content.
RankScience will advise you on:
Readability grade
Word count
Monthly searches
Terms that appear in competitor content
Other relevant terms that have surfaced from your competitors' copy
What you'll get is a checklist that's relevant to your niche, your keywords, and what's already performing well in the SERPs.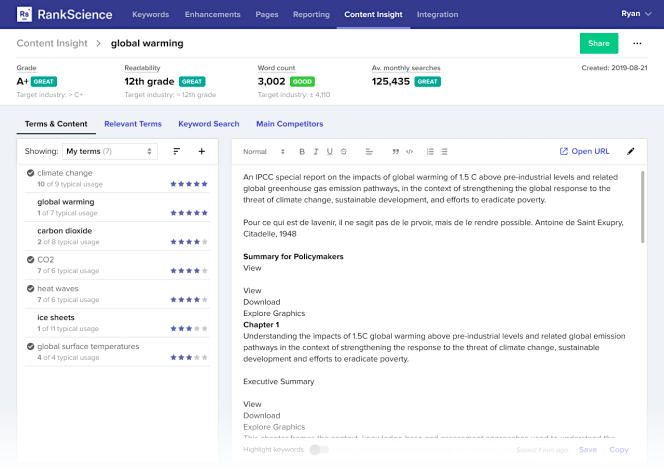 RankScience Pricing
On the downside, RankScience doesn't make their pricing explicitly clear, which is always a bit of a worry. However, when you sign up, you'll see that you get a 30-day trial. After that, it costs $295/month.
Unfortunately, nowhere on their site does it say how many tests you can run for that price or what limitations there are on searches and checks.
Want to grow your organic traffic by 20-100%? We built ClickFlow, a suite of SEO tools designed to increase your organic rankings and scale qualified traffic for your website. Click here to learn more and get started.
What Can I Do with
ClickFlow

?

While RankScience is an A/B testing platform for SEO, ClickFlow takes a slightly different approach: it's an SEO experimentation tool.

Using Google Search Console data, you can make informed decisions about the experiments you run on your website's pages, and report back on how successful they were. You can then choose to keep the changes, tweak again or, in some cases, roll back to the original version.

ClickFlow gives you complete control over the changes you make and even points you in the direction of those pages that might benefit from additional updating and/or experimentation.
ClickFlow Features
There are loads of features in ClickFlow that help you create and track your SEO experiments, as well as keep everything organized.
Let's take a look at them.
1) Dashboard
First up, we have a handy dashboard where you can see the top-level stats: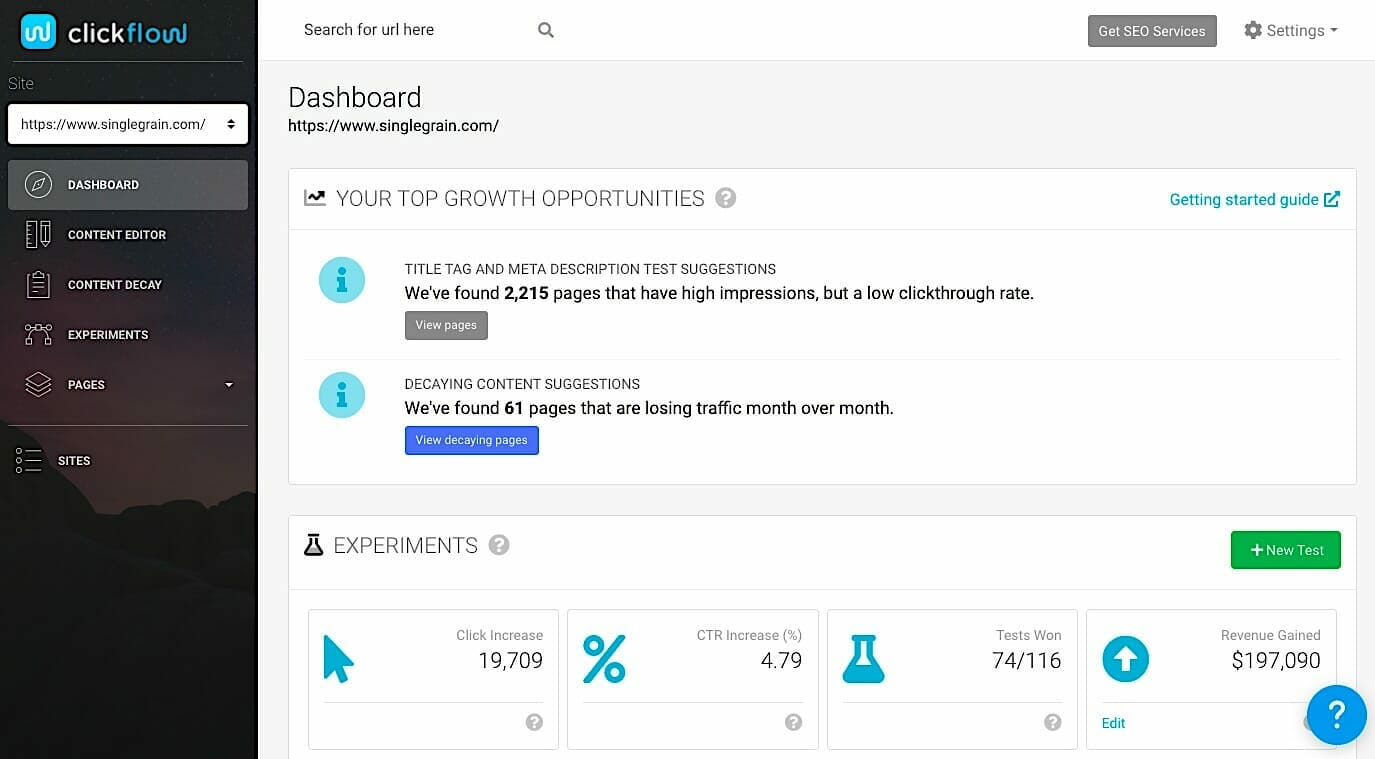 Top Growth Opportunities
Based on Google Search Console data, ClickFlow will flag any pages that it believes need your attention. These suggestions are gathered by locating pages that have a high-impression count on Google, but low click-through rates.
The second stat is around content decay (more on that below). ClickFlow will flag pages that have declining traffic month-over-month, according to Google Search Console data.
Experiments
The dashboard then moves into the top-level experiments stats (more on that below). It shows the overall performance of the pages you've experimented with, breaking it down into click increase, CTR increase, tests won, and revenue gained. This last stat is crucial if you're trying to show the C-suite the benefits of the changes and tweaks you're making.

2) Content Editor
As with RankScience, ClickFlow has a content editor designed to help you make the best decisions when tweaking your pages for SEO.
Each post you write or edit shows the grade of the page, the readability level, and the word count. It also shows you which relevant terms your competitors are using on their pages, and how many times you should (ideally) use them yourself. 
You can even invite a writer (in-house or a freelancer, so no subscription needed) to this page to create or edit the content, so you don't have to brief them — which is a huge timesaver.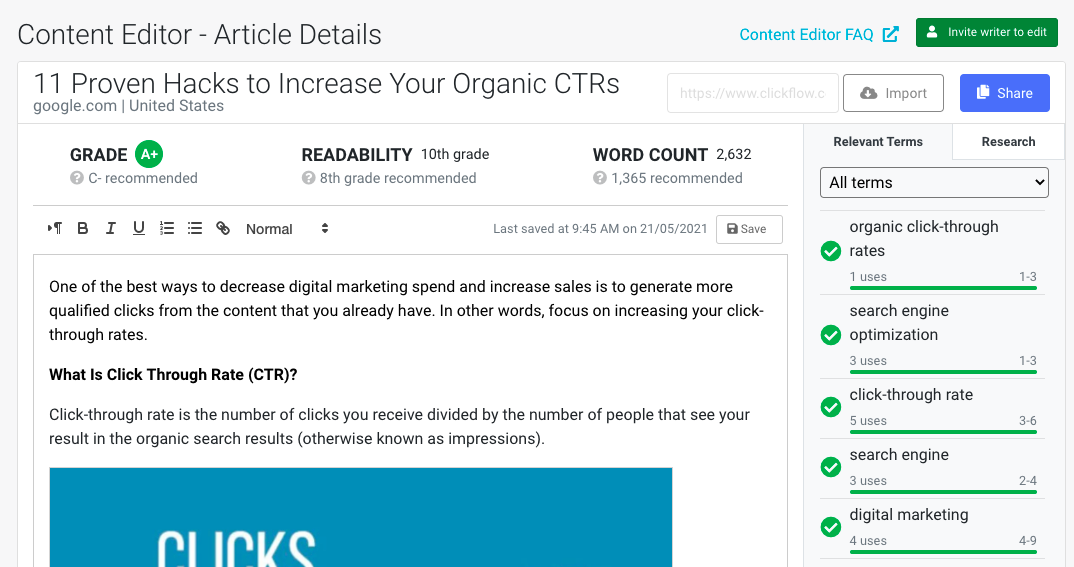 In addition to the "Relevant Terms" or keywords listed on the right-hand side, if you click the "Research" tab, it will show you the questions found in Google's "People Also Ask" box, which are great to use for your headers: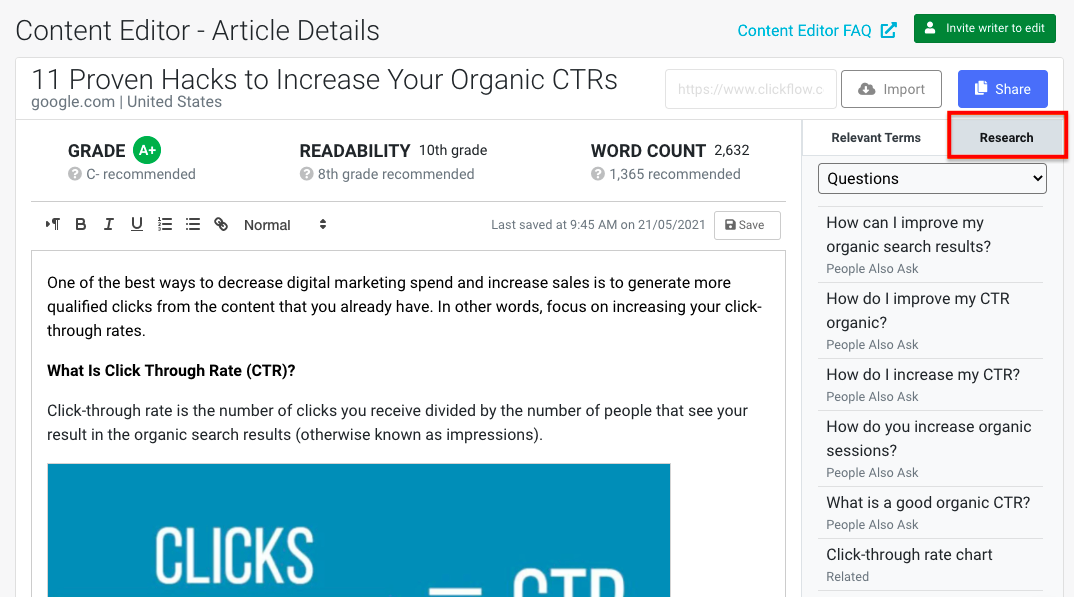 Related Content:
* What Is Content Optimization? (And How to Ace It!)
* ClickFlow as a Clearscope Alternative
* 5 Tools to Create SEO-Friendly Content Step-by-Step

3) Content Decay
RankScience and ClickFlow have a lot of features in common. ClickFlow, however, goes one step further and adds a little more into the mix.
The Content Decay tool scours your Google Search Console data and finds pages that have performed well in the past, but have been decreasing in traffic month after month. You also get a nice little graph that shows traffic decline, the percent of loss since the page peaked, and the number of clicks missed when it was at peak performance: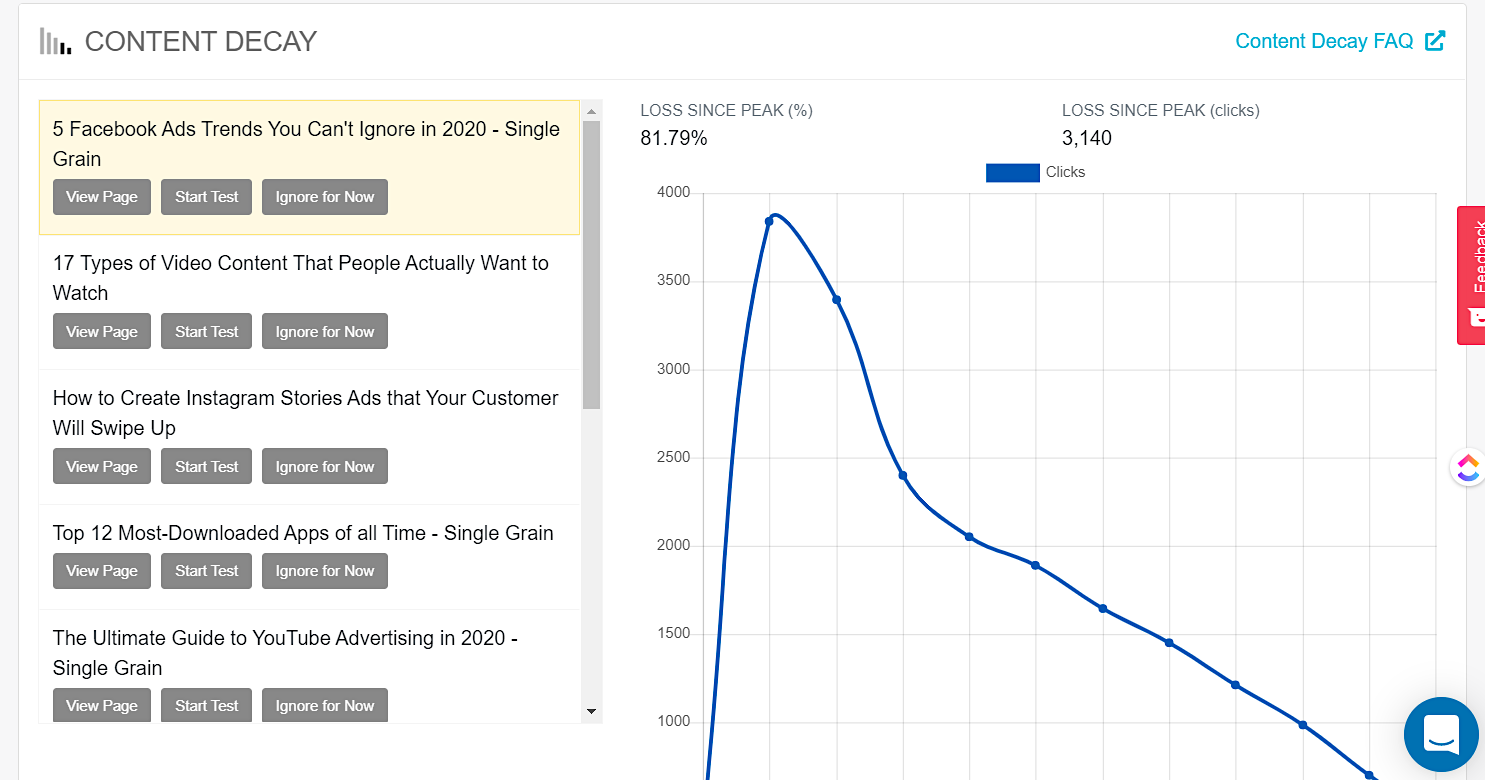 Why is this useful?
We know that Google loves new content, but refreshing old content can give it a hefty boost, too (and with a lot less work than writing a whole new blog post!). The Content Decay tool takes the heavy lifting out of finding these pages.
From the dashboard, you can choose to view the page stats, start a test or, if you're not keen on updating a particular page, simply ignore it for the time being. This two-minute video will quickly show you how to grow your SEO traffic with ClickFlow's Content Decay tool:
Learn More: Why You Should Update Content – Or Risk Losing The Traffic You Have [Case Study]
4) Experiments
Setting up experiments is all well and good, but when you're working on many pages, it can be hard to keep track of them all.
But don't worry, ClickFlow has your back!
The Experiments section shows the top-level stats (the same as you see on the main dashboard) but then takes everything a little bit further.
You can filter experiments by state, tags, test focus, time, and exact URL if you wish. Very useful when you have many experiments on the go. Scroll a little further down this part of the tool, and you can see more details about the test.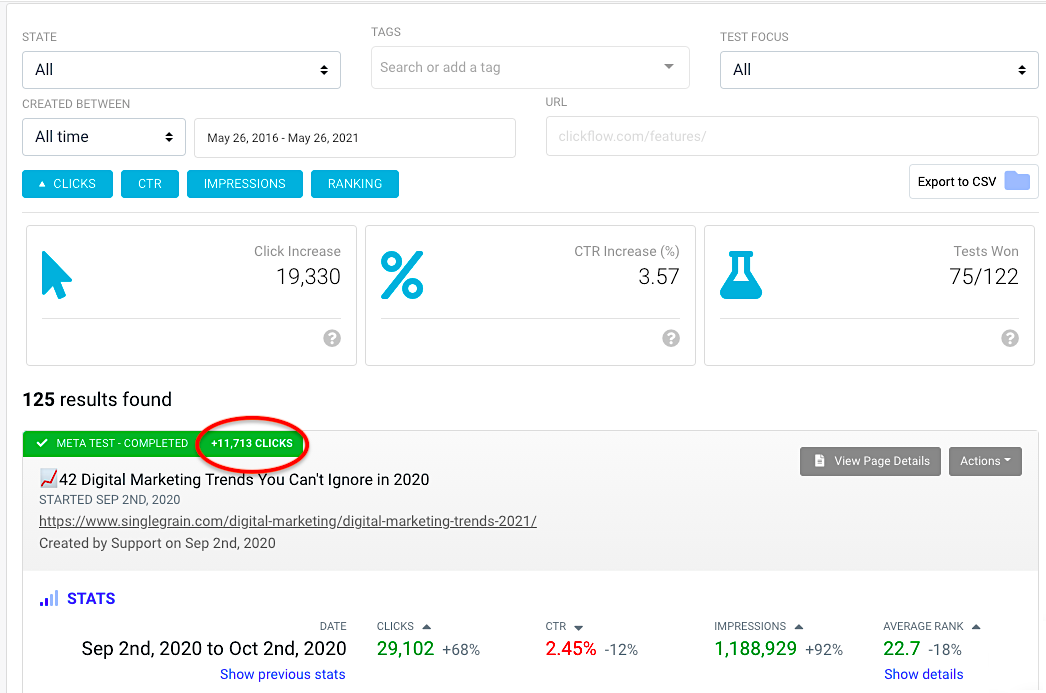 It will show the following:
Stats – All the stats from Google Search Console. This includes the date, clicks, CTR, impressions and average rank increase or decrease.
Changes – When you make so many changes it can be hard to track them all. Thankfully ClickFlow shows you the word count change, whether titles have been changed, schemas that have been added, and more.
All of this makes managing SEO experimentation much more manageable.
5) Pages
This section breaks down all the data associated with every page you've experimented on.
So, as you can see from all these features, ClickFlow offers more features, helps test your theories, and points you in the right direction, too.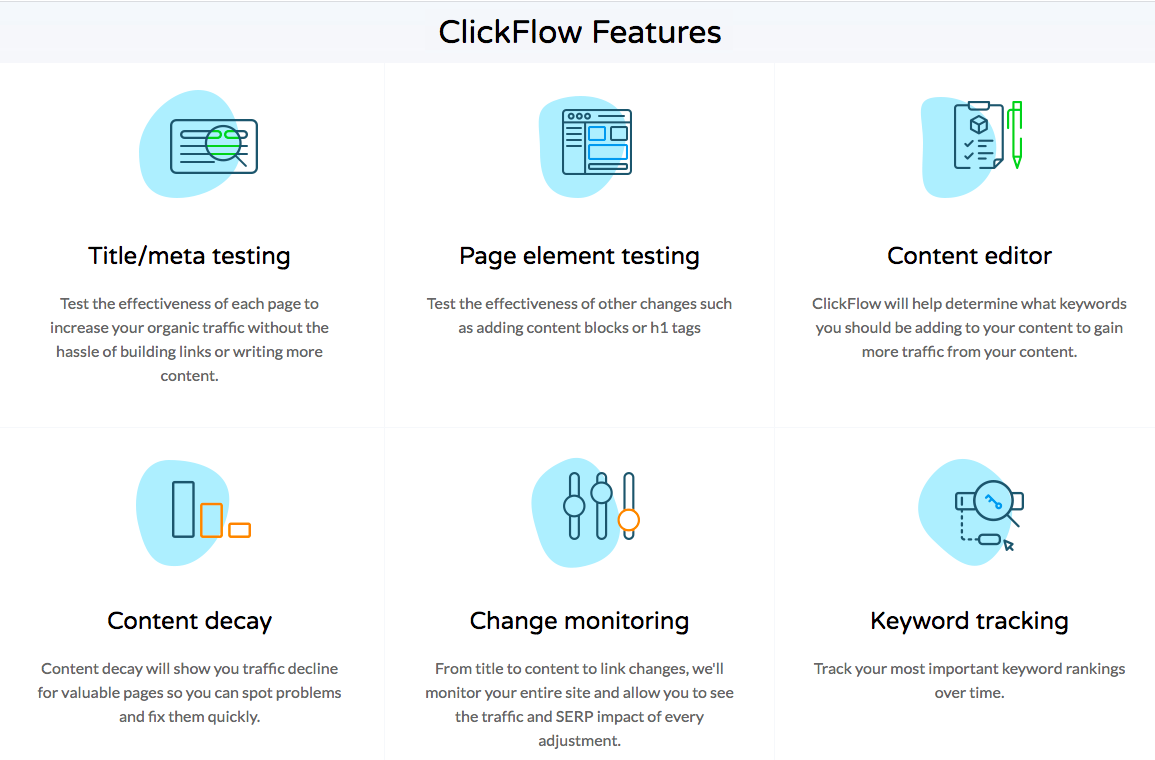 The Cost of ClickFlow
Marketers are busy people. Simple pricing structures are the way forward, and this is the approach that ClickFlow takes.
For up to 10K monthly visits (according to Google Search Console data), the price is $109, and it includes a trial for only $1.
If you get more than 10K clicks a month, no problem — just request a demo and the team will work out a price for you based on traffic.
Want to grow your organic traffic by 20-100%? We built ClickFlow, a suite of SEO tools designed to increase your organic rankings and scale qualified traffic for your website. Click here to learn more and get started.
RankScience

vs.

ClickFlow

: Key Takeaways

On the surface, RankScience and ClickFlow both do similar things. In short, they help you experiment with your SEO.

The biggest difference between the two is that RankScience shows different versions of your pages in the SERPs. In contrast, ClickFlow lets you experiment with SEO and then track the results after making changes.

But which one is better? That's a personal choice. However, when you factor in the additional help that ClickFlow offers in finding experiments to conduct and then tracking these changes in a meaningful way, ClickFlow will likely come out on top.