Instagram Adds New "Favorites" Feature for Marketers
In a bid to stay ahead of the competition, Instagram has been adding a lot of new features recently.
For the layperson, there's not much that's new, but for the marketer, these are the most recent exciting features:
Story Ads, which helps you increase your reach
Location Stories, which helps you build brand awareness when users tag your business
Story Links (an addition to Story Ads), which capitalizes on reach by allowing users to visit business pages
And Now…Instagram Favorites
Most recently…
Instagram has been testing Favorites, a feature that reinvents private sharing on the platform.
Click To Tweet
To use the feature, you just need to click on the Favorites icon on your profile and create a list of friends who can see certain posts. Only you can see the members and people can't ask to be added. Essentially, they don't know the group exists, unless you tell them.
Once added, friends can tell that they are on a favorites list when they see a "Favorites" badge at the top right of the post or story. They can also like and comment on the story as they normally would.
Learn More: Instagram Stories: How Brands Can Benefit from this New Feature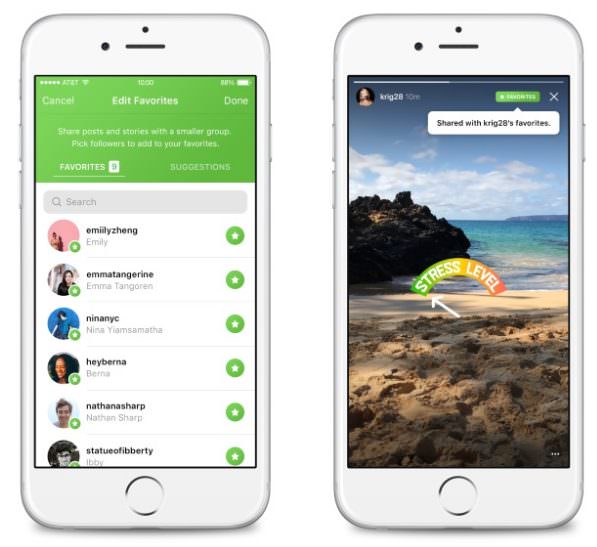 This is still in the test stage and Instagram calls it "an initial test with a small percentage of users." However, if it rolls out to the broader population, Instagram could be the go-to place for sharing with large groups while still maintaining privacy.
From Finstagrams to Favorites
Up until now, users could only have a private account by creating what was referred to as "Finstagrams." This "fake" account was where the owner allowed access to only their closest friends. Another hack was to post, then subsequently delete the post once the people in your inner circle have seen it.
But as you can guess, this was a lot of work that discouraged many people from using the platform.
With Favorites, users will have more control over their posts and the audience that sees them. One can have a large following and post intimately without any hassle.