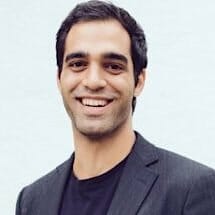 Michael Broukhim, the Co-CEO and Co-Founder of FabFitFun, which offers an incredible beauty box subscription service. Michael talked to Eric about what makes FabFitFun different than their competitors, what their key marketing strategies — including influencer marketing — look like, how he sold 2,000 beauty boxes in 2 days and continues to grow 300% YoY, and what it's like to partner with his brother.
FabFitFun: A Lifestyle Experience
FabFitFun is beyond a beauty subscription box, it's a whole lifestyle experience. There's products in it and beauty and fashion, fitness, wellness, home, technology, it really can be anything. We used the framing that it's sort of like a happiness membership.
Some of these different memberships might personify a person: The beauty subscription boxes might be your make-up artist or your beauty shopper, fashion subscription products are your stylists. We think of ourselves as being your best friend, showing you products to make your life better, just brighten up your day, inspire you to try new things and stretch a little bit of beyond what you're thinking about in that. We tend to be very busy and so this is a real treat yourself, take care of yourself, type of product. 
For instance, our Editor's Box is our greatest-hits box: It has a beautiful blanket scarf from ModCloth which is another great e-commerce retailer that we've partnered up with. It has a lovely necklace from a company called Jook & Nona. It has different skin care and beauty products: an eyeshadow pallet by Pure Beauty, a skin hydrating booster. We have a coloring book with colored pencils in partnership Pencils of Promise. If you follow the trends, coloring books are very soothing, so that's the angle there. We also include access to online workouts from our partners at Barre3. It's a little bit of everything in there.
How FabFitFun Makes Money
The old-fashioned way. Our members pay us: The subscription is $49.99 per quarter or $180 for an annual subscription.
Our members get a tremendous amount of value. Each box has well over $200 in retail value in the products and there's a lot of content and community features that you get access to as a member. We also have a little bit of a heritage as a media business. There's brand partners and sponsors that also contribute to our revenues.
How FabFitFun Started: A Family Affair
I think FabFitFun was in a lot of ways a happy accident. I don't want to take credit for the idea. I think the idea's has been a collaboration of myself, my brother Daniel (Co-founder and co-CEO), and my sister Katie (our Editor-in-Chief) and the rest of the team. There's been a lot of people around us who've helped us figure out a lot of the nuances.
The earliest background in terms of my personal journey: I started a digital agency in college doing political marketing and then consulting. I worked on a presidential campaign, did a bunch of senate campaigns. Spent a few years doing that, building websites, doing digital strategy media buys.
At some point I wanted to be back in Los Angeles where I grew up. When I started spending more time in LA someone told me politics is Hollywood for ugly people, and if you can do this stuff for politicians, you can do this stuff for celebrities and entertainment folks.
I got introduced to our first entertainment client around 2009, which was Rachel Zoe. I helped her to come up with a concept for launching The Zoe Report, which is her online media property. That sort of set things in a totally different direction. We shifted gears fully into lifestyle and entertainment, picked up a ton of clients in that world. At some point we just wanted to have our own brand that we were operating. We always done different internal experiments within the agency which was initially called Opera New Media.
We launched FabFitFun as an internal experiment. Initially it was just a media business producing editorial content across all of lifestyle. At some point, we said we want to be more than just media, we wanted to actually have a product, we wanted to sell something. We've seen the trends around different subscription based e-commerce businesses. We thought the writing was on the wall if you were going to be a niche lifestyle content site only.
When we started in the subscription space we thought there was just white space and no one really taking that positioning of just making your life better, make your life happier. We wanted to create the anything goes in service of making the customer happy model of the membership program. Launched that in 2013 and the rest is history.
There were other experiments. The trail of dead bodies in terms of things that we had tried is very long. When we started FabFitFun we actually didn't think this was going to be it. but it was at least worth kicking the tires. But it was definitely strong out the gates. There was a lot of traction just as a media business. Our agency clients helped pay the bills and we kept that up. It overlapped for a couple years.
It becomes obvious that where there's smoke there's fire, and the thing starts paying for itself and more than that. We saw that with FabFitFun. We saw just the potential was enormous and at some point we … It just naturally just sucked up more and more of our time to the point where there was nothing left.
FabFitFun Revenue
We did over $40 million in revenue in 2016. We had, in the fall I believe we talked about our crossing the 200,000 subscriber number. We've gone quite a bit past that now but we're not sharing those numbers at this point. We're seeing a a tremendous amount of growth, that $40 million dollar number was over 3 X growth from the year before, which itself was over 3x growth from the year before that.
We're seeing really consistent traction and a lot of energy from a very excited energized community. Our members are really, really getting something out of their experience and I think there's just a tremendous amount word of mouth and excitement around it that's been propelling our growth.
What Sets FabFitFun Apart in a Sea of Subscription Boxes
I think the characterization is just … It's interesting. I think subscription is a form of payment. It's a structure that can work, and it can not work. Whatever the underlying product or business is,  most businesses fail. I think we just have some sort of high-profile flame out in the subscription space that maybe created a little bit of skepticism. I personally think a lot of that is misguided. There's just going to always be business failure, whatever your business model, whatever your payment method is.
One of my personal business role models at least is Jeff Bezos. He's done well with Amazon Prime. I think there's a lot to the type of relationship you can create and the type of experience you can create with the customer when you're relationship isn't purely transactional.
Every time we wanted to do something from our customer it was just a checkout experience. You're just a lot more constrained, where we just think a lot more holistically about our customers are our members. There's an ongoing stead of member benefits and perks that we can invest in. We have that relationship of trust where our customers telling us, "Hey, I'm going to come back quarter after quarter." We have a lot of reliability on in terms of what that looks like and let's us deliver even more value, be a lot more efficient, create something that we couldn't create otherwise.
If your question is what are we doing right versus what are other people doing wrong. I think there's a lot of people doing a lot right and I'd say that the people that are doing something right are creating something really valuable. Fundamentally it's a product question and I think we've created just a very valuable product I think.
How FabFitFun Transitioned From Media Product to Product
I wouldn't say that starting out as a media company is necessarily the recipe. I think there's other subscription services out there. I think you could look at Ipsy or StitchFix or a number of others that are doing exceptionally well and we look up to. They didn't have their roots in media. They are actually, if you look at Ipsy,  doing a ton in media and doing really impressive things. That was just part of the model at the outside in terms of this hybrid of content and commerce.
We think there is … There's been a lot of promise and peril around how does content commerce work but we think it's real. We think the common mass magazine whether it's Vogue or any of the other titles or grammar or lure reinvented, we think has a commerce engine at the heart of it. I think that's what we think … That's one of the ways that we think about ourselves.
Retail is an order, not even … Maybe a seven. Two orders are magnitude bigger than anything else. If Facebook and Google changed the media landscape, retail's just enormous.
All of Facebook and Google's revenue is essentially boiled down to advertising revenue. They're taking ad revenue and moving it from all the traditional media outlets into digital. What happens when all the retailers move online or a bigger portion of them, there's a lot there, and there's going to be a lot of winners and there's going to be a lot of different things that work. I think there's a healthy skepticism about a lot of e-commerce. I think the opportunity is so enormous that it's worthwhile to keep paying attention.
How FabFitFun Uses Influencer Marketing
Giuliana Rancic was our first influencer, and she was a great partner for us. We started the FabFitFun newsletter in a partnership with her. In a lot of ways, a lot of the brand DNA that she imparted into FabFitFun helped us find a voice, helped us find and initial audience. That was a really great partnership for us.
Two different things I'd recommend about working with influencers: one is this idea of partnering with an influencer who's the face of the brand and then there's just influencer marketing as a whole world which is a lot more than that. I think what I'd say is, with respect to the first category of partnering with an influencer, having them as a co-founder or initial spokesperson or launch partner,  can be very effective. It gets you above the noise. You have to make sure that that's not … To use a football analogy, it'll take you to a few yards after kickoff… you might get ten yards out but that's not the business and I think a lot of people think that the right celebrity, if we only had so and so out there talking about us it would be game over. That's, I won't even say rarely the case, it's just never the case.
At the end of the day you have to have a really well-run business. You have to have amazing products, you have to have a great strategy and ideas around marketing. A celebrity in themselves isn't going to be the strategy around marketing. It could be a key piece of the puzzle. You see something like Honest Company, Jessica Alba is the face of the brand in a lot of ways but she's also day-in and day-out making it happen, driving a lot of the creative strategy, and a lot of other parts of the business. That's one aspect of how to work with influencers, the caution I'd put on that.
More broadly in influencer marketing I think we do quite a bit of influencer marketing today working with different influencers in terms of doing unboxing events and things like that. Whenever you think of media, some of that's paid, some of it's organic. The eyeballs, people on these social networks, on Instagram, on SnapChat, on Twitter, on Facebook, on YouTube. To the extent that you can get into the stream of where the eyeballs are in an organic and fun way, that's the way you want to think about how to do your marketing or at least a really really big part of it.
The Most Effective Tactic for Customer Acquisition
Not try to cop out. I think the most effective thing having a very positive friendly interaction with our customers. The reason I'd emphasize that is I think you can ether create a vicious cycle or a virtuous cycle in terms of word of mouth. It's always good to study what's the cancel experience in any sort of subscription service. Some people make it a real pain to cancel. You have to call in, you might have to be on hold for an hour. Even then they're on a script that's trying to convince you ten different reasons you shouldn't cancel and then put you on hold. 
What happens is that might help reduce term numbers months over month or go tell your board look at all the people that didn't cancel for a certain period of time. Longer what happens is those people have such a sour perspective on your brand and your offering. One, they're not coming back. Two, on the way out the door they're telling people not to sign up. You get this vicious cycle of negativity that starts to build in the ether. It's hard to really quantify it but it just … Like a negative review here and a bad article there that ranks high in Google and all these things will really crush you long run in your marketing.
I've seen that play out a number of times whereas we've decided from all of our practices to be extremely customer friendly and just make sure that everyone who interacts with us in any way whether it's with customer service or a cancel user experience or anything like that is doing so in a seamless and positive way. I think what that's done is just create a lot of positivity. Just a lot of ambassadorship around the brand. I think that's at the core of what drives our entire customer acquisition engine. Beyond that we're tactically good across the board. We have best in class, people and processes when it comes to paid acquisition, whether it's Facebook or Instagram or Pinterest or YouTube or the influencer channels we work on. We're doing a lot in a lot of places. Our methodology revolves around just being very data driven and test driven. I think if you do that and you do it very deliberately and have some great creative behind it, you'll get to a great place.
More on influencer marketing:
And go to Growth Everywhere page for more podcast episodes like this!