How do you go about collecting more email signups? Before we get to that, I think we should talk about the importance of e-mail in general.
The Entrepreneur's Biggest Regret
The biggest regret I hear during my Growth Everywhere podcast interviews is: not collecting e-mails from day one.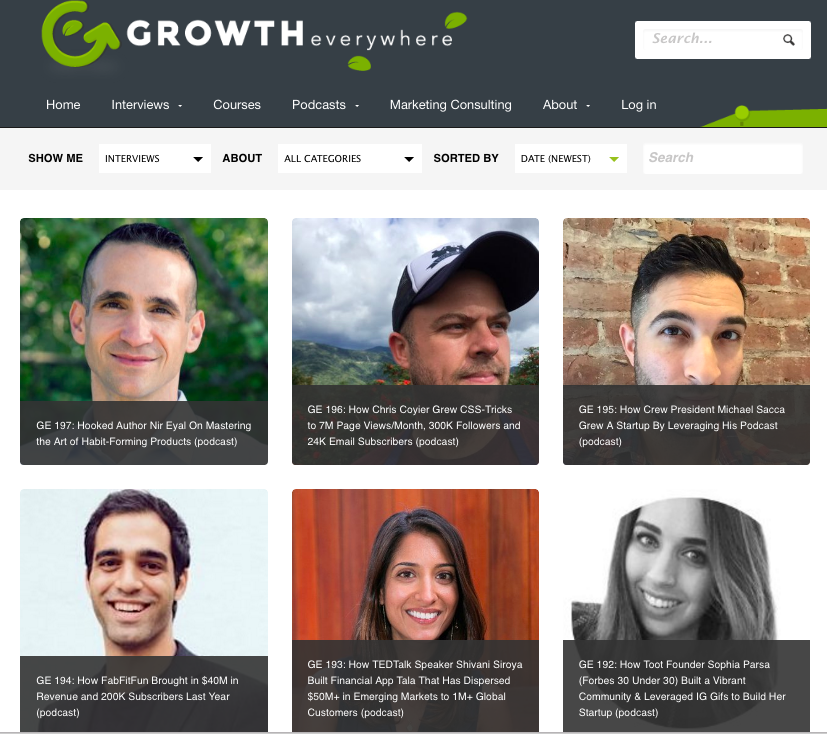 With e-mail, you have full control over what you can say to people. You can blast as many times as you want (but of course you don't want to annoy people). You're building a relationship with your audience, and the revenue comes from there.
On other channels like Facebook, Instagram and Snapchat—if one day they decide to ban you or if they go belly up, well you're done as far as that list is concerned. But with an e-mail list, you have much more control over your audience and you can build a better relationship that way.
Ways to Get More E-mail Signups
The easiest way to collect more e-mail addresses is with an exit popup. When someone's on your website and they're about to leave, you can show them an offer.
For example, if you're on NeilPatel.com, you'll notice a popup that says, "Hey wanna get a cheat sheet for the secrets on how I rank number one for online marketing? Put in your name and e-mail." It's that simple.
Learn More: How to Get Higher Email Open Rates (Without Being Spammy)
Tools for Easy E-mail Signups
I use tools like Hello Bar, which is free, or SumoMe and Bounce Exchange for enterprise. Thrive and Exit Intelligence are two others.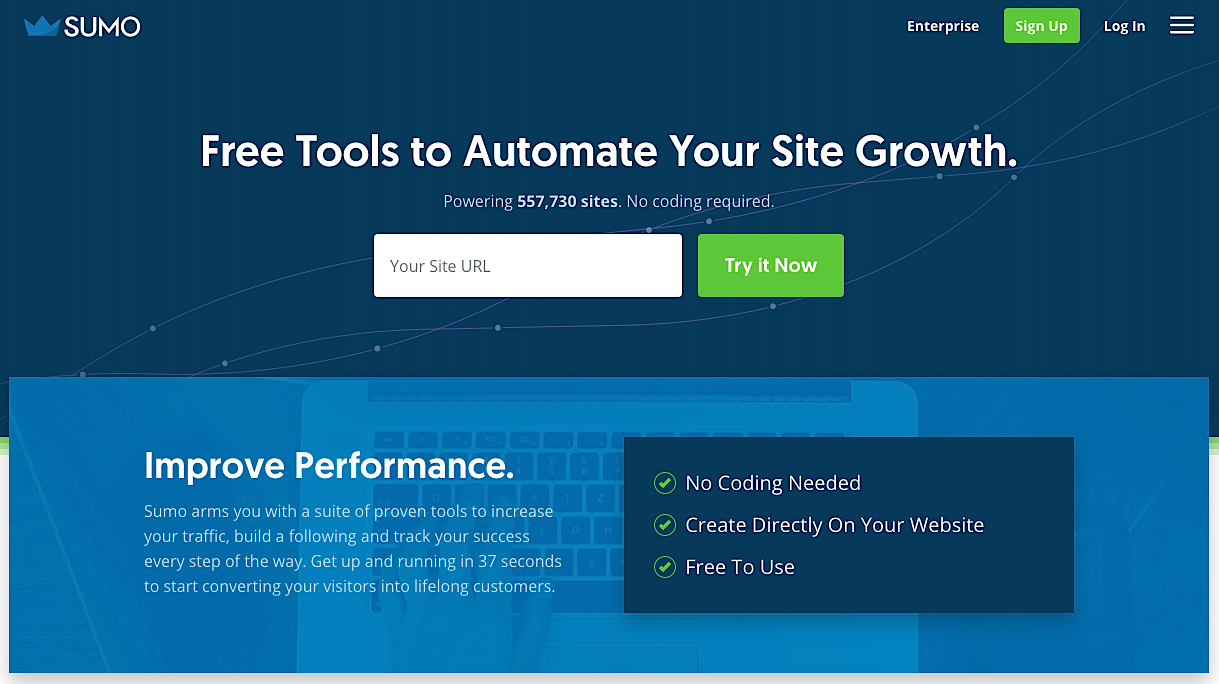 I would start with Hello Bar and if you need a bit more complexity or customization then you can take a look at Noah Kagan's SumoMe as well. They do exit popups, but there are also other elements you can add.
For example, when my goal is to collect more e-mails, I like to add content upgrades to my posts (like the yellow box just below). Let's just say you're reading a post on Gmail advertising and once you scroll through maybe 25% of the post, you see a little box that says, "Hey, if you're enjoying this post, maybe you can get this Gmail advertising checklist. All you have to do is give us your e-mail address."
Learn More: The Complete Guide to Gmail Ads (How We Got $.10 CPCs & Leads As Low As $7)
You just need to make sure that it's relevant. If they're reading something on Gmail ads, they're probably interested in having that checklist. It's relatively easy to drive your e-mail conversion rate on that blog post from 1% to anywhere between 5-15%.
The Power of Page Takeovers
When someone's exiting your website, you can show them an exit popup.
But when someone comes to your website, why not show them something that slides in from the top or side, where you can put an offer? It blends in with the design, it doesn't look like a popup, it's not obtrusive, and it works on mobile devices, which is really important because exit popups don't work well on mobile.
Check out this live example from Undertone:
I've found page takeovers to convert extremely well. Usually you can get at least two e-mails out of a hundred from just that page takeover/sliding banner.
If you can do a specific page takeover, it's even more powerful. Let's just say, for example, that you're running an agency like Single Grain and your site has different categories. One might be content marketing, another might be SEO. If a visitor is going to an SEO section, you can build a takeover offer around SEO.
Related Content: Effective SEO Techniques that Work in 2017
For example, we have an SEO e-mail course that is designed specifically to pop up only when people visit SEO category pages, and it converts pretty well. The thing is, these courses aren't that hard to put together. You just take content you've created in the past and put it into an e-mail sequence, make it a campaign, and then you just drive people to that. You'll see conversions roll in.
Finally, pay attention to your background image. If it's an animated GIF, you'll find that it converts even better. (Ok, this one doesn't have to do with ads, but it got your attention, right?)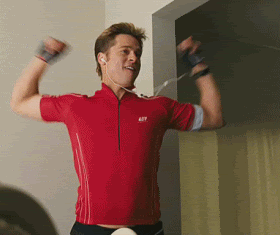 One of Neil's page takeovers talks about how he's ranked number one for "online marketing." The background GIF is him Googling the keyword phrase "online marketing," scrolling down past the ads in the results page, and seeing that he's the number one organic result. That got him a ton of e-mails.
Everybody Loves E-books
E-books are tried-and-true e-mail signup gold. Once you have an e-book, you should be building a landing page for it, and you should be guest posting so that you can link to your landing page in your posts and get tons of traffic.
I know it requires a lot of work, but we have podcasts that talk about guest posting and how to get them. Long story short, people who reach your e-book landing page have two options for how they can get the free e-book:
They can give you their name and e-mail address in form fields
They can tweet the landing page link to get access to it
Either way, it's a win-win for you because if they tweet it out, that generates more traffic.
The other interesting e-book strategy that we love doing is establishing partnerships. We'll do an e-book with, let's say, Optimizely. Because they also do conversion optimization, they blast it out to their list, we blast it out to our list, and then we share the e-mails.
You can end up collecting thousands and thousands of e-mails this way in a really short period of time. The best part? It doesn't cost much, and you now have someone else helping you create the content.
Everybody Loves Free Stuff
Smart Passive Income talks about how Noah Kagan was able to generate a ton of e-mails using giveaways. He even has a plugin for it called KingSumo. If you use WordPress this is probably a good fit.
Related Content: Why Neil Patel Pays $30,000 for Content & Gives it Away For Free [podcast]
Let's say you're B2B, and you're giving away Slack. You can collect a lot of e-mails for a lot cheaper doing contests this way. Or if you're in the health niche, you can give away some type of health product, like a yoga mat. This is a terrible example, but you could probably collect leads for as cheap as 50 cents a pop, maybe even cheaper than that because a lot of people are interested.
It's all about targeting at the end of the day, but you are probably going to have to layer on some paid advertising if you don't have a list.
Building a Product that Drives Leads
There is another, more expensive way to drive e-mail signups: building a product and using it to drive leads.
For example, right now we're developing a product that will basically alert you to what's going on inside of Slack, and we're going to give that away for free. We're using it to collect e-mails. The thing is, we spent about $15-20,000 for this. Will it be worth it in the long run? Absolutely. But the upfront cost is fairly high.
At the end of the day, tools are one of the most effective ways to collect e-mails. They work extremely well. Neil has an SEO analyzer. All someone has to do is paste in the URL they want examined, whether they want the PDF version or the on-screen report, put in their name and e-mail, and he'll send the SEO analyzer report to them.
In this type of situation, almost no one feels like they're being asked for their name and e-mail. They just feel like they're signing up for an awesome tool. That's a really effective strategy.
This post was adapted from Marketing School, a 10-minute daily podcast in which Neil Patel and Eric Siu teach you real-life marketing strategies and tactics from their own experience to help you find success in any marketing capacity.