Many marketers know that e-mail marketing is still one of the most lucrative channels, but the problem is, most e-mails are really poorly written. In fact, 70% of e-mails are considered to be spam.
Just scroll through all the messages in the "Promotions" tab of your own inbox. How many of those e-mails do you want to open? How many of them do you think contain information that you actually want to read?
The best e-mails have a personality to them. Whether you run an e-commerce store, sell  online courses, or run a B2B startup, you can weave personality into your e-mails to make them more engaging — even if you think your business is too "serious" for that.
Get inspired by these companies that do e-mail marketing well:
The Clymb
The Clymb is an e-commerce, fitness, and adventure retailer that provides outdoor clothing brands at low prices.
They sell gear for a variety of different outdoor sports like skating, surfing, camping, climbing, and fishing.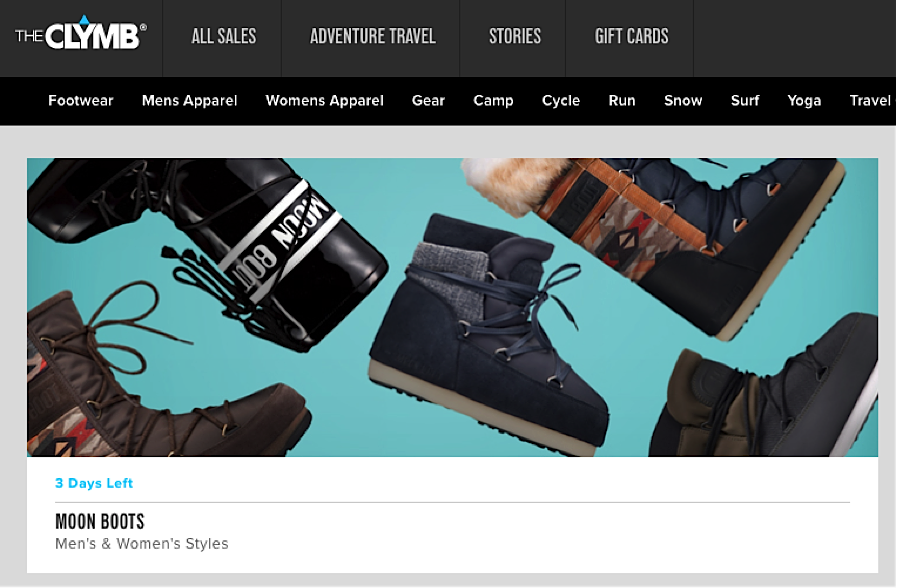 One of the quickest ways to make sure that your content "hits the spot" for your readers is by sending targeted content to specific customer segments. The Clymb had a lot of customer data, but they weren't using it in the right way.
According to Marketing Sherpa, The Clymb wanted to find out how to get the right information to the right people, make sure that the recipients actually read their e-mail, and intrigue them enough that they actually wanted to receive those messages.
The Clymb's e-mail newsletter consists of new content on their website. They used to send their entire subscriber list the same e-mail blast on a daily basis. But to get more engagement, they decided to personalize their e-mails based on specific customer data.
The problem that They Clymb faced is pretty common among blogs that have been around for some time — they had a ton of useful, interesting content on their site, but readers couldn't find what they wanted unless they searched for it.
So first, The Clymb optimized the tagging system on their website to track the activities of both existing and new subscribers. This helped them better understand how to market existing content to their subscribers.
Next, they updated their e-mail templates based on the data that they collected. For example, each of their e-mails used to consist of similarly sized tiles with new updates of men's and women's gear.
Read More: Cold Email Templates that Get Responses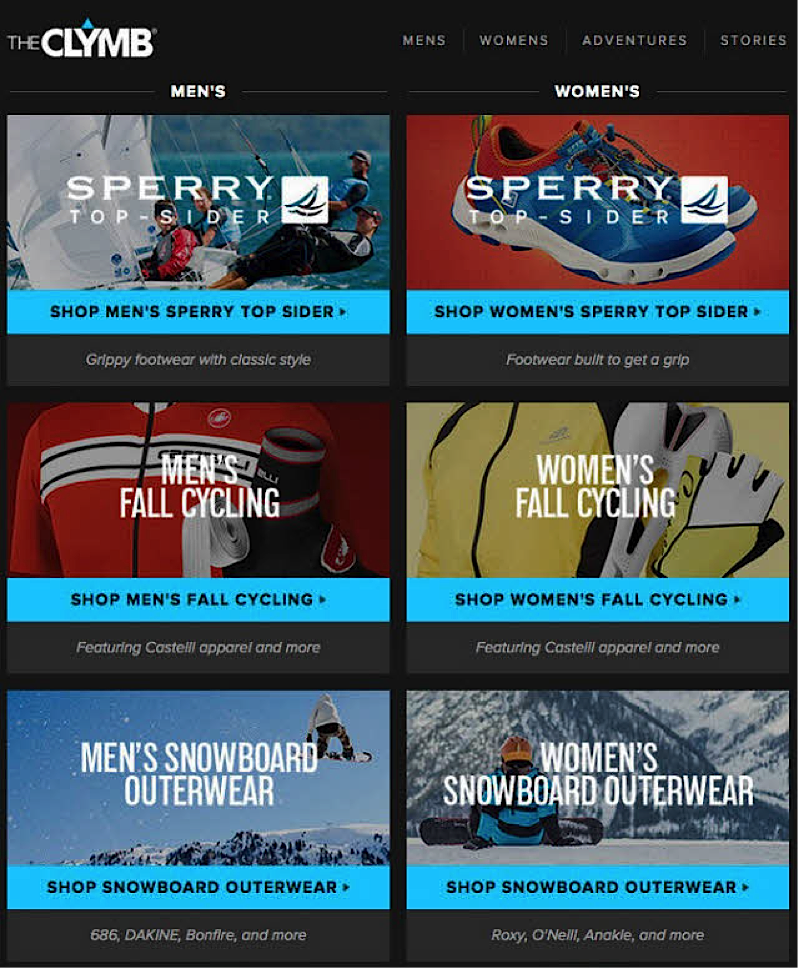 Source: Marketing Sherpa
Using the data they had collected about their subscribers, The Clymb changed the template to display content based on the customer's gender, and they also changed the size of the tiles to make more interesting content appear larger.
Personalizing their e-mail newsletter boosted The Clymb's e-mail revenue by 71%.
Marriott
Marriott International is a major hotel chain that operates under a variety of brands. Their core customers are people who travel frequently for business.
Their main challenge, according to the case study, was to become the world's favorite travel company. They wanted to engage new travelers in their rewards program to keep them hooked on the Marriott brand for the long run.
Most e-mails from businesses, especially hotel chains, are very promotional; they offer discounts or incentives to book a room with them or tell you about a new deal they have for a particular location.
Marriott wanted to take a different approach. Using all the data that they collected on their users, they presented it in a fun and interesting "Year In Review" e-mail.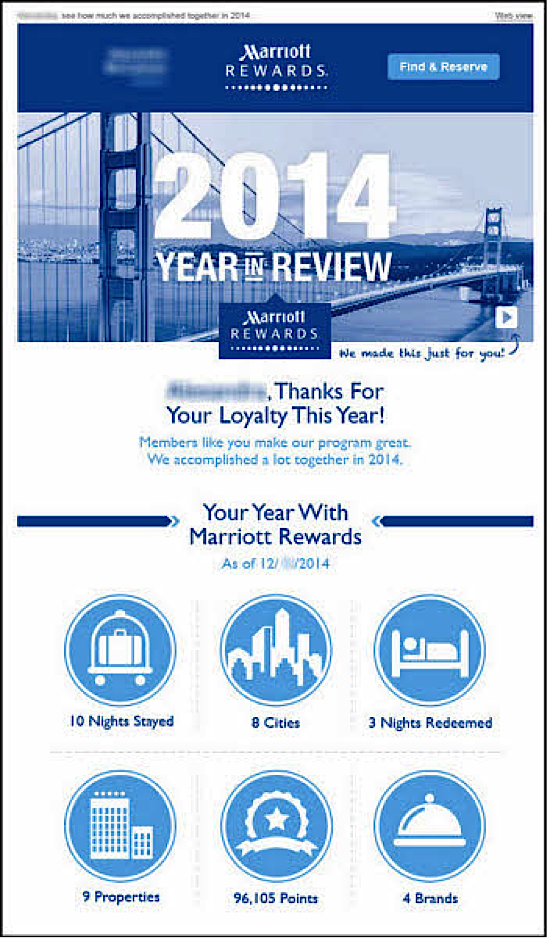 Their e-mail included personalized content that showed readers data on their own travel history in the Marriott system such as:

Total number of nights stayed in a Marriott hotel

Total number of cities visited

Total number of reward points that were redeemed

Total number of properties visited by the member

Total points earned

Total Marriott sub brands the member stayed in
Next, Marriott included data on the member community overall, such as:

Total reward points earned by all members

Total number of miles earned

Total number of points redeemed by all members

Total number of points donated to charity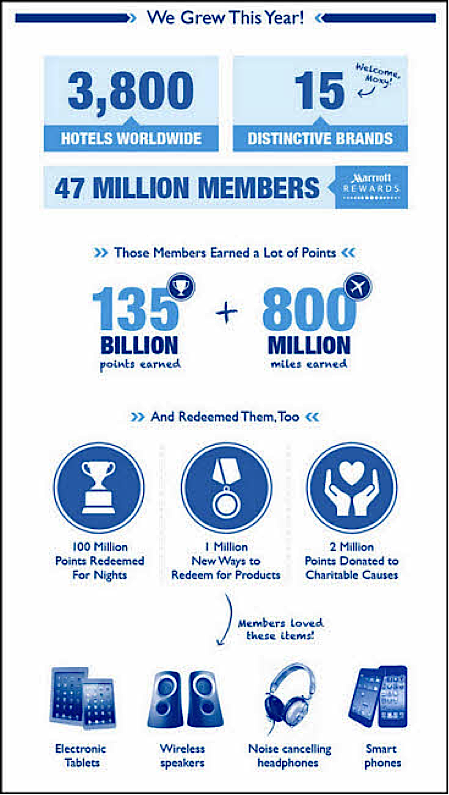 These data points help reinforce member loyalty by showing customers how loyal they've already been, and it also showcases the greater community they're part of. Both of these are powerful triggers to keep members committed and they were sharing their personalized data on social media.
The "Year In Review" campaign had no call to action, they didn't write any sophisticated marketing copy in the e-mail, and they didn't include any fancy sales tactics. Even so, the results that Marriott generated from it were staggering. In December 2014, they generated 86% more revenue than December of 2012 and 2013 combined.
That's how powerful targeted content can be.
Read More: How to Optimize Your Content Strategy with the Buyer's Journey
Apollo Education Group
Apollo Education Group is an education company that's behind major online schools, such as the University of Phoenix.
Because they're such a large organization, they were using a very IT-heavy service provider to send out their e-mails. And because the e-mail marketing technology was so complicated to use, they weren't able to set up even basic lead nurturing programs without investing significant resources into it.
Switching to a simpler e-mail marketing service provider was a complicated process because of all the data that had to be moved over. Even though they were limited in their testing capabilities, they still followed best practices to create a personalized e-mails to subscribers who requested information from one of their universities.
For example, check out this introductory e-mail that subscribers get when they request information from the University of Phoenix.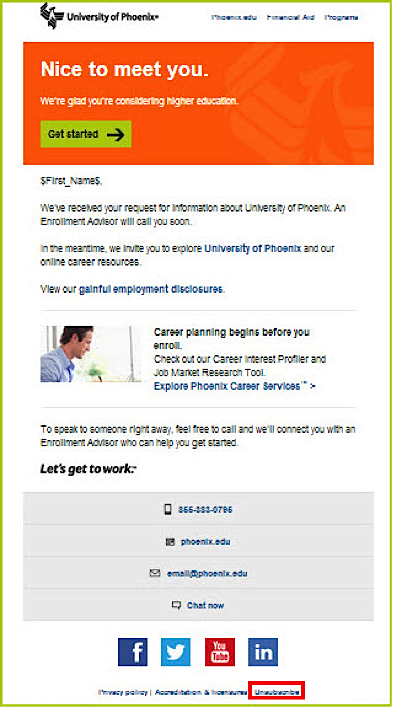 Notice how they:
Used the subscriber's first name

Had a clear call to action at the top of the e-mail

Started the message with an appropriate introductory greeting
This new template brought them a 58% increase in click through rates.
Uber
Uber offers an easy way for people to get on-demand transportation from a variety of locations all over the world.
Some companies use highly targeted personalization to boost their click-through rates and open rates. Other companies, like Uber, use design.
This promotional e-mail from Uber promotes their uberPOOL feature:

The description of the feature near the top of the e-mail is brief, highlights the benefit to price-sensitive customers, and has a clear call to action. And because most Uber users use the mobile app to interact with the company instead of the website, they include copy that says "Tap 'Get Uber Plus' in the app menu to learn more."
Related Content: 11 Companies That Are Doing Mobile Advertising Right
Uber also includes a very concise explanation of the various rewards of their uberPOOL program: they get special benefits if they join that particular month and they get special flat-fare pricing. Readers who skim the e-mail can grasp these points in a matter of seconds.
The design of the e-mail is also consistent with Uber's brand guidelines, with beautiful patterns, visuals, and fonts to make it easier to read.
Mom and Dad Money
Mom and Dad Money is a blog run by Matt Becker that helps parents with their personal finance.
E-mails sent by personal blogs are typically great case studies because of how personalized they are. Check out this one that Matt sent his readers: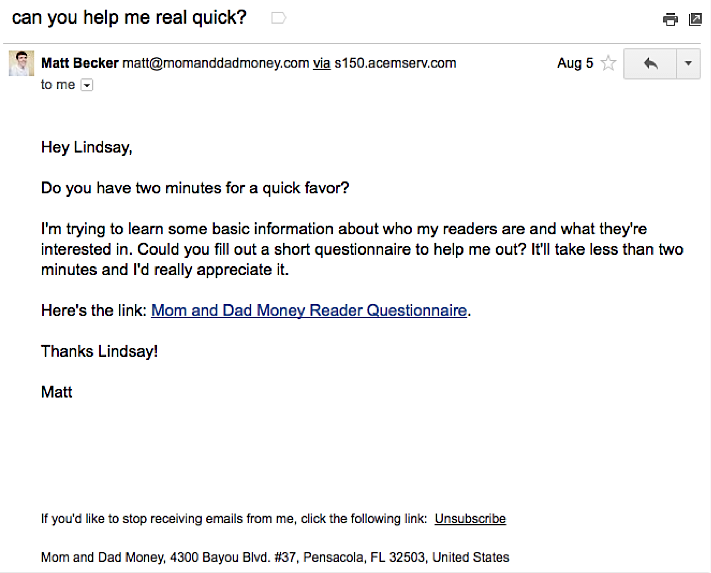 Notice how the e-mail:
uses the subscriber's first name in the greeting
has a clear call to action
has the tone of a friend asking for a favor
As marketers, we're often obsessed with tracking as many numbers as we can, keeping our audience segments as specific as possible, and tracking our ROI. But sometimes the best content you can send your readers is just a simple message that feels like it's coming from a friend.
Even if it feels like it's "off brand," readers will appreciate getting messages that feel like they're actually written by a human.
Matt Becker even went one step further — whenever a reader responded to his survey, he wrote them a long, detailed response where he thanked them for their time and answered specific questions they had. And they loved it.
Finish Line
Finish Line is an athletic footwear and apparel retailer that targets millennials.
Like any large corporation, they had a wide range of buyer personas and they needed to figure out how to tailor their marketing messages to each one.
To better understand their subscribers and what they're interested in, Finish Line decided to tag the site to track subscriber behavior in order to develop a broader understanding of who their customers are. They also integrated their tracking into their e-mail service provider so they could automatically send certain types of e-mails to certain groups.
Next, they had to segment their subscribers based on specific "buckets" of behaviors. Finish Line ran marketing automation campaigns for nearly 300 different segments. They were sending trigger-based e-mails, cart abandonment e-mails, loyalty program e-mails, and more.
Related Content: 10 Companies with the Best Digital Marketing Campaigns
Check out this example of a clever cart abandonment e-mail that prompts subscribers to start shopping again: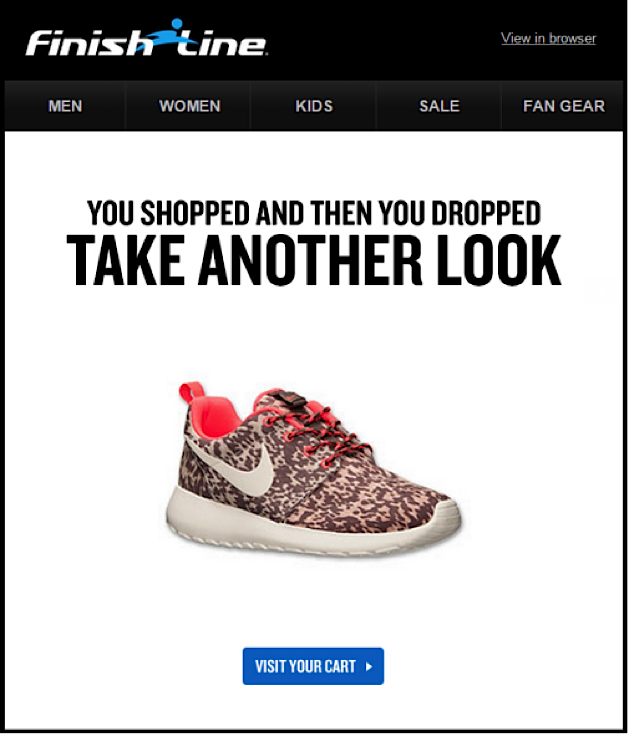 Finish Line also targeted based on things like geolocation, gender, brand affinity, what sports teams and/or schools a subscriber is interested in (based on social media activity), and more.
This data is invaluable when it comes to upsells and cross-sells. For example, if a subscriber purchases apparel for a certain team or school, Finish Line can recommend shoes or hats for that same team or school. To keep as many users engaged as possible, Finish Line also used their targeting capabilities across multiple platforms, including social media and display ads. 
According to the case study, Finish Line's extreme focus on targeting has paid off. They saw a:
50% boost in revenue from e-mails

14% increase in category sales

15% increase in revenue from upsells and cross sells

2.5x boost in conversion from their website
Birchbox
Birchbox is a monthly makeup, skincare, and haircare subscription service that targets millennial women. By paying a monthly fee, you can get a box of beauty products delivered straight to your door.
One of the unique marketing aspects when it comes to millennials is how important it is to be authentic. The more "salesy" an e-mail sounds, the less likely young people are to read it.
Despite that Birchbox has thousands of customers, they do a great job of keeping their e-mails authentic and personal. For example, check out this e-mail below: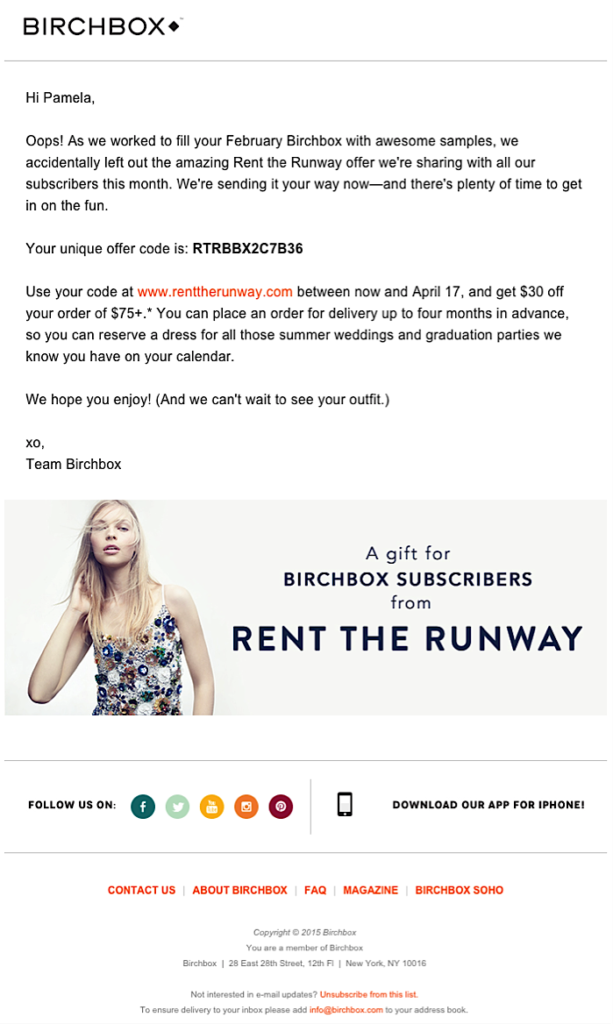 The subject line of this e-mail said "We Forgot Something In Your February Box."
Notice how Birchbox:
uses the reader's first name in the greeting

has a friendly, conversational tone

uses the word "you" to make it feel like the company is talking to the reader directly

mentions that the offer code is unique
All of this makes readers feel like someone in the company is talking directly to them as a friend, not as an impersonal business trying to squeeze out more sales.
Learn More: How Neville Medhora Grew AppSumo's Customer Base to 750k With Email [podcast]
Conclusion
At the end of the day, e-mail marketing comes down to personalization and authenticity. There are plenty of tools and software you can use to tag and monitor subscriber behavior on your site so that you can target your e-mails more effectively, and ultimately generate more sales.
But sometimes the best way to gauge whether your message has the right human touch is just by reading it out loud. Does it sound like something you'd say? What if you were reading that e-mail to a friend? Would it sound like you, or would it sound robotic?
If you read the e-mails above by companies like Birchbox or Mom and Dad Money, you'll notice that they feel like they're talking to you over a cup of coffee. That's how you connect with your readers.
What email marketing tactics have worked best for your business? Let us know in the comments below!