Hosting a virtual summit: Are they out of style, or do they still hold immense value in our AI-centric world? The rise of remote work and online communities has only intensified the relevance of virtual summits, but how do you leverage them to their greatest potential?
In this post, we're going to look at the idea of the virtual summit in today's digital climate. We'll talk about the best ways to maximize the output of hosting a virtual summit.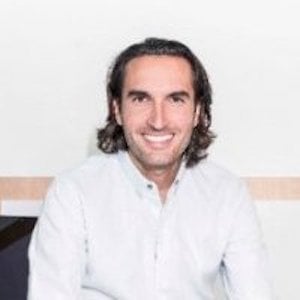 Yaniv Masjedi
CMO, Nextiva
Their expertise has helped Nextiva grow its brand and overall business
What Is a Virtual Summit?
A virtual summit is like your favorite industry conference, but from the comfort of your own home — or wherever else you might be. Essentially, it's an online event that gathers experts to share their insights on a particular topic or set of topics.
Like virtual conferences, virtual summits facilitate high-level dialogue, strategic discussions and networking among an online community ready to engage, learn and even purchase your products or services. The scale can be astounding, dwarfing what most in-person events could hope for.
Imagine you're hosting a virtual summit focused on sustainable business practices, for example. Your lineup includes leading experts from Google, FedEx and even some non-profit climate organizations. Over three days, your summit explores topics ranging from zero-waste operations to ethical sourcing to green technology in finance.
Now, with each expert or panel discussion, the number of registrants keeps growing dynamically during the event. You see, virtual summits are at their best when they're left open to whoever wants to participate and are welcome to drop in and drop out as they please. It's part of what makes them so flexible.
The Triple Threat: Community, Knowledge, Revenue
You might assume that the primary aim of a virtual summit is to disseminate information. While that's true, these online events serve a greater purpose:
Building a community: Virtual summits are the perfect setting to grow closer to industry peers and people in a variety of verticals. Although they are done virtually, they can create opportunities to build a community of professional friendships.
Fostering knowledge: One of the centerpiece components of virtual summits is their knowledge-growing opportunities wherein registrants can all interact with each other with their testimonies and experiences. Beyond that, virtual summits will often highlight core lessons and material that people can learn from scratch.
Generating revenue: And, of course, virtual summits have to make sense from a financial perspective. Hosting them can be a means of generating revenue, but the core focus should be on network-building.
They provide a robust platform for selling not just tickets but also other products and services. For example, Neil Patel leveraged his ad agency, NP Digital, to showcase case studies and success stories during his agency's virtual summits: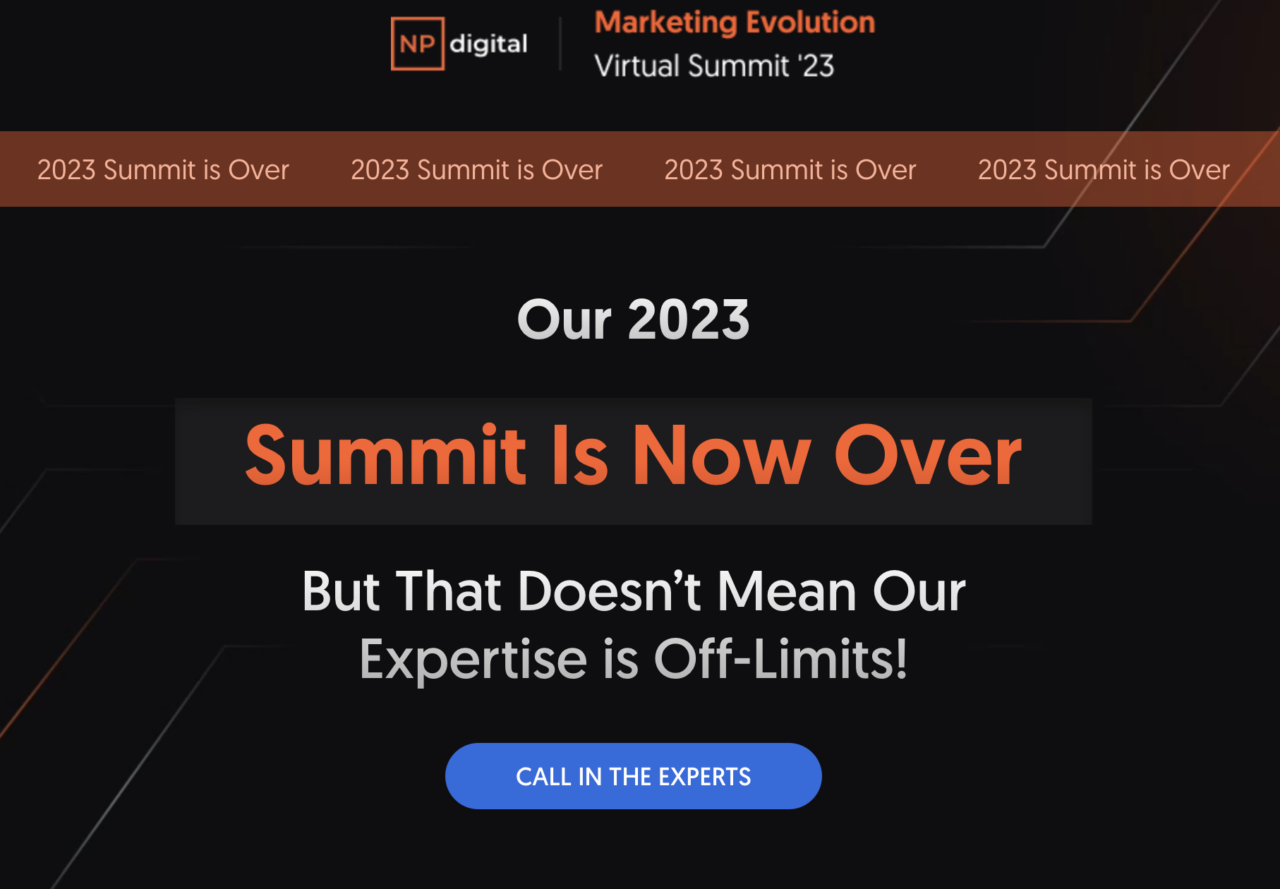 This approach goes a long way in driving long-term revenue.
How to Ensure High Attendance Rates at Virtual Summits
Timing and targeted promotion are key for higher engagement and attendance rates for your virtual summit.
Neil's strategy includes hosting the summit over multiple days and consistently reminding registrants of upcoming sessions via email blasts.
Here are a few more tips for getting better attendance rates:
Text or SMS Reminders: This approach is a double-edged sword, however, as the costs in SMS for different countries may vary wildly, so it's very prudent that you use that approach cautiously.
Targeted Promotion: Make sure your marketing campaigns resonate with potential attendees who are most likely to be interested in your summit's theme.
Convenient Scheduling: Schedule your summit at a time that is convenient for the largest segment of your target audience. Consider time zones and work schedules. Offering recordings for sessions can also encourage sign-ups from those who may have conflicts.
Early Engagement: Once someone registers, keep them engaged with regular updates, teasers of the content, and introductions to the speakers. This builds anticipation and makes them more likely to attend.
Easy Access: Ensure that the summit platform is user-friendly and accessible from various devices. Provide clear instructions on how to join and offer a test session beforehand to troubleshoot potential technical issues.
Interactive Elements: Incorporate interactive elements like Q&A sessions, polls, and networking opportunities. This transforms passive viewers into active participants, reducing the likelihood of drop-offs.
Reminders and Follow-Ups: Send out calendar invites upon registration and reminder emails as the event approaches. A last-minute reminder an hour before the event can also significantly boost attendance.
Incentives: Offer early-bird discounts, exclusive content or certificates of attendance to encourage early sign-ups and participation.
Feedback Loop: After the event, ask for feedback to learn what worked and what didn't. This information can help refine your approach to ensure higher attendance rates for future summits.
Speaker Selection for Your Virtual Event
Selecting speakers for a virtual summit isn't a task to be taken lightly. A successful event typically features a diverse roster of esteemed professionals from various sectors. This could mean inviting industry leaders from tech giants, logistics companies, financial institutions, and even the entertainment sector.
Why such a varied lineup? Simple. It offers attendees a comprehensive array of viewpoints and tangible strategies that can be customized to fit their own business needs, regardless of the company's size.
In addition to educating your audience, hosting a summit serves as an excellent platform for networking. It's a two-fold win: You deepen relationships with the thought leaders gracing your virtual stage, establishing the basis for future collaborations or partnerships. Plus, the event itself serves as a magnet for potential business leads gathered from the extensive audience your high-quality speakers have helped attract.
Scaling Your Summit: Organic vs. Inorganic Strategies
Not everyone has a massive email list to kickstart their virtual summit. So, what's a budding marketer to do? In this case, there are two primary routes to success:
Partnering: Partner with individuals or organizations who have already hosted summits. A cross-promotion strategy can quickly inflate your numbers.
Speaker Promotion: Ask your speakers to promote the event on their social channels and email lists. To make this easier, provide them with ready-to-go promotional materials like copy and images.
Final Thoughts: The Untapped Potential of Virtual Summits
Virtual summits are more relevant now than ever. They offer a unique blend of community-building, knowledge-sharing and revenue-generating opportunities.
So, if you're mulling over the idea of hosting a virtual summit, consider this your green light. It's a good business model with plenty of ways to grow larger with each successive year, both financially and in attendance numbers.
While they may not be the legs that hold up your business on their own, it's an effective, complementary strategy to integrate into your existing business for exponential growth.
If you need a customized business expansion plan to drive sustainable growth for long-term success, Single Grain's

growth strategy experts

 can help!👇
For more insights and lessons about marketing, check out our Marketing School podcast on YouTube.
Virtual Summit FAQs
How do I host a virtual summit?

To host a virtual summit, follow these steps:

Define Your Goals and Audience: Determine what you want to achieve and who your summit will serve.
Choose a Theme: Select a relevant and engaging theme that aligns with your audience's interests.
Select a Platform: Choose a reliable virtual event platform that supports the features you need, such as live streaming, chat, Q&A, and networking.
Plan the Content: Outline the sessions, workshops, and keynotes. Curate content that provides value and aligns with your summit's objectives.
Invite Speakers: Reach out to thought leaders and experts in the field who can draw an audience and contribute meaningful insights.
Market Your Summit: Use email marketing, social media, partnerships, and paid advertising to promote your summit.
Prepare Technically: Ensure you and your speakers are familiar with the platform and have stable internet connections. Conduct technical rehearsals.
Engage Your Audience: Incorporate interactive elements like live polls, Q&A sessions, and breakout rooms to keep attendees engaged.
Follow Up: After the summit, send out recordings, additional resources, and thank-you notes to attendees and speakers.

How to host a successful virtual summit in 2023?

Obviously, there's a lot more to hosting a successful virtual summit, but the foundation of success starts with these tips:

Leverage Technology: Use the latest virtual event technology for a seamless experience, including VR and AR if it adds value.
Personalization: Offer personalized content tracks and recommendations based on attendee interests and behaviors.
Data-Driven Planning: Use data analytics to understand your audience and tailor the summit content to their preferences.
Community Building: Foster a sense of community before, during and after the event through forums, social media groups, and networking opportunities.
Accessibility: Ensure that your content is accessible to a global audience, including translation services and closed captioning where necessary.
Sustainability: Highlight the sustainability benefits of virtual summits and implement eco-friendly practices in your organization and presentation.
Hybrid Elements: Consider adding hybrid elements by having some in-person gatherings or streaming sessions from live locations.

How long should a virtual summit be?

The length of a virtual summit can vary, but it's typically between one to three days. Single-day summits are compact and can maintain high engagement levels, while multi-day events allow for a broader range of topics and speakers. The key is to balance content depth with attendee attention span and availability. Including breaks and interactive sessions can help keep engagement high over longer periods.
If you were unable to find the answer you've been looking for, do not hesitate to get in touch and ask us directly.