If you're reading this, I'm pretty sure you know all about the useful features of Grammarly. From spelling and grammar checks to more advanced features like plagiarism detection and tone suggestions.
While Grammarly may have all these features, sometimes I find myself in need of a specific tool – a more dedicated content marketing tool.
In this post, I'm going to present to you the 6 best Grammarly alternatives that you'll want to check out once you're done reading this guide.
But first, let me tell you a little about Grammarly….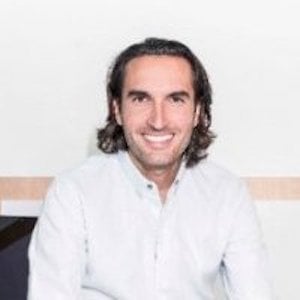 Yaniv Masjedi
CMO, Nextiva
Their expertise has helped Nextiva grow its brand and overall business
Grammarly – Overview + Pricing
Grammarly started way back in 2009 and was originally just a spelling and grammar checker. Over the years it has evolved and incorporated lots of other features.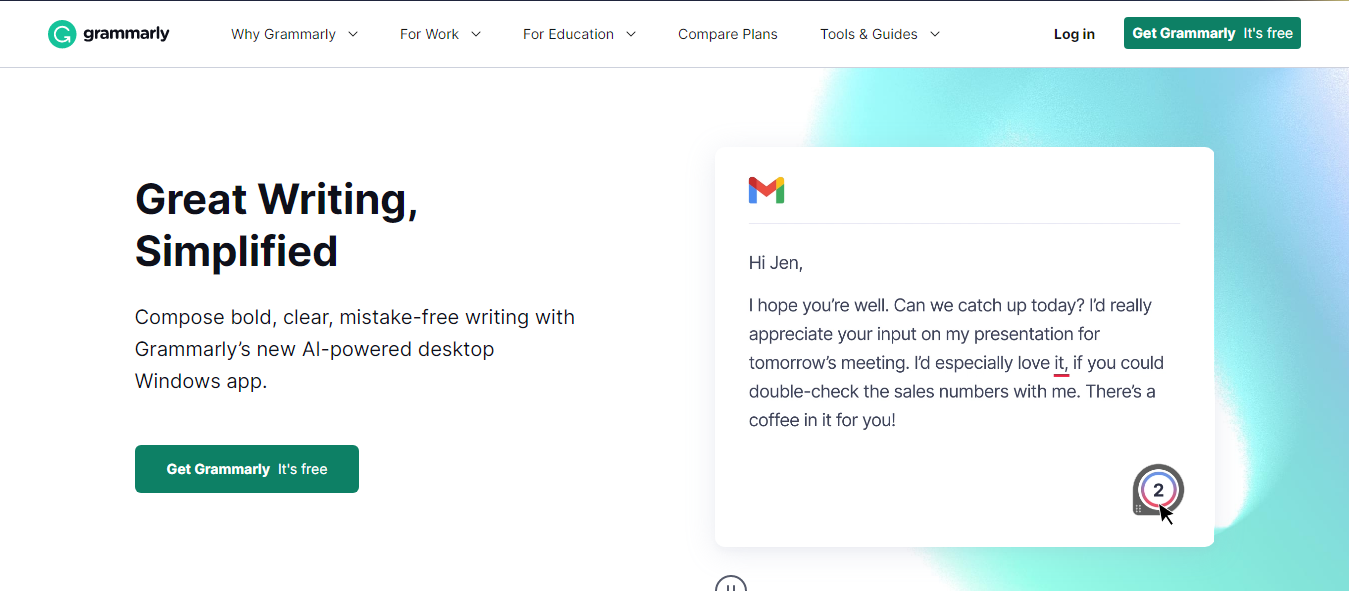 The app can detect the tone of a piece of content (formal or informal, friendly, assertive, etc). This also allows the app to offer suggestions based on my chosen tone and style. Other features include an essay checker, a style guide, and a plagiarism checker.
One thing I believe has led to the massive popularity growth of Grammarly is the fact that it is available on different platforms. You can use the app on Windows, Android, and iOS. For use on Windows, there is a Windows desktop app, and also a Microsoft Office app specifically designed to work in Word and Outlook.
Additionally, Grammarly has browser extensions/plugins for Chrome, Edge, Firefox and Safari. These extensions essentially bring Grammarly anywhere you type online.
So whether posting an article on my WordPress blog or sending an email via Gmail, Grammarly will help you produce grammatically correct text.
Grammarly Pricing
Grammarly has three pricing plans.

Free: The free plan offers basic writing suggestions and tone detection.
Premium ($12/month): In addition to what the free plan offers, the Premium offers vocabulary ideas, tone suggestions, and full-sentence corrections.
Business ($15/month): The Business plan is ideal for teams. With Grammarly Business, you get everything in Premium, plus features for teams.
One more quick thing before we get to the best Grammarly alternatives….
Is ChatGPT a Good Alternative to Grammarly?
ChatGPT is a free and decent alternative to Grammarly, but it's not the tool I use regularly, especially for proofing my texts. Why? Because I know that ChatGPT is not a professional grammar/spelling checker and many mistakes slip through its cracks on a regular basis.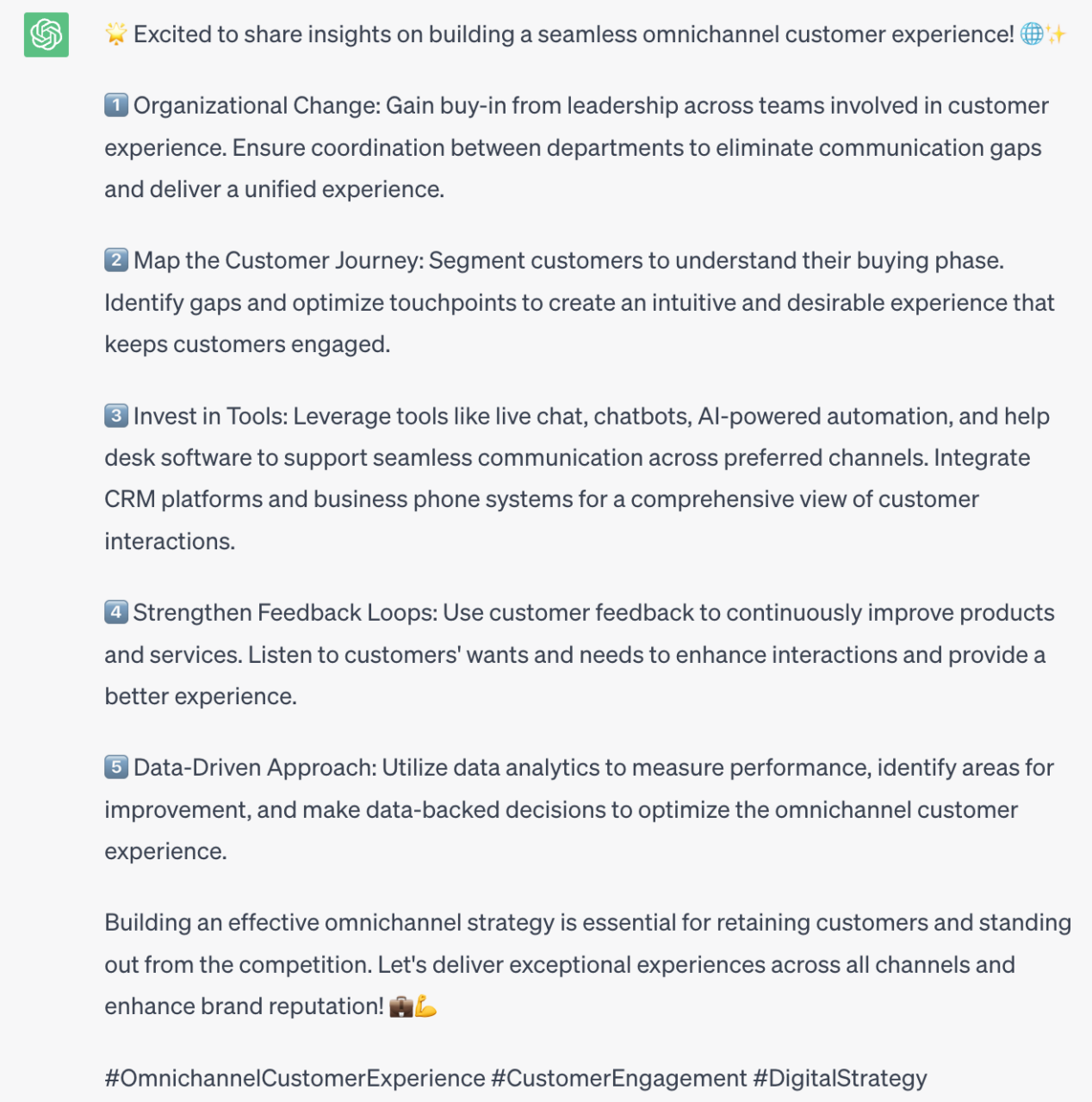 This is because ChatGPT was trained on content from the web, and most web content is riddled with mistakes. ChatGPT simply learned from the wrong texts and is now spreading the same mistakes with any text it generates.
Want some proof?
I took two paragraphs from this URL on my site and I told ChatGPT to rephrase them. Keep in mind that those two paragraphs are free of grammar and spelling mistakes.
Here's the perfect content I gave ChatGPT to paraphrase:
"Fidelity Investments – Fidelity Investments are a good option if you're already a customer of Fidelity and are looking to work with a larger gold IRA firm. However, Fidelity is not accredited by the BBB.
Rosland Capital – Rosland Capital is another excellent gold IRA firm. They have a huge coin and bar selection, a straightforward fee structure, and have been long enough on the market to know they're not a scam."
And here's the paraphrased output (the words written in boldface were misspelled):
"Fidelity Investments – If you're already a Fidelity customer and you'r in search of a larger gold IRA firm, Fidelity Investments is a viable choice. However, its worth noting that Fidelity lacks accreditation from the BBB.
Rosland Capital – Rosland Capital represents another strong option in the gold IRA industry. They boast an extensive selection of coins and bars, a transparent fee structure, and a long-standing presence in the market, which lends credibility and trustworthiness of their services."
That's three simple errors in two short paragraphs. And unless you're a pro editor you're likely to miss them (especially the third one where you need to replace "of" with "to").
Best Grammarly Alternatives to Use in 2024
Here are the six best Grammarly alternatives. Some of these tools have become an essential part of my writer's toolkit and without hesitation can be used even by those who are interested in an academic writer's career.
Wordtune is a dedicated rewriting tool, which may not work well for you if you're just looking for a proofreading tool. But if you're searching for a tool to rephrase your text, Wordtune is an excellent alternative to Grammarly in that area.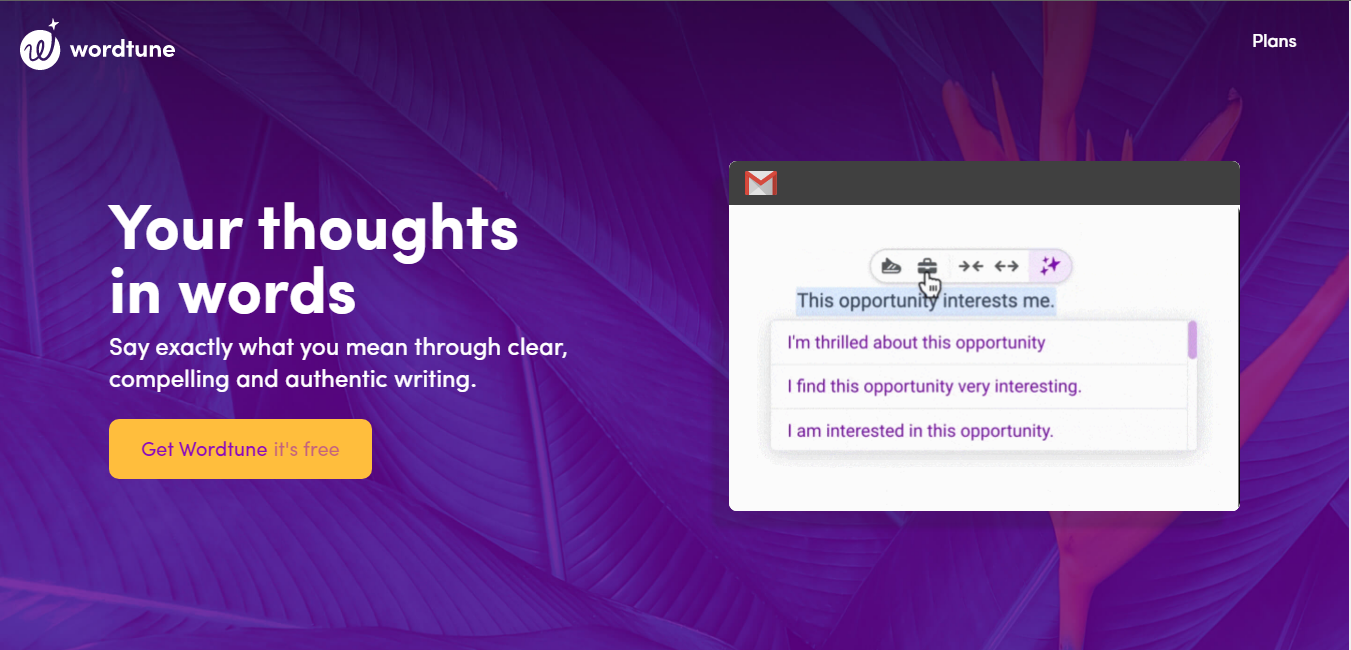 Wordtune uses advanced AI-powered language models to create alternative phrases and sentences for a given piece of content (paragraph rewriting is where Wordtune excels the most). This instantly gives you more high-quality options to craft your piece of content the way you want it.
Wordtune allows you to rewrite text in formal and informal styles, and you also have the option of using the AI rewriter to expand or shorten pieces of text (again, usually paragraphs).
After signing up, you'll be greeted by two options:
Chrome Extension: With the Wordtune Chrome extension, you'll be able to take advantage of the features on any website.
Wordtune Editor: Wordtune editor is where you'll be doing the bulk of your work, as it's a clean interface, easy to use and intuitive.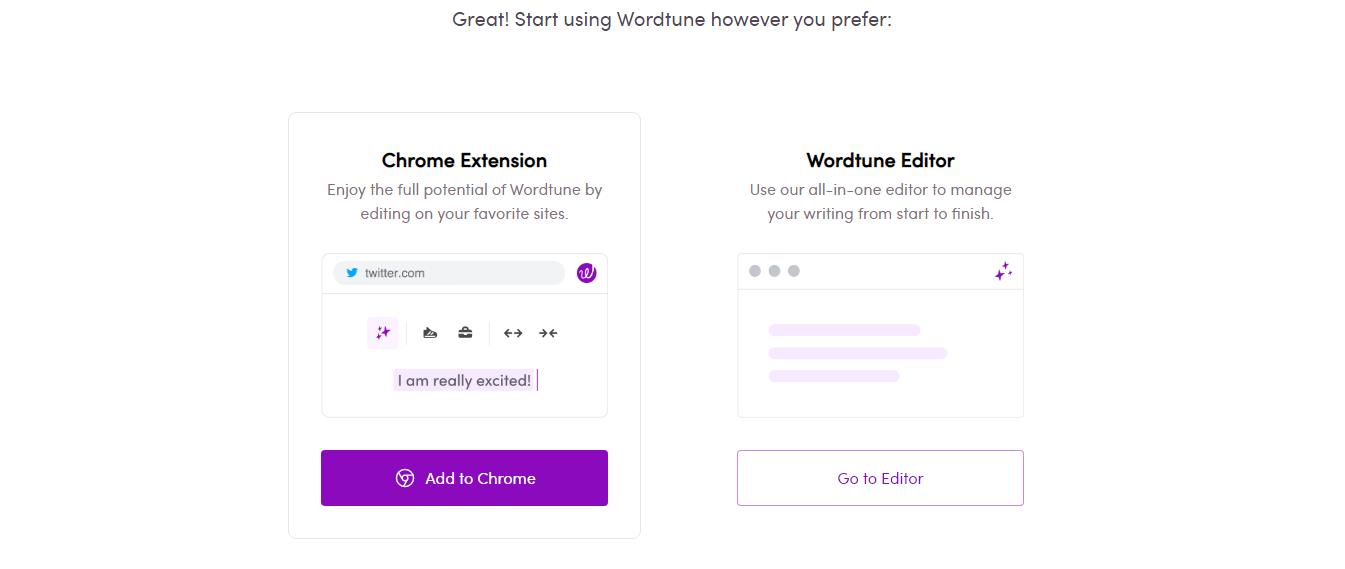 As I mentioned earlier, for every paragraph you want to paraphrase, you get a handful of suggestions (i.e. rewrites), and you can toggle between Casual, Formal, Shorten, and Expand modes to get even more variations of the same text: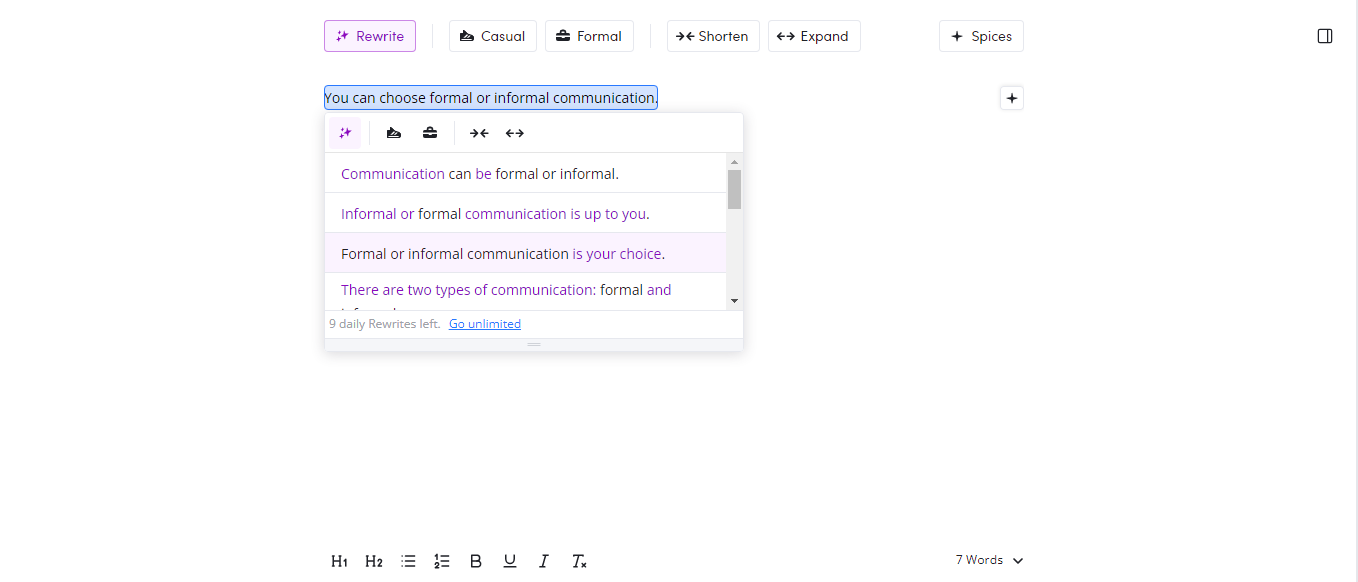 Wordtune Pros:
Free plan available (though severely limited; you get only 10 rewrites, 3 summaries and 3 drafts a day).
Interface is easy to use.
Basic customer support available.
Cons:
No support for the free plan.
No plagiarism feature, which means you'll have to manually check for plagiarism after rephrasing (Duplichecker is an excellent free plagiarism detector, but it's slow and the site often crashes for seemingly no reason).
Wordtune Pricing:
Free: The free plan is great to test the tool at no cost, but it's limited to only 10 rewrites per day. Good for testing, but not good to get any serious work done.
Premium ($9.99/month): With a $9.99/month subscription you get unlimited access to all the Wordtune features. That means you can rewrite as many pieces of content as you like; you can shorten or expand, and you can even rewrite entire paragraphs. Additionally, you get premium support. And if you decide to subscribe to the yearly billing, you can save up to 60%.
Premium for Teams (Request Pricing): This plan is basically everything in Premium, plus team billing. The pricing would be customized according to how large your team is. And you have to contact their sales team for a custom quote.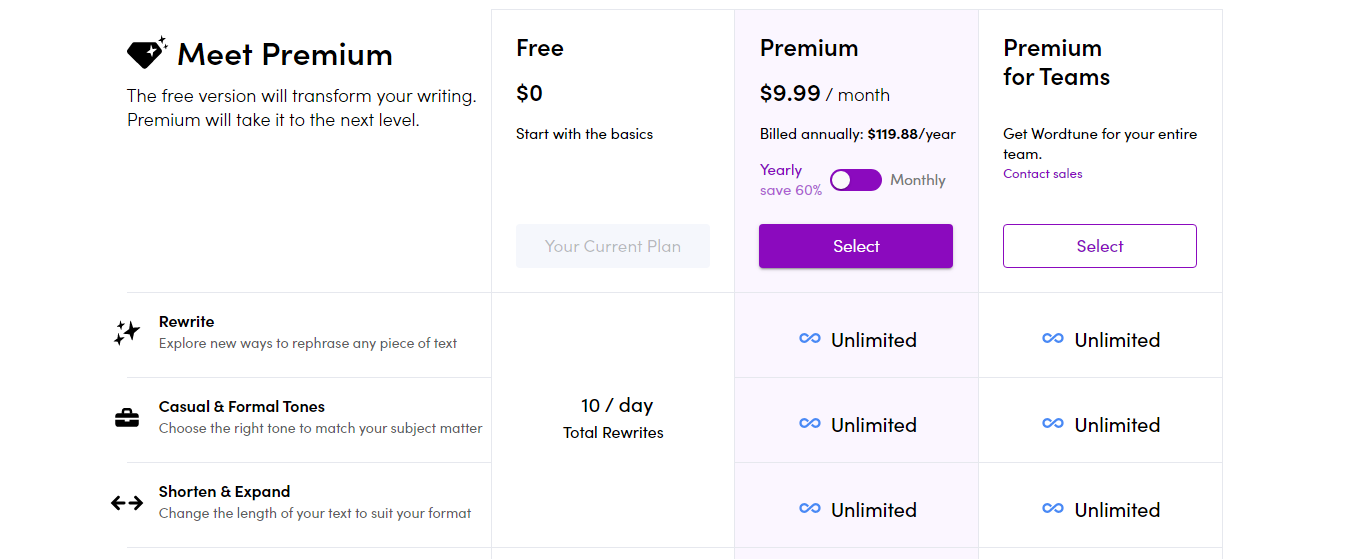 This writing aid tool is a lot more like Grammarly than Wordtune because it has similar features built to help you become a better writer, and not paraphrase content faster.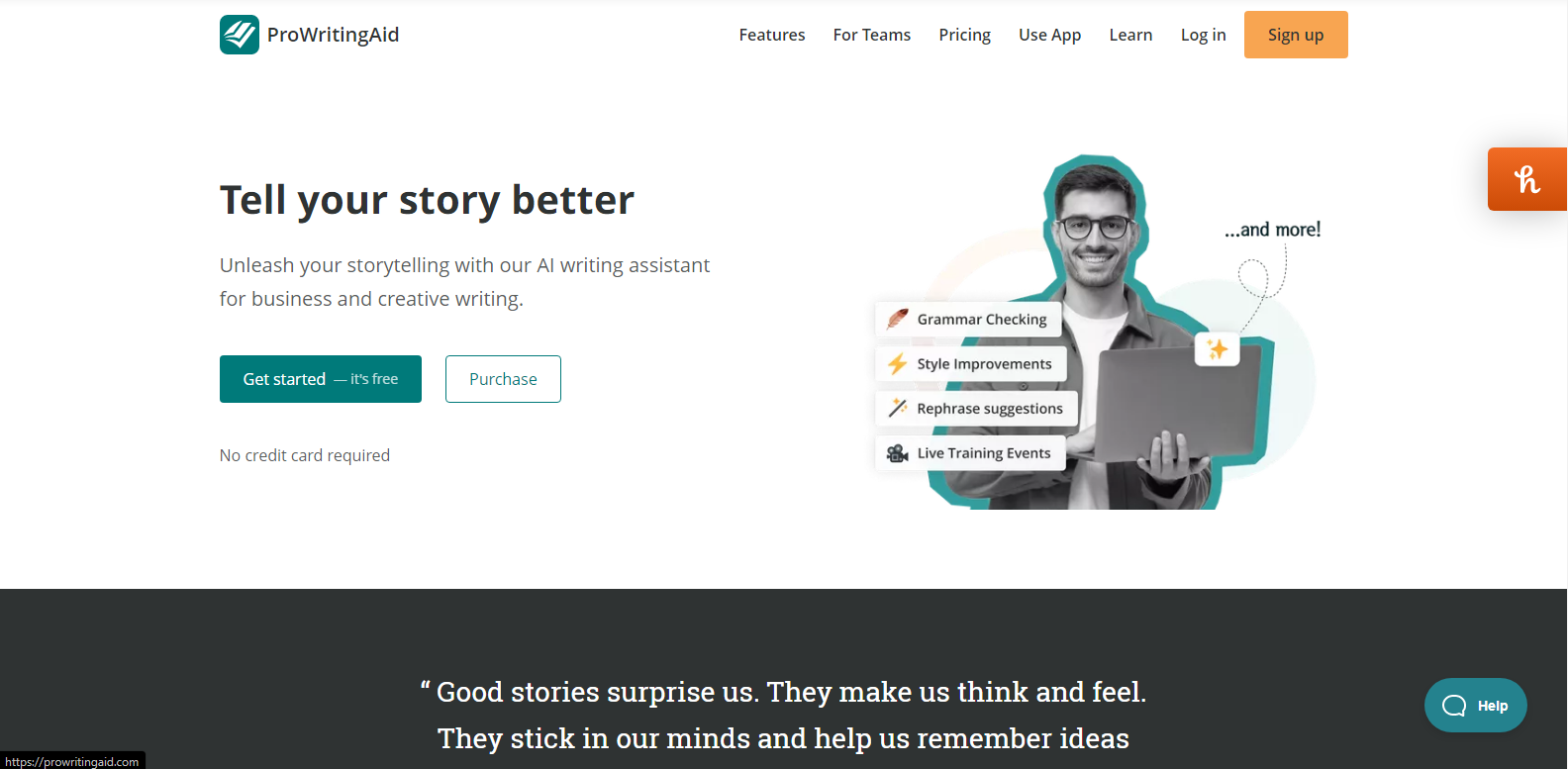 On top of the basic proofreading features, ProWritingAid provides style suggestions, alliteration analysis, and dialogue tag checks: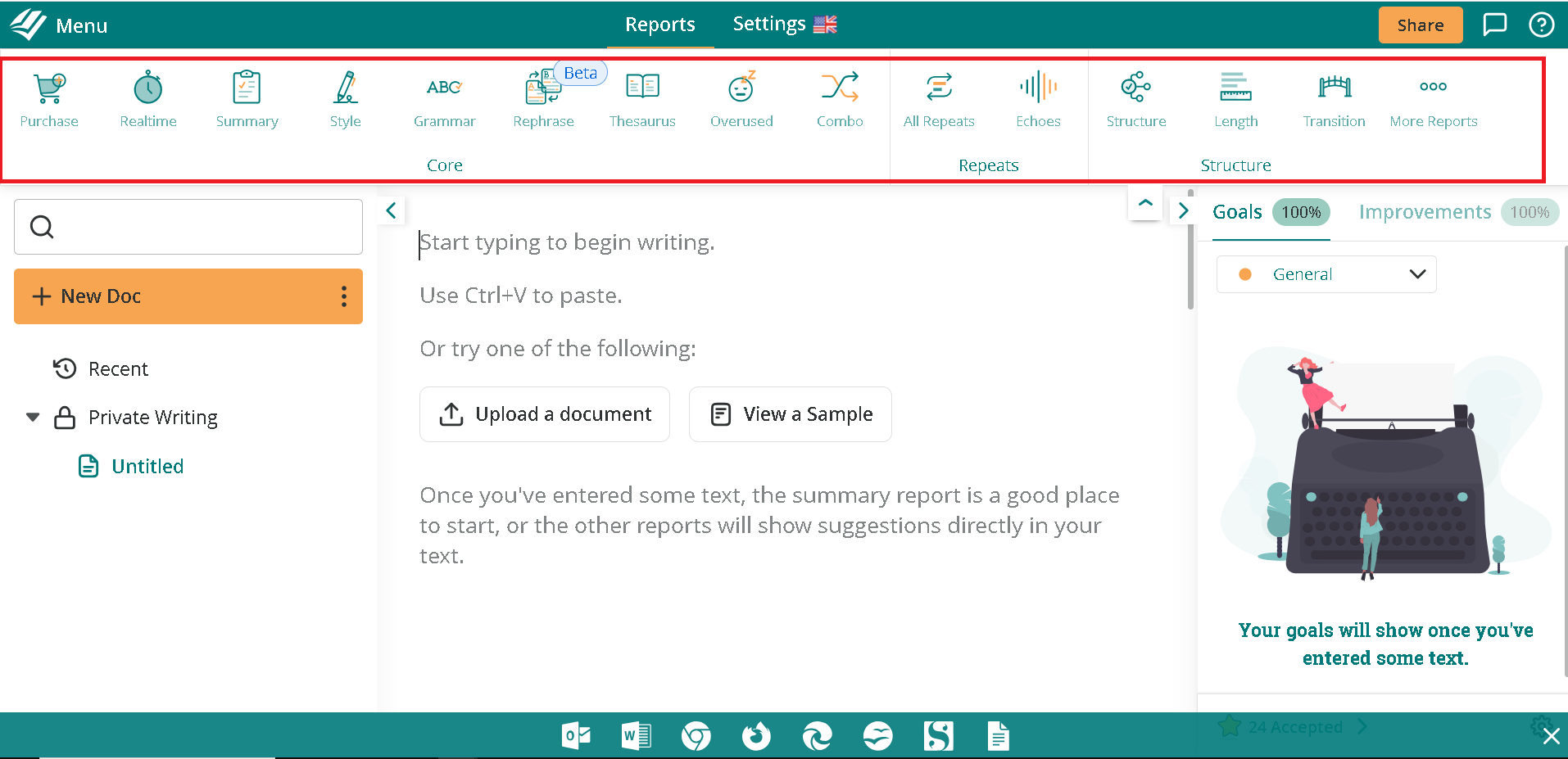 In the free version, ProWritingAid offers a limited number of style suggestions, so to get more suggestions, you'll have to upgrade to Premium.
Also in the free plan, all types of text analysis run only on the first 500 words of content. If you have longer texts, as I'm sure you do, you can check your article piece by piece or buy the premium version of this tool.
Some features that make ProWritingAid a better Grammarly alternative are the extensive writing reports, synonym suggestions, and integration with Scrivener.
As a seasonal creative writer, I use Scrivener in addition to Grammarly. Being able to integrate ProWritingAid with Scrivener makes it a combo significantly better than what Grammarly alone can do for me.
Once you sign up, you'll be presented with three options:
Install on Chrome: ProWritingAid can detect that I'm on Chrome and that's why they're offering to install their Chrome extension for me. This obviously enables suggestions powered by ProWritingAid wherever you write. Extensions for Firefox, Safari, and Microsoft Edge are also available.
Install the Windows App: This allows you to improve your writing across Windows desktop apps like MS Word, Powerpoint, Slack, etc.
Use the Web Editor: This is what I use the most as it's the most natural way to use ProWritingAid to its fullest.
Let's see how ProWritingAid works.
After pasting my text in the editor, I get a document score and fix suggestions in the right sidebar: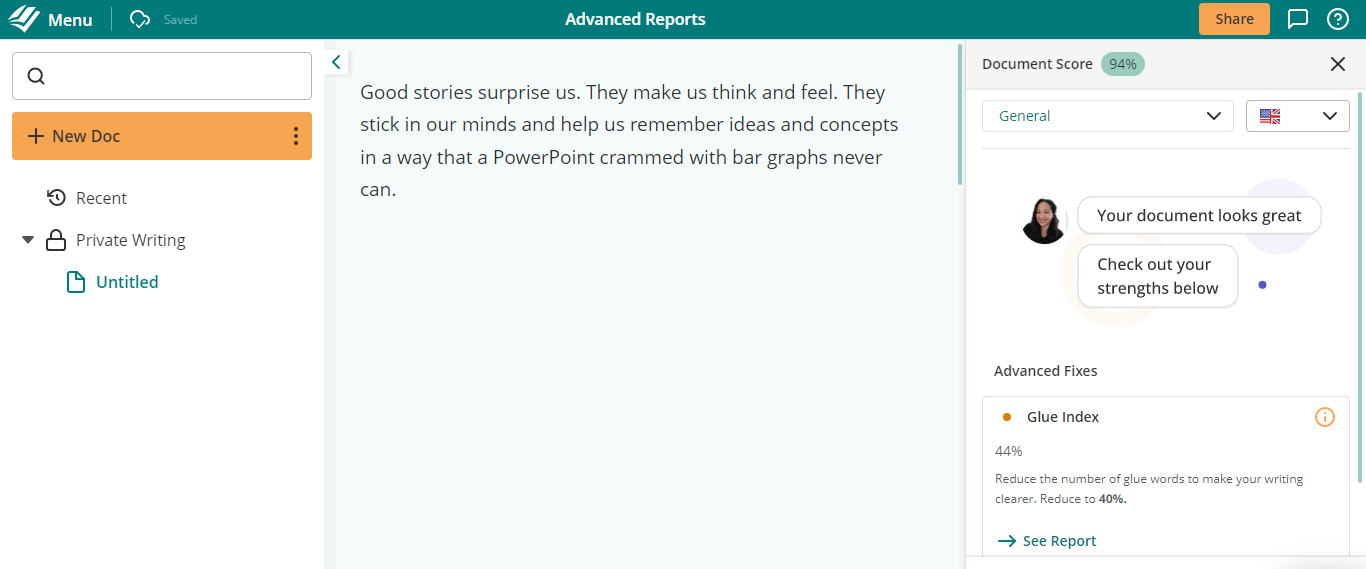 By using the drop-down at the top of the right sidebar, I can choose the writing style I want from eight different styles and many more sub-styles: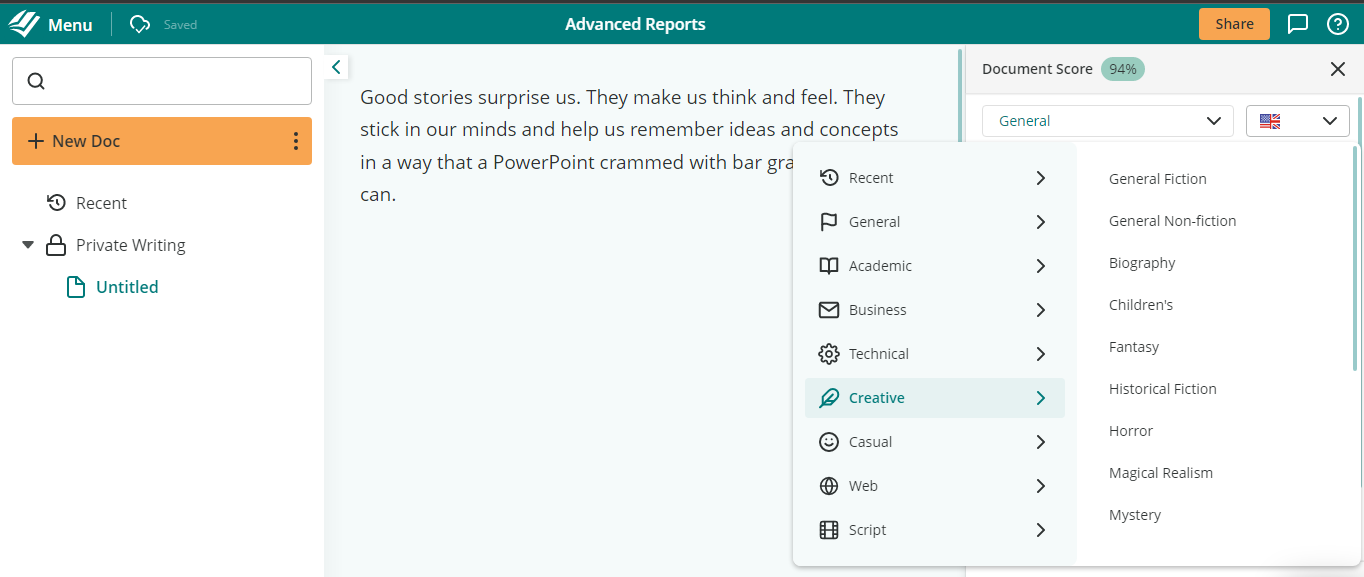 Under the Advanced Reports tab, I get all these awesome reports to give me a clear analysis of my document:

The best part about ProWritingAid is that using this tool consistently is a proven way to become a better writer.
Even in the free version, ProWritingAid scans your content for dozens of grammar and writing style mistakes and it really is almost like having a tireless editor hovering over your shoulder and whispering instructions on how to make your text better.
ProWritingAid Pros:
Offers detailed reports.
Cheaper than Grammarly.
Offers lifetime plans, which is really helpful for people whose work revolves around writing.
Has more integrations than Grammarly
Cons:
The free plan checks texts up to 500 words in length, which is very limited for serious writers.
No mobile integration like Grammarly.
The plagiarism tool is additionally priced which significantly drives the cost up.
ProWritingAid Pricing:
Free: The free plan gives spelling, grammar, and punctuation checks but is limited to only 500 words. And you can only perform 10 rephrases per day (which is on par with what Wordtune gives you).
Premium ($10/month): Under the premium plan, you have everything in the Free plan, plus you can do an unlimited word count and rephrases. You get customizable writing suggestions and over 24 writing reports. In addition to citations and collaborations, you also get unlimited document storage.
Note: There is a 67% discount if you decide to be billed yearly, but there is also a lifetime payment plan of $399. If you do a lot of writing, the lifetime plan can save you a ton of money in the long run.
And owning a ProWritingAid pro license will make you forget about Grammarly or any other online writing tool.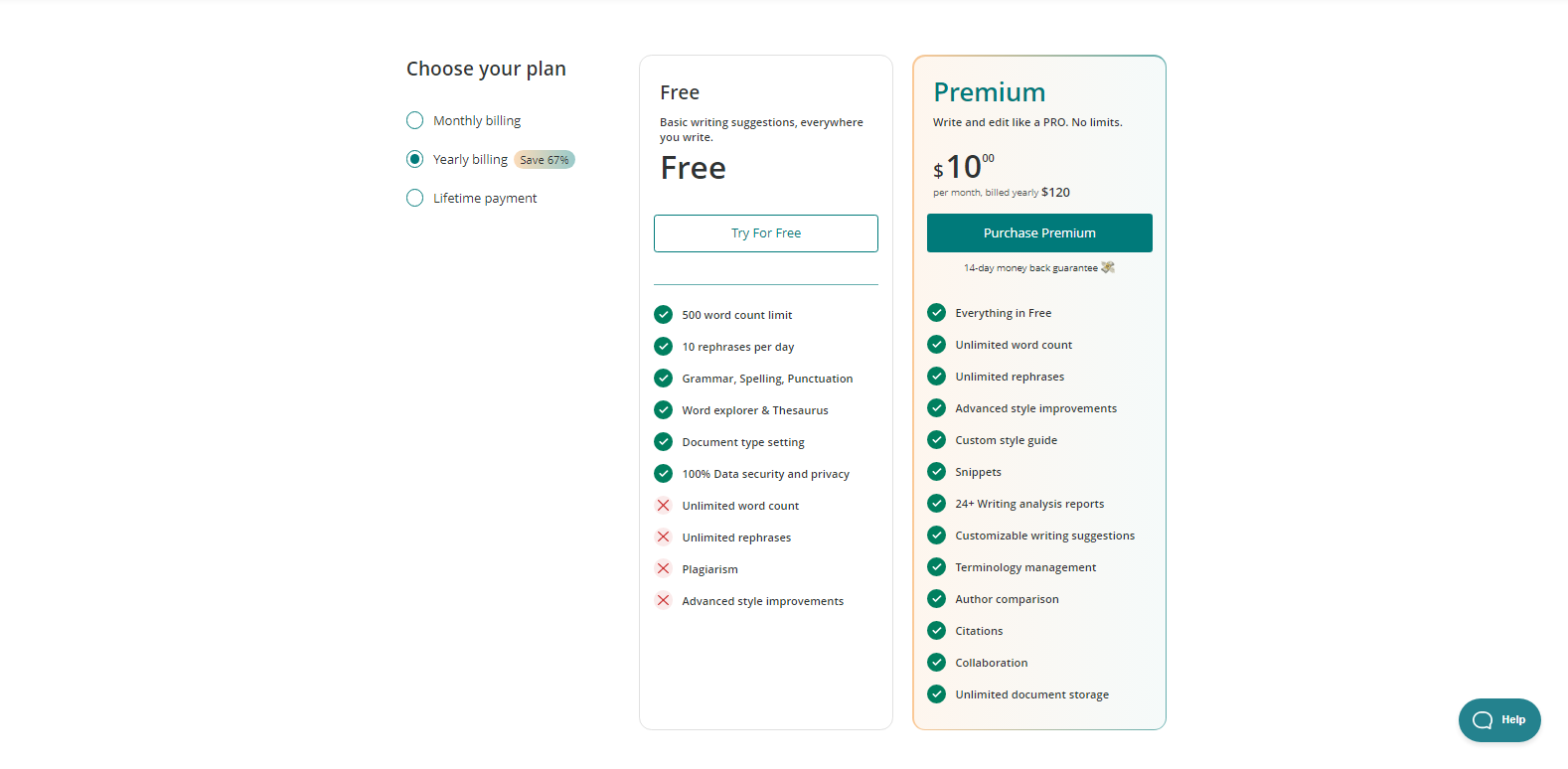 Quillbot is an AI-powered paraphrasing tool and its professed goal is simple: provide users with as many rephrasing options as possible to rewrite their text, while helping them learn to write properly on the way.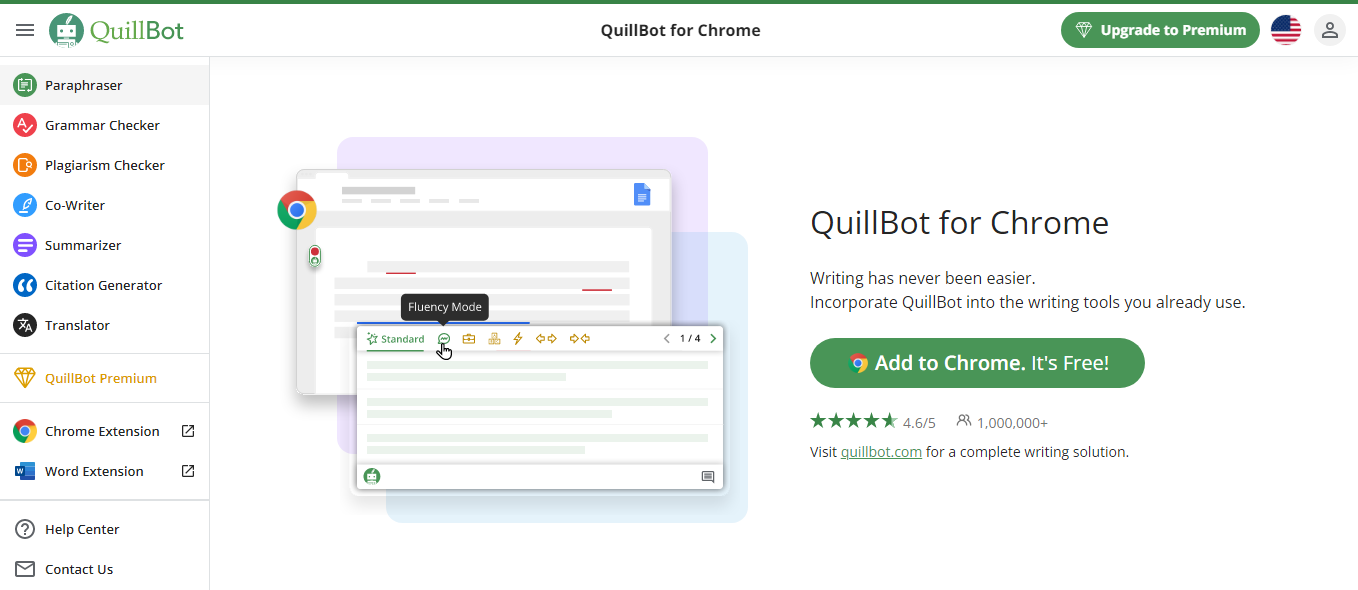 While using Quillbot to rephrase, the app will provide explanations for mistakes and why a text is as it is. That way, a user can learn from their mistakes and improve their English.
This feature is going to be really helpful for you if you are not a native speaker, or even if you are but you often make simple mistakes that make you look uneducated.
Quillbot's main selling point is its AI-powered paraphraser, but the tool also comes in with a built-in spelling, grammar and punctuation checker.
Compared to Grammarly, Quillbot is a little short when it comes to integrations. It only has Chrome and MS Word extensions. In my experience, Quillbot's Word extension is pretty buggy and often doesn't work at all. But their extension for Chrome works flawlessly and I never had any issue with it.
On the left-hand side is a list of all their features (Paraphraser, Grammar Checker, Plagiarism Checker, Co-Writer, Summarizer, Citation Generator, and Translator) so you can simply click on whichever suits you depending on what you want to do.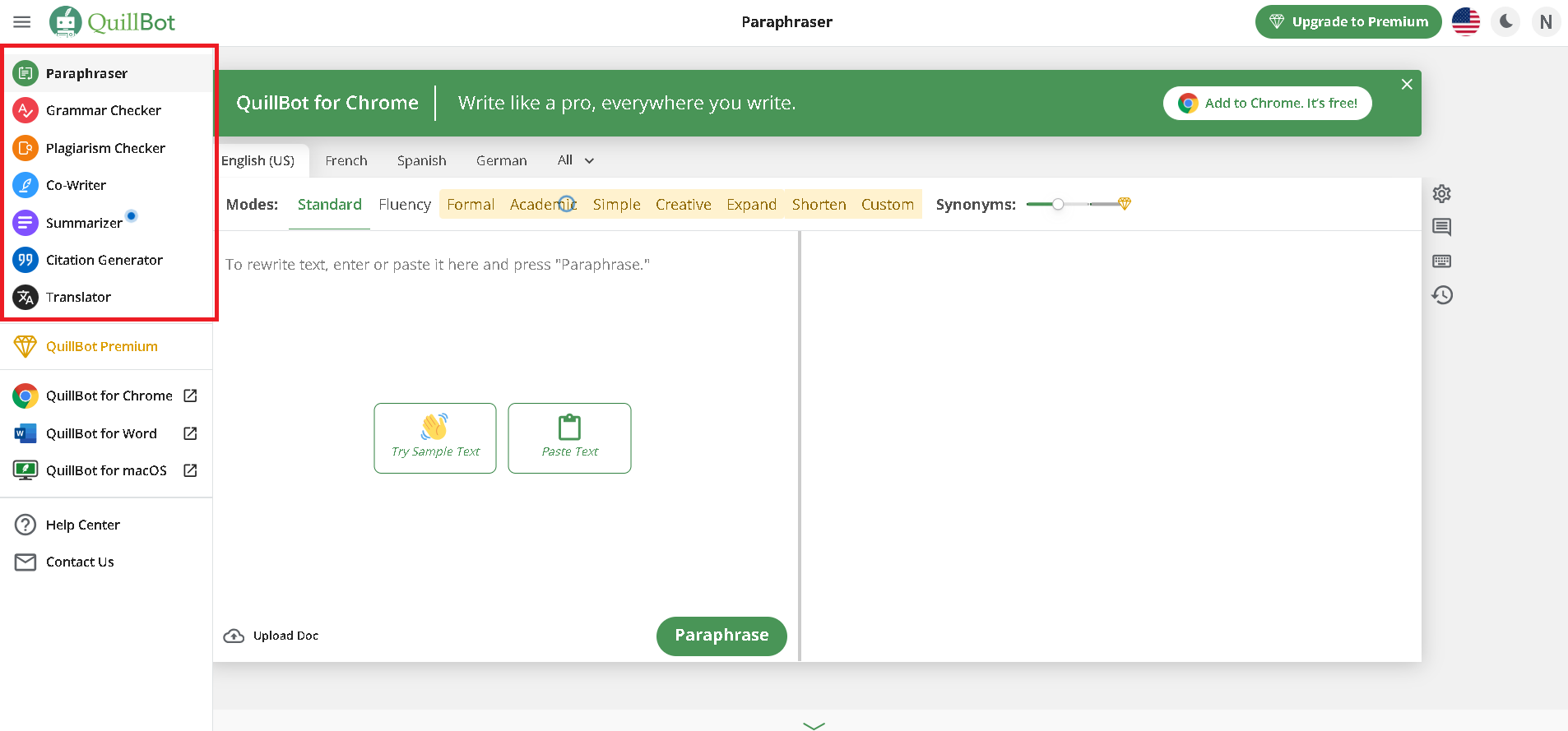 On the left is also Quillbot Plagiarism Checker, but keep in mind that this feature is Premium only.
One great thing I like about Quillbot is that they have a forever Free plan, with no signup required. However, since I'm on the Free plan, I can only paraphrase my text into two different modes: Standard and Fluency. If I upgrade to Premium, I'll have more options of Formal, Simple, Creative, Expand, and Shorten.
Note: Keep in mind that the two modes you get with Quillbot's free plan are excellent and in 99% of cases will do the job for you, especially if you just need simple rewording of your content.
Quillbot Pros:
Smart and easy-to-use interface design.
No sign-up is needed to test the free features.
Very helpful free tools that include the Grammar Check, Co-Writer, Summarizer, Citation Generator, and Translator.
Quillbot Cons:
Just two writing modes in the free version.
125-word limit in the free paraphraser version, which is really not helpful for any serious writer.
The summarizer tool limits the number of words in both the free and Premium versions (1,200 words and 6,000 words respectively).
Quillbot Pricing:
Quillbot Free: The free version is very limited but at least I don't have to sign up to use it. It offers only two writing modes (Standard and Fluency) and three synonym options. Also, I get to paraphrase only 125 words at a time and summarize only 1,200 words with the summarizer tool.
Quillbot Premium ($9.95/month): There are four billing options for the Premium version:

Monthly ($9.95/month): No discount.
Semi-Annually ($6.66/month): Opting for this payment plan comes with a 33% discount, and I'll be billed every 6 months.
Annual ($4.17/month): This is the best value for my money. A yearly billing cycle gives a large 58% discount on this paraphrasing tool.
Team Plan (as low as $2.91/month): This is a new billing plan that was specifically created for teams. Save even more with this plan while maintaining the content quality across your organization.

Note: Quillbot has a no-questions-asked 3-day money-back guarantee. So if you change your mind after purchase, you can just ask for a refund.
Ginger is another Grammarly alternative that feels a lot like Grammarly. It offers most of Grammarly's features but comes with a rephrasing feature like that of Wordtune.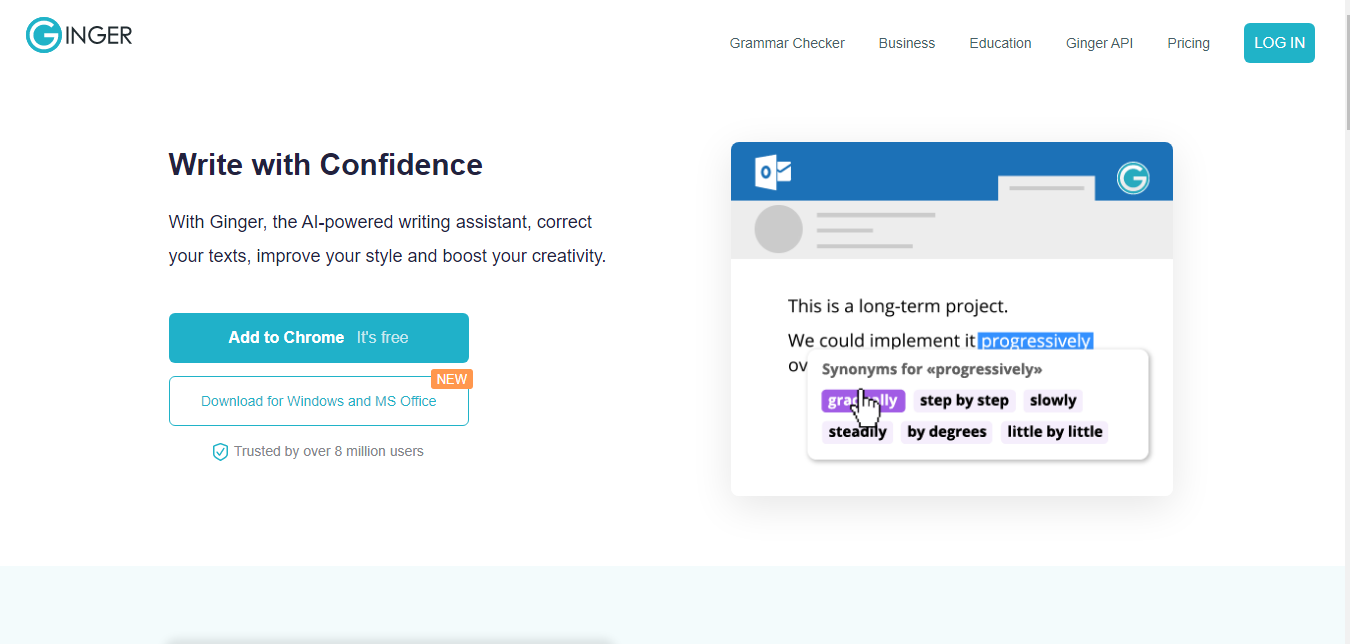 Ginger provides Chrome, Edge and Safari extensions in addition to the Windows application, and just like Grammarly, also provides an Android and iOS keyboard.
This tool has a straightforward and easy-to-use interface. You can type, copy/paste your content, or download the Ginger Office Add-on to check grammar directly within MS Word.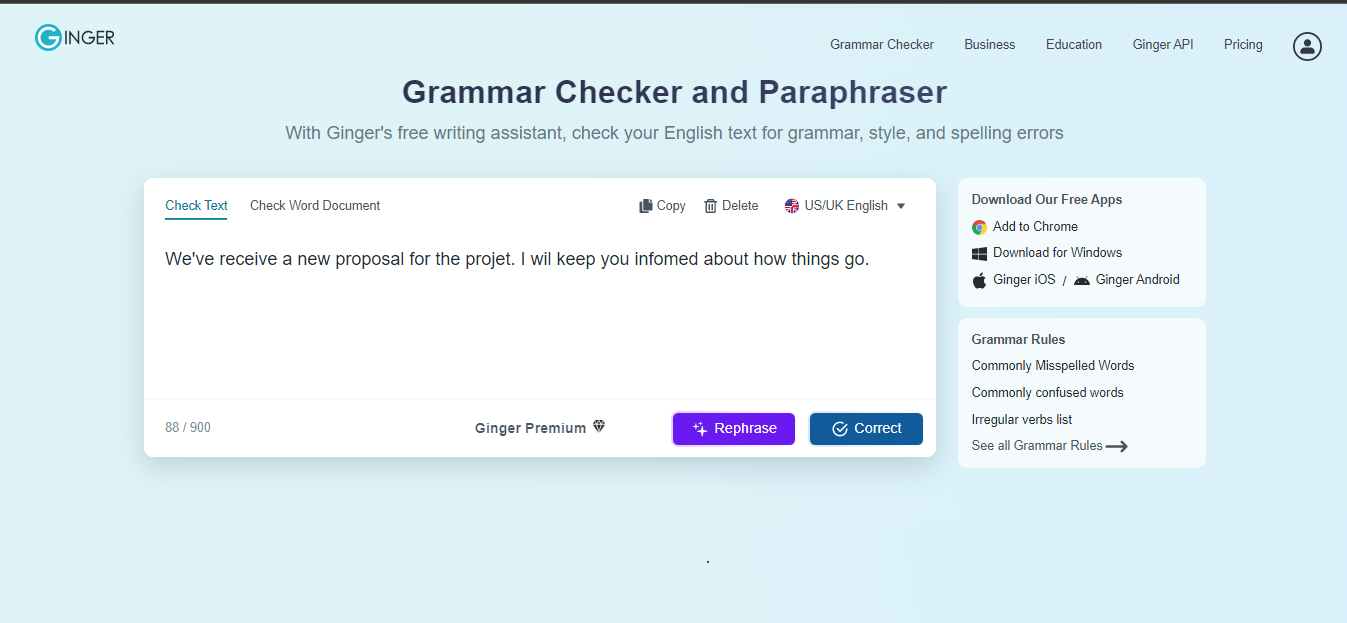 Ginger also gives you the option to check your text in U.S. or UK English. This feature is especially useful if you're a freelance writer from the UK working for a client from the U.S. (or vice versa). In this case the tool will save you a ton of time and effort and mental RAM, as you won't have to think about whether it's spelled "color" or "colour". 😉
The app also has an powerful built-in translation tool that allows you to convert your English content into 40 different languages (Grammarly completely lacks translation as part of its suite of tools). You can also translate back from each of these languages into English.
Ginger Pros:
Easy to use.
Unlimited use after upgrading to Ginger Premium.
Translation tool on top of other tools is a winner (very helpful for anyone who is learning a second language!).
Cons:
The translation tool is great but not any better than Google Translate.
Lacks a plagiarism checker.
There is no extension for Firefox.
Their knowledge base is shallow but luckily Ginger is very easy to grasp and use.
Ginger Pricing:
Free: With the free plan, you're limited to 600 characters per each check. But you can use the tool unlimited times per day.
Premium ($13.99/month): It offers unlimited rephrases, and you can correct multiple mistakes at once. The pricing options for Ginger Premium are to be billed quarterly ($11.19/month), Annually ($6.99/month), Bi-annually ($4.99/month). There's also Ginger Teams ($4.99/month/member).
Note: Ginger offers a 70% discount to students. If you're a student, apply and take advantage of this huge offer. However, do know you'll need to submit proof that you're a student, so tough luck if you've just graduated but wanted a discount!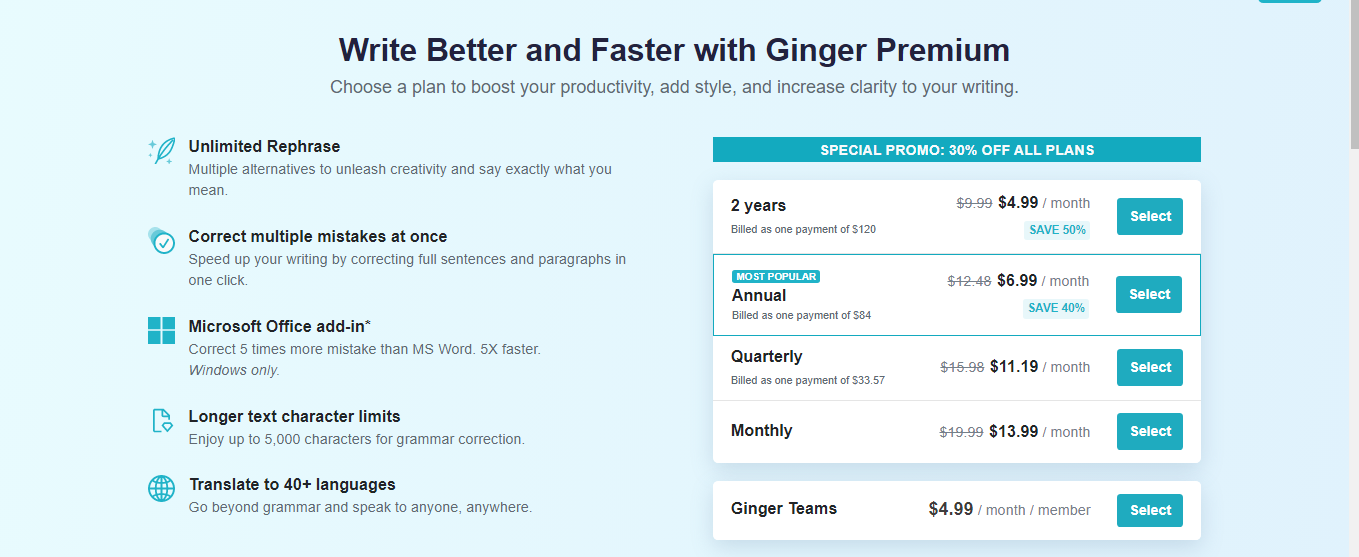 Hemingway App is easily one of the best alternatives to Grammarly on this list.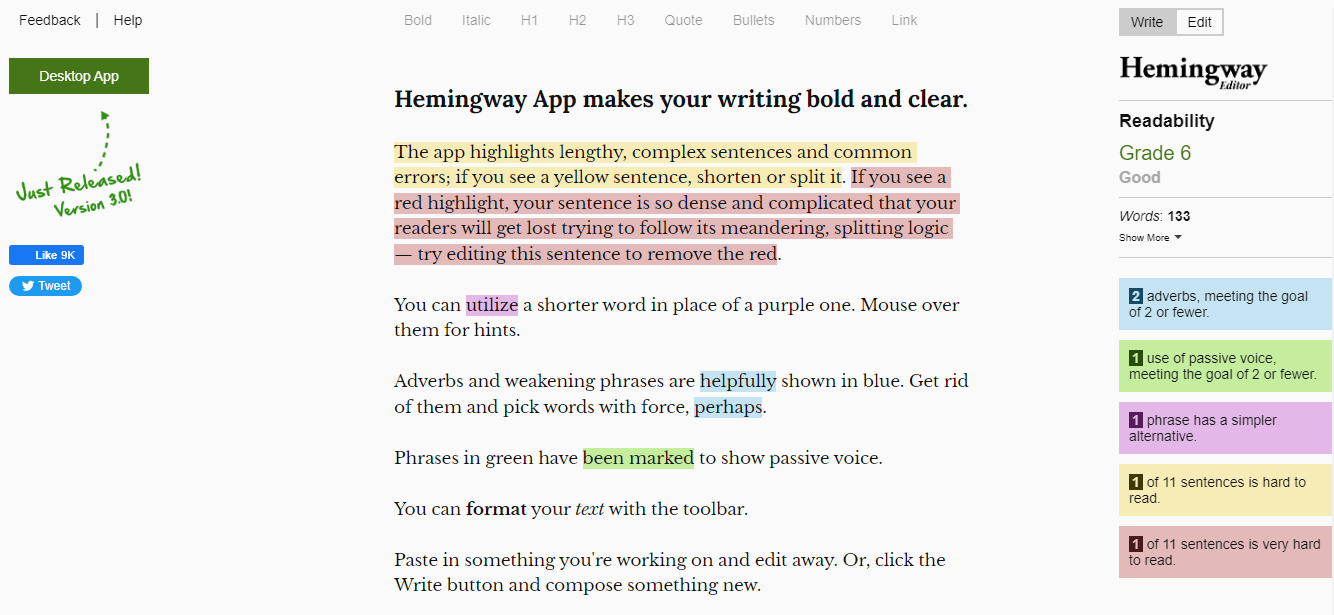 But while it helps improve my writing, it does so in a different way than Grammarly and all the other tools.
The Hemingway App helps simplify my writing to make it concise and direct. It converts wordy and hard-to-read sentences into easy-to-understand statements.
Within the Hemingway App you can choose between the "Write" and "Edit" modes. The Write mode removes all the clutter and allows you to have full focus on writing, while the Edit mode shows complexities in your text and suggests fixes.
I suggest you use the former while writing, as your goal is to get that first draft as fast as possible. And then you can use the latter to polish your writing.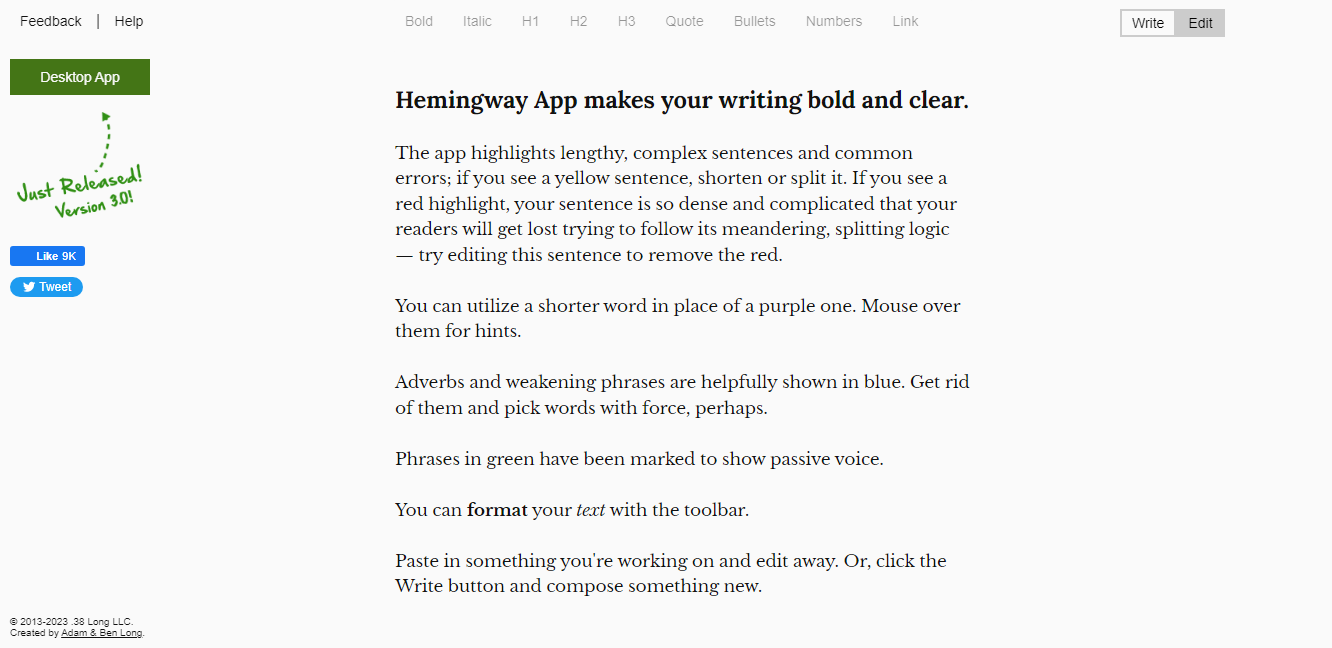 Hemingway App integrates with Medium and, more importantly, WordPress, which is convenient as you can import to your WordPress editor and publish quickly.
Hemingway App Pros:
Clean and easy-to-use interface.
Offers both online and desktop versions.
No need for an internet connection to use the desktop version.
Hemingway App Cons:
No spelling and grammar checking capability (use ProWritingAid's or Grammarly's browser extension to see grammar and spelling mistakes within the Hemingway editor).
No browser extensions.
Limited features compared to the paid tools on this list.
Hemmingway App Pricing:
Online version: Forever free.
Desktop app ($19.99): This is for both Mac and Windows versions of the app. Interestingly, the desktop app can be used without an internet connection.

HubSpot's AI Paragraph Rewriter is an AI-powered tool that helps you generate, edit and repurpose an unlimited amount of copy per month.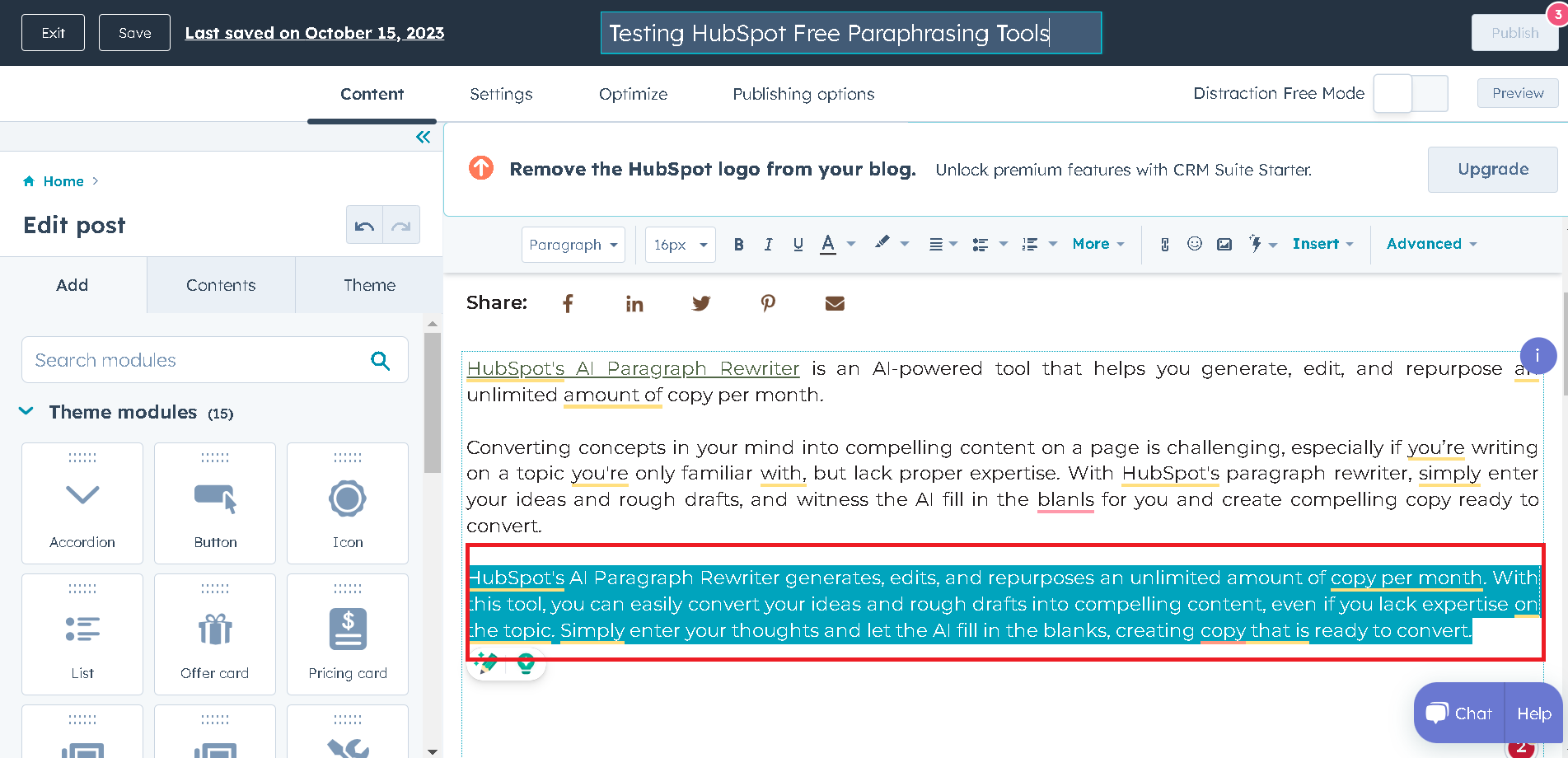 Converting concepts in your mind into compelling content on a page is challenging, especially if you're writing on a topic you're only familiar with, but lack proper expertise. With HubSpot's paragraph rewriter, simply enter your ideas and rough drafts, and witness the AI fill in the blanks for you and create compelling copy ready to convert.
Take a look at how I took the above paragraph and reworded it using AI. And yes, the content is always grammatically correct with zero embarrassing spelling mistakes.
Note: Using HubSpot's tool removes the need to have either a free or paid Grammarly license.
Pros:
Powered by OpenAI's most advanced AI language models.
Intuitive interface.
Real-time suggestions.
Dynamic editing for length, tone and readability.
A broad vocabulary database for accurate paraphrasing.
Generate iterations to infuse your brand's voice and personality.
Cons:
May not always capture the intended meaning accurately.
Part of the HubSpot's suite of tools and can't be gotten on its own.
HubSpot Paragraph Rewriter Pricing
The Paragraph Rewriter is included as part of HubSpot's CMS suite, which offers various pricing plans starting at $300 per month, which is a lot of money. That's why I put this tool last on my list of best Grammarly alternatives.
Honestly, HubSpot's tool alone is enough to completely replace Grammarly for you and give you dozens of other features powered by HubSpot as a CMS and OpenAI's generative AI technology.
This tool is ideal for marketers, writers and anyone looking to improve content readability and originality. But, again, it's by far the most expensive tool on this list and I only advise you try it if you're a professional web writer and that's how you earn your income and livelihood.
In that case, HubSpot will be the best AI writing assistant money can buy.
Last Word on Best Grammarly Alternatives
There are a lot of Grammarly alternatives out there, and you could waste days just doing the research. But no need to waste a single second as my article above tells you everything you need to know!
One more thing before we wrap up.
Whichever Grammarly alternative you pick, make sure you combine it with the Hemingway App. This tool is free, and it helps improve the content differently compared to the other tools.
If you're ready to deliver compelling – and error-free! – content that drives increased brand recognition, Single Grain's

content creation experts

 can help!👇
Grammarly Alternatives FAQs
What is the best free Grammarly alternative?

The best free Grammarly alternative is not a single tool. It's a combination of tools, namely Hemingway App, Google Docs and ChatGPT.

You can use ChatGPT to generate the content you want, Hemingway App to spot writing style errors (ChatGPT is usually quite verbose) and Google Docs for grammar and spell checks.

What is the Google equivalent of Grammarly?

The Google equivalent of Grammarly is Google Docs. Google Docs is a free word processor you can use just by having a free Google account opened with them. You can open a free Google account here.

Once you have it click here and you'll go directly to Google Docs.

The basic spelling and grammar check is turned on by default, but just in case, you can access it by going Tools> Spelling and Grammar.

Google Docs is free and an excellent (basic) grammar and spelling checker. You should be using it alongside Grammarly or any of its alternatives.

Can I use Microsoft Bing Chat to fix my grammar mistakes instead of paying for Grammarly?

The answer is the same as with the previous questions. Microsoft Bing runs on GTP-4 (Prometheus) AI model which is the current peak of OpenAI's technology.

However, no matter how much better the tech gets, there's still the underlying problem of training data.

Again, all GPT models are trained on publicly available data which makes them unsuitable to act as reliable grammar checkers.

These LLM-powered chatbots  can find and remove most mistakes but almost alway the most insidious ones remain ready to embarrass you.

There's a good reason why Grammarly and other paid grammar checkers are still in business despite Bing Chat and ChatGPT being free tools and available worldwide.
If you were unable to find the answer you've been looking for, do not hesitate to get in touch and ask us directly.