You land on a website and there are side banners, above-the-fold banners and pop-up ads displaying all the things you want to buy or wanted to buy at one point in time. You'll also find reminders of these products in your mailbox and when you open a YouTube video!
Simply put, there's no escape from digital ad infiltration.
This is because people are spending fortunes to make ads in the digital space work. As per a CMO spend survey by Gartner, paid media budgets took up 25% of the total marketing budget in 2017.
Although this percentage has fallen slightly for the first time in several years, scores of ads are still being displayed on various devices. On one hand, the opportunities are expanding and transcending boundaries, with different ad formats taking center stage. But on the other hand, the process is becoming murkier and less transparent than ever, leading to fraud.
According to a marketing industry trade group, it is assumed that marketers are going to waste at least $7 billion on online ads (in one year alone) which are not seen by the intended audience due to fake web traffic generated by bots. Statista predicts that this number is expected to grow to $335.5 billion by 2020:
A case in point is the time when several brands put a halt to their YouTube advertising following a report from The Times of London that highlighted "how their ads were showing up against extremist content posted on the video sharing site."
With the insane amount of money involved, malicious activities in the digital media ecosystem are always certain to follow. People who are spending thousands of dollars on automated systems are losing a significant amount from the siphoning of the ad spend.
And that is exactly what happened: the incidences of digital ad fraud starting showing up one after another. Although some advertisers do recover the money (Google gave bigger refunds to advertisers affected by ad fraud), the menace needs to be curbed sooner rather than later.
The Damage Done by Digital Fraud
Fraudsters use several ways to mimic human behavior, including social media access, filling out of forms, and cursor movements. They avoid detection by manipulating geolocation data. When it comes to ad fraud, it is not just limited to display ads, but also premium videos because of the higher returns that these bring to the table.
Digital ad fraud leads to skewed analytic data, increased rates for conversions, and completely sabotaged ad campaigns.
Click To Tweet
In 2017, Uber sued Dentsu's Fetch Media for fraud in a rare legal offensive. The lawsuit accused the mobile agency of misrepresenting the effectiveness of mobile ads. The agency is said to have sold the rideshare company 'fake' clicks.
Methbot, the biggest ad fraud in recent times run by Russian cybercriminals, cost the industry anywhere between $3 million and $5 million a day from faking clicks on video ads. The malicious crew created over 6,000 domains and 250,267 distinct URLs within those that appeared to belong to real big-name publishers. This included biggies such as Vogue and ESPN.
Using the faked domain registrations, they tricked algorithms to get their space purchased as opposed to the big brands. They also invested in a bot farm and could generate fake traffic using more than 5,70,000 bots. Given the fact that these bots used to watch as many as 300 million video ads a day, you can do the math of its cost to the advertising industry!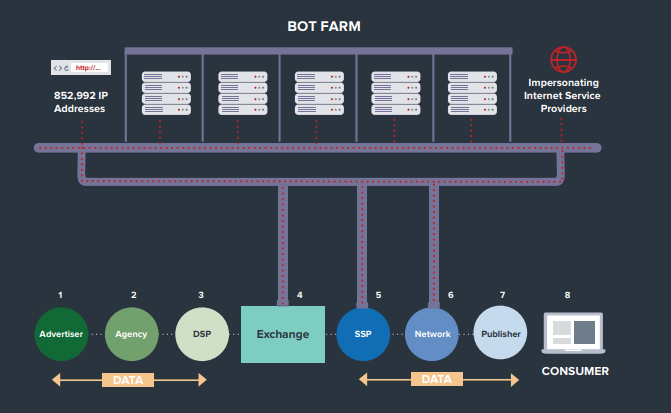 Types of Digital Ad Fraud
Bots are not the only type of fraud that plagues the advertising and publishing industries. There are other issues such as 0% viewability and deliberate misinterpretation that are equally responsible for not getting one's money's worth.
These types of digital fraud can be classified as:
Search Ad Fraud – This refers to the building of fake sites using expensive keywords, which attract advertisers to the site. Next up, bots are used for generating false clicks on the ads to build revenue.
Ad Stacking – This is a situation when ads are stacked on top of one another on a web page. This way, site visitors are able to see only the top ad and the impression for these stacked ads are counted. The fraud part kicks in when only one ad gets displayed but all the advertisers are charged for it.
Pixel Stuffing – Pixel Stuffing is similar to ad stacking. The ads are stuffed in the pixels of the page and hence, they remain there when a page loads. Although these are impossible to view, the advertisers get charged for all the ads.
Affiliate Ad Fraud – Also known as Cookie Stuffing, this is targeted at affiliate commissions. The fraudsters use bots to generate massive traffic on affiliate sites and use cookies to track it down. When legitimate traffic converts and a purchase is made, fraudsters take away the lion's share of commission money originally meant for the affiliates.
Ad Injection – Ads get injected on pages by using code such as those of a toolbar or extension that's installed by the users. This way, ads appear on websites without the publisher's knowledge. These ads can replace the paid ads or appear on websites that don't show ads. This not only occupies precious ad space, but also damages the site's reputation as it can slow down the site and devalue it.
Retargeting Fraud – This refers to fraud where bots can be programmed to mimic the actions and activities of customers. The aim is to give rise to a retargeting campaign.
Traffic Fraud – This type of fraud is used to increase traffic by unfair means. It is initiated by publishers who acquire low-quality or fake traffic from various third-party sites.
Domain Spoofing – This is by far one of the most attractive fraud methods based only on a single line of code. This method is used to change the URL of a site by copying/pasting the URL of a reputable site. The ad space of the site is sold at slashed rates, which advertisers think of as a catch for landing premium ad space at an unbelievable price! The ad fraud scheme called Hyphbot is an example of domain spoofing.
Lead Fraud – This type of fraud can originate not just from bots, but also from humans. It includes "work-from-home" schemes, where people are paid to interact on sites that are used to buy traffic. These people form a network of "click farms."
The methods that exist currently cannot tackle fraud when fraudsters are developing evolved technologies that are capable of finding loopholes and drilling their way in. Given the gravity of the situation, they need to rely on a more robust, more futuristic technology –  such as blockchain.
Further Reading:
How to Prevent Digital Fraud Using Blockchain
Cryptocurrency is the rage nowadays. Nevertheless, it is still in its infancy and it will be a long time before it jumps the shark. Blockchain is the technology behind Bitcoin, the most famous cryptocurrency of our time.
The concept of blockchain can be applied to ad tech so that it offers a more transparent and efficient way of running online marketplaces. Using distributed systems and a decentralized ledger, it will become easier for advertisers to audit every ad and impression without getting cheated!
The revolution is already taking place with companies bringing forth cutting-edge inventions and publishers/media buyers/advertisers using marketplaces that are fueled by blockchain. This enables them to use encryption for maximum security. They recognize blockchain as the much-needed component that offers the highest level of transparency, something that is acutely missing in the digital advertising space.
Take the instance of IAB (Interactive Advertising Bureau's Tech Lab) and Data & Marketing Association, which are trying to take certain measures against the fraudulent activities that have engulfed digital ads. IAB is working on developing a blockchain working group to figure out how it can be of help to the advertisers.
Here's our pick from some of the key players who are changing the game for advertisers and publishers:
1) AdEx – The Bulgaria-Based Ad Exchange
AdEx is a Bulgarian ad exchange based on the concept of blockchain technology. The completely transparent system is built on top of Ethereum smart contracts.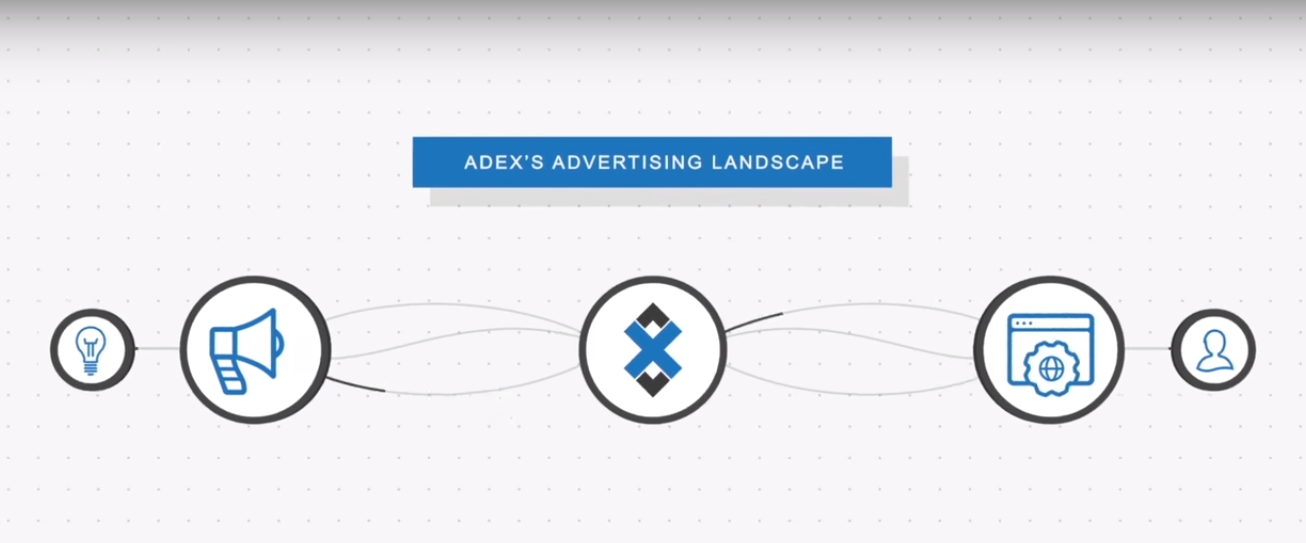 It made its debut with a focus on streaming video and lets advertisers reach their target audience while making the most of their marketing budgets instead of paying for quality traffic with fake clicks. It provides a solution to address privacy and consent to receive sponsored messages which, in a way, solves digital fraud problems to a large extent. It not only helps advertisers and publishers, but also consumers.
2) MadHive  – Breakthrough in the OTT Space
MadHive is another company to reckon with, one that is making a major breakthrough in a space where no one else has stepped foot before – the OTT and AdvancedTV.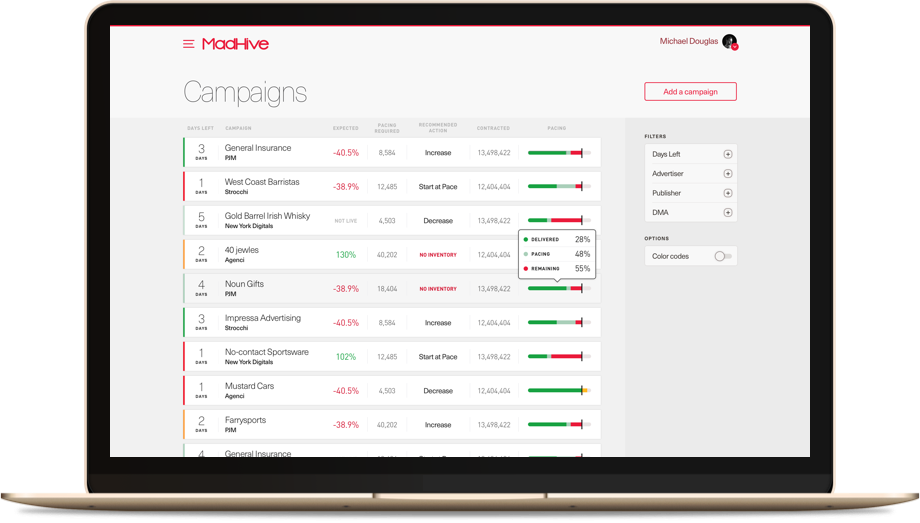 It basically tracks, stores and reports on the campaign-generated, first-party data in its blockchain backed and integrated DMP. Also, users can create encrypted and portable data that is safe to use anywhere.
They can identify and target key audiences by leveraging third-party data from its integrated data partners. Alternatively, they can choose MadHive's Interactive Stamps to come up with interactive ads.
3) Mindshare's Partnership with Zilliqa 
Quite recently, towards the end of 2017, Mindshare announced a partnership with the blockchain protocol Zilliqa. The partnership will test whether blockchain protocol can address some of the biggest challenges plaguing the digital world, including contextual advertising in relation to fake news. It will also be tested to see whether the protocol can be used to formulate strategic initiatives around data privacy.
It is interesting to note that Zilliqa supports thousands of transactions per second as compared to the mere 3-7 transactions per second as seen in Bitcoin and Ethereum.
4) ClearCoin – A Market-Ready Solution
ClearCoin is a USA-based startup that came up with an Ethereum-based system containing a history-proof ledger for publishers. It helps advertisers check information that's added after every transaction and enables them to see if their partners are abiding by the rules or not. So far, it has partnered with biggest publishing networks, including Facebook, Amazon, Google, Twitter, YouTube and Snapchat.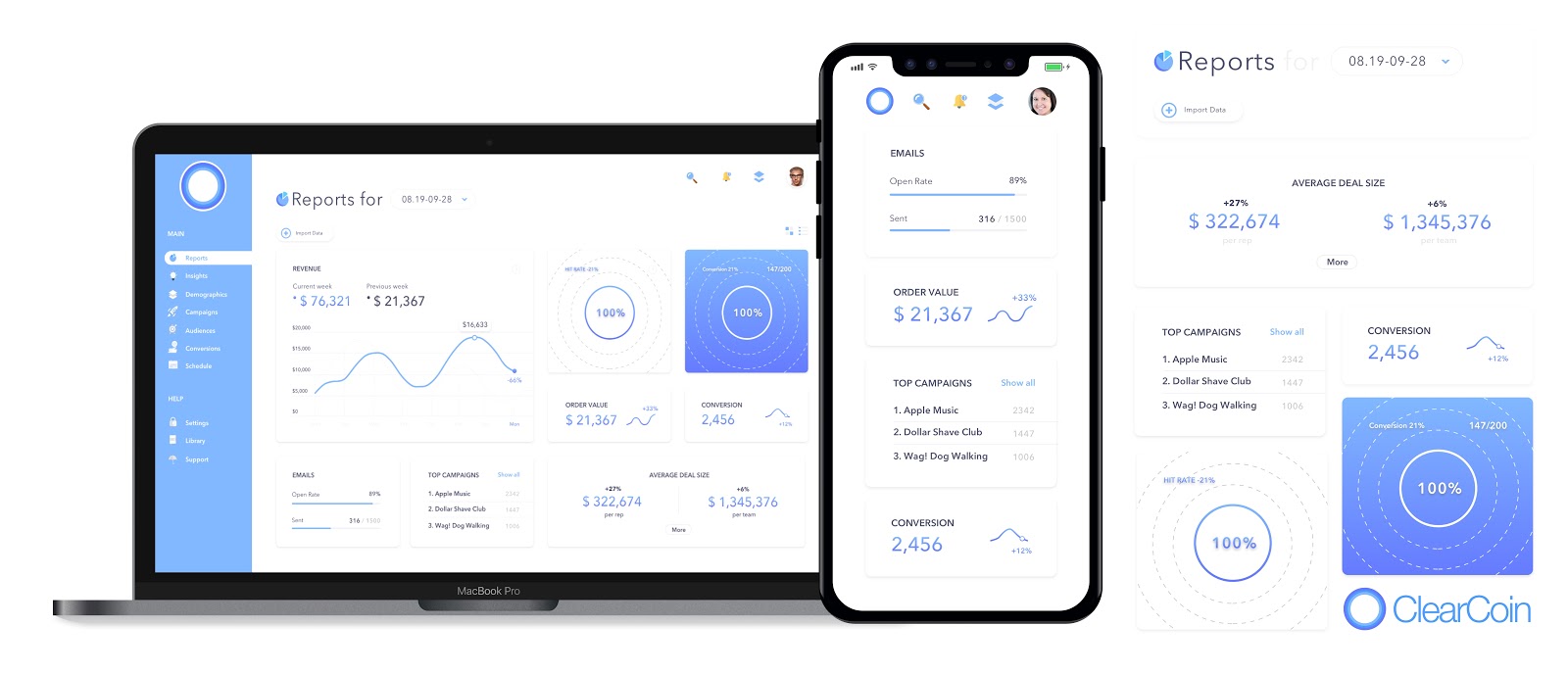 The team intends to develop this technology further and enable it to track as many as 10,000 impressions a second. The smart-contracts will also let users get more defined impression criteria like campaign time, views and similar parameters.
5) MetaX's adChain – The Industry's First Blockchain-Based Solution to Fight Fraud
MetaX is one of the leading firms that have been pioneering blockchain-based solutions to counterattack digital ad fraud. Even though it is in initial stages of development, it can go a long way. The firm offers two main solutions – the adChain Registry and Ads.txt Plus.
The adChain Registry is a Token Curated Registry, which will contain domain names. Currently in its beta form, it can be used as "a base to offer a decentralized repository of domains accredited by adToken holders." It will allow advertisers to protect the ad spend against fraud.
The Ads.txt Plus is a decentralized app or DApp, which is deployed on Ethereum testnet. This, in turn, leverages the blockchain to supplement the ads.txt and offers a simple but effective solution for publishers and content owners. It will help them list the authorized sellers of their inventory in a .txt file. This will be served from within the root path of the domain's web server.
Further Reading:
6) NYIAX – Patented Financial Matching Engine℗ with Blockchain Technology
NYIAX or New York Interactive Ad Exchange is NASDAQ's blockchain-based exchange. It is a combination of a patented Financial Matching Engine℗ with blockchain technology for the advertising industry. It is seen as one of the key elements that will push for more transparent media transactions that are completely secure as it will provide the advertisers and publishers a platform where they can buy, sell and re-trade premium advertising contracts.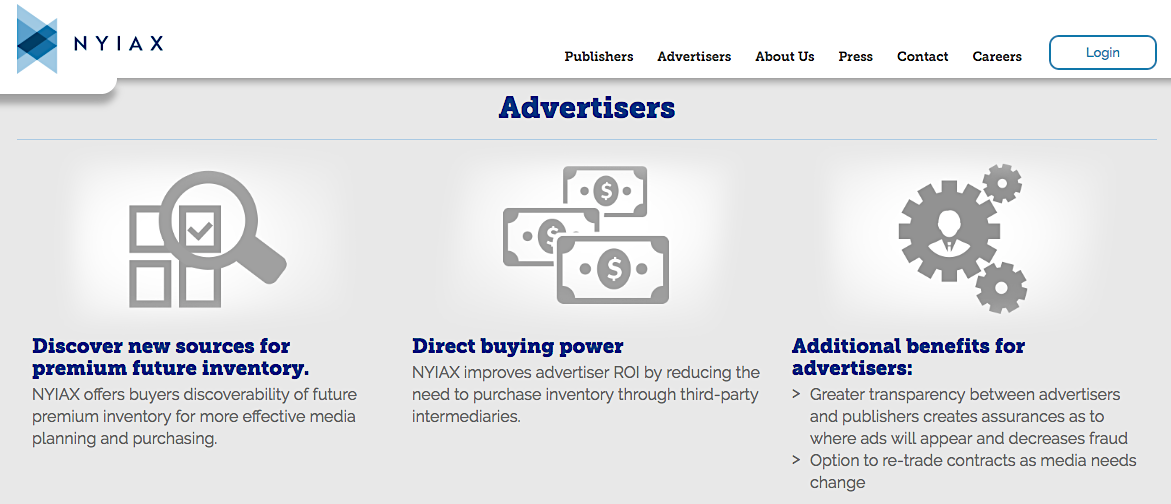 The technology claims to be trusted and curated and will enable them to increase their ROI and minimize the costs throughout the entire lifecycle of the deal.
By using NYIAX, publishers will be able to increase their direct sell-through via an automated exchange. Moreover, they will get the advantage of slashed high-fee sales through the third-party intermediaries. As for the controls on the inventory, it will be a power retained by them. The guarantee on the price will help them predict financial spend more reliably than ever.
Advertisers, on the other hand, will get access to a premium future inventory and will be able to put effective media purchasing and planning in place. They will also avail direct buying power and get the option to re-trade the contracts as media needs change.
Both advertisers and publishers will be able to trade or re-trade their future advertising inventory (read: guaranteed advertising contracts).
These are just a handful of instances where blockchain is used to prevent digital fraud. Apart from these, there are other solutions powered by blockchain such as:
Conclusion
There should be no rest when it comes to taking fraud by the horns, since the reputation and value of your brand is something you cannot compromise on. This ever-growing menace of digital fraud is being tackled by existing and upcoming technology firms using blockchain so that their ad spend won't go down the drain.