ClickFlow as a SurferSEO Alternative
Want to grow your organic traffic by 20-100%? We built ClickFlow, a suite of SEO tools designed to increase your organic rankings and scale qualified traffic for your website. Click here to learn more and get started.
Hundreds of changes are made to Google's algorithm every year. It's incredibly difficult — if not impossible — to keep up. Even Googlers who actually work on the algorithm readily admit that they don't entirely understand the ins and outs of how it works.
So how do you stay on top of Google's SERPs? 
By using tried-and-true SEO tools — like ClickFlow or SurferSEO. In this article, we'll compare the two tools.
Ditch the Ranking Factor Studies and Analyze Your Own Site
To stay on top of Google's requirements for high ranking, you probably pay close attention to ranking factors and the ways in which they change.
While studies on ranking factors are conducted regularly, and have been for many years, they're based on specific people's experiences and opinions. And these people are not necessarily working in your niche. They don't know what your keywords are or who your competitors are. They only know theirs.
Besides, some of the big names in SEO — many of whom carry out these tests — aren't even practitioners anymore. So you probably shouldn't be blindly listening to the experts. Because are they really experts if they're not practicing what they preach?
That's your call. But our advice?
Ditch the ranking factor studies and out-of-date checklists, and find something that works for your website.
So how do you do this?
Through a detailed analysis of the search results in your niche as well as your keywords
By learning what works for you
Applying those learnings to your own website, doubling down on what actually works
SEO testing is important here as well. As mentioned, the SERPs differ from niche to niche, and from keyword to keyword. You not only need to know what's working in your niche — you need to be applying it to your site, and testing your changes to make sure they're working.
With that in mind, let's talk about testing and benchmarking.
Can't I Test My Content with Google Search Console?
Yes — to an extent.
Search Console offers up keyword suggestions that Google thinks are relevant to a given page. These are helpful, no doubt, but it's going to require a lot of messing around to gather that data in one place and turn it into something you can actually work with.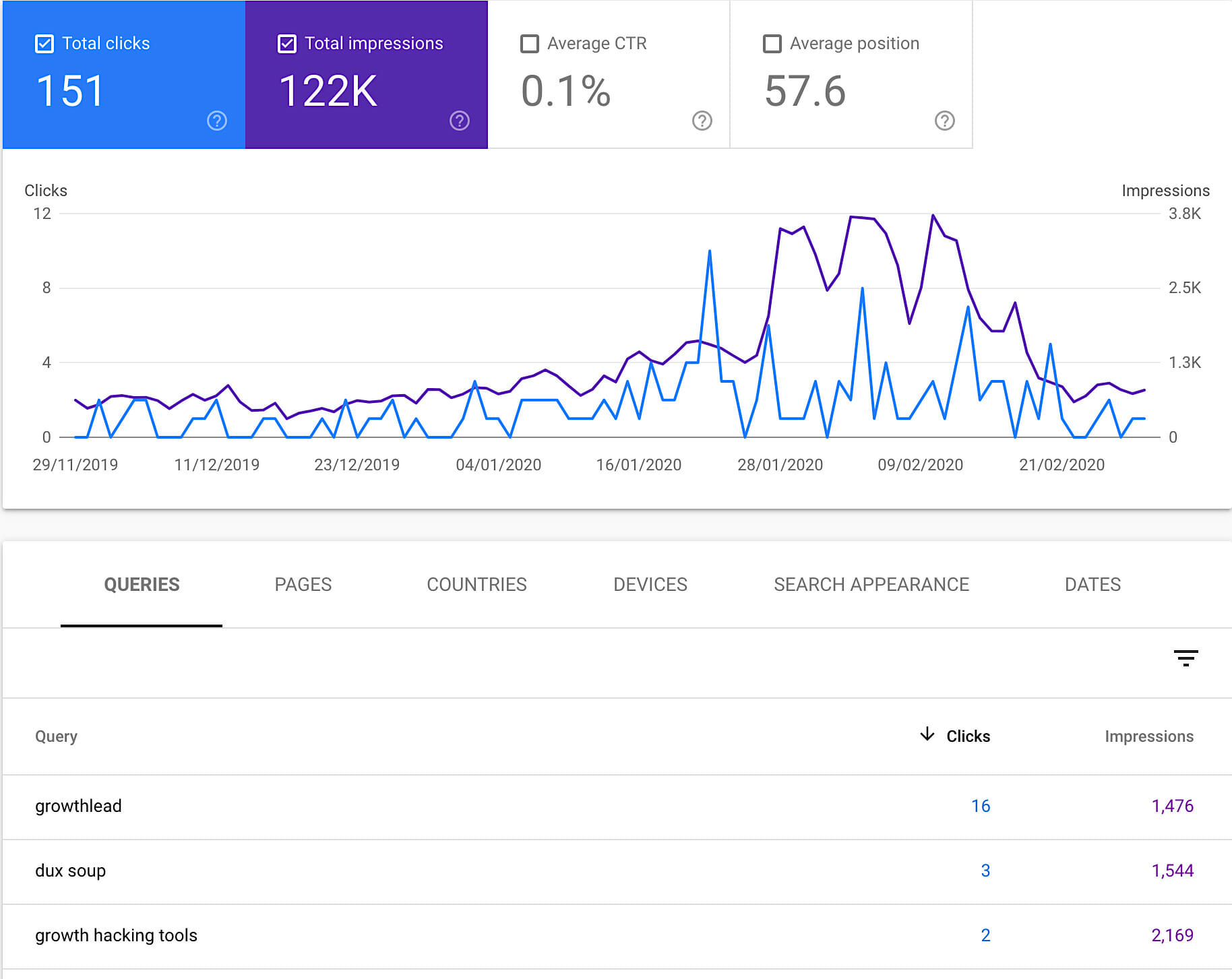 In addition, there's no reliable way to see testing in Search Console. If you want to see whether an experiment has worked, you have to go back and manually adjust the data — and then you need to crunch the numbers yourself. It's just not very efficient, and there are better ways.
Many SEO testing tools have emerged in the last few years. Ideally, you want something that evaluates the search results for you in order to save you the time of doing it by hand. You're then going to need a way to experiment with and track what you've been doing.
Two tools that allow you to do just that are SurferSEO and ClickFlow.
To give you a better understanding of how these tools work, we're going to look at the SERPs-data-gathering features of both tools. We'll then dive into ClickFlow's additional features, and why you might need a tool that covers more than just data gathering.
What Features Does SurferSEO Have?
SurferSEO is a tool that helps you improve your content and optimize it for better rankings in the search results. Its unique selling point is that it analyzes over 500 data points based on the keyword you've chosen to write about so that you don't have to collect all this data manually.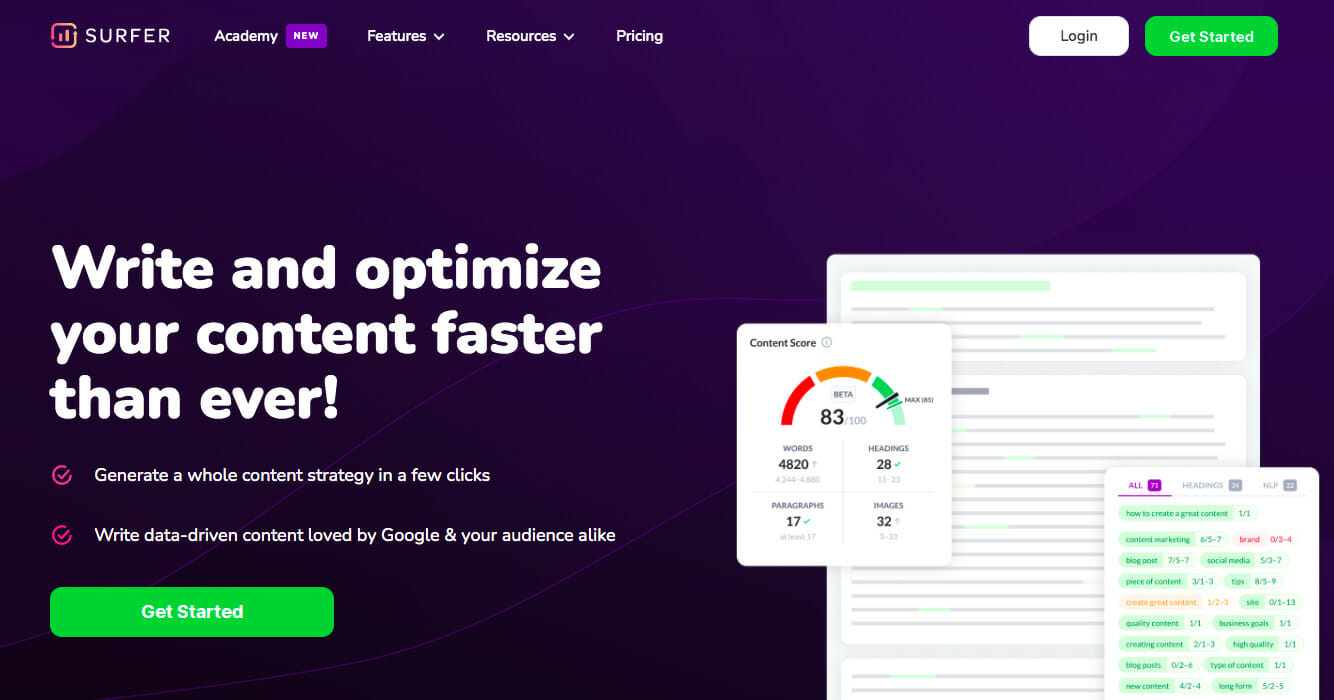 SurferSEO helps you work out why the top-ranking pages are ranking well with two main features: SERP Analyzer and Content Editor. This means that you can focus on the right data points for the niche you're in.
Let's take a closer look at SurferSEO's main features.
SERP Analyzer
The main feature of SurferSEO is its powerful SERP Analyzer. You simply drop your main keyword into the tool, it scrapes all the sites that rank for that keyword, and then pulls the results into a dashboard. From there, you can analyze 500 key data points that relate to that niche, your keyword, and the actual competitors in the search results.
Some of the data points include:
Visibility
Word count
Structured data
Hidden content
Backlinks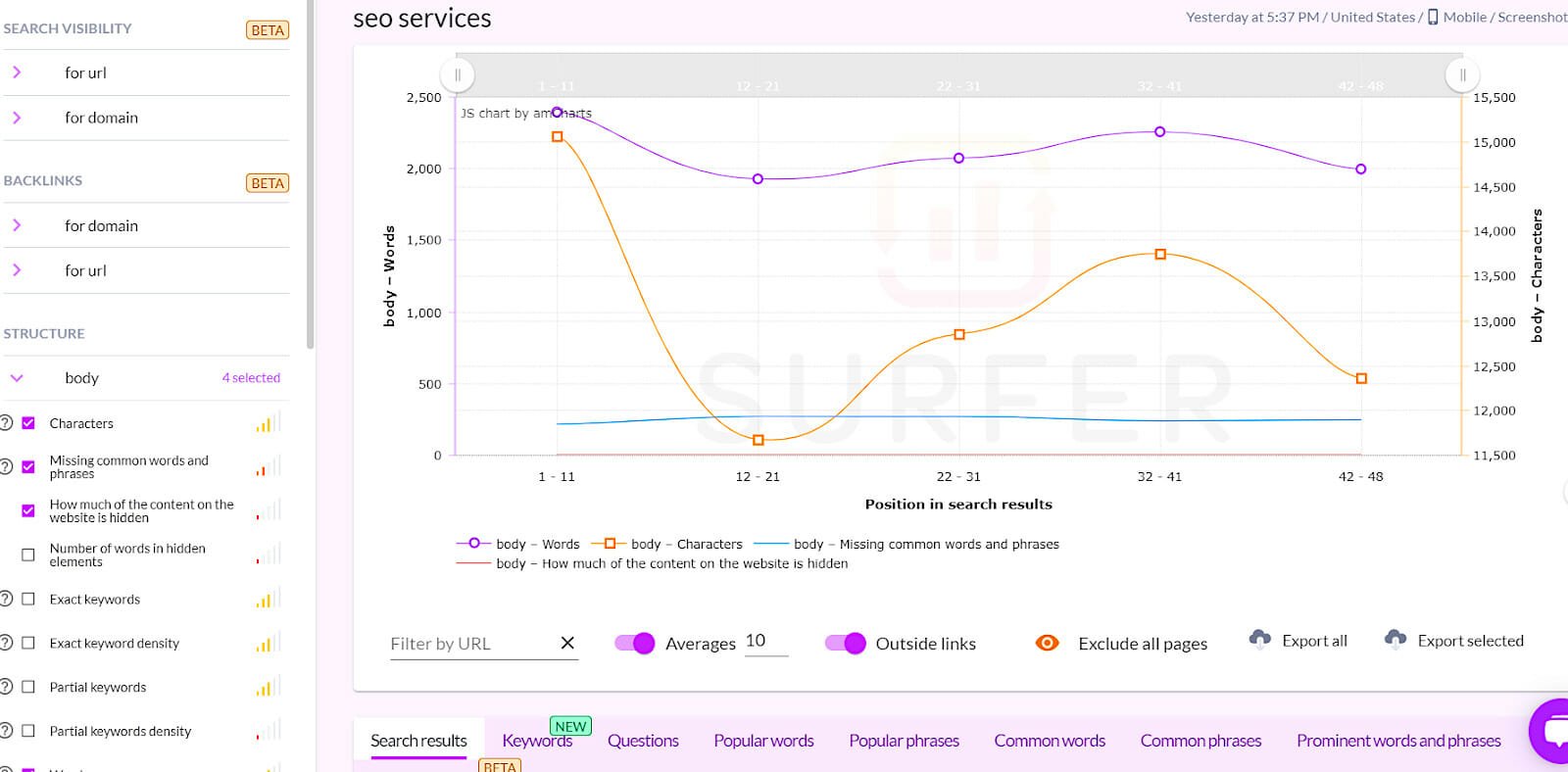 This allows you to see how the pages that are ranking are put together. You can then use that data to make informed decisions on how to help your pages perform better in the search results.
You can take this even further with SurferSEO's Content Editor.
Content Editor
SurferSEO's other key feature is its content editor. You simply drop your main keyword into the search section of the editor and wait for it to do its magic.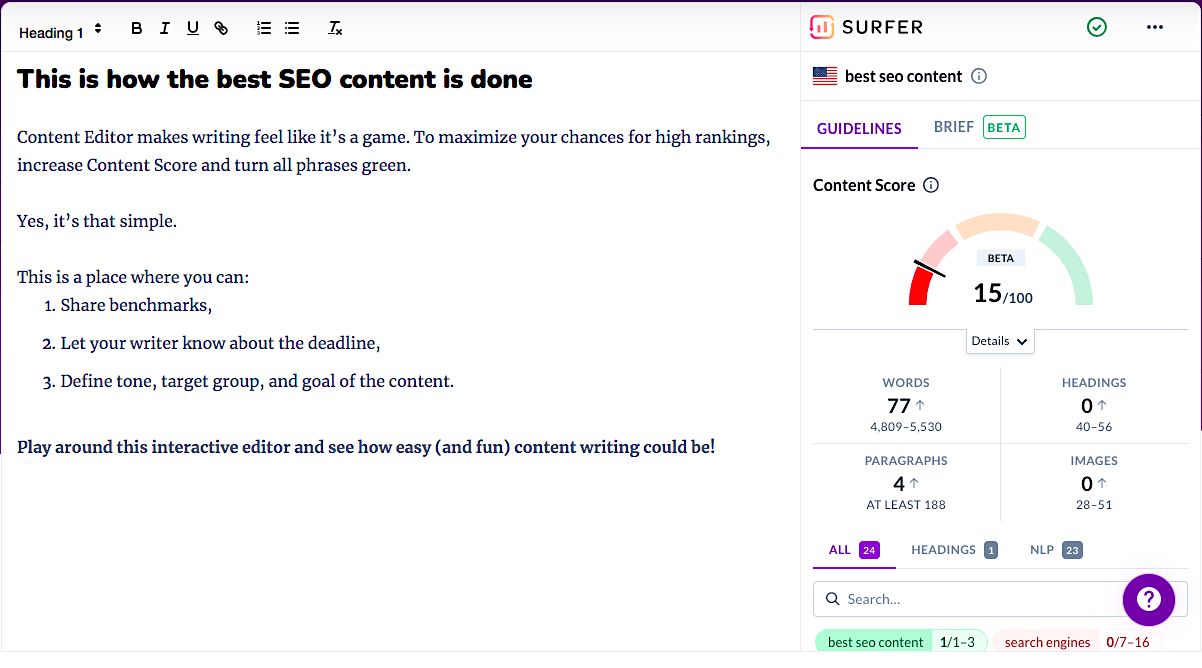 From there, you can write or just paste your content into the editor and SurferSEO will tell you how to improve it based on similar content of your competitor's websites. It's almost like having a specific checklist based on actual benchmarking, rather than someone else's take.
Want to grow your organic traffic by 20-100%? We built ClickFlow, a suite of SEO tools designed to increase your organic rankings and scale qualified traffic for your website. Click here to learn more and get started.
What Is SurferSEO Missing?
At the start of this article, we mentioned the importance of benchmarking competitors and SEO testing. And this is where SurferSEO is lacking. You can take the data you've gathered, the content you've edited, and place it within an actual SEO experiment. But it kind of falls flat at the last hurdle.
This is where a SurferSEO alternative like ClickFlow shines when it comes to building a repeatable and reliable process for SEO experimentation.
Related Content: ClickFlow as a RankScience Alternative (for SEO Testing)
What Does ClickFlow Do?
ClickFlow is an SEO experimentation tool that helps you grow your traffic through A/B SEO tests, optimizing your pages with its Content Editor, and identifying old content that's losing traffic so that you can refresh it.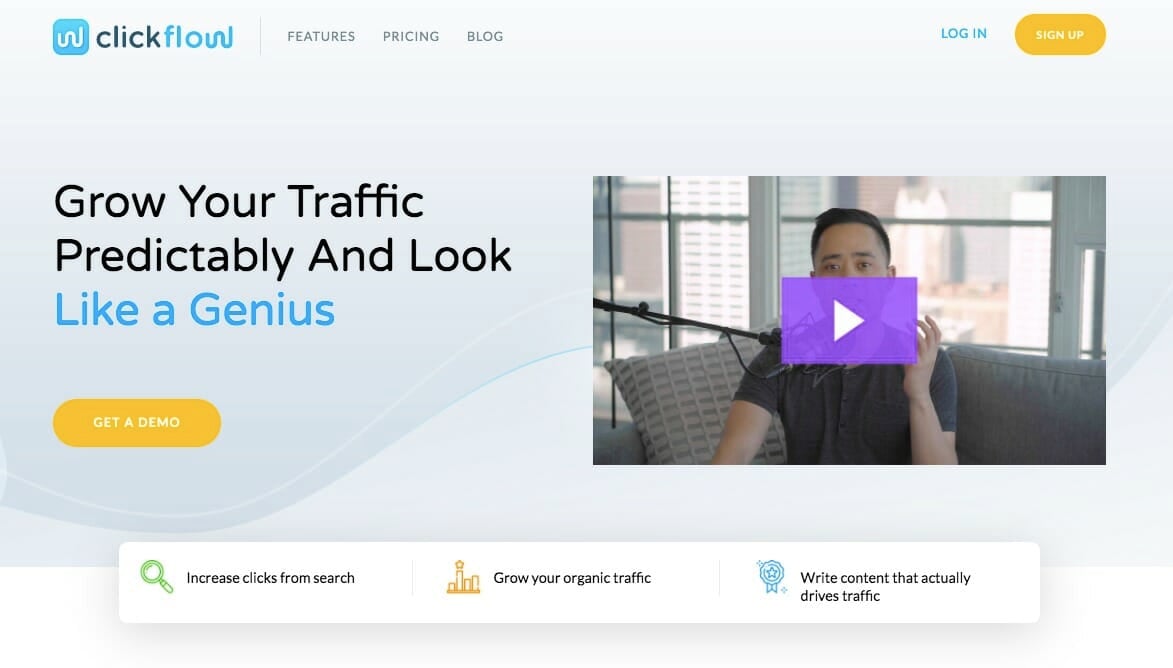 ClickFlow's Content Editor
There are a few similarities between ClickFlow's Content Editor and SurferSEO's. ClickFlow looks at fewer data points than SurferSEO — but this can be a good thing because it's easy to get caught up in the data and overlook the important stuff, i.e., which parts of your page you should be changing.
ClickFlow's editor instead concentrates on the top-level items that you should be looking at for you to compete in the SERPs for your niche and your keywords.
ClickFlow looks at:
Word count
Readability
Relevant terms
It then pulls all of these together, analyzes them, and recommends an overall grade (A+, A, B+, B, etc. — just like in school) that you should aim for in order to rank your content well.
Note: Keep in mind that just getting an A does not guarantee that you'll rank on the first page of Google within the week! It still takes time, great content and promotion.
Part of its content analysis is due several features in the Content Editor: 
Questions feature (this data is pulled straight from the "People Also Ask" and "Related Search" results in Google)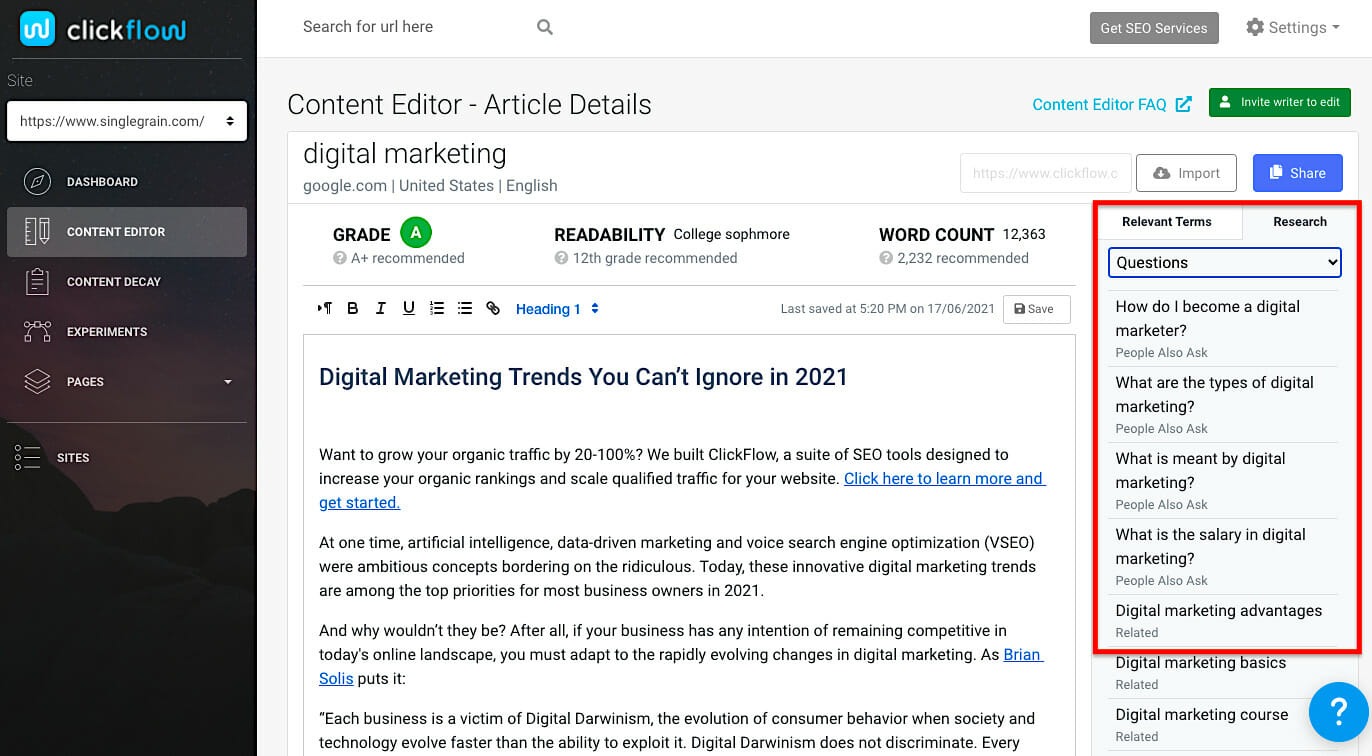 Competitor URL feature (this displays the top ten organic competitors and with one click allows you to hop over to the competition's article and analyze it)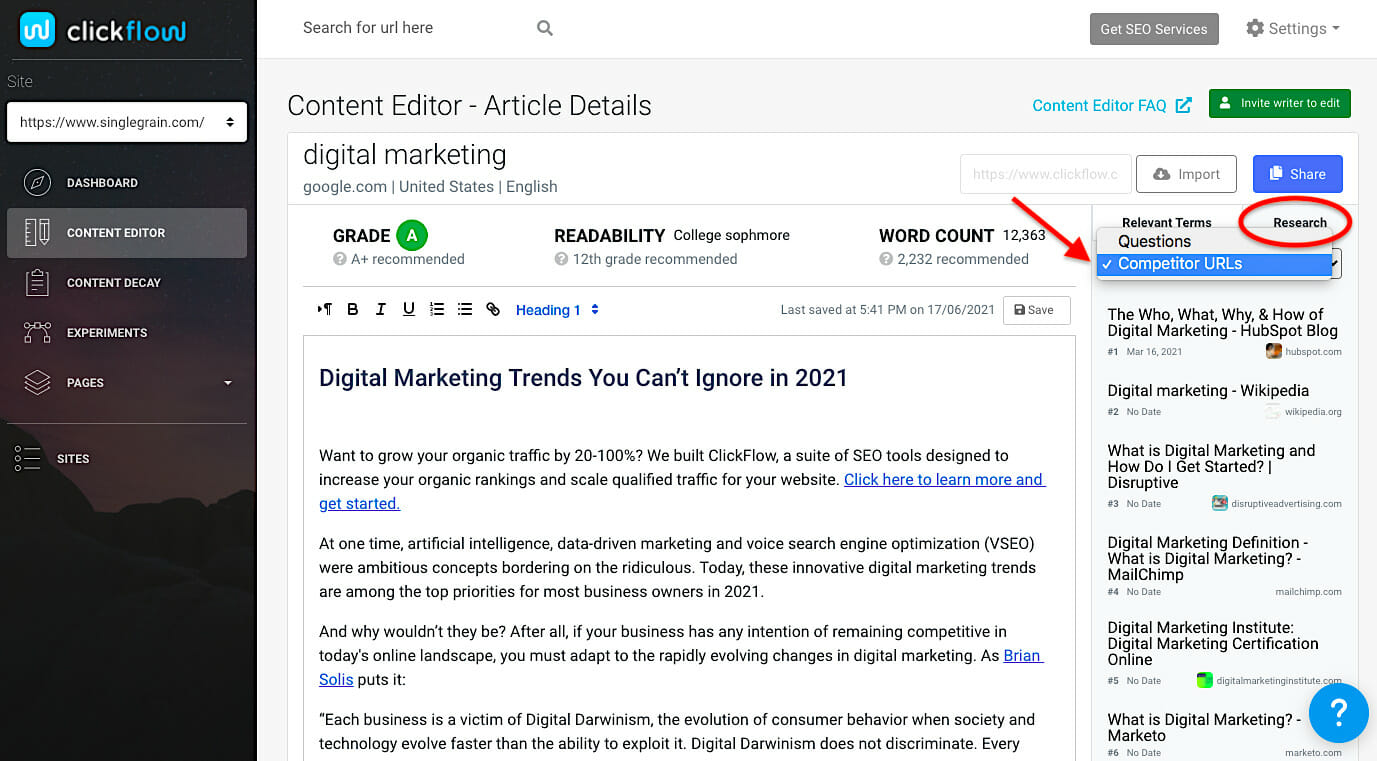 ClickFlow's Content Editor has a lot less clutter than other similar tools like SurferSEO, so you can get on with optimizing your content rather than sitting and staring at your screen trying to decide whether you should add 200 more words. This means you can make quicker decisions, faster changes, and spend less time on analysis.
Dive Deeper:
* 3 New ClickFlow Features to Outrank Your Competitor's Content Strategy
* ClickFlow vs. Semrush for Ranking Your Content

What Are ClickFlow's Additional Features?
This is where ClickFlow really comes into its own. Beyond the Content Editor, you can take your changes and track whether they've made a real-world difference to your rankings and organic traffic.
How? ClickFlow connects to Google Search Console and then applies that to your experiments. Let's take a look at how that breaks down.
Dashboard
Everyone loves a dashboard, right? ClickFlow's dashboard is clean and uncluttered. And it gives you all the important data you need at a glance — like your top growth opportunities.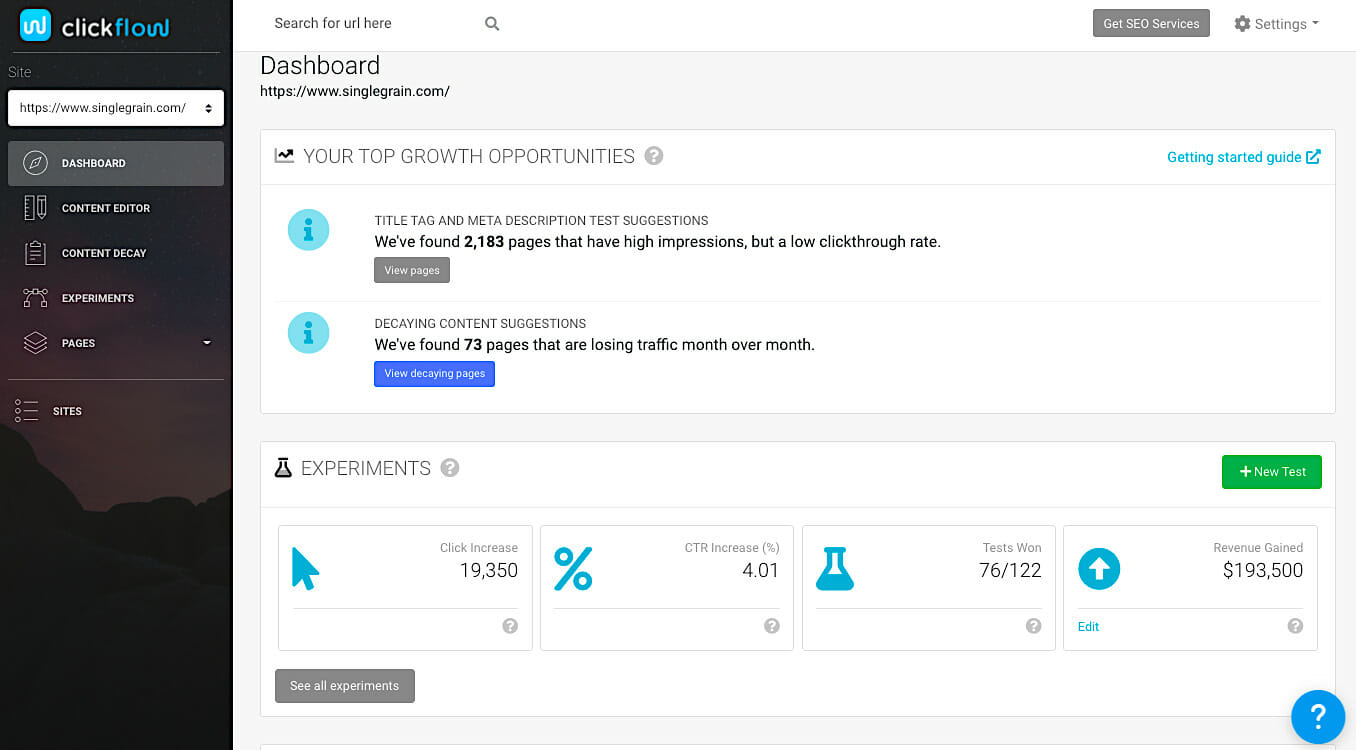 A) Title Tag and Meta Description Test Suggestions
Unlike SurferSEO, ClickFlow seeks out the pages that are underperforming and highlights them for you. No more digging through the data — it's presented to you in your dashboard.
Here, you'll see suggestions for title tags and meta descriptions that could be improved. This is based on Google Search Console data for your pages with a high number of impressions but a low click-through rate. Adjusting these could have a positive impact on rankings and traffic. (More under "Experiments" below.)
B) Decaying Content Suggestions
The dashboard also shows decaying content suggestions. These are your pages that are losing traffic month over month and could do with a refresh. (More under "Content Decay" below.)
Want to grow your organic traffic by 20-100%? We built ClickFlow, a suite of SEO tools designed to increase your organic rankings and scale qualified traffic for your website. Click here to learn more and get started.
Experiments
ClickFlow allows you to see the top-level stats for all your experiments — the click increase, the click-through rate increase, the number of tests won, and the revenue gained from your SEO experiments and testing. This is super handy for showing that your SEO work is paying off.

Clicking on "See all experiments" in your dashboard takes you to the Experiments page where you can filter experiments by state, tags, test focus, time, and even by specific web pages: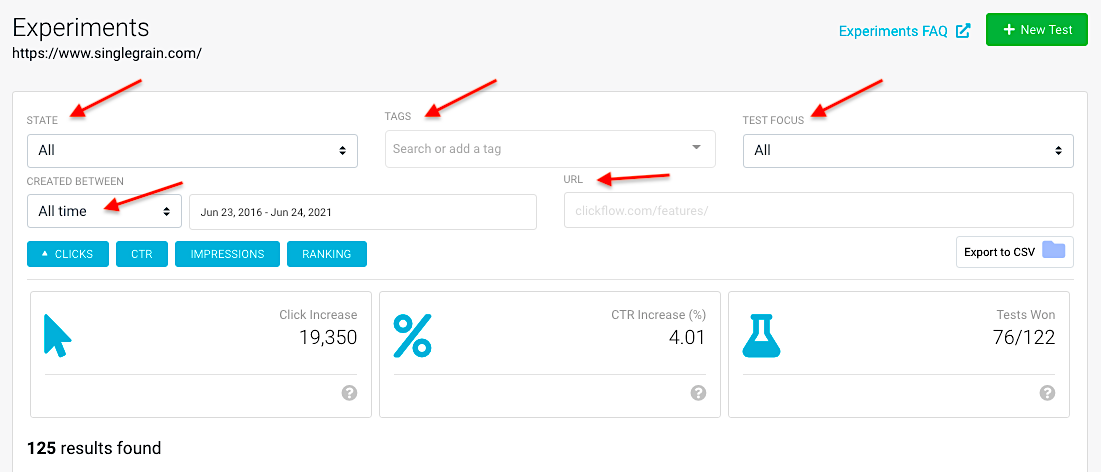 One of the significant drawbacks of SurferSEO is that it lets you gather the data but then leaves you in the lurch when it comes to organizing and tracking SEO experiments.
In ClickFlow, if you scroll down, you can get a quick overview of the Search Console data for each of your experiments (date, clicks, CTR, impressions and average rank) — all at a glance. You'll also see the changes you made to the title and meta description: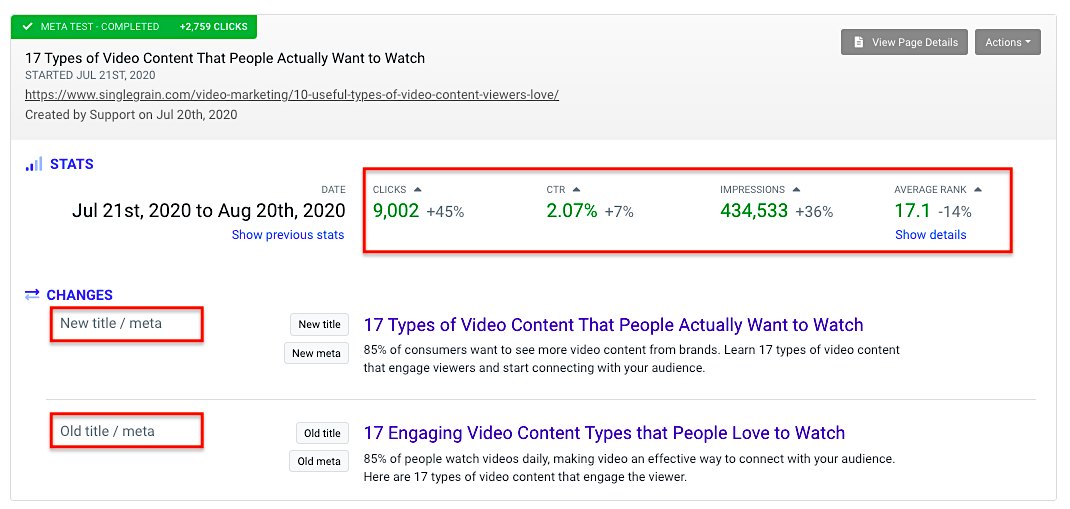 Scrolling even further, you'll also see a list of your Top Keywords by Clicks and their position in the SERPs.
You now have all the data you need right at your fingertips, and you don't have to build something else in Excel to track everything. No more crunching the numbers yourself!
Content Decay
Here's another feature you can find in ClickFlow, but not in SurferSEO: the Content Decay tool, which provides a list of your site's pages that have peaked in the past but are now on a month-over-month decline. We all know that Google loves fresh content, which means content that's kept up-to-date.
The Content Decay tool finds these pages on your site for you so you don't have to dig through all your data by hand. In the Content Decay dashboard, you can see all the pages the tool has found plus a cool little graph showing the percent of clicks lost and the number of missed clicks since the content peaked: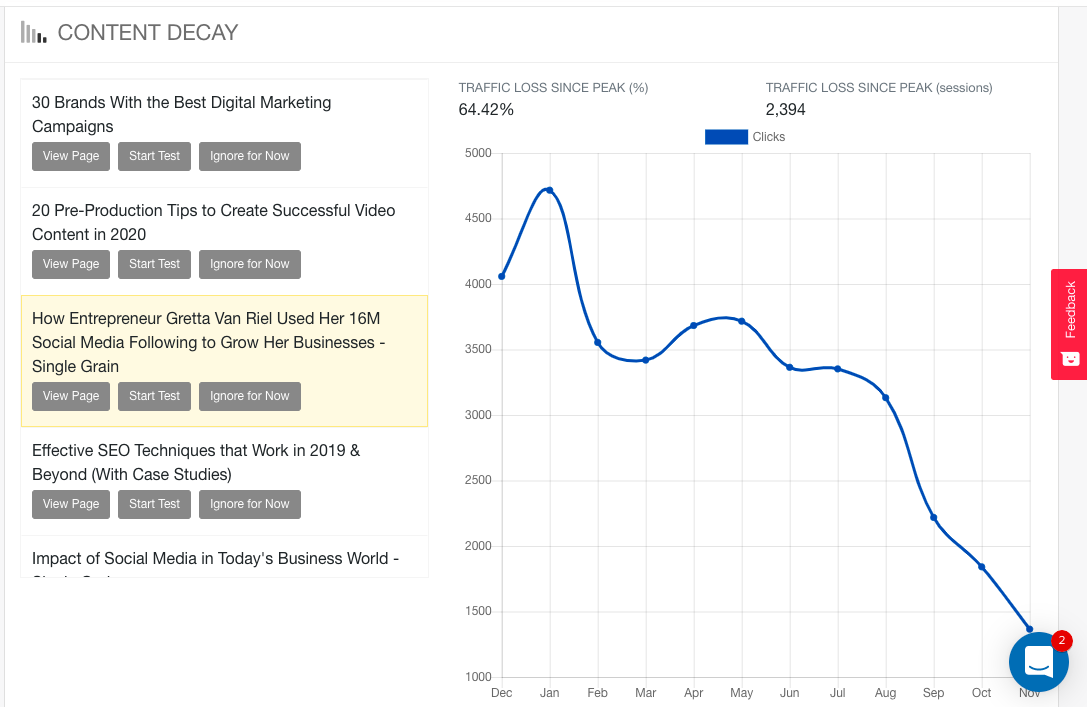 Click on any one of the articles in the list and you'll get more data. You can view a graph of the clicks over time for one, three, six or twelve months. It shows you when the page was last crawled, plus when and how many SEO experiments you performed on it: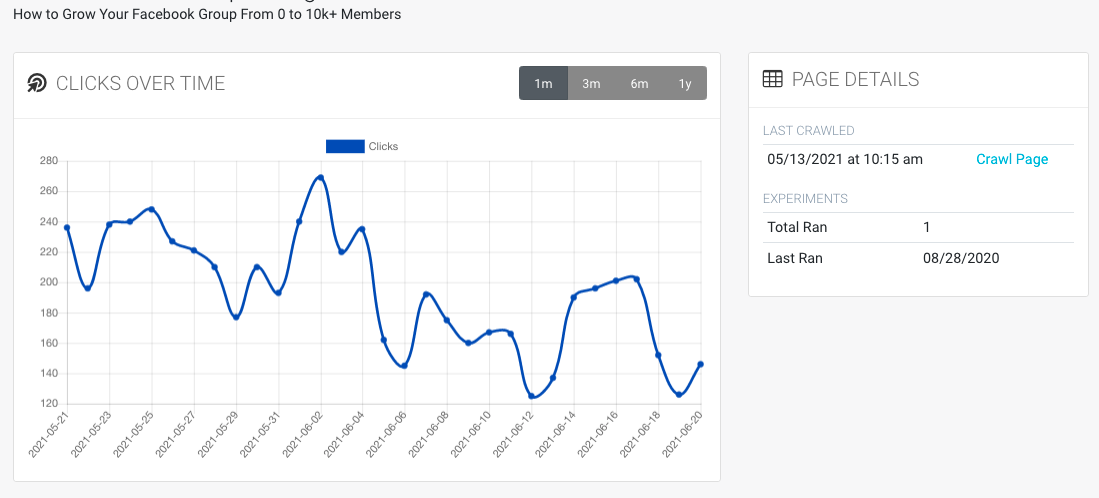 ClickFlow does the heavy lifting for you by finding the content you need to update and refresh.
Take a look at this 2-minute video to get a quick overview of how Content Decay works:
Learn More:
* What Is Content Decay and How It Affects Your SEO
* What Is Content Optimization? (And How to Ace It!)
* Why You Should Update Content – Or Risk Losing The Traffic You Have [Case Study]

Pages
The tool's final section is Pages. This shows every page on your site with its clicks, CTR, impressions, and position. All of this is filterable by tags that you create, so you can look at similar pages. This means you don't even have to leave the tool to hop over to Search Console!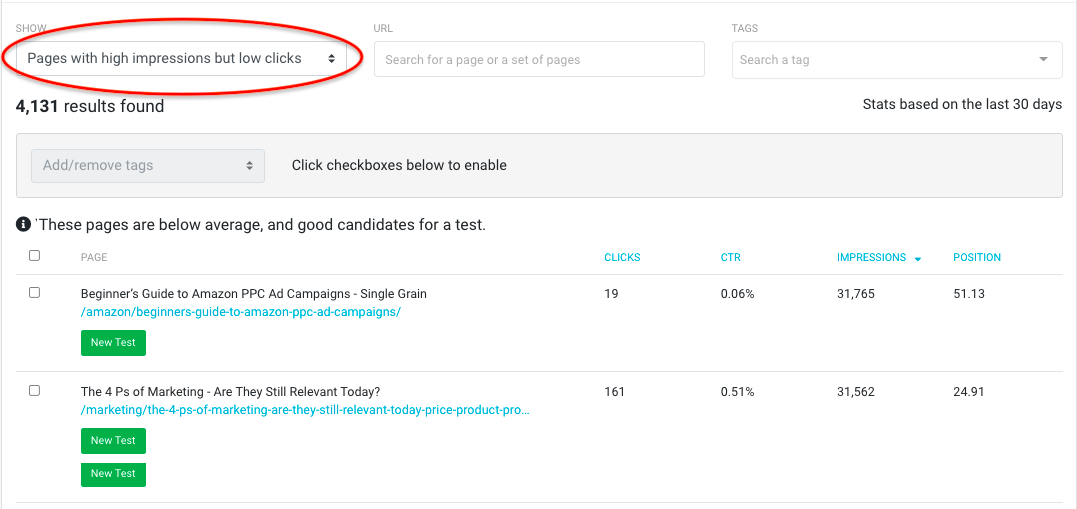 Want to grow your organic traffic by 20-100%? We built ClickFlow, a suite of SEO tools designed to increase your organic rankings and scale qualified traffic for your website. Click here to learn more and get started.
SurferSEO vs. ClickFlow: Key Takeaways
SurferSEO has more data points in its SERP Analyzer and Content Editor, but if you want an SEO experimentation tool that allows you to have a full process from start to end, ClickFlow is the clear winner.
ClickFlow is far more fleshed out and takes a lot of the leg work out of researching and conducting SEO experiments. Plus, the more time you have on your hands, the more experiments you can conduct. And the more experiments you can conduct, the easier it is to improve your rankings and organic traffic at scale!