Top 5 Surfer SEO Alternatives in 2023
This post was updated January 2022
Hundreds of changes are made to Google's algorithm every year. It's incredibly difficult, if not impossible, to keep up. Even Googlers who actually work on the algorithm readily admit that they don't entirely understand the ins and outs of how it works.
So how do you stay on top of Google's SERPs?
By using tried-and-true search engine optimization (SEO) software. Surfer SEO is one of the most popular options on the market, but it's not right for everyone.
In this article, we'll compare and contrast some of the best Surfer SEO alternatives.
What Is Surfer SEO?
Surfer SEO (now called "Surfer," but for the sake of this update, we'll continue using both names) is an AI-powered tool that helps you improve your content and optimize it for better rankings in the search results.
Its main feature is its powerful SERP Analyzer. If you enter your main keyword into the tool, it scrapes all the sites that rank for that keyword, and then pulls the results into a dashboard. From there, you can analyze 500 key data points that relate to that niche, your keyword, and the actual competitors in the search results.
Surfer's other key feature is its content editor. You can simply drop your main keyword into the search section of the editor and wait for it to do its magic to help you keep up with Google's advanced use of natural language processing.
From there, you can write or just paste your content into the editor and Surfer will tell you how to improve it based on similar content from your competitors' websites. It's almost like having a specific checklist based on actual benchmarking, rather than someone else's take.
As a bonus feature, Surfer SEO also includes a web browser extension that displays additional keyword data in your search results, which is incredibly helpful when you're at the research phase of creating content.
Why You Might Be Looking for a Surfer SEO Alternative
Surfer SEO does a good job of helping you benchmark your competitors, but it's not perfect.
Most significantly, the content editor tool tends to offer up keywords that are generic or irrelevant. Data overload is also a problem with its SERP Analyzer.
Surfer is not the easiest tool to use, so it's best for experienced SEOs. It has a lot of features, and because the learning curve is fairly steep, you'll likely need to watch a video tutorial on how to get the most out of it.
Finally, Surfer is lacking when it comes to SEO testing. You can take the data you've gathered, the content you've edited, and place it within an actual SEO experiment, but it kind of falls flat at the last hurdle.
If you want to optimize your site, SEO testing is just as important as benchmarking. SERPs differ significantly from niche to niche, and from keyword to keyword. Not only do you need to know what's working in your niche to apply it to your site, but you also need to test your changes to make sure they're effective.
Why Choose Clearscope?
Clearscope focuses exclusively on keyword research and content optimization to help you rank higher on SERPs. Its primary advantage over Surfer SEO is that it doesn't waste any time trying to do anything else, and its tighter focus pays dividends.
Clearscope has a cleaner, more intuitive interface than Surfer. It's noticeably easier to use, and you'll likely experience less of a learning curve with Clearscope than you would with another topic research tool.
ClearScope Pricing
Clearscope has three pricing plans. The cheapest, Essentials, costs $170 per month for 20 report credits and one user. The Professional plan offers 50 report credits and allows up to three users. If you want more than that, you can get custom pricing under their Enterprise option.
Dive Deeper: What Is a Content Optimization Tool and Why Do You Need It?
3) MarketMuse
Like Surfer SEO, MarketMuse is primarily a benchmarking SEO software that helps you optimize your content for higher ranking in Google's SERPs.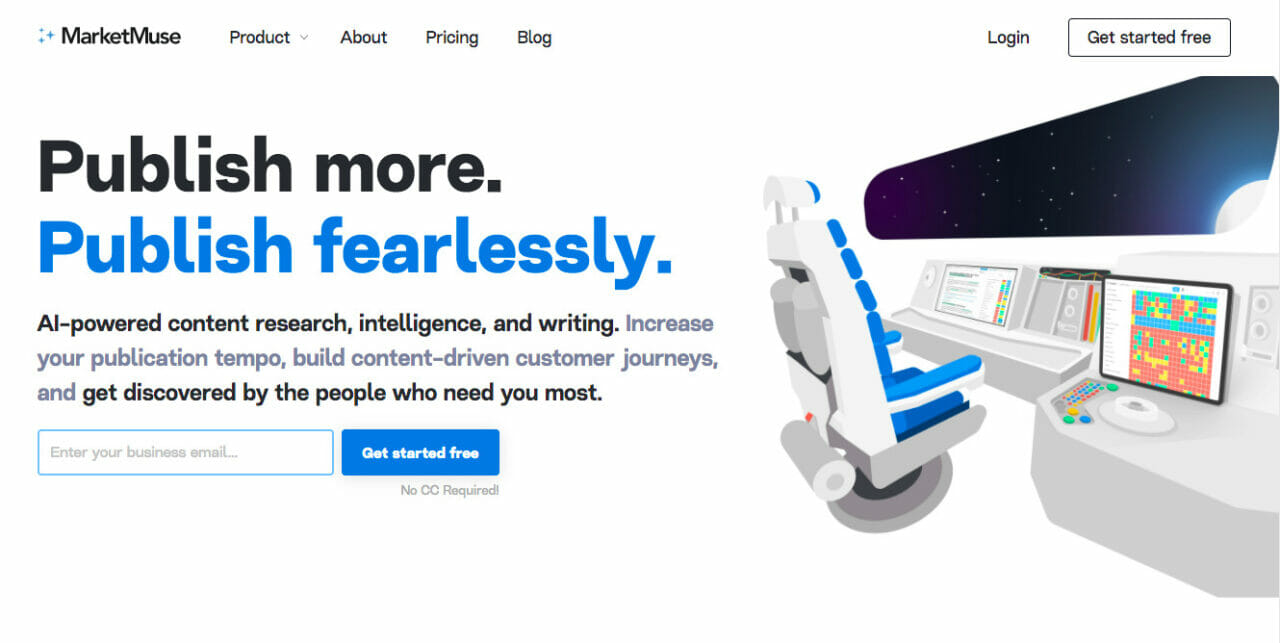 Its content editor feature, also called Optimize, includes slightly more data than Clearscope's, but not so much more that it becomes cluttered like Surfer's on-page SEO tool. It includes current, average, and optimal word counts, as well as LSI keyword distributions among the top-ranking competitors for your keyword. It uses these to give your content a score out of 100.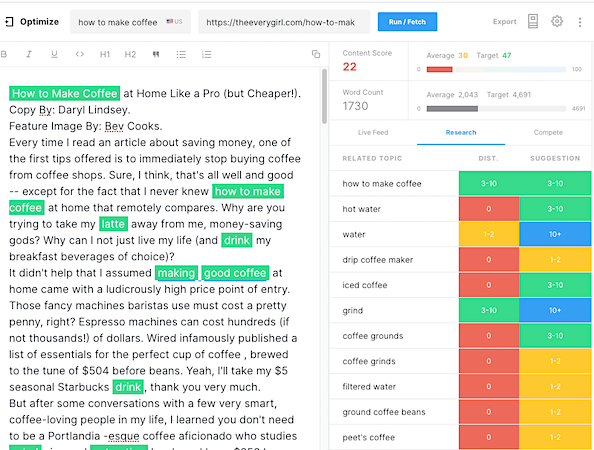 Perhaps the greatest benefit of this tool is that it also gives you the average score of the top-ranking content for your main keyword plus a target to shoot for instead of just a letter grade. That's really helpful for testing your approach against the content strategy of your top competitors.
In addition, MarketMuse has several other handy features for writing SEO-optimized content. For example, it can use AI to create briefs for you content that include suggested topics, LSI keywords, internal links, and more.
Why Choose MarketMuse?
One of MarketMuse's primary advantages over many of its competitors is that its page optimization tool does a better job of finding legitimate, value-add keywords. Some tools tend to suggest generic words that fail to help create better content, but MarketMuse uses AI effectively to weed these out.
It also has a plan option with no monthly payment, which is great for businesses on a tighter budget since SEO optimization and content planning can be expensive.
MarketMuse Pricing
MarketMuse has three pricing plans. First, there's the Free option, which has limited usage, but still lets you access many of the features. Next, there's the Standard option, which is $149 per month and has unlimited queries. Finally, there's the Premium plan, which is $999 and allows virtually unlimited usage, including unlimited users.
Dive Deeper: 10 Most Important Google Ranking Factors (& How to Optimize for Them!)
4) RankScience
RankScience is a dedicated piece of SEO software that allows A/B testing for SEO.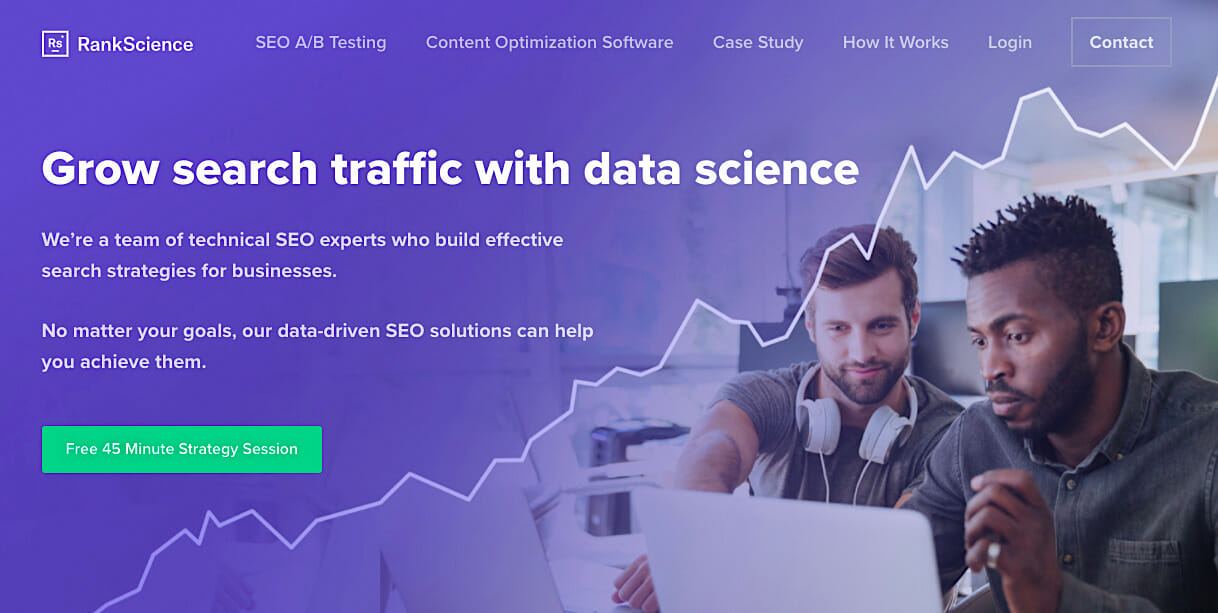 Similar in concept to conversion rate optimization, RankScience lets users make changes to title tags, on-page copy, and other important elements like headings and alt tags.
By adding just one line of javascript to your site, you can make changes on the fly. Add the code and you can split your landing pages into two groups: your original HTML in the first version of the page, and the new page with changes. These are both served up to Google, and you can work out which page performs better in the search results.
Once the test is complete, you can see if the variant page performs better, and then make the new page. You can then move onto your next test.
RankScience also includes a content editor that can easily compete with the other tools on this list of all Surfer SEO alternatives. It's called the Content Insights tool, and it lets you drop your current content and focus keyword into the tool for a grade based on:
Readability grade
Word count
Monthly searches
Terms that appear in competitor content
Other relevant terms that have surfaced from your competitors' copy
As with the others, you'll get a checklist that's relevant to your niche, your keywords, and what's already performing well in the SERPs.
Why Choose RankScience?
One of the primary downsides of Surfer is that it doesn't have any functionality for A/B testing for SEO. However, this is RankScience's flagship feature.
Many SEO testing tools ask you to make changes to a given page, and then it's your job to see if the new page outperforms the old one. With RankScience, you minimize the risk associated with this because you still have your variant page and can switch back to it at any point.
RankScience Pricing
RankScience doesn't make their pricing explicitly clear, which is always a bit of a worry. However, when you sign up, you'll see that you get a 30-day trial. After that, it costs $295/month.
Unfortunately, nowhere on their site does it say how many tests you can run for that price or what the limitations are on searches and checks.
Dive Deeper: What Is A/B SEO Testing?
5) Topic
Last but not least, we have Topic, which is an SEO tool that focuses on streamlining the entire content creation workflow from research to outlining to content optimization.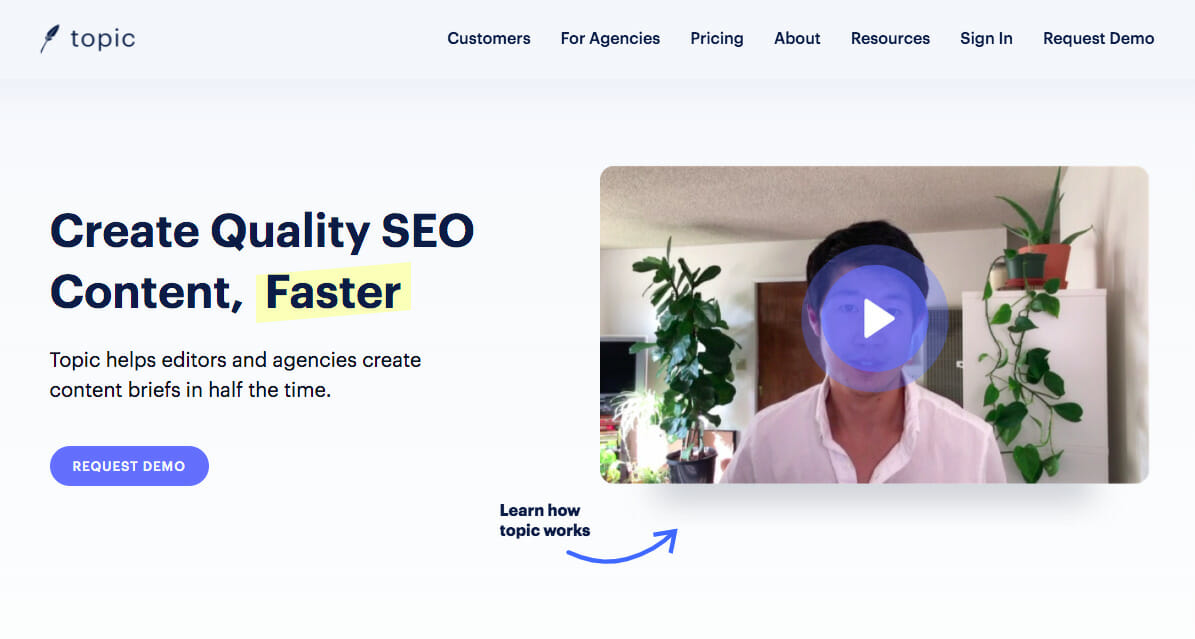 Many of the options on this list focus primarily on content optimization on the back end, but Topic is uniquely suited to adding value on the front end.
Before you even write your content, you can enter your target keyword into Topic and it will analyze the top competition in the current search results. It'll provide you with headings, questions to answer, and broad topics to cover. You can use that research to create an outline in their outline builder feature.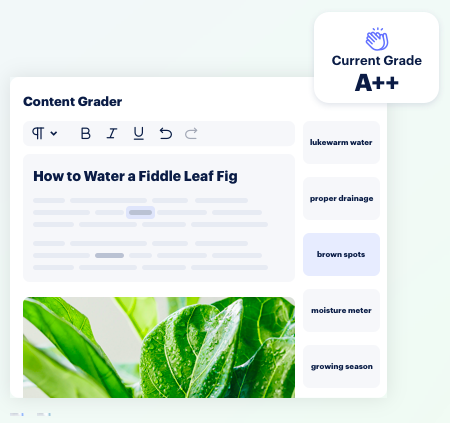 Topic can also generate outlines from scratching using AI. You just plug in a title and a description. When you combine that with the research the tool provides, you can create a more comprehensive brief in a much shorter time.
Once you have a draft for your content, you can drop it into their Content Grader to help optimize it, like many of the other Surfer alternatives. If you want, you can download their plugin to connect your content grader to your Google Docs or even WordPress.
Why Choose Topic?
Topic's primary selling point is its superior ability to add value before you even begin creating your content. It's a lot easier to create high-quality content when you have such a comprehensive, detailed, and data-driven outline to work with from the beginning of the process.
Topic Pricing
Topic offers three pricing plans. Their Starter option costs $99 per month, which works out to $10 per content brief. The Plus option is $199 per month or $8 per brief. Finally, the Premium plan costs $299 per month or $6 per brief. They allow one, three and five users, respectively.
Dive Deeper:
* 21 Paid & Free SEO Tools That Will Improve Your Ranking
* 9 Quick SEO Tactics That Only Take 10 Minutes to Implement
* 10 Effective SEO Techniques to Drive Organic Traffic in 2023

Conclusion
If you're looking for effective tools that can help you improve your content for SEO, all of the Surfer SEO alternatives above provide great value. Ultimately, the ideal tool for you comes down to personal choice.
Find out which area of content creation you find most important for your niche and your site, then pick a tool that supports you the best in that area.