There are more than 63,000 searches conducted on Google every second (about 5.4 billion searches per day) and Google has 90.46% of the search engine market share worldwide.
Search engine optimization (SEO) is one of those things that's always crucial to your marketing strategy – and always changing. Because of how quickly search algorithms evolve, it can be difficult to keep up with the newest best practices, especially when you have several other marketing channels to manage.
But if you aren't ranking for the keywords that are important to your business because it's too much work to keep up with SEO, you're missing out on a lot of potential customers.
Fortunately, good SEO doesn't have to be hard or time-consuming. To help make your SEO work as efficient as possible, I've rounded up some of my favorite hacks to boost your rankings. Some of them are easier than others, but they're all doable – no matter how new or advanced a marketer you are.
Hack #1: Focus on Your Cornerstone Content
Cornerstone content is your best content. It is:
Evergreen – it continues to be important to your audience over time
Relevant – it speaks to your audience's needs
Comprehensive – it provides an informative and exhaustive source on the topics that your audience cares about
Up to date – it's regularly upgraded as new information becomes available
Basically, cornerstone content is the content you want people to find when they search for relevant keywords – the SEO superstars of your website. Making sure it's robust, valuable content is the first step, but there are several other steps you can take to help get it out there, such as making sure that popular posts are listed in your blog sidebar: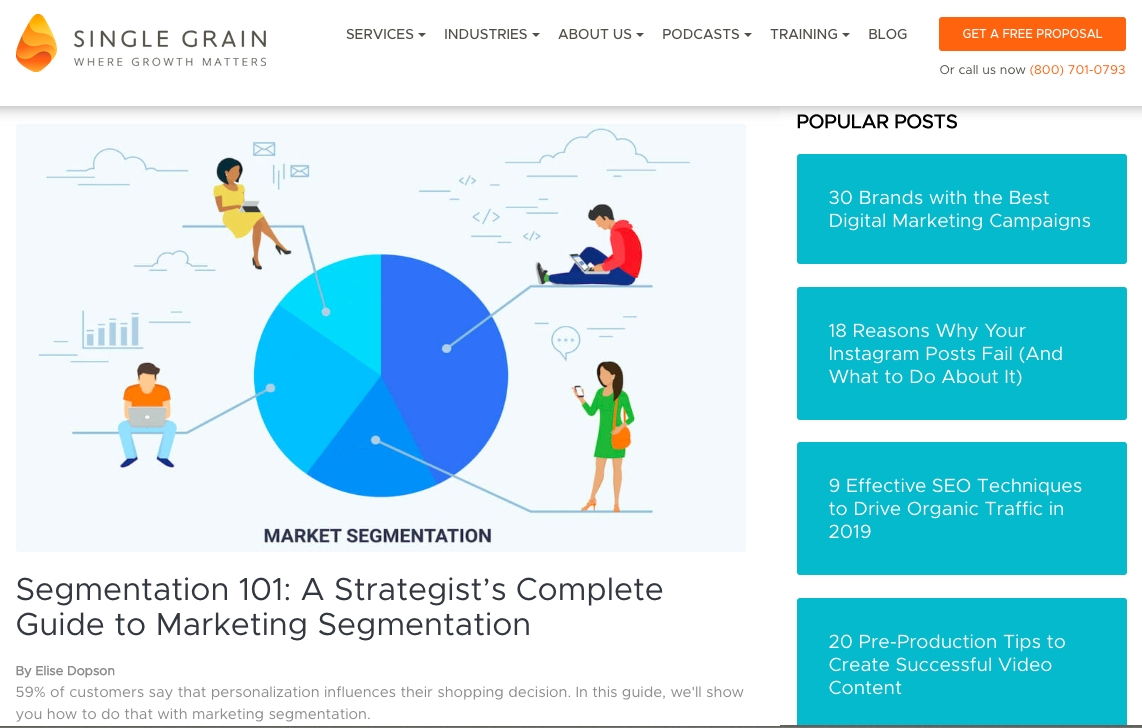 Your sidebar is prime real estate for your cornerstone content because it's on every page of your blog. If you have a comprehensive guide to SEO on your website, for example, make sure that everyone who comes to your blog for SEO tips sees it by placing it in that sidebar.
The cornerstone content that you create and promote will eventually start to work for you on its own, but it may take up to 12 months before you start seeing big returns in the form of search traffic, especially if your competitors are creating similar content. A good way to cut that time is to make sure yours in the best in your industry.
Dive Deeper: 9 Effective SEO Techniques to Drive Organic Traffic
Hack #2: Don't Forget About Your Footer
People used to put a lot of text about their companies and products into their footers to boost SEO traffic, but that doesn't work anymore. In fact, with Google's algorithm these days, it can actually hurt your ranking. That doesn't mean that you can't still boost SEO with your footer; you just need to be more strategic about footer links.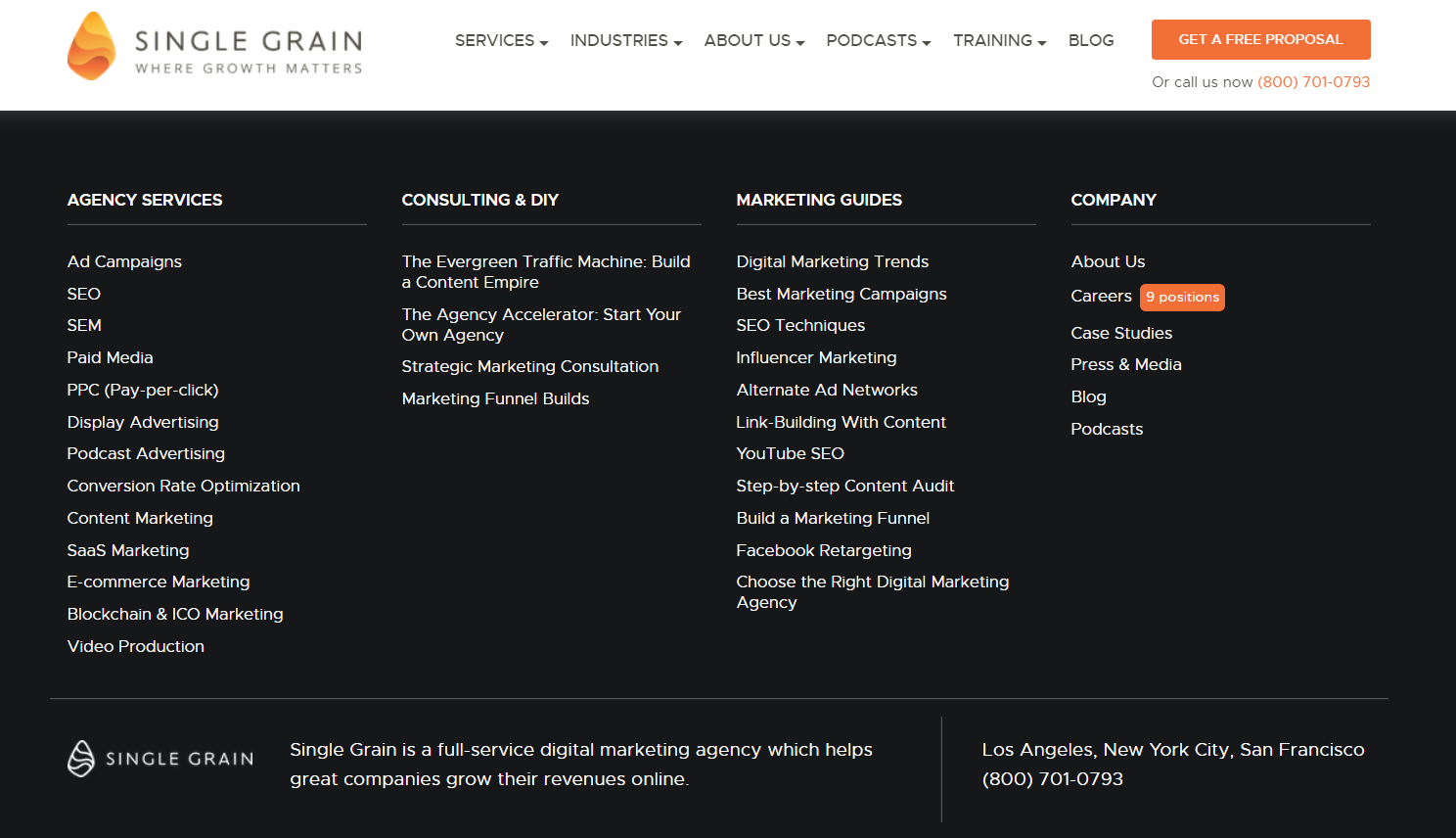 Make the anchor text more descriptive and lined up with the search terms that will bring people to your website.
For instance, when I worked at an online education company, I changed the footer link anchor text to "Learn Web Design" and "Learn Web Development," rather than just listing page and product names. That small change helped improve the site's domain authority for those topics.
And don't feel like you have to only link to product pages or case studies. Link to your top value-add pages, such as Resources and Cornerstone Content.
Dive Deeper: 17 Best Free (or Freemium) SEO Tools to Improve Your Ranking
Hack #3: Use a Keyword Research Tool
Take the search terms you rank for and enter them into a keyword research tool like Keyword Tool, KWFinder or  Ubersuggest: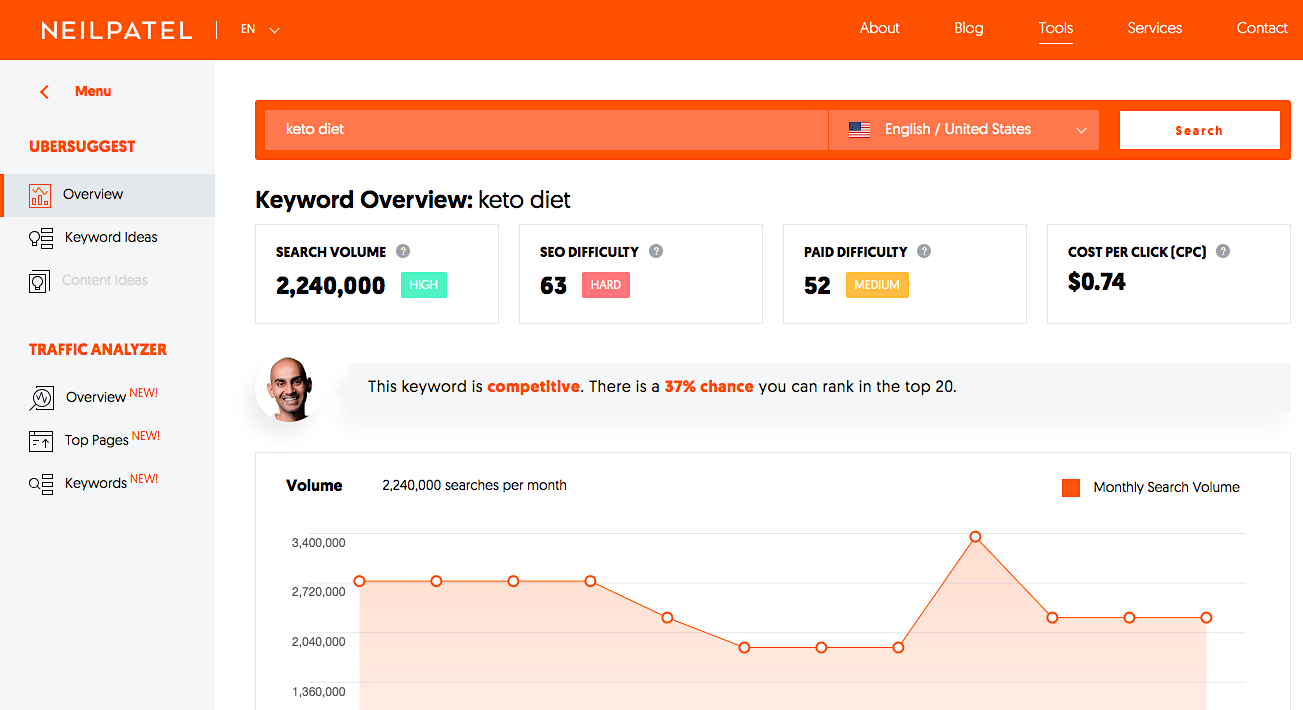 You probably already rank for some keywords (hopefully more than just your brand name) but check out Google Search Console as well.
From there, you can find popular long-tail phrases from Google Suggest (autocomplete) that are related to those keywords. Take those phrases and rework your pages with related content that aren't ranking with those keywords.
Obviously, I'm not just talking about shoving in the keywords. You won't get a SEO boost from that. Modify your content so that those long-tail phrases fit into it naturally. It should flow well and make sense. Within 30-60 days, those modified pages should start ranking higher for those search terms.
Dive Deeper: SEO Keyword Research Made Easy
Hack #4: Increase Dwell Time on Your Site with Amazon Polly
We recently added Amazon Polly to all the articles on Single Grain's website. Amazon Polly is this little speech-recognition tool that will read the entire article out loud to visitors, and it's increased dwell time on our site: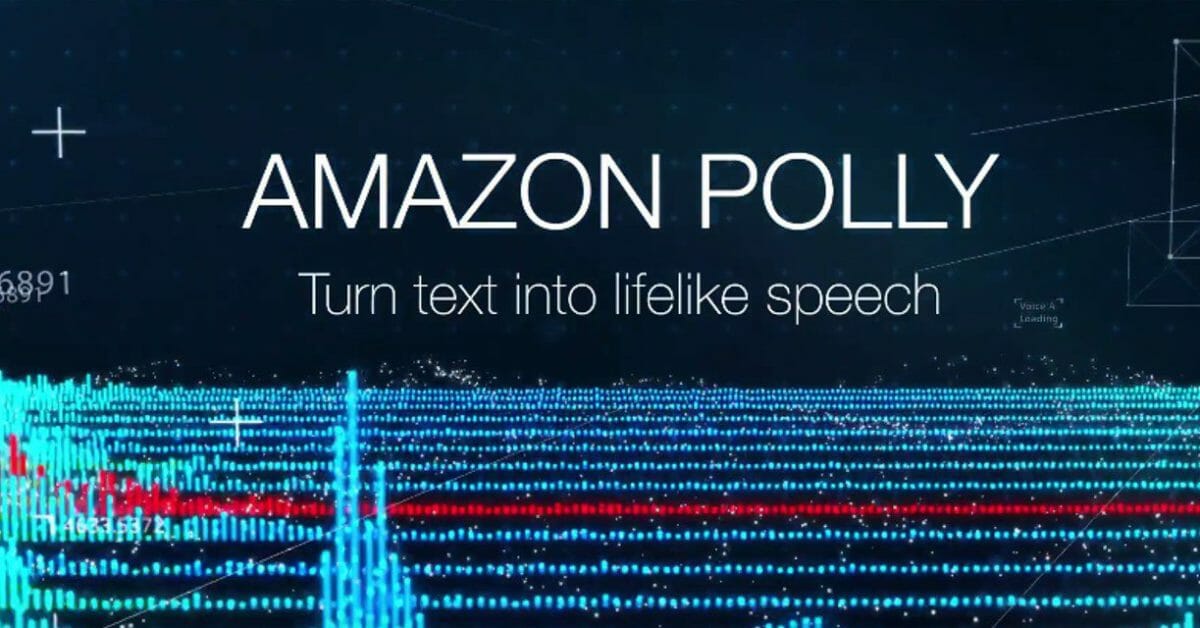 Dwell time is a big SEO factor. It's not enough for someone to just click on a link to your website; they need to stick around. Some people like to read articles and blog posts. Some people like to listen to someone else read them. Using a tool like Amazon Polly helps you engage both groups to boost this ranking factor.
Learn More: Absolutely Everything You Need to Know About 10x Content
Hack #5: Build a Brand
Increasing your brand value is a good way to boost SEO. It's a good way to boost everything, actually, but we're focusing on SEO right now.
Google ranks websites with strong brand queries higher than those without them. And how do you go about getting these queries? You make sure that people keep coming back to your website.
The more that people type your company or website name into Google or into the URL bar or who click on links to your website, the higher you'll rank. To boost this effect, start capturing email addresses, either with a form on your website or with exit pop-up software. You can also do chatbot subscriptions with tools like Mobile Monkey.
Then, use these lists and your social channels to promote any content you create. Let people know that you release great content on a regular basis so they have a reason to come back. It takes time, but if you commit to growing your brand, you'll improve not just your SEO, but your overall business performance as well.
Dive Deeper: The Complete Guide to Brand Building (Must-Read for Digital Marketers)
Hack #6: Use This WordPress Plugin to Get More Subscribers
My friend Syed Balkhi created a WordPress plug-in called YouTube Subscribe, and it's definitely worth a look from an SEO perspective. Here's why: you can use this tool to embed other people's videos on your website, but still have the subscribe button link to your channel.
For example, if you have a video channel but you don't have any videos related to SEO, you can write an article or blog post about SEO and embed someone else's video about SEO into the blog post. Then, when they click on the "subscribe" button, they'll be subscribed to your channel, not the one that posted the video.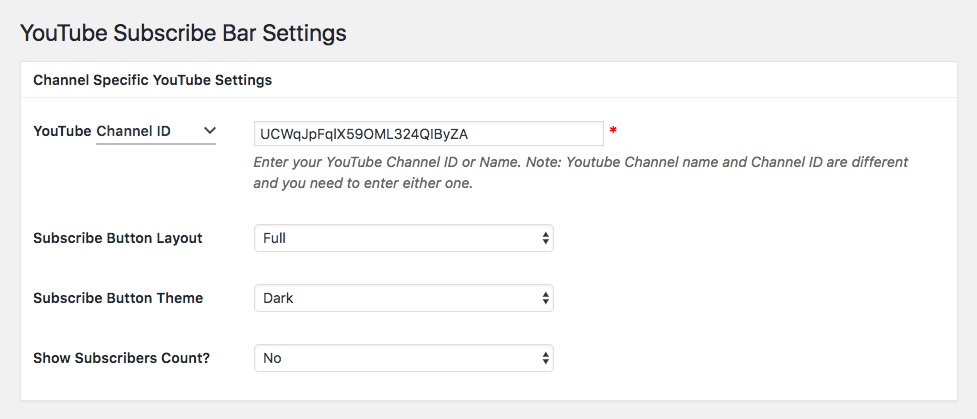 Obviously, if you're using a plug-in like this, you need to be careful. If you're just blatantly stealing more popular YouTubers' videos to get more subscribers, users are going to see right through that. Make sure you're actually adding value to your content when you're embedding other people's videos with this plug-in, and make sure the bulk of the video content you're promoting is yours for best results.
Dive Deeper: How to Grow Your YouTube Subscribers Without Spending a Ton of Money
Hack #7: Don't Forget About YouTube SEO
You'd be surprised by how many YouTubers totally neglect their SEO. For this reason, it's not competitive at all. In fact, it's much easier than traditional SEO.
If you don't have a YouTube channel yet, it's time to start one. You don't need to have a studio or an editor. You can easily create iPhone videos – users prefer them anyway because they feel more "authentic."
The trick to ranking high on YouTube SEO is to make sure that your videos get a lot of traffic in the 24-hour period after you post them. That means that the minute you post your video, you need to get it out on all of your channels – email, blog, social media, chatbot list, push notifications, etc.
Of course, you also have to do the basic optimization stuff like include the right keywords, have a good description and upload an SRT file, which is a subtitle file that's saved in the "SubRip" format (get one from Rev.com for all your videos):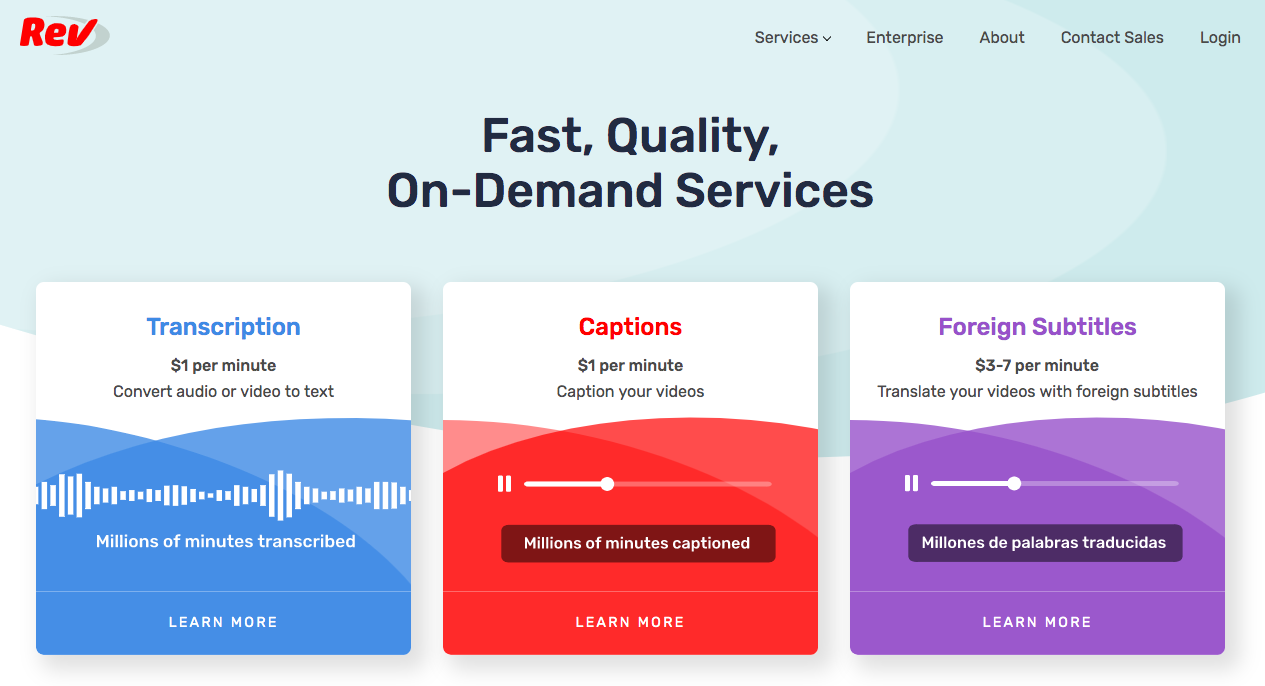 Here are some other basic tips for boosting your YouTube SEO:
When you upload your video on YouTube, make sure that your target keyword is in the filename of the video.
The title of your video should be at least five words and should also include your target keyword.
Your descriptions should be at least 200 words and accurately describe what's in your video in detail. Include your target keyword here as well: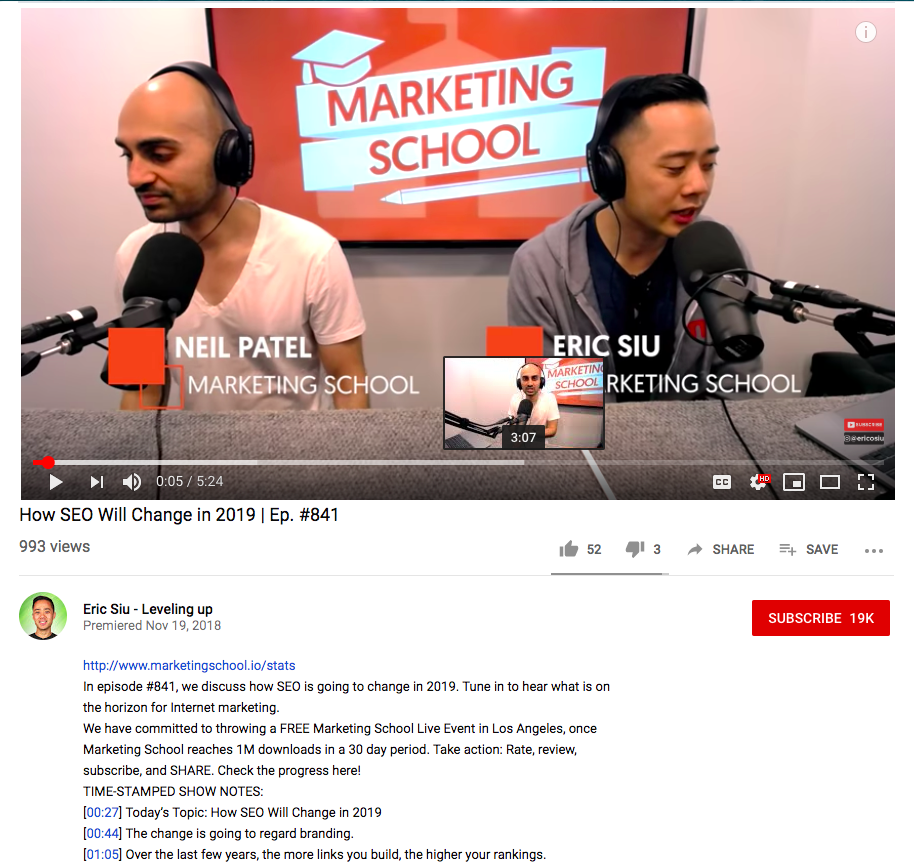 Spend some time choosing your tags, as including the right tags helps your video get discovered in YouTube's "related videos" section.
Encourage people to share, comment and subscribe. The more engagement your videos and channel get, the higher YouTube will rank your videos.
Create playlists based around your keywords. This will help your individual videos for those terms rank higher.
Dive Deeper: The Complete Guide to YouTube SEO
What You Really Need to Know About SEO
At the end of the day, SEO is really about quality content. That's what every Google algorithm change is designed to focus on.
Click To Tweet
Sure, there are always ways to game the system, but that doesn't benefit the user. It doesn't benefit you, either, because you won't convert a user who landed on your website and didn't find what they were looking for.
So if you do nothing else, focus on quality. Don't publish 300-word blog posts every day just to have something to push out on social media. Instead, focus on one 2,000-word blog post a week that answers a question or solves a problem that your target audience has, and do it better than your competitors.
Once you create quality content, use the Content Sprout Method to build your brand across channels. Basically, this method involves taking a piece of cornerstone content and "sprouting" it across different channels. For example, say I write a guide to SEO. I can then turn it into a series of short videos, each one highlighting a different tactic. I can turn it into one or more podcasts. Then, I can promote all that content on my social media channels and through email.
The Content Sprout Method works because it starts with quality content – and the more you can create that and push it out there, the stronger your brand will be. Strong brands translate to higher Google rankings. It's all a cycle, and if you take the time to do it, the end result is more business and revenue for you.
Dive Deeper: How to Optimize Your Brand for Search Engines
Quality Content: The SEO Gift That Keeps on Giving
Quality content isn't just good SEO for now. It's good SEO forever (or at least until Google significantly changes its algorithm).
If you create an excellent evergreen piece of content, people are going to keep finding it. A post you write tomorrow might be the post that brings you the most traffic two years from now. Make that initial investment into content creation. If done well, it will keep bringing you more visitors and hopefully, new customers well into the future.
And don't forget to keep that content updated. Next year, we'll take this blog post, update it with some new hacks, and republish it. And it will bring us traffic next year, just like this one will. Build on what you already have and what's already working. It still requires effort on your part to do well, but ultimately, you'll find that it's much easier than starting from scratch.
Learn More: How Writing One Piece of Remarkable Content Can Change Your Business…and Your Life