MarketMuse vs. Clearscope
[Free Consultation] Are you spending money on advertising but not getting the results you want? Are you looking for more sales and leads but have no idea where or how to start? Get help from our world-class marketing experts in a free consultation call.
Click Here To Schedule Your Free Consultation Now
These days, everyone's buzzing about content.
Writing and producing great content has become a necessity for modern businesses, but what exactly is great content and how can you ensure that your creatives are delivering results?
When it comes to business applications, there's one easy marker of great content: It ranks highly on Google.
While great writing is still an art, there's also an analytical aspect to SEO content, and modern tools can help make sure that your business's creatives are getting the results you want.
In this article, we're going to take a look at two leading SEO tools: MarketMuse and Clearscope. Then, as a bonus, we'll also dive into Clickflow, another powerful tool that deserves careful consideration as well.
We'll cover pricing, features, pros and cons, and how each of these tools compare with each other. By the end, you'll have a solid foundation to base your decision on.
What Is MarketMuse?
MarketMuse is a cloud-based tool that uses AI to help content marketers craft, plan and improve their content so that it ranks highly on search engine results pages (SERPs).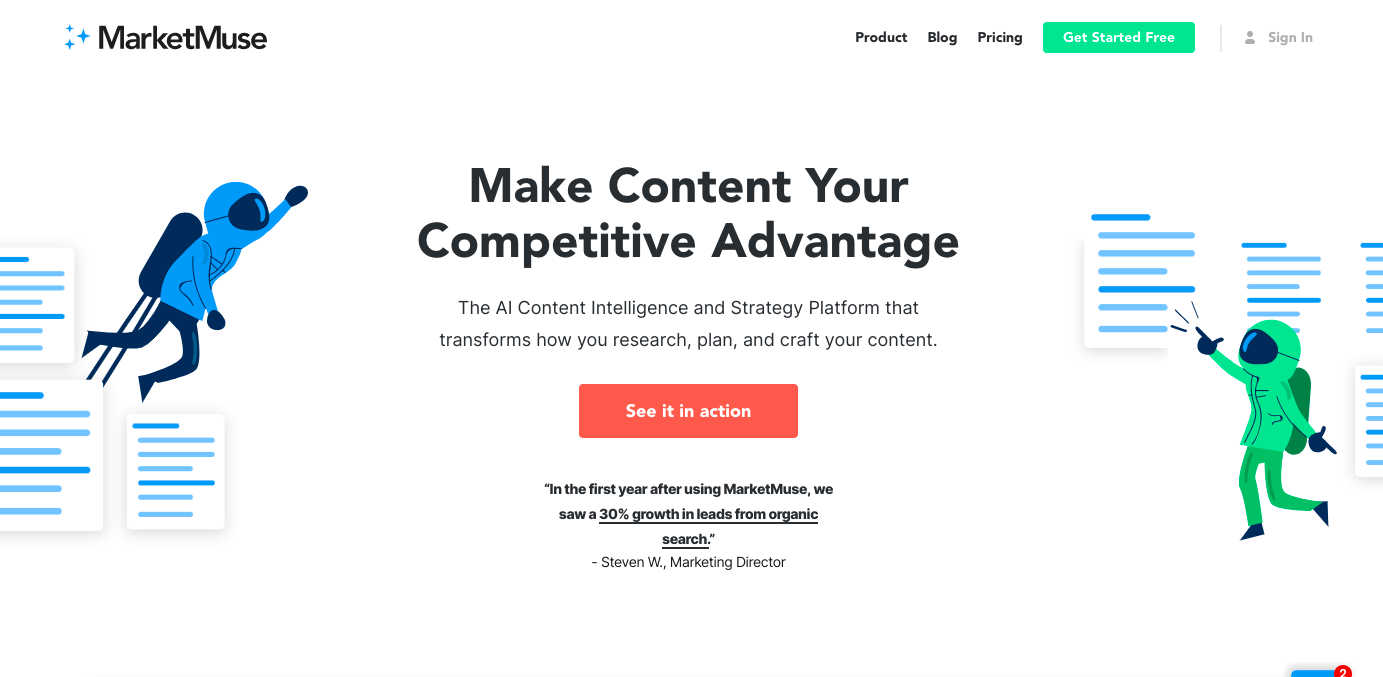 The tool analyzes top-ranking pages and utilizes those insights to help your own content stay competitive and, ideally, reach the coveted number one spot.
MarketMuse includes features that can be used throughout the entire content creation process, from ideation to writing and beyond. In fact, it will even create first drafts of content that can be used as a jumping off point for human-written content.
The company operates on a SaaS model, with a wide range of plans running from $79/month all the way up to $1,499/month, depending on what features you need.
Which brings us to our next topic….
Top MarketMuse Features
MarketMuse is a powerful program with loads of features that can be divided into four broad categories.
Content Research
MarketMuse puts machine learning to work to help users plan content that will climb to the top of the SERPs.
More specifically, MarketMuse combs through thousands of web pages to gather data on what topics need to be covered in your content, how your competitors are ranking, and what users are hoping to find when they search for a given keyword (latent search intent).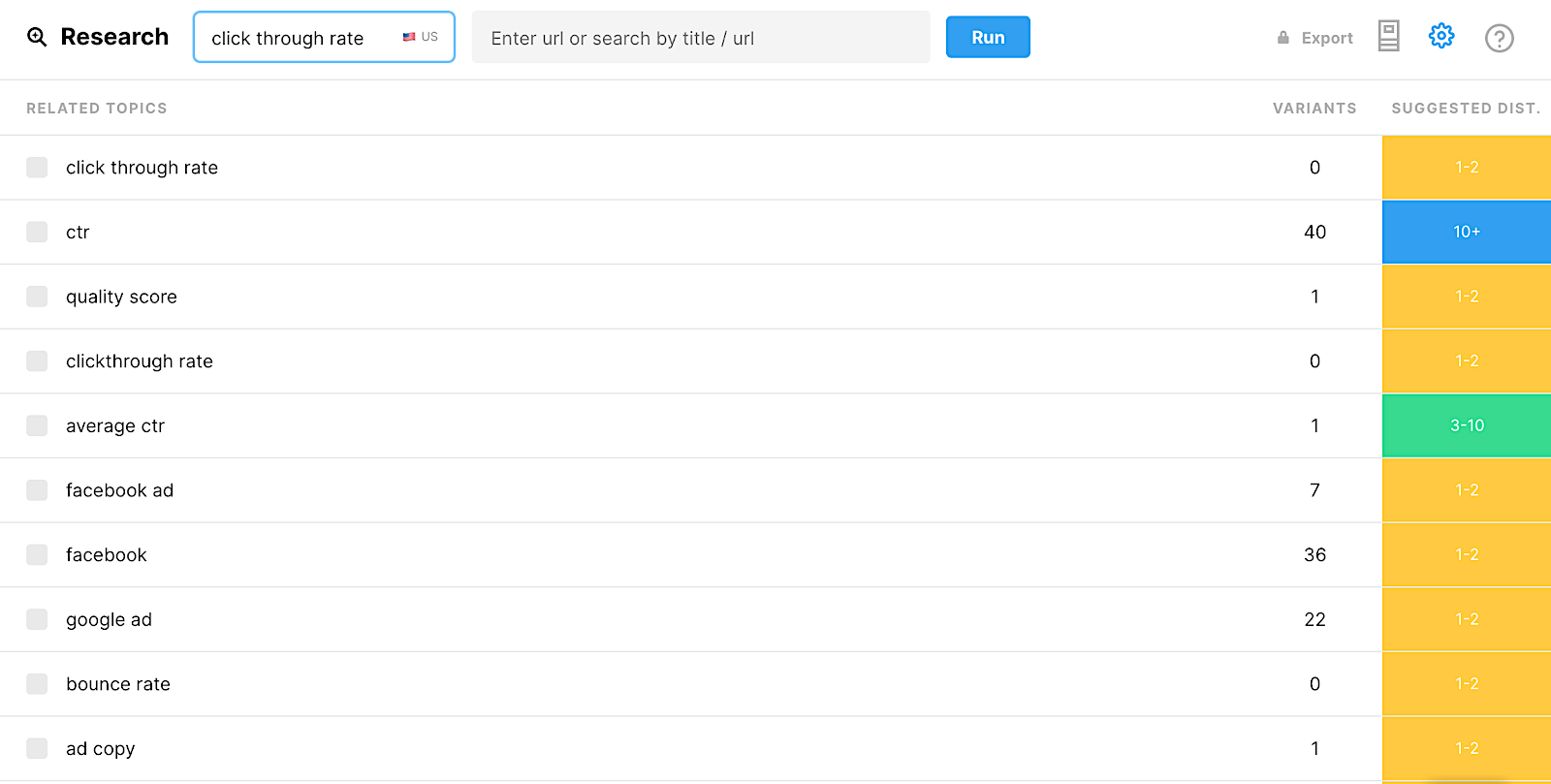 Combined, this data can help content marketers better plan their content, both at the ideation and strategy phase, and during the writing process for a specific piece.
Content Strategy
Using the same machine learning tech, MarketMuse can also help businesses identify strengths and weaknesses in their content. MarketMuse scores content on an individualized basis to provide metrics that businesses can use to get a better idea of where they stand content-wise.
Additionally, MarketMuse can identify unique ranking opportunities for your business. It uses its personalized difficulty score to rank keyword difficulty based on the authority that your business has already accrued in that space. This can help more accurately pinpoint keywords that you should tackle as they are most likely to have the best ROI.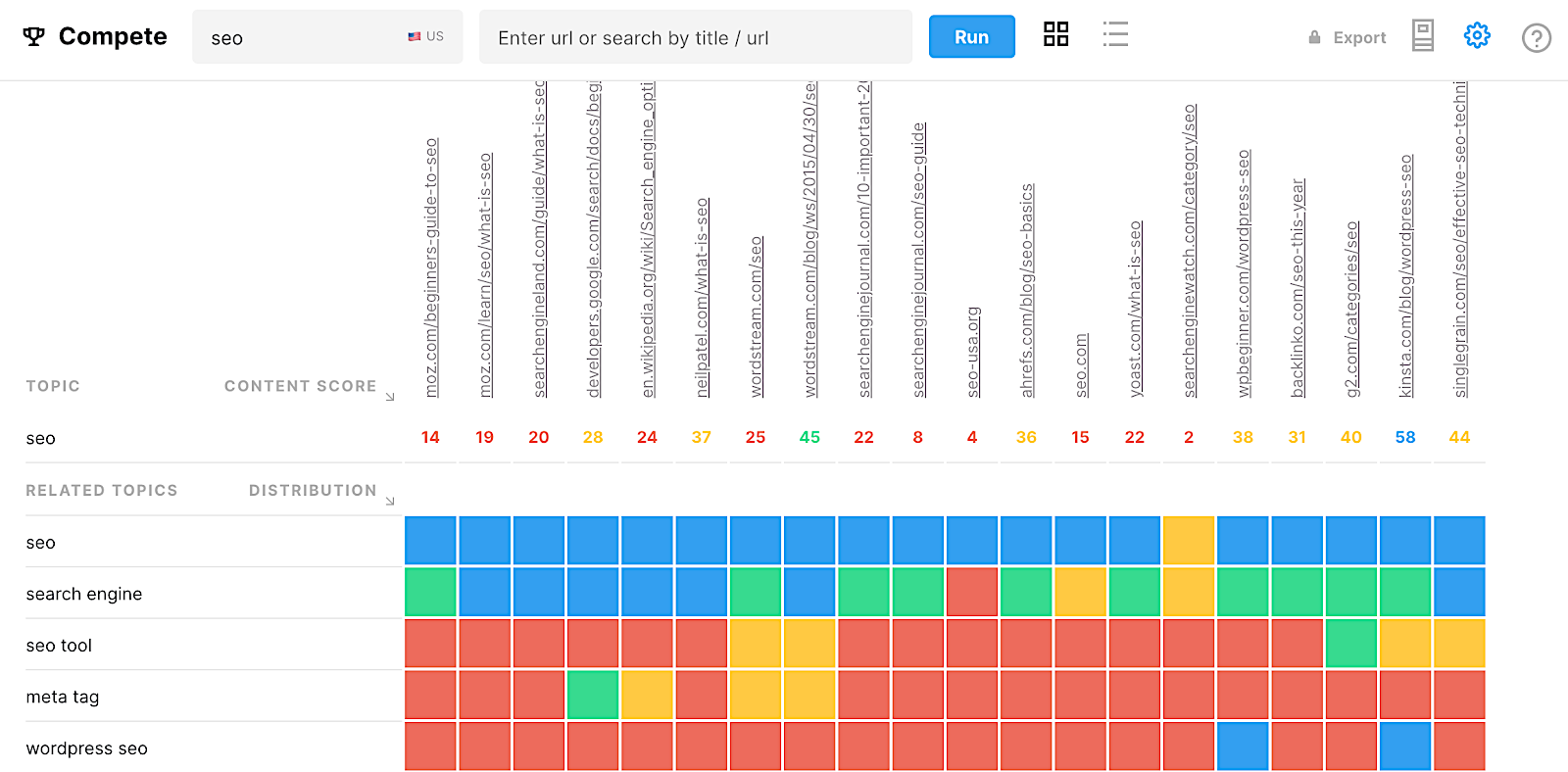 Overall, MarketMuse's content strategy features stand out because they take your business's current standing into account when analyzing data. This leads to more personalized insights than other platforms can provide.
Content Creation
Once your goals and opportunities are thoroughly researched and you've decided on a topic to cover, MarketMuse offers another set of tools to help your writers work as effectively and efficiently as possible.
Its Content Briefs feature provides writers with detailed information about how to structure the piece to rank highly on the SERPs: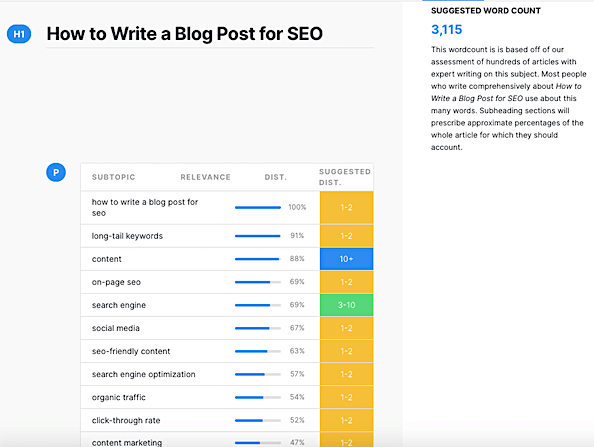 These briefs include not only the overall structure of the piece, but specific subheadings that should be included, topics that should be covered, the search intent profiles of different potential audiences, and what specific questions your piece should answer.
Plus, it can also help with linking by suggesting good internal and external link opportunities along with appropriate anchor text.
Content marketers and writers can also make use of MarketMuse Topic Reports, which provide in-depth information on pieces you've written so you can better optimize them. This research includes information like target word counts, gaps in your current content offerings, and changes to the SERPs. These reports can be set to update on a monthly basis.
MarketMuse is currently working on a feature that will automatically draft up a first version of a given article using natural language generation. This will provide a first draft that writers can then edit to make a great piece of content.
Content Optimization
MarketMuse uses machine learning to figure out which topics are most relevant and how much needs to be written about them for them to be covered sufficiently.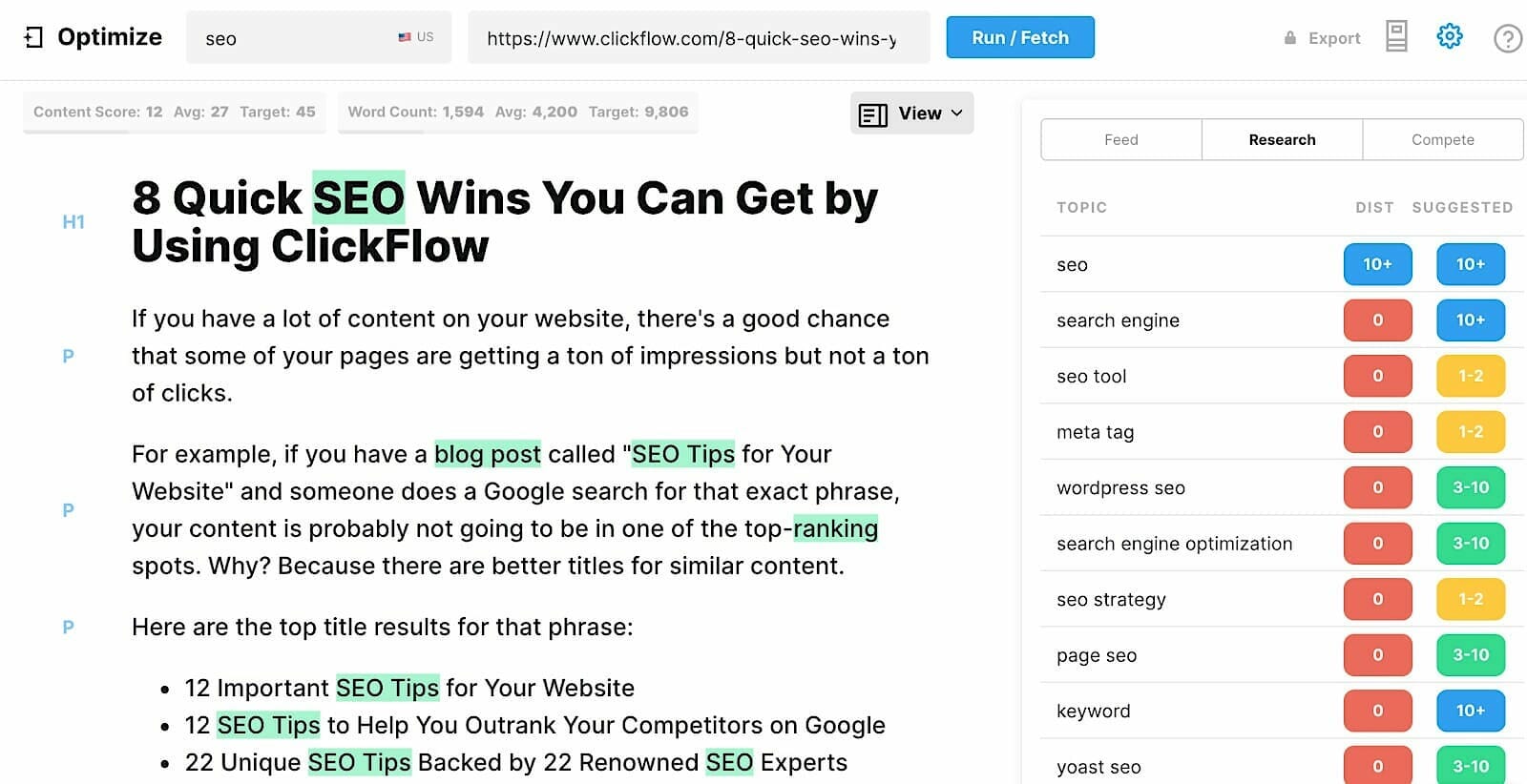 The tool can suggest specific words that writers can use to appeal to audience members at different points in the buyer's journey.
MarketMuse Pricing
MarketMuse has a wide variety of pricing options. It operates on a SaaS model, so users will pay monthly.
The following pricing tiers are available:
Optimize: $79/month. Includes basic content optimization features.
Plus: $179/month. Everything in Optimize plus content strategy optimization tools.
Pro: $499/month. Everything in Plus as well as advanced content intelligence features designed for small teams.
Premium: $1,499/month. Everything in Pro plus more advanced features, unlimited users, and tools that are designed for large teams.
Want to grow your organic traffic by 20-100%? We built ClickFlow, a suite of SEO tools designed to increase your organic rankings and scale qualified traffic for your website. Click here to learn more and get started.
What Is Clearscope?
Clearscope is one of the biggest names in the content optimization space. Unlike MarketMuse, its offering is more focused on content creation and optimization.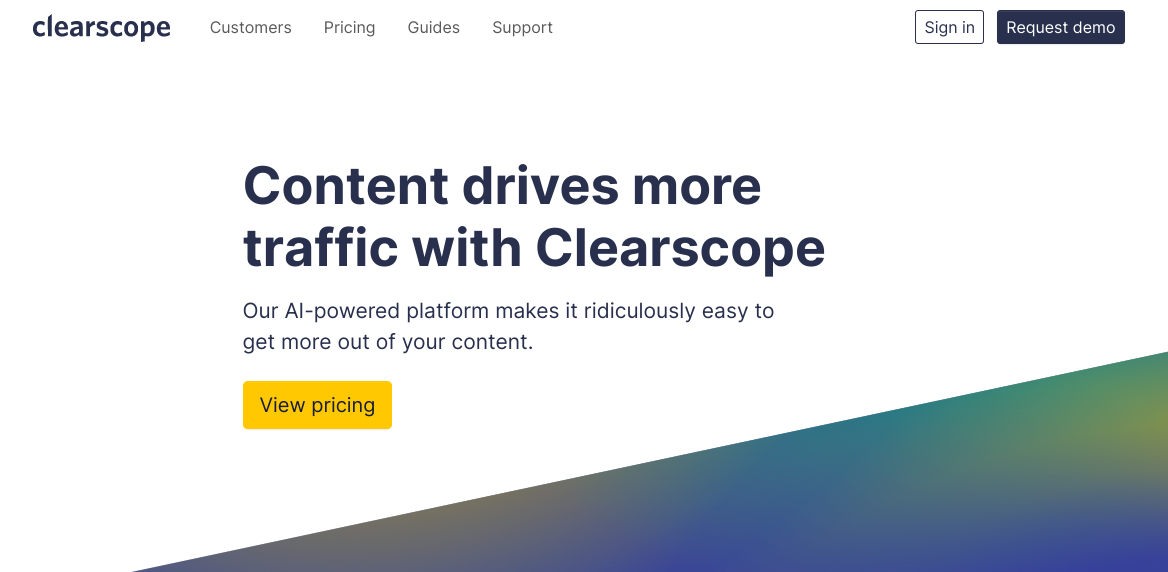 In fact, Clearscope doesn't offer any content strategy features whatsoever. Everything is centered on creating content within its editor. As a result, Clearscope ends up being a product that content marketers will want to provide their writers with, even if they won't do that much within the tool themselves. That said, it's still a very powerful tool.
In many ways, MarketMuse is like a primary care physician, while Clearscope is a specialist.
Clearscope may be a bit too focused on its primary features for certain use cases, while MarketMuse may overload users with features they may not necessarily care about.
Top Clearscope Features
Clearscope offers basic keyword research and competitive analysis features, though its main draw is its content editor. As a result, you can expect a fully fleshed-out experience when using Clearscope for content optimization at the creation phase.
Using Clearscope is simple. You enter the keyword you're targeting, the tool does its research, and it comes back to you with a report and metrics that you need to hit if you want to rank highly.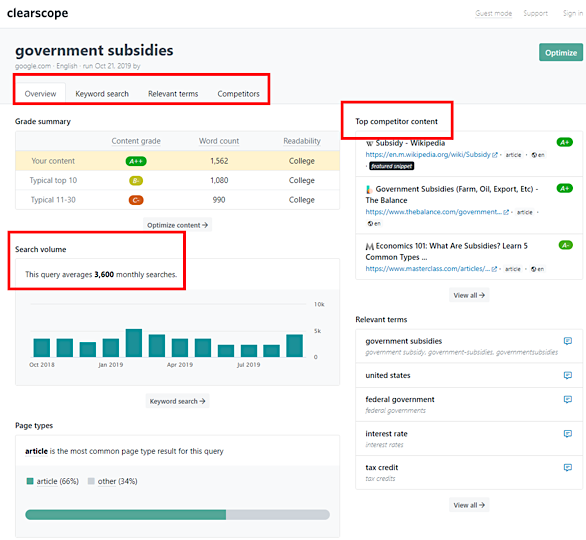 In this report, you'll find information such as:
The monthly search volume
Links to the top competitor content so you can compare
Relevant terms to include
Your content's current grade
Writers can write directly in the Clearscope editor, but they'll likely prefer to copy and paste content from another word processor instead (Clearscope does offer Google Docs and WordPress integrations, however). The editing process is enjoyable and intuitive, and writers can watch their content grade climb as high as A++ as they include the necessary keywords and topics.
It's clear when using Clearscope that this is a highly polished product. Little touches, like allowing users to remove keyword highlights to help with formatting when copy and pasting, make Clearscope a very enjoyable product to use.
Clearscope Pricing
Clearscope's pricing is significantly simpler than MarketMuse's. Each plan offers a different number of report credits, which are used to "buy" a report. There are three plans to choose from:
Essentials: $170/month. Allows for one user seat and 20 report credits per month.
Professional: $350/month. Offers 3+ user seats, over 50 credit reports, and a keyword research tool.
Enterprise: Custom pricing. Custom credit allowances and user seats. Custom Google TLDs (Top-Level Domains).
Want to grow your organic traffic by 20-100%? We built ClickFlow, a suite of SEO tools designed to increase your organic rankings and scale qualified traffic for your website. Click here to learn more and get started.
What Is ClickFlow?
Clickflow is a tool that's similar to Clearscope and MarketMuse, but with a greater focus on experimentation.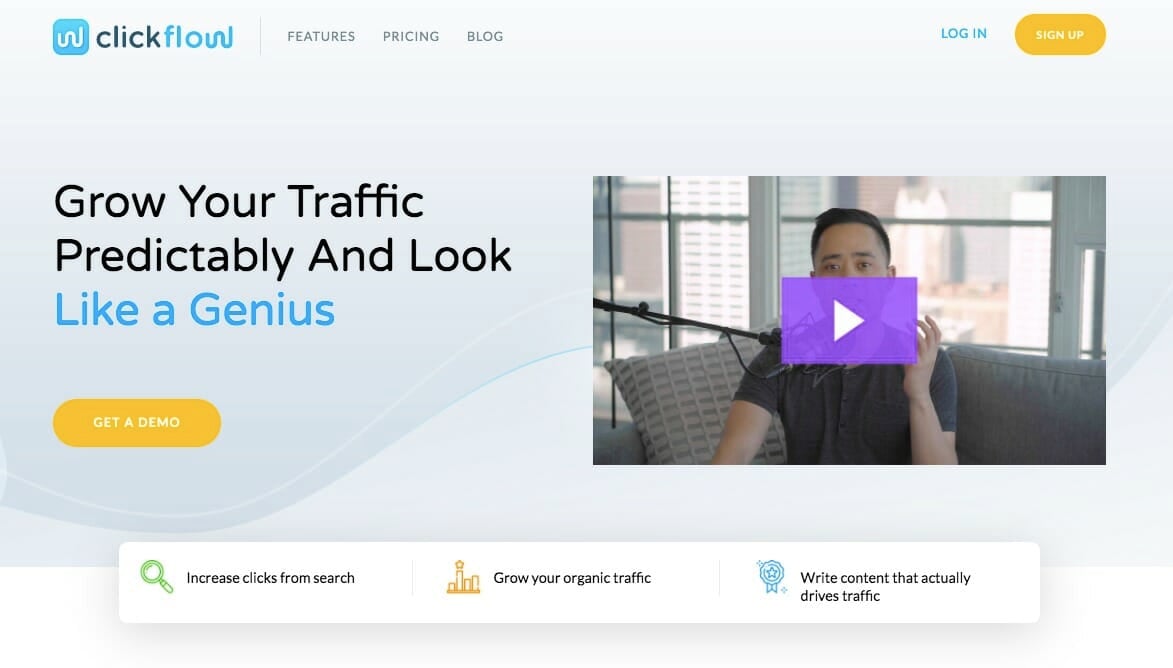 Whereas MarketMuse and Clearscope both expect you to trust their research, ClickFlow empowers you to take on the role of a content scientist and perform your own experiments to see what works best for your brand.
Of course, ClickFlow does offer research and analytics as well, and they are just as powerful as MarketMuse's and Clearscope's offerings. The difference is that ClickFlow also includes tools to facilitate split-testing of your content so that you can see for yourself what's working and what isn't.
Top ClickFlow Features
ClickFlow's feature set can be divided into three broad categories:
Content Testing
ClickFlow takes a "seeing is believing" attitude toward content. Instead of expecting users to trust ClickFlow's research and analysis as some kind of all-knowing oracle, it helps users conduct their own tests to find new ideas that can help grow their content faster than ever.
Specifically, ClickFlow facilitates title and meta tag testing. It also enables testing for page features, such as swapping headers and adding or removing content blocks.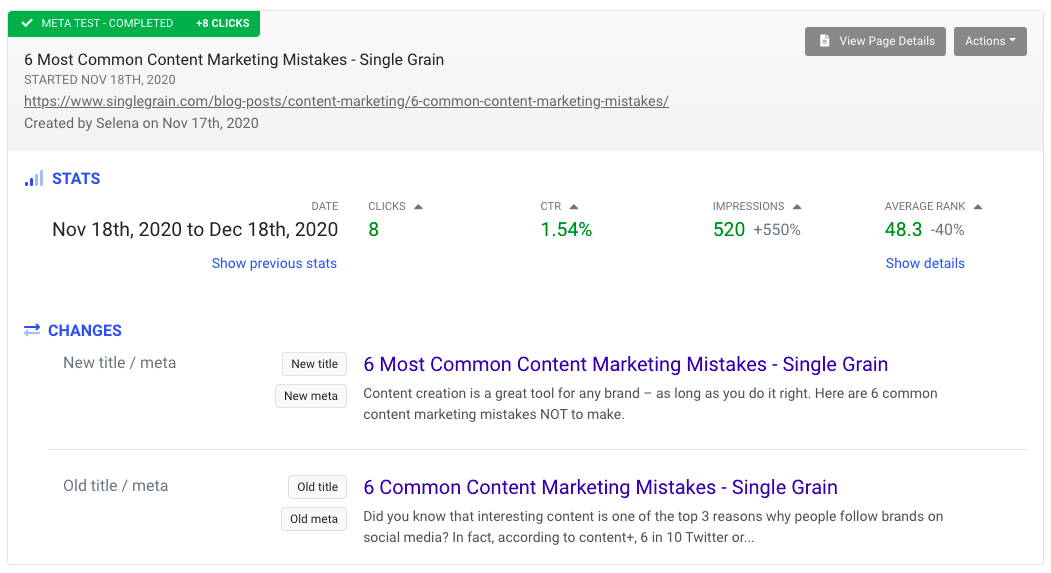 Once you've split tested your content in ClickFlow, you can move forward with empirical proof that your content is truly optimized, not just given a magical content grade.
Content Editing
Like MarketMuse and Clearscope, ClickFlow includes a content editing tool that writers can use to make sure they're hitting all the necessary and relevant topics.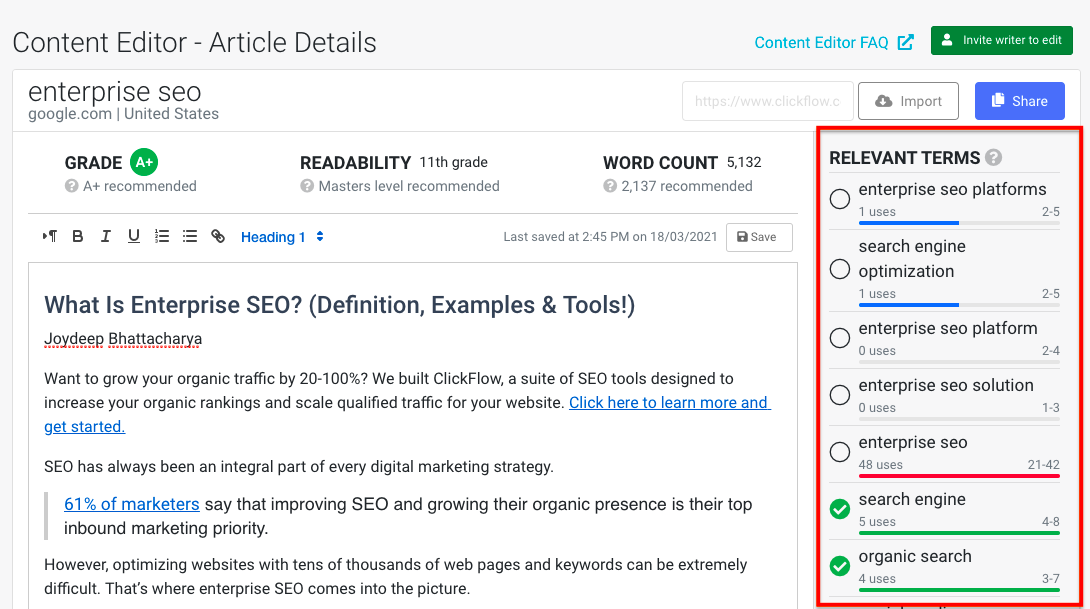 ClickFlow provides writers with useful information like their content's reading difficulty, which keywords to include in the text, and the recommended word count. And as writers work in the editor, they can watch their overall content grade rise.
Content Decay
Times change and content and SERPs change with them. ClickFlow understands this, and offers a unique content decay monitoring tool to combat this.
In short, ClickFlow's content decay tool shows content marketers which content has recently been slipping in the SERPs. When SEOs keep their eyes on this, they can identify content that needs some TLC quickly before it drops too far and updating it becomes a much bigger ordeal.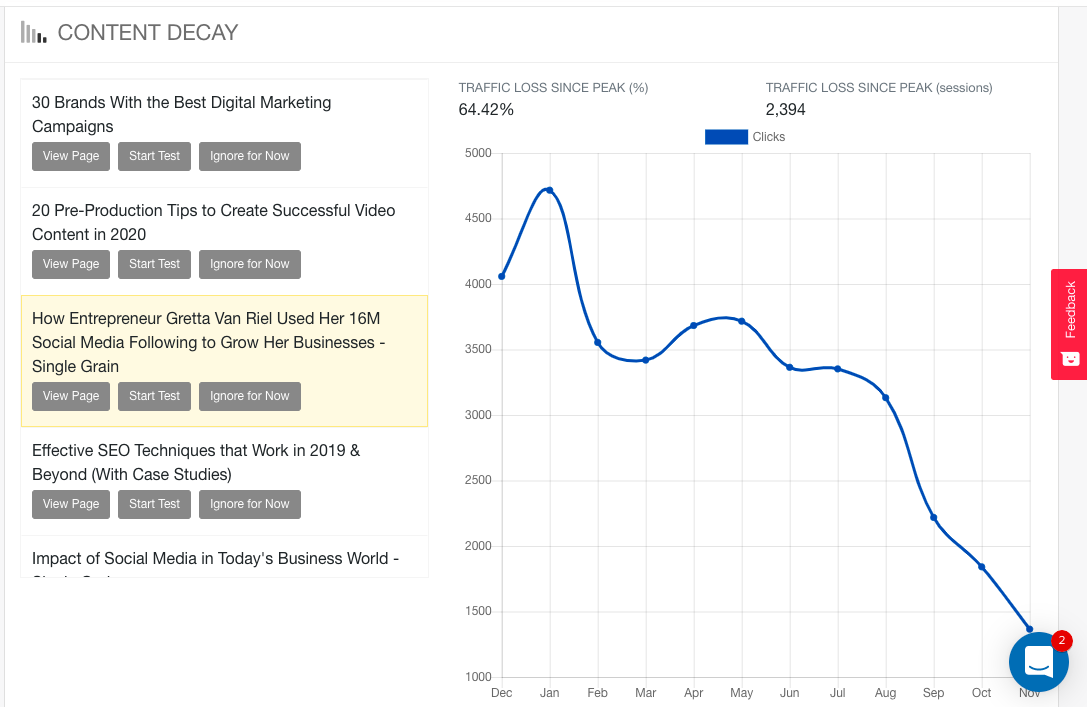 This feature is very useful, as Google prioritizes newer content that includes regularly occurring events, frequent updates, and hot topics.
ClickFlow Pricing
ClickFlow has the simplest pricing options of all the tools we've covered. There are only two options: Starter and Professional.
Starter Plan: $109/month. It offers three user seats, content decay tools, the content editor, meta and title testing, and change monitoring.
Professional Plan: This is designed for sites with greater than 10,000 clicks per month. It includes everything in the Starter plan as well as keyword analysis for tests and optimizations, content refresh optimization, unlimited user seats, and monthly analysis.
Want to grow your organic traffic by 20-100%? We built ClickFlow, a suite of SEO tools designed to increase your organic rankings and scale qualified traffic for your website. Click here to learn more and get started.
Which Is Better: MarketMuse, Clearscope or ClickFlow?
As with most things, there is no clear best answer. The best choice typically comes down to your own unique needs and what product will be the best fit.
MarketMuse is a good all-around tool that offers content strategy, research and optimization features. Its varied pricing options make it a versatile platform that can meet many needs.
Clearscope is a tool designed specifically for content creation and optimization. If you're looking for a platform that can help you with content strategy on a big picture level, this isn't it.
ClickFlow offers content optimization and content research tools along with split testing capabilities. This lets ClickFlow users test out their own ideas to see what leads to the best-performing content instead of relying solely on automatically generated research reports.
Without a doubt, the only way to find the best solution for your unique needs is to try them out yourself. Click here to book a demo of ClickFlow.
Related Content:
* ClickFlow as a Clearscope Alternative
* Why You Should Update Content – Or Risk Losing The Traffic You Have
* B2B SEO: How to Rank Your Business Website Higher in Search
* What Is Content Decay and How It Affects Your SEO
* What Is Content Optimization? (And How to Ace It!)
* 10 Effective SEO Techniques to Drive Organic Traffic in 2022
* 5 Tools to Create SEO-Friendly Content Step-by-Step