Unique Reach – A Measurement Tool that Captures Impressions per Unique User
Want To Uncover Your True Potential and Achieve Financial Freedom? We invite you to join a free Masterclass with award-winning business leader, Eric Siu, where he shares his 5-Step Blueprint to Starting Your Dream Online Business That Gives You Freedom & Fulfillment. Click Here To Reserve Your Spot Now.
Google made some major announcements at May's Marketing Next conference, and one of the most interesting announcements was:
Unique Reach, a measurement tool that tells you how many times the same person has seen your ad.
Click To Tweet
It's not an ad blocker. It's a measurement tool.
It's Good for Advertisers
We know that personalized advertising (interest-based advertising) helps advertisers reach potential customers based on their interests, which Google determines by their online behavior.
For example, when you visit an e-commerce site, you start seeing ads for the items you looked at all over the Internet. But often this can be misleading.
Recent News: Google Now Compressing Display Ads with Brotli
Let's say you're just checking to see the price range for a pair of sneakers, or you're doing research on a senior care facility for an article. That doesn't necessarily mean that you want to buy the shoes or check into a nursing home.
But if you visit a couple of sites or pages within the same site, AdWords could see that as intent, leading the advertiser to lose money every time their ad is "wasted" on you.
Unique Reach monitors display video ads and captures the average impressions per unique user.
Click To Tweet
This way, marketers can determine the customers who have seen their ad and not clicked. They can then choose not to show their ad to that person again. If they choose to remarket, at least they will know that they are remarketing and also know when to stop.
With Unique Reach, advertisers will be more informed when they spend on ads, which should lead to better conversion rates.
Kinda Like What Facebook Ads Has
Facebook allows advertisers to limit the number of times that their Facebook ads are shown to the same people in order to avoid spending more ad money than necessary and annoying their fans.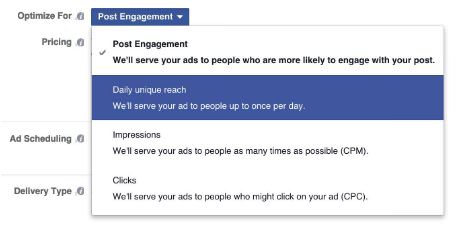 As of May 23, Unique Reach has been available in AdWords – and it will be rolled out to DoubleClick later this year.
Recent News: Facebook Instant Articles' Publishers Can Now Show More Ads