Quora's New Ad Platform Receives Positive Feedback from Advertisers
Having been around for almost seven years, it's a little surprising how slow Quora has been about monetizing its reach through advertising.
Last year the question-and-answer platform introduced its own ad network for the first time but maintained it in closed beta, allowing access to only approved partners such as Mulesoft and Shopify.
Quora is changing that – and people are loving it. A little over a month after raising $85 million, Quora announced that it was opening a self-serve ad platform to everyone.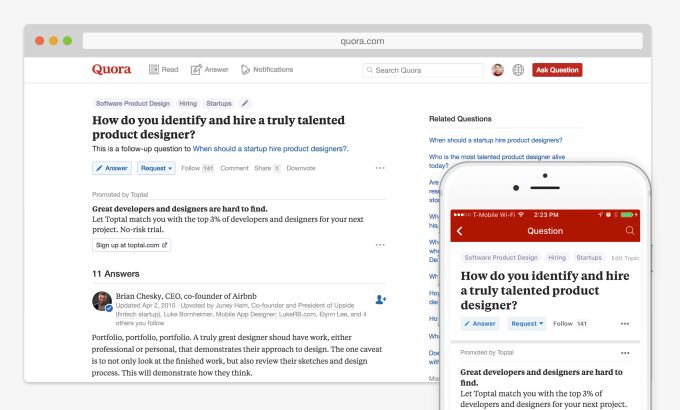 Advertisers Are Loving Quora's Ad Platform
When Quora first announced that it was opening its ad platform doors to the public, about 300 advertisers were already testing it out.
Marketing Land conducted a survey to see how the platform was performing for advertisers and the results were consistently positive with many of the respondents, like Thinkific, Instapage, Home Chef and Brilliant Earth reporting early success with the platform.
What's So Great About It?
All the respondents said they were impressed with the ad platform's interface, praising how easy it is to set up and run campaigns.
It also helps that Quora has a conversion tracking pixel and is partnering with a couple of app analytics firms. Kristina Simonsen of Brilliant Earth says, "We find that we're able to capture the important metrics we need and match that back to our internal reporting."
Respondents were also happy with the results they were getting, and many cited the lower CPCs and higher quality of ads compared to other platforms. Home Chef's Shane Smith said, "Generally speaking, performance has been solid on the platform with the channel hitting [Home Chef's] engagement and CPA goals."
Patrick Holmes of Instapage – which is spending $1,000 to $2,000 per month on the platform – said, "We'd love to have more volume," noting that while the ads don't perform as well compared to Quora's organic traffic, they are "better quality than other social channels."
What Advertisers Want from Quora
Most advertisers wished they could scale on the platform. They want Quora to bring in more users so they can push more into the platform. Quora seems to understand the concerns and announced that it has nearly doubled its user base from 100 million to 195 million per month over the past year.
While they understand that the platform is still in its infancy, advertisers also want it to feature "more sophisticated targeting options" as well as diversify its ad formats.