By now, it's a well-known fact that content marketing works.
There are over 198 million people using ad blockers across the globe — and about $21.8 billion in revenue is lost as a result. And that's just in 2015 alone. People want to see stories with real substance, not advertisements. That's why producing great content matters.
The number one reason for doing any sort of marketing is to get sales.
And good content marketing helps you do just that — get more sales. Companies who do content marketing well understand their customer's "journey" and know how to leverage different tactics like SEO, long-form content, infographics, etc. to help move them towards a purchase.
According to HubSpot's State of Inbound Marketing study, increasing the amount of content you put out leads to greater customer acquisition: 82% of those who publish a blog post every day acquired at least one customer, as opposed to 57% who only post once a month.
In two years, Kraft Foods has driven 4x better ROI through content marketing than through traditional advertising.
In this blog post I'm going to show you exactly what I mean by giving you 16 examples of companies who are dominating the world with awesome content marketing — and what we can all learn from them.
1.   KISSmetrics
KISSmetrics provides software to help companies better understand the types of people who are visiting their site.
They're also one of the best companies in the tech industry when it comes to content marketing and they consistently pump out a lot of high-quality material that actually gets social shares and ranks highly in SEO.
For example, they execute the hub and spoke strategy  — where you publish one main piece of content as the "hub" and then include several "spokes" that relate back to it.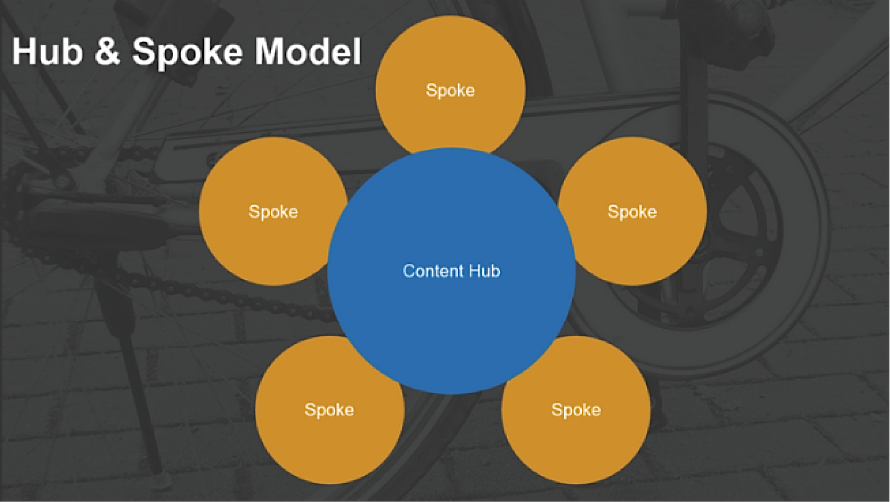 They also have a page called Marketing Guides: Cutting-Edge Internet Marketing Strategies and Techniques where they provide numerous guides on topics like A/B testing, Facebook marketing, e-mail marketing, and much more.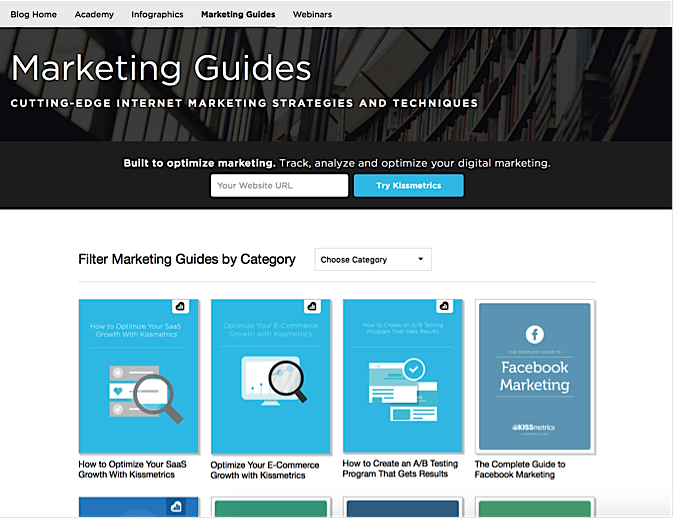 This way, if someone searches for "Facebook marketing guide," the KISSmetrics blog comes up first.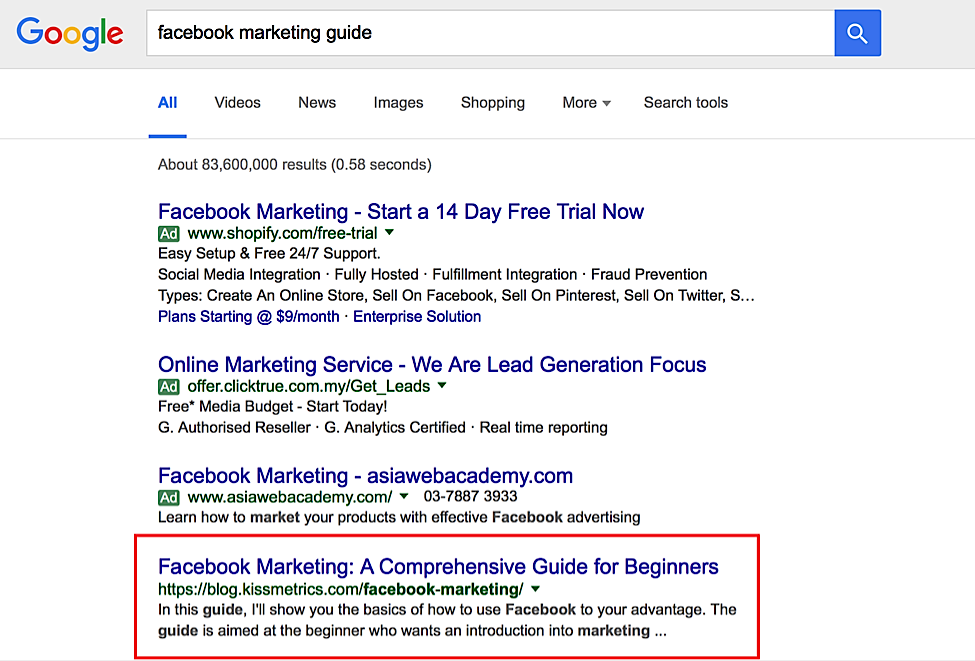 They do the same for infographics and webinars.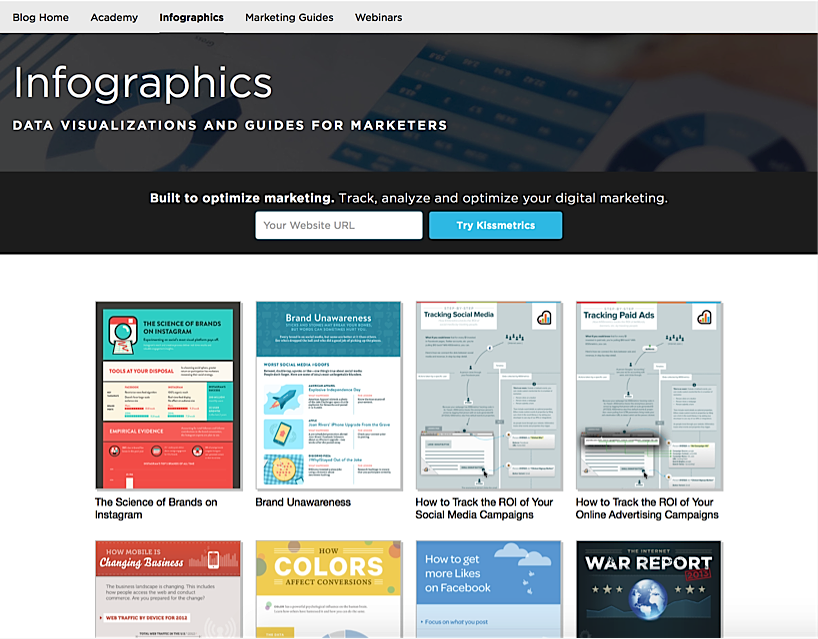 By consistently putting out high-quality guides with good design and 10x content, they not only rank high in terms of SEO, but they generate more leads by positioning themselves as the "go-to" resource for different topics in their space.
Create one "hub" where you post a series of high-quality, informative guides (or "spokes") about your field that your audience searches for. This is a good way to increase your chances of ranking high for those exact searches and ultimately build the best possible resource list for your topic.
Learn More: 
Content Expansion: How To Maximize Your Content
3 Content Marketing Efforts to Improve Your Customer Acquisition Strategy 
2. Close.io
Close.io is a SaaS company that helps sales teams close more deals.
They publish high-quality content, including podcasts, on their blog that gets them leads without focusing too much on things like SEO. Instead, they focus on helping their customers solve their problems. They write about things like hacking your fear of public speaking.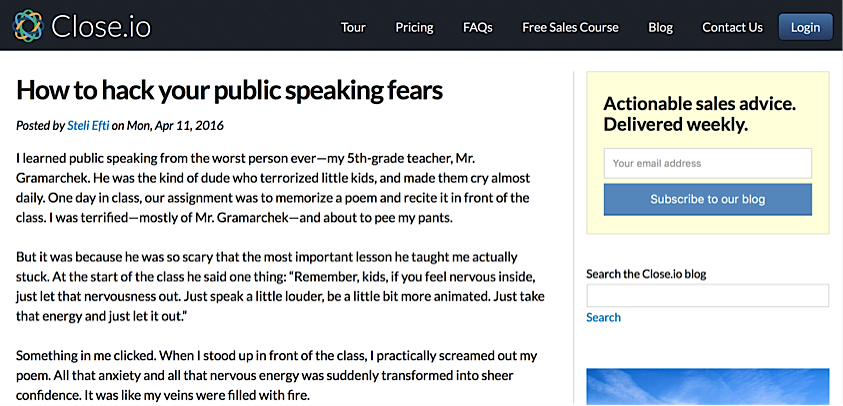 They help their customers (salespeople) get over impostor syndrome.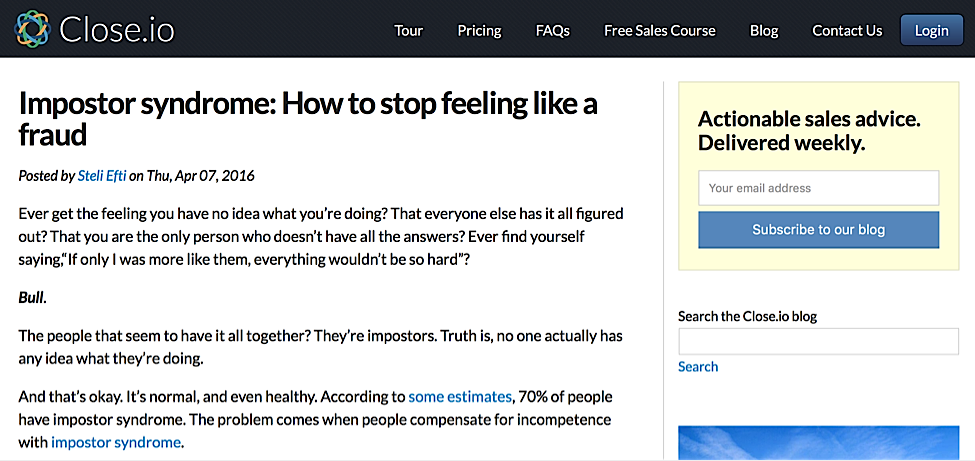 They write about problems that appeal to the emotions of their target market. Because their content tells emotionally captivating stories that really resonate with their audience, Close.io's blog has become well-known among salespeople as a go-to resource.
One of the biggest mistakes that companies make when writing content is basing it solely off of keyword research and reverse engineering what they think gets shared a lot on the web.
This is part of the reason why many blogs in the marketing space sound almost exactly the same. It's important to focus on what gets shared, but it's more important to uncover the deep emotional hopes, fears, and dreams of your audience, and focus on those elements.
Even though Close.io doesn't invest a lot in ranking high in search or any of the "traditional" content marketing tactics, content still drives a lot of sales for them.
Create content that speaks to the problem that you're actually solving. For example, if you want to write something to help sales teams close more deals, then maybe one of the deeper issues you need to address and solve is helping sales people earn more commissions or close more deals despite their fears.
Free Bonus Download:
Get ready to receive this supplementary, actionable info on digital marketing from brands who are doing it right!
Click here to download it free.
Learn More:
How to Build a High-Performance Content Marketing Strategy 
3. QuickSprout
QuickSprout is a content marketing blog run by the same guys who founded KISSmetrics — Neil Patel and Hiten Shah — so it's no surprise that they've also got great content marketing skills.
Similar to KISSmetrics, QuickSprout has a single page where they provide a slew of videos and tutorials on different areas of online marketing.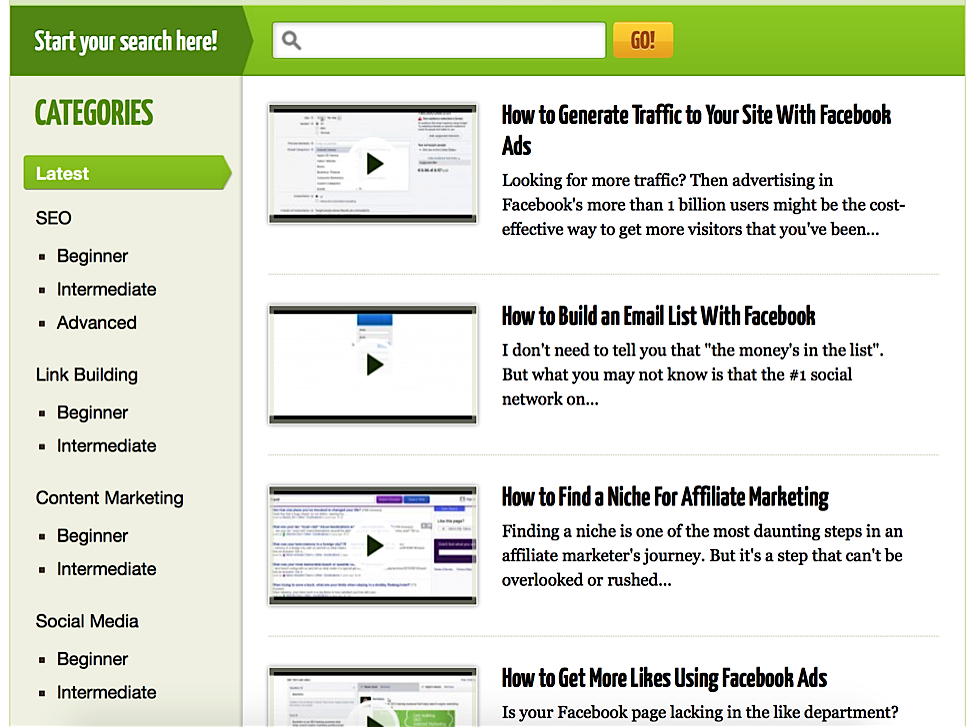 By building a page filled with high-quality content, they're not only providing their readers with tremendous value, they're also increasing the likelihood that readers will bookmark the page and return instead of just reading one blog post and then leaving. Creating a mass of high-quality content is one of the best ways to boost blog retention.
QuickSprout also does a good job of producing well-designed, quality guides on different topics.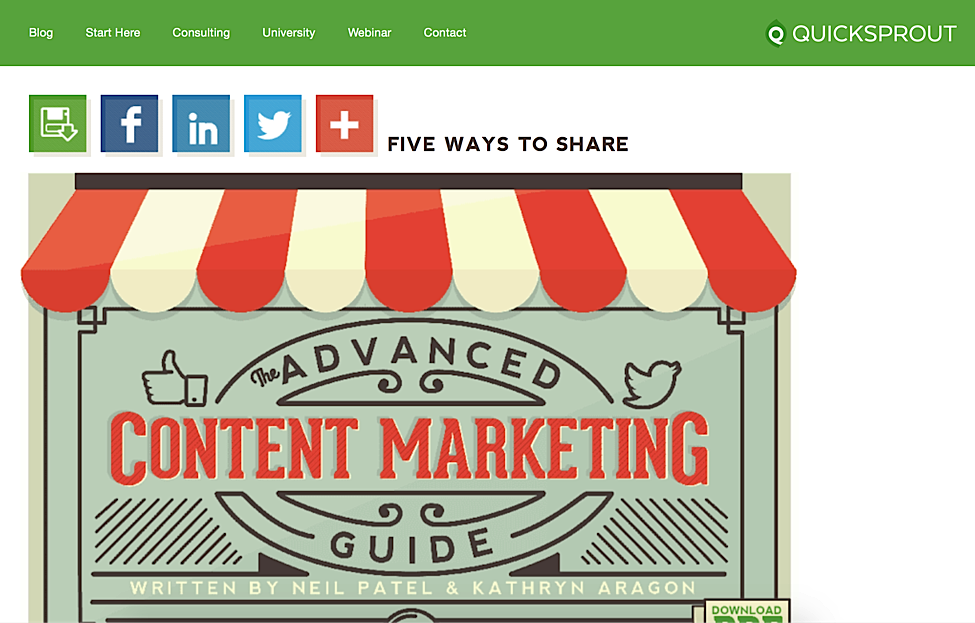 According to HubSpot, content with relevant images gets 94% more views than content without relevant images. Guides that look better tend to get more views and more shares, which ultimately results in more leads.
The quality of your writing matters, but design matters, too. By creating more visually-appealing guides and e-books, you'll get more views and shares. Also, build at least one high-quality hub of content on your site so that readers have one go-to page for all their needs.
Learn More:
27 Quick Content Marketing Tips to Drive More Traffic 
How To Measure Your Content Marketing ROI With Google Analytics 
4. HubSpot
HubSpot is a SaaS company that helps businesses attract visitors, convert leads, and get more customers.
You can't talk about content marketing without mentioning HubSpot! According to New Breed Marketing, HubSpot's blog gets over 1 million pageviews a month, and each blog post is optimized for conversions.
Many content marketers focus on cranking out content without focusing on the most important part — moving potential customers towards the sale.
HubSpot doesn't make this mistake.
When HubSpot's potential customers go to Google to search for a solution to their problem (as 72% of them do), they usually see a blog post with a catchy headline near the top of the search results page — HubSpot's, of course.

Once visitors have read the post and educated themselves about the problem and potential solutions, HubSpot is one step ahead of them, ready to guide them to the next step.
At the bottom of the blog post, readers can sign up to get a content upgrade. After buyers become aware of their problem, around 30% of them will consult white papers, case studies, and guides, so by giving them the right content upgrade, HubSpot is moving them towards the sale.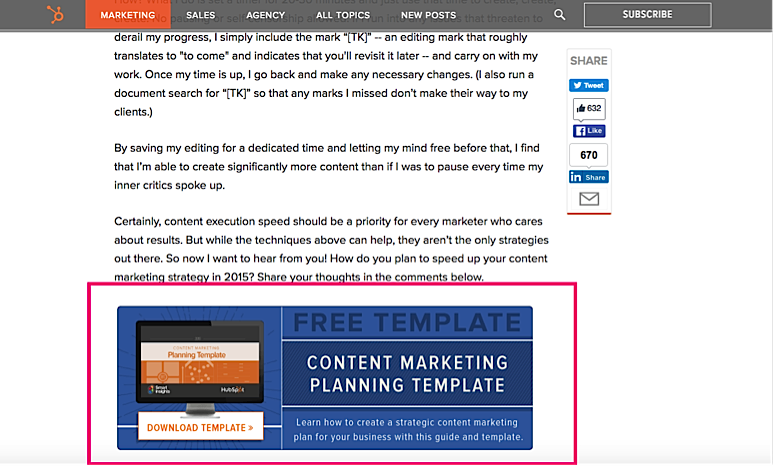 Offer an irresistible content upgrade at the bottom of your highest ranked articles. This way you'll maximize the number of e-mail subscribers so that you can continue to send them relevant content in order to gently push them towards a sale.
Learn More:
10 CMS Features that Make Your Content Marketing Strategy Easier
5 Ways to Get Content Marketing Right in 2018 
5. Copy Hackers
Copy Hackers is a blog that focuses on conversion marketing. They separate themselves from the pack by infusing personality into every post.
A lot of marketing posts tend to be kind of dry. They love to talk about data, tactics and ROI, and back up their ideas with numbers and statistics, but it shouldn't come at the cost of your personality. Without personality, you risk sounding the same as everyone else.
Check out how friendly and relaxed this content sounds: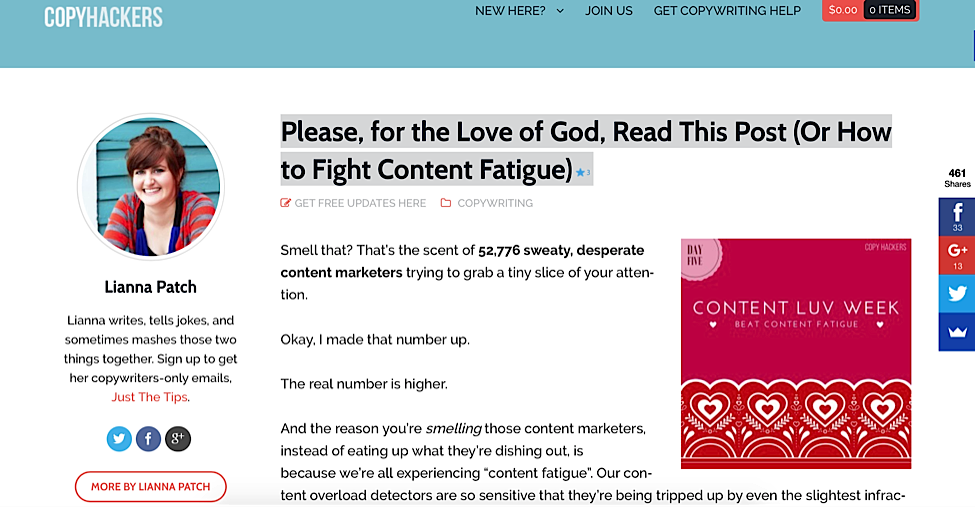 Adding personality to your content increases the level of trust that your audience will have towards you, which ultimately boosts conversions.
Instead of solely focusing on stating facts and supporting your statements with data, make it a point to infuse some of your own distinct character into the way you write. An easy way to do this is by reading your content out loud to make sure it's written in the same way you would talk to a friend.
This will help to boost the level of trust between you and your audience, and ultimately use that trust to get more sales.
6. TED
TED is a set of global conferences where authors, experts, and other leaders give talks about thought-provoking ideas.
Although they're not a "marketing" company per se, TED has had significant growth as a result of content marketing.
Check out their YouTube page — they've got over 5 million subscribers who get every single video update. And that's not even counting their TEDx channel, TED Fellows, or the other divisions they have within the organization.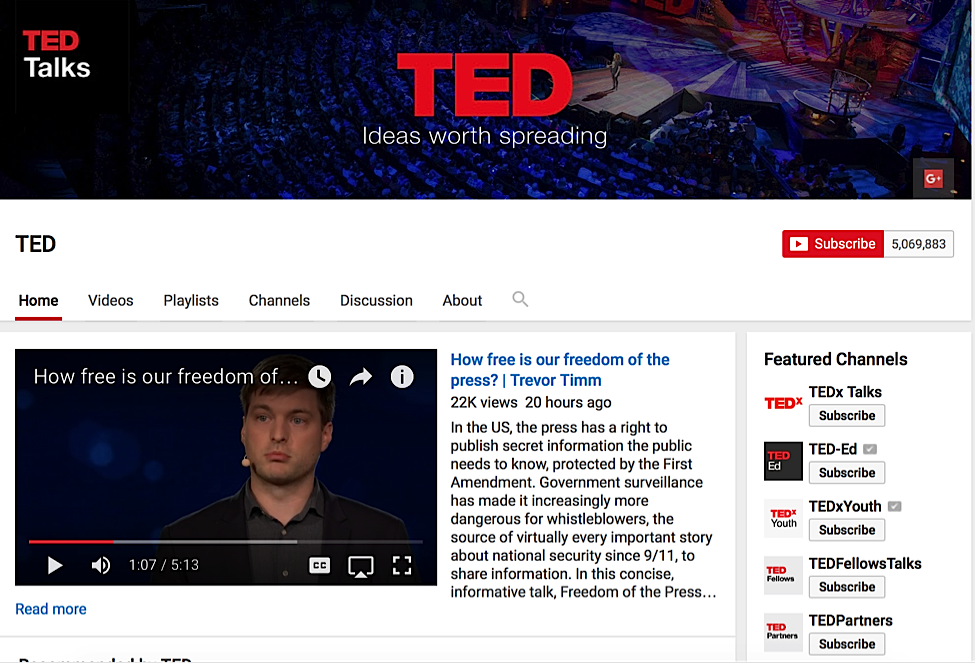 Like most of us, you probably heard about TED because of a YouTube video circulating on the Internet, many of which have gotten tens of millions of views.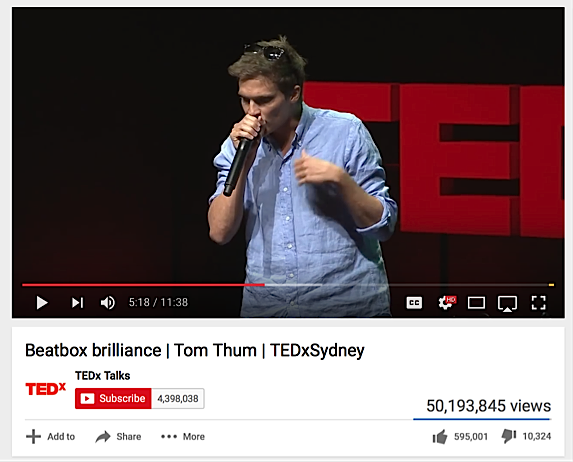 The reason that TED does so well is because they're committed to creating "ideas worth spreading."
There are a lot of different reasons why people spread ideas. Jonah Berger wrote in his book Contagious: Why Things Catch On that there are a few key factors behind why people share content. It's because:
They want to look smart
They're reminded of it (i.e. a blog post about quitting your job is probably only viewed by those who have quit their job)
It makes them feel strong emotions
They want to show off to their friends (about how smart or funny or caring they are)
They find it extremely helpful and think others would benefit
People just love to tell, hear and share a good story
At the end of the day, TED isn't making SEO or market research their main priority — they're just trying to find and create world-class content that they think people would love. This is why they've become such a global sensation, even though most of their content is comprised of 15-minute videos of someone talking on a stage.
Promoting your content is important, but what's even more important is producing world-class content based on the principles behind why people share.
Watch More: 
How Content Marketing Propelled BuildFire into a 7-Figure ARR SaaS Company
7. Wistia
Wistia provides companies with professional video hosting and video marketing tools.
They have have a "resource center" on their site that they call the Wistia Library. In it, they include a variety of quality videos, images, and blog posts with tutorials on topics that their audience cares about. For example, they've written about crafting a social video strategy, choosing a backdrop for your video, and more.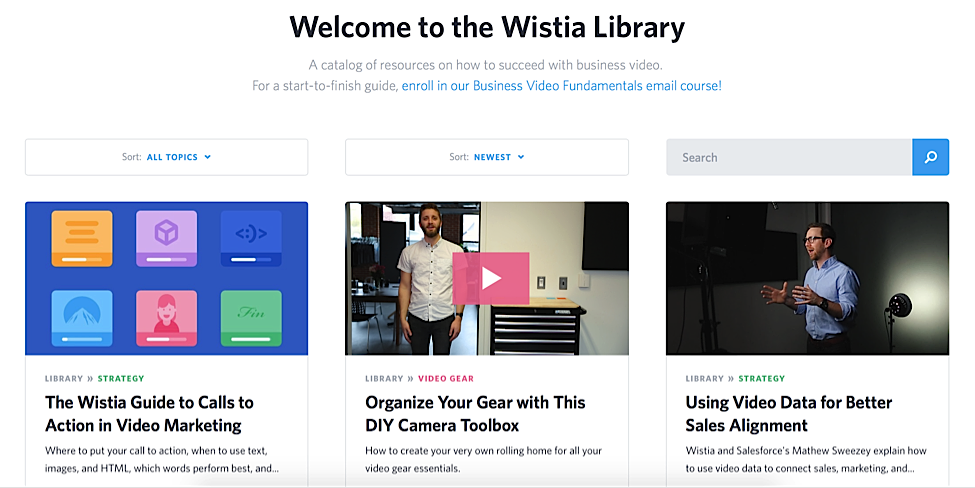 Wistia is also proof that businesses selling a "serious" product can still have a fun personality.
When they wanted more of their readers to take a marketing survey, their entire team got in front of a camera and danced to a song they wrote called "Take the Survey" (watch the video here).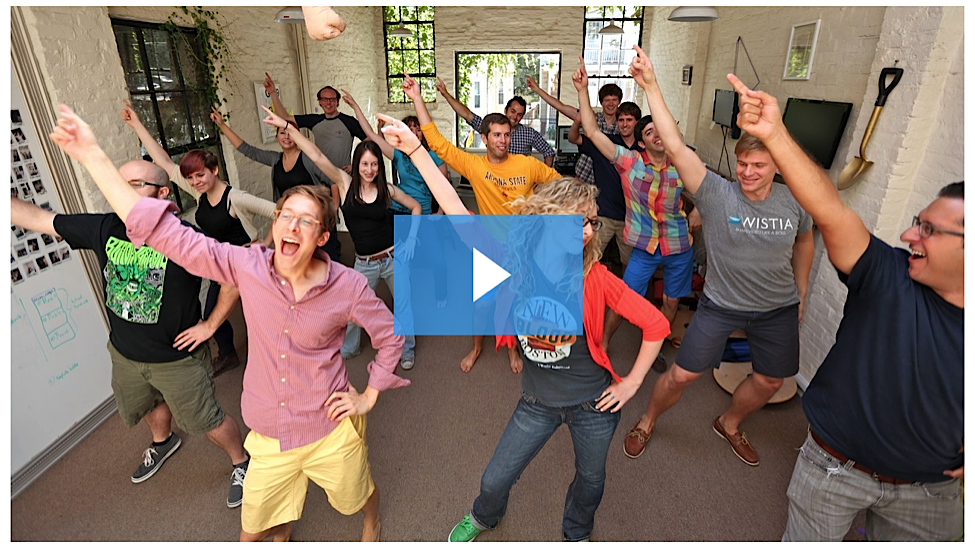 Wistia ended up increasing their response rate for their surveys, and got 41 comments on the blog post where this video was included.

Some businesses think that they need to appear extremely professional, so they're afraid of exhibiting any humor or playfulness in their marketing. But in reality, brands that show their human side are able to build a deeper relationship with their audience.
Free Bonus Download:
Get ready to receive this supplementary, actionable info on digital marketing from brands who are doing it right!
Click here to download it free.
8. IBM
IBM does everything in tech from producing computer hardware to IT consulting.
This company has proven that you can still publish really interesting, 10x content even if you're in an industry that isn't particularly "sexy."
It's like in college where a good professor can make a dull subject seem really interesting, and a bad professor can make an otherwise interesting subject sound boring.
IBM takes a subject that would ordinarily be quite dry to most people and makes it captivating.
For example, they actually broke the Guinness World Record for the smallest film ever created. They filmed a small movie called A Boy and His Atom to show how important it is to be able to move atoms.
IBM does a good job of taking ideas in their industry and turning them into content that would appeal to a large-scale, more general audience.
Read More: 21 EPIC 10x Content Marketing Examples We Can All Learn From
9. GoPro
GoPro is a manufacturer of action cameras that are mostly used in adventure sports.
At the AdAge CMO Strategy Summit, the SVP of GoPro said this: "We're not just a camera company anymore. We're an enjoyment platform for people all over the world to watch." They've become one of the best brands at building user-generated content.
In fact, according to the Content Marketing Institute, at least 6,000 GoPro tagged videos are uploaded to YouTube every day. They have over 4 million subscribers.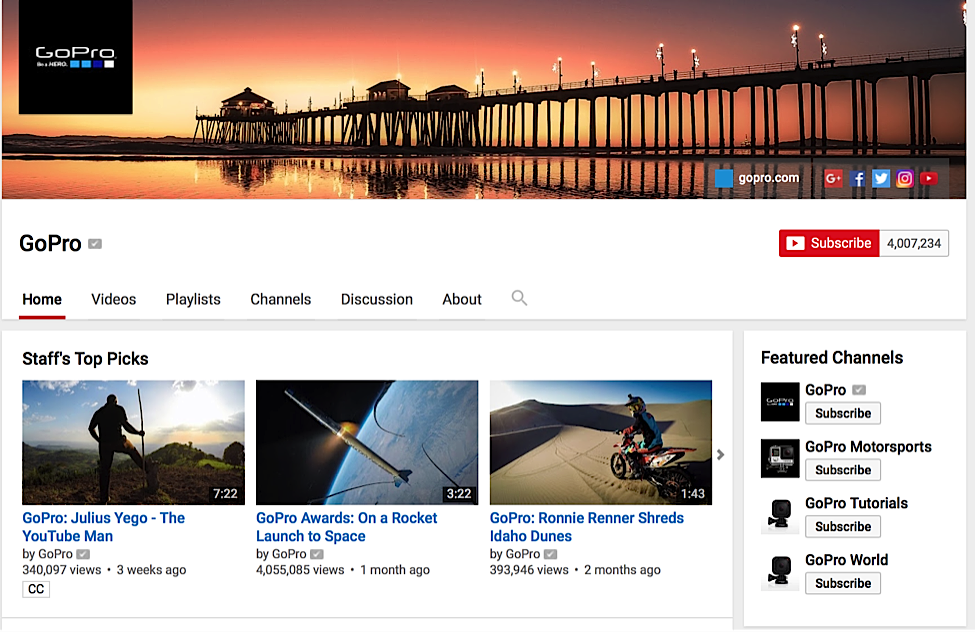 Their content goes viral consistently because people can live vicariously through the videos and see firsthand what it's like to things that they normally would never do.
Check out this GoPro: Red Bull Stratos – The Full Story video which got 17.7 million views:
10. Moz
Moz produces SEO software to make inbound marketing easier.
Like other top tier marketing companies, Moz takes their blog one step further — in addition to cranking out regular posts, they also maintain a resources page with long-form guides about learning SEO and search marketing.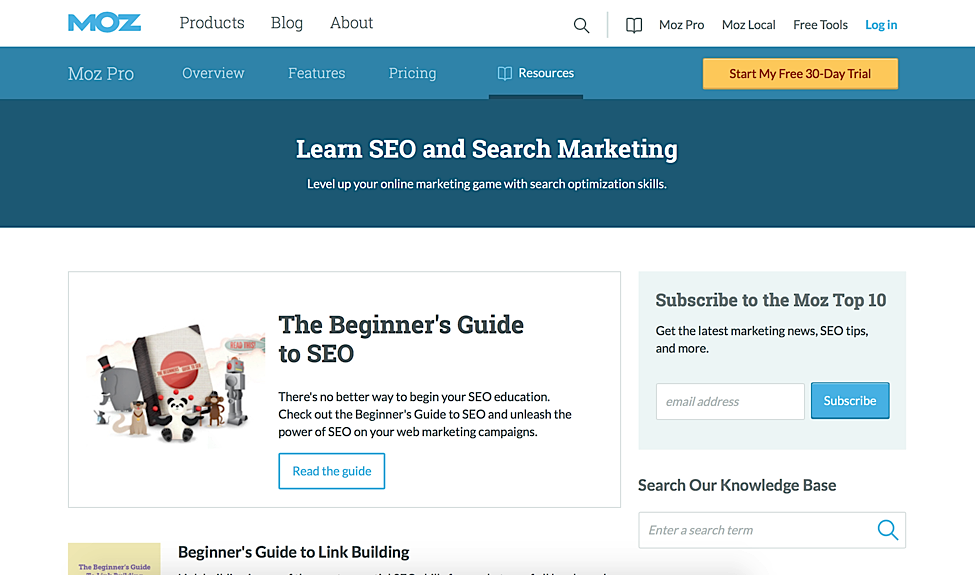 They even have a separate, more in depth academy for their Pro users.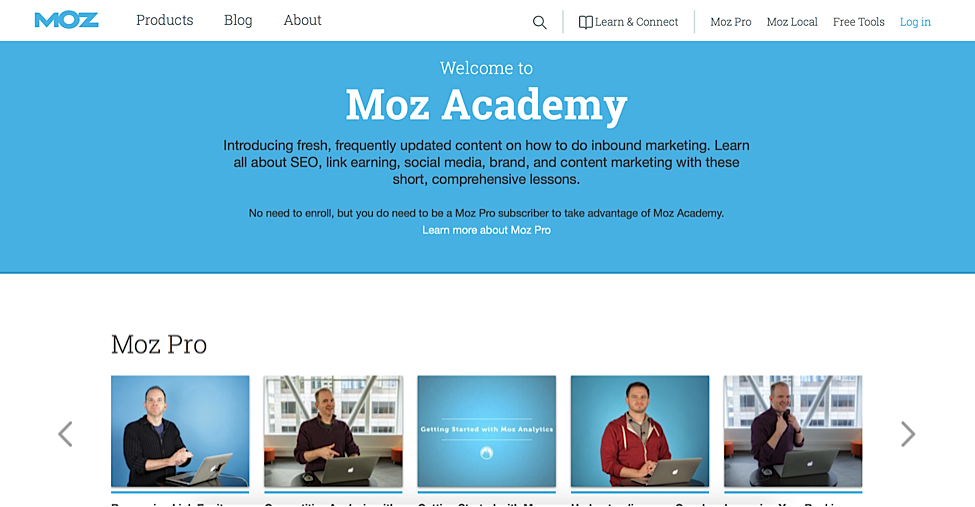 Most marketers don't think about using content marketing to boost user retention, but the biggest marketing ROI actually comes from building a good relationship with your existing customers. It's much easier to sell to customers you already have a relationship with than acquiring ones who don't know you as well.
11. Unbounce
Unbounce lets marketers build and test landing pages without having to deal with code or software.
According to Contently, Unbounce's blog gets over 140,000 unique visitors every month. Their blog has been a huge factor in helping them generate 23 million leads and over 6,000 customers.
Part of what makes Unbounce successful is not just the variety of content on their blog, but how easy it is for readers to navigate through it.
For example, they cover areas like content marketing, A/B testing and copywriting, and their sidebar allows readers to easily access whatever category they want. This allows them to see content that they want to see rather than having to sift through stuff that they don't care about.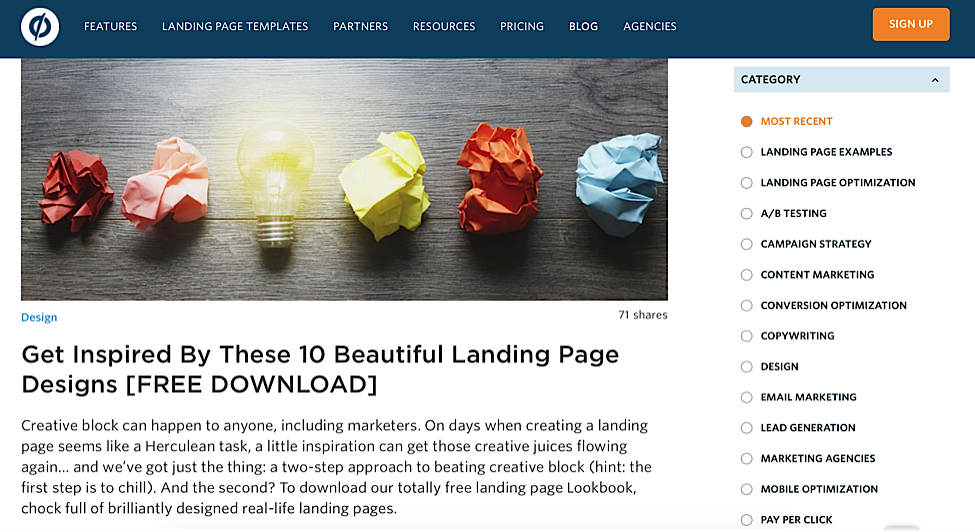 They also mix long-form content with e-books and infographics and create visually appealing content that's "native" to their own product. For example, they might create a post full of landing page templates or beautiful website designs.
Visual content, particularly infographics, get shared far more than most other types of content — and Unbounce puts a healthy focus on them.
In addition to their blog, they also do something unique that most other businesses don't do. They share information about their company and their day-to-day work with the public through a blog called Inside Unbounce. They describe it as a "staff-written un-curated window into our journey, and the lessons learned along the way."
This allows them to take their fans with them on their "journey," which builds a deeper level of trust so that the audience feels more invested in Unbounce.
12. Hipmunk
Hipmunk analyzes hundreds of travel sites to help people find cheap flight and hotel deals.
This brand does a great job of targeting various types of customers through their content and at different stages in their journey. They know that although their current customers are travelers, the beginning of the customer journey starts with dreaming about travel. It begins with looking up inspiring stories of people who shared about their travels.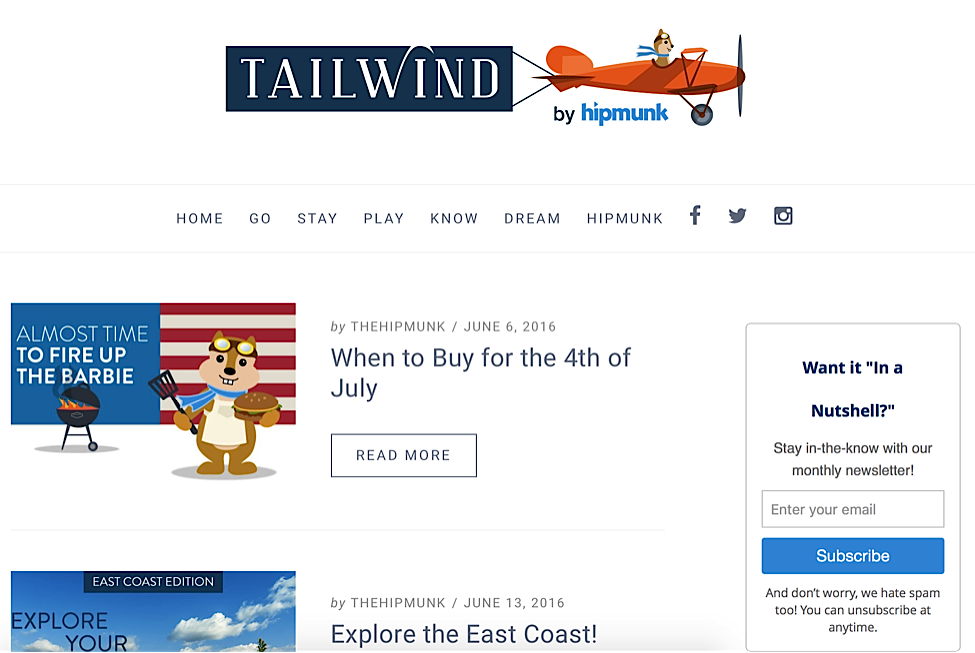 To make sure their content is focused on moving customers towards a sale slowly, they include a "Dream" tab, where they've included inspiring content for those with the travel bug.
For current travelers, they have the "Know" tab, where they outline tactics like how to search for a train, searching for multiple airports, and more.
Under the "Play" tab, Hipmunk targets people who have already purchased a trip and want to know more about what activities are available at their destination.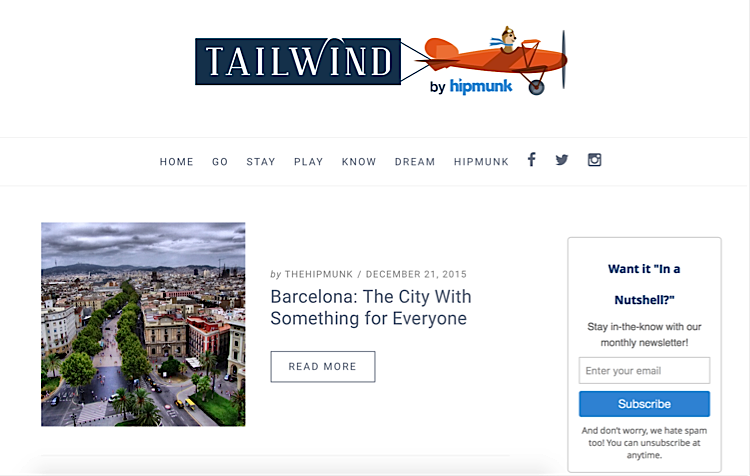 Hipmunk does a good job of creating content at every step of the journey — from potential customers who are nowhere near making a purchase to the jet-setting customer who has purchased multiple times.
13. Groove
Groove is a help desk software company that takes a very different approach to content marketing than most of its competitors — they are hyper-transparent about their company in their content.
For example, they write content like "3 Early Failures that Nearly Killed our Startup."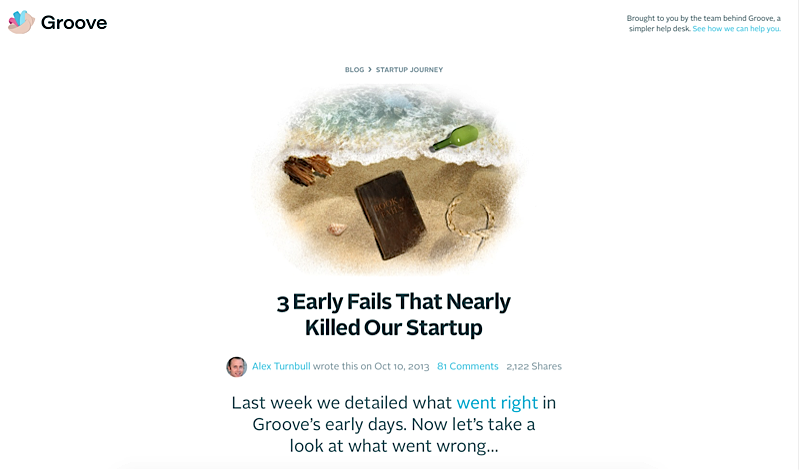 They also write about what they did well, like in this article: How We Grew Our Blog to 5,000+ Subscribers in Five weeks.
According to Zapier, Groove's blog is their number one driver of new customers: they got over 3,000 paying customers in just two years. Transparency works because it helps build trust with your audience. And people are more likely to do business with brands that they trust.
The market strategist for Groove, Len Markidan, says the same thing: "[People] want to know who they're doing business with. I know I'm more likely to do business with someone I know."
Free Bonus Download:
Get ready to receive this supplementary, actionable info on digital marketing from brands who are doing it right!
Click here to download it free.
14. Birchbox
Birchbox is a subscription service that sends subscribers a box of select beauty products every month.
They experienced some insanely fast growth, largely due to their content marketing strategy.
According to NewsCred, Birchbox started with just 600 subscribers and grew to over 800,000 people in just five years. They established a new product line aimed at men, they made some strategic acquisitions, they expanded to different countries, and their revenue skyrocketed.
They were able to leverage content marketing for both customer acquisition and retention because as Bene Cipolla, Head of Program Office at Birchbox, says, "Content was there from the beginning. It was never an afterthought. It is core to our business strategy."
Because their products are all about aesthetics, they focus on creating aesthetically pleasing content. As a result, they even host their blog on Tumblr.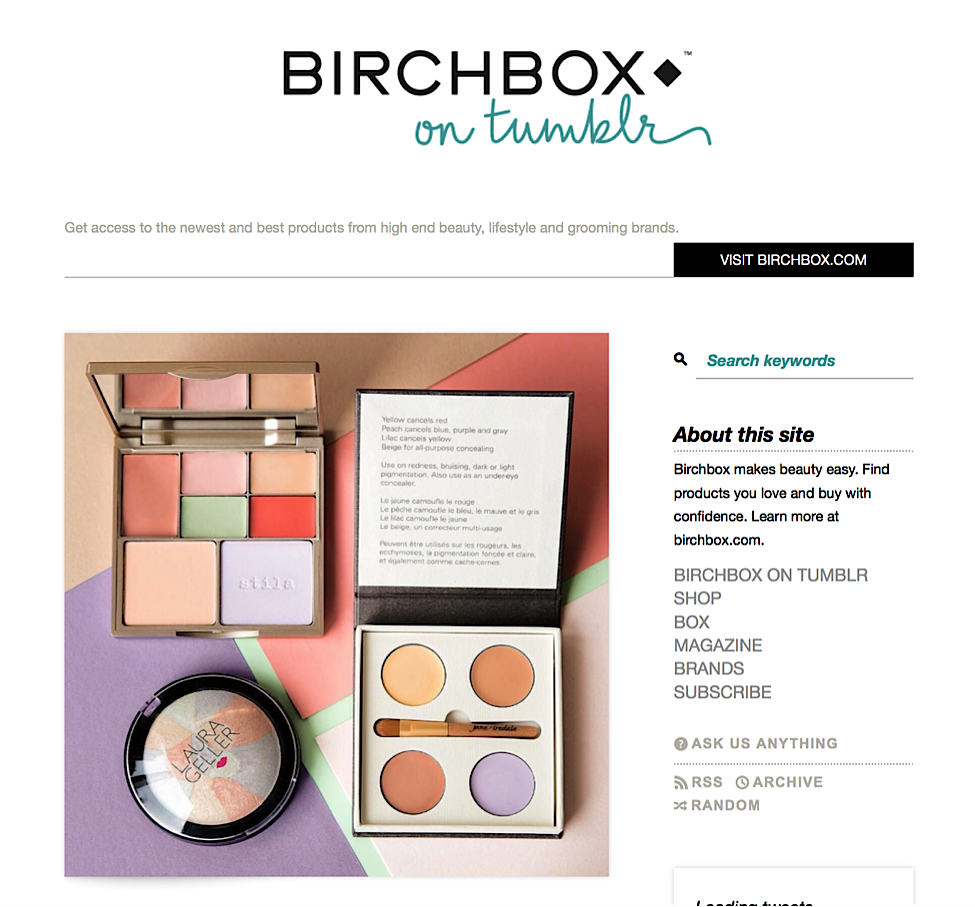 They offer informative and interesting articles, such as "How to Fake Natural Curls" and "This Is What Barbie Would Look Like with Normal Measurements."
In fact, for most of their posts, they place the focus on images rather than attention-grabbing headlines. This works perfectly for their specific product and audience since they're selling products to make people look better.
15. Buffer
Buffer automates your social media posts and makes it easier to share any content you find interesting.
Content marketing is Buffer's main growth strategy and they get around 1,900 shares per post.
In their early days, they gained almost all their customers through guest blogging. Guest blogging is a quick way to get exposed to tens of thousands of potential customers, even when you have no audience of your own. Buffer realized this, and got featured on over 100 blogs in just two months.
With all the tools available to us today, getting featured on major blogs really isn't that difficult. One quick way to do this is to write a post on Medium, wait until it gets a certain amount of traffic/views, then contact an editor at a major publication and offer to cross-post the content.
For example, after I got traction on Medium for an article, I e-mailed an editor at LinkedIn asking if the post could be promoted internally on the site. She immediately accepted.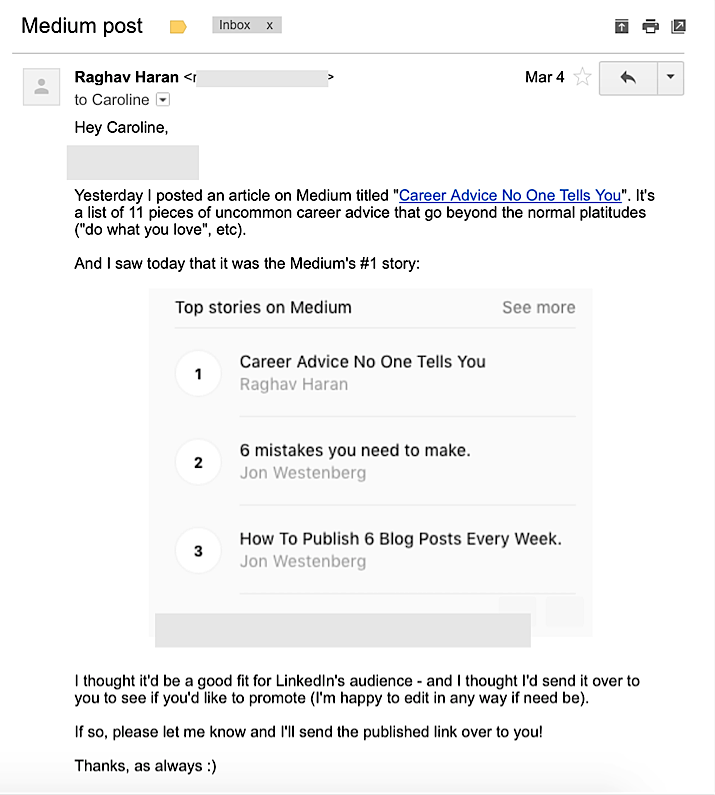 We all know that it takes a lot of time to get results through content marketing, but one of the best ways to speed it up is by guest posting on other high-traffic sites.
16. Intercom.io
Intercom is a software product to help companies communicate with their customers more efficiently.
One of the things that they do particularly well is repurpose content. For example, they have a podcast where they interview experts and thought leaders about topics in business and marketing. Once an episode is recorded, they take that interview and repurpose it into a long-form blog post like this one. This way they get even more reach out of the same piece of content.
Learn More: Content Expansion: How To Maximize Your Content
In fact, if the content is good, you could potentially have two different pieces of your own content rank at the top of Google for a particular keyword.
AdEspresso was able to rank both a blog post and a SlideShare presentation at the top of Google for the keyword "social proof marketing."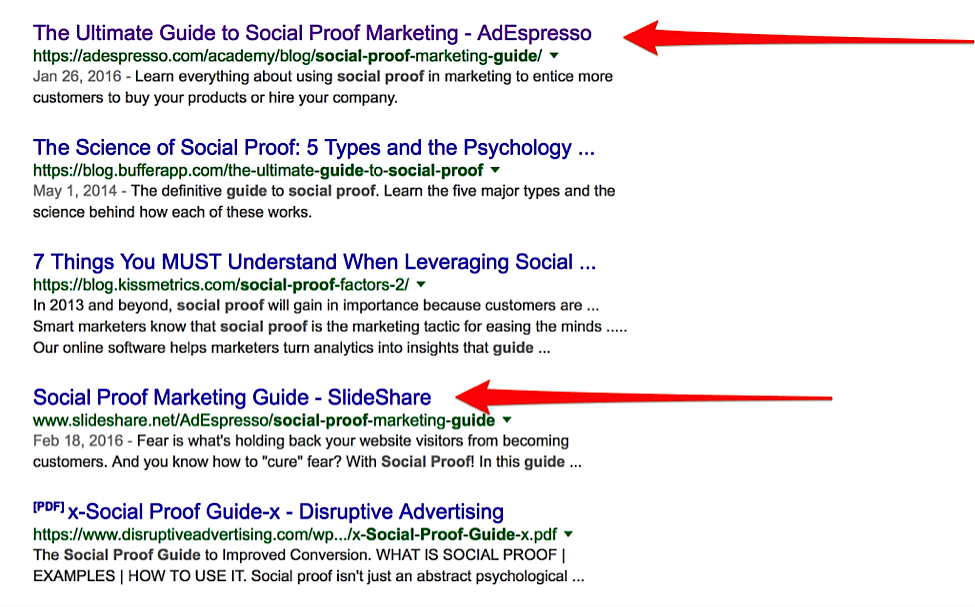 Intercom also does a good job of using images and graphics in the right places within a blog post. For example, in one article there's a section that talks about why customers leave. To accompany that info, Intercom created this graphic to visualize the concept: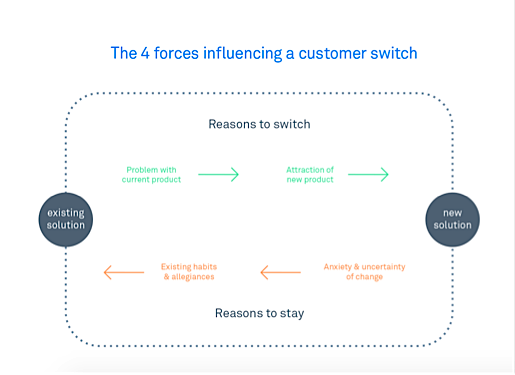 Conclusion
It's easy to talk about why "content is king" and why we should all be producing more content; it's quite a different story to actually execute it in such a way that gets results.
Traditional advertising that not only interrupts consumers but aggressively pushes them toward a sale is a thing of the past. Content marketing is the opposite of that – it provides something of value to consumers first and lets them approach the brand when they're ready to purchase or gather more information.
In today's digital landscape, content marketing isn't just about creating a few blog posts and sharing them to your social media. Take it from the pros – true content marketing requires much more to be successful!
At Single Grain, our content marketing campaigns focus on three distinct phases of content production and promotion: Traffic Generation, Audience Engagement, and Conversions and Profits. If you're ready to benefit from our knowledge and experience, find out here how we can help you grow your business!