Managing Twitter (or X) Ads can be tricky for beginners. Why? Because if you do not choose the right bidding strategy based on your campaign goal or don't work on improving your ad score, you will end up paying more for your ads, leading to a reduced ROAS (return on ad spend).
That's why it is crucial to understand how auctions, ad score, targeting, and bidding works to get the most out of your Twitter advertising budget.
In this Twitter advertising help guide, I will share the step-by-step process of setting up your first Twitter Ads campaign successfully.
Let's begin!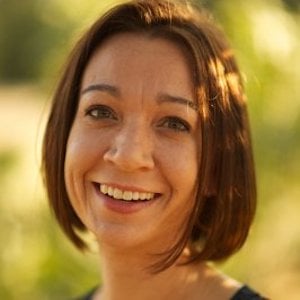 Kim Cooper
Director of Marketing, Amazon Alexa
Single Grain enables us to increase our impact without increasing our headcount
What Are Twitter (or X) Ads?
Twitter (now rebranded as "X") Ads are a form of paid advertising where you can show your products or services to businesses, brands and individuals via Tweets.
Ads are clearly marked as promoted, but with the latest rebranding to X, paid ads are now less noticeable. Below is an example of a Twitter ad in action: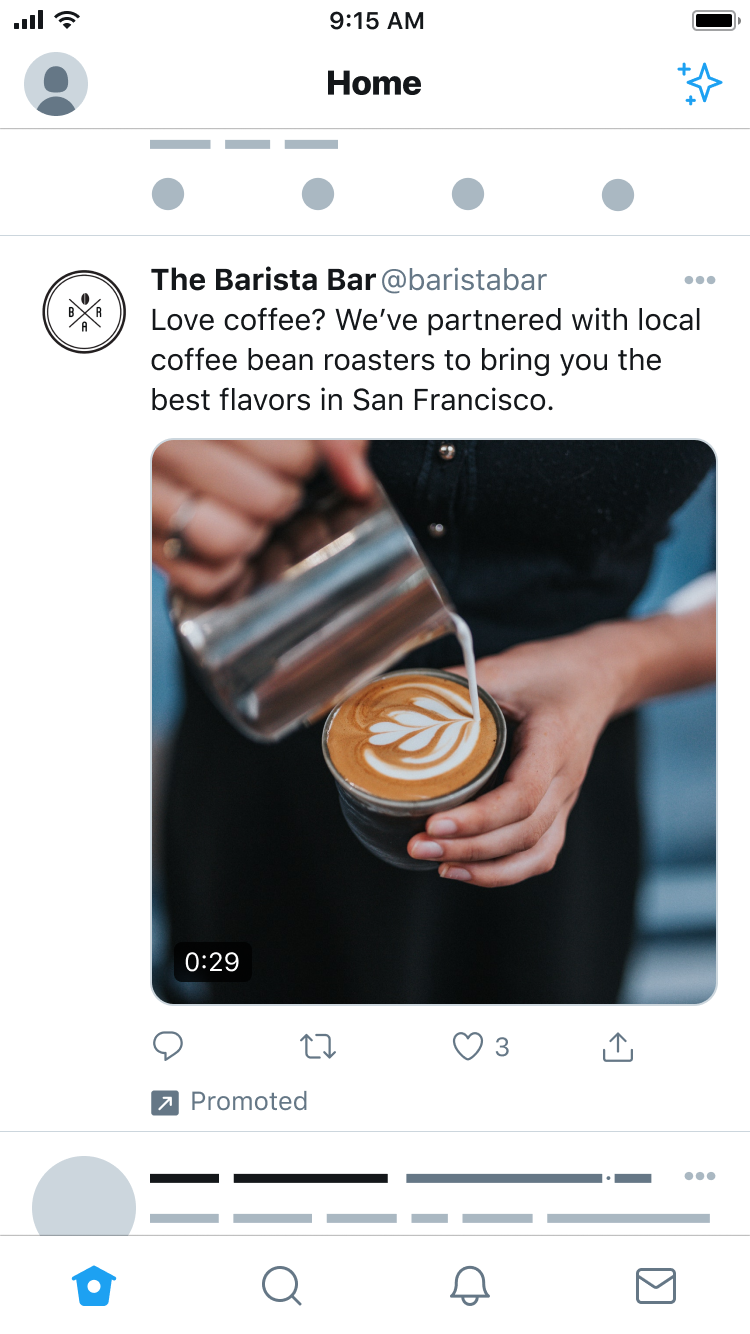 Twitter Ads can appear in users' timelines, search results and profiles, offering you a powerful way to connect with your target audience.
What Are the Types of Twitter Ads?
Twitter Ads fall in the following categories:
Promoted Ads
Promoted Ads is a flexible ad type that can support different types of media formats like: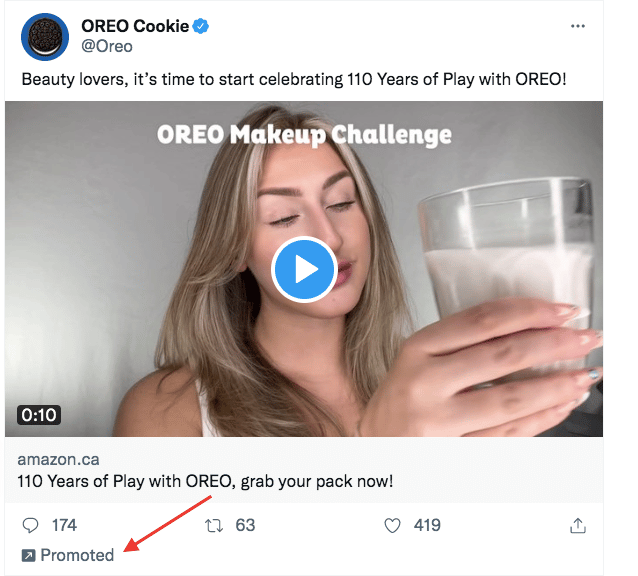 Image Ads
The Image Ads type helps showcase your product or service through a compelling single photo: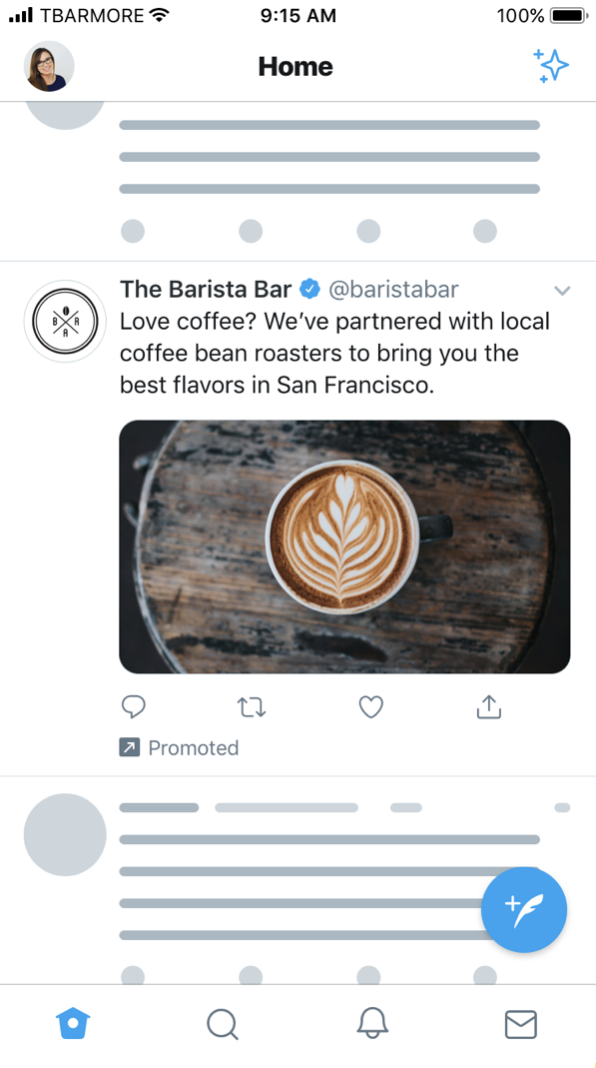 Video Ads
With the Video Ads format, you can display enticing videos to persuade prospects to visit your website or app: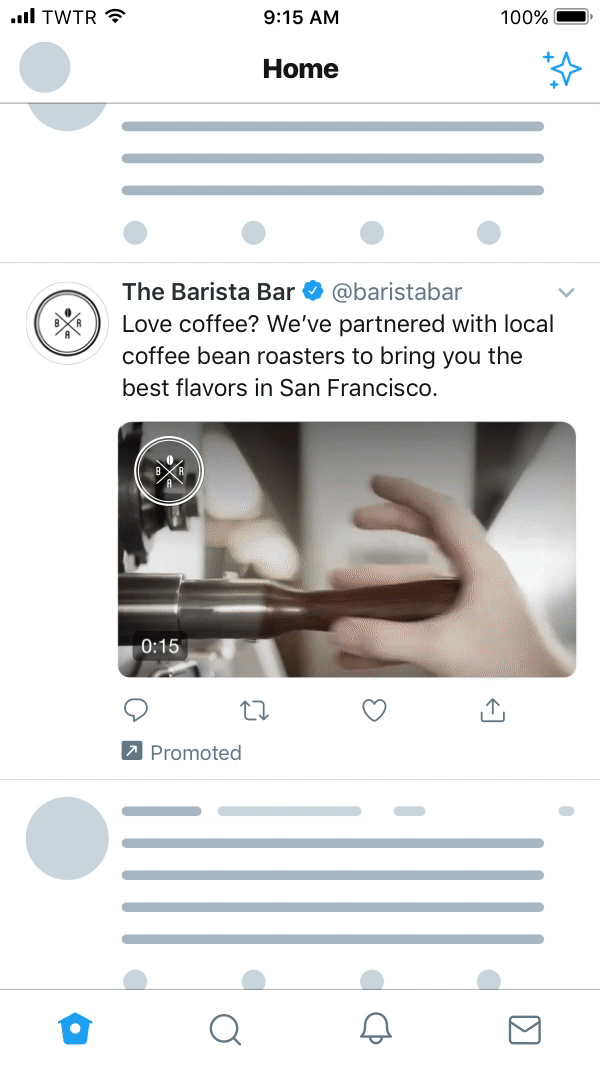 Carousel Ads
In the Carousel Ads type, you can use up to six horizontally swipeable images or videos to display multiple products or promotions, making your ad dynamic and interactive: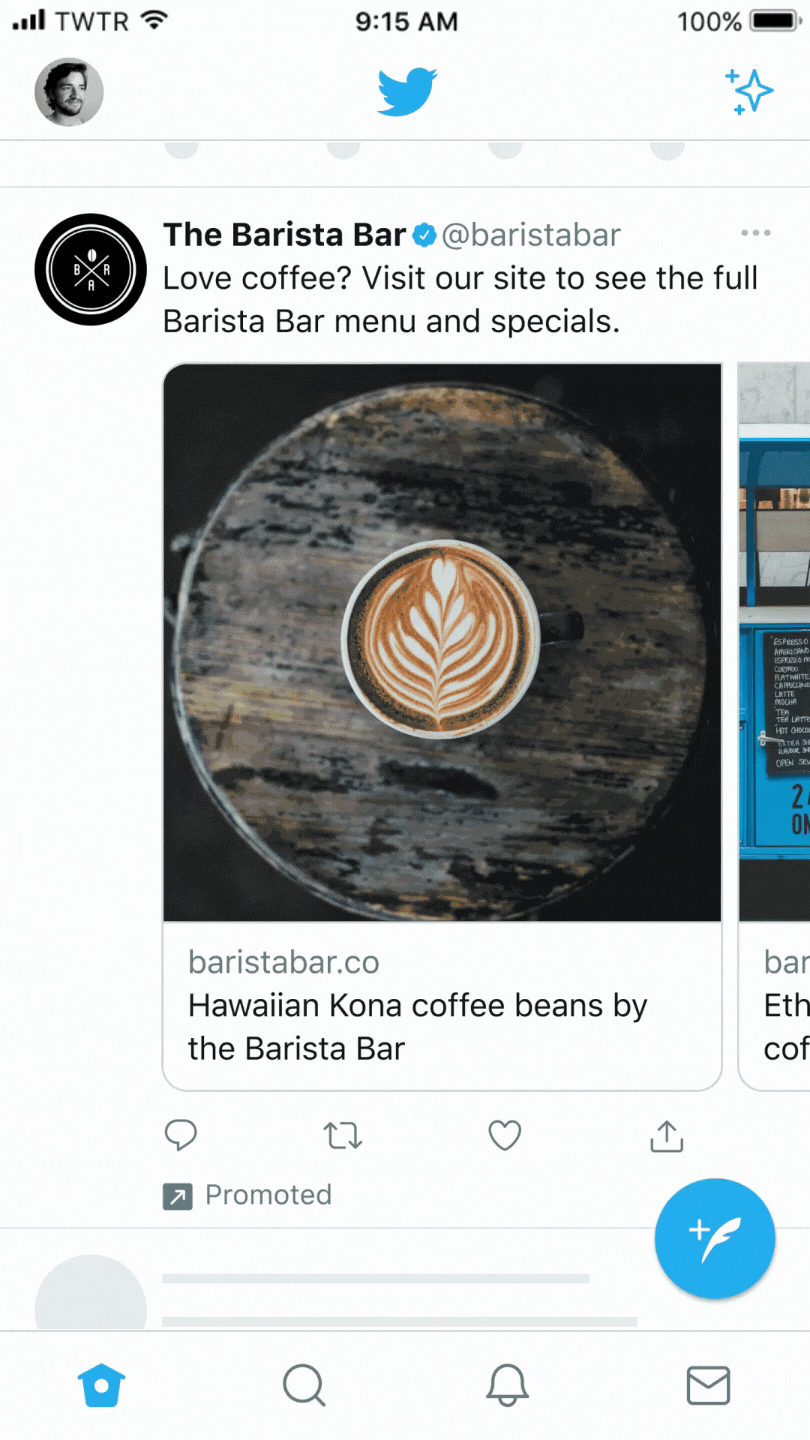 Moment Ads
This Moment Ads format lets you display a collection of Tweets that weave together an immersive and captivating story beyond the usual character limit of 280: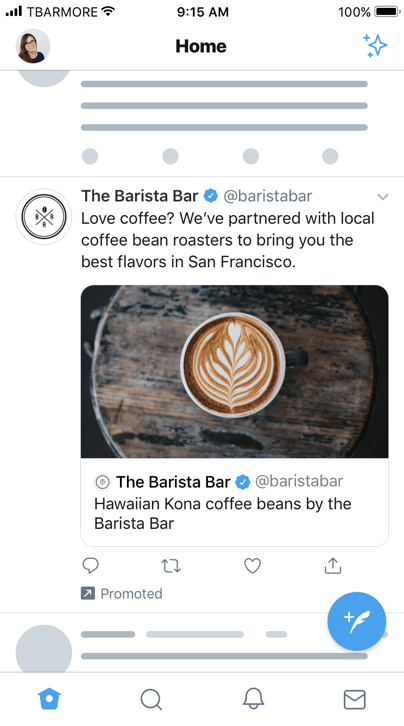 Text Ads
The regular Text Ads allow you to expand the reach of your messages to your desired target audience, extending beyond your followers in a natural and native way: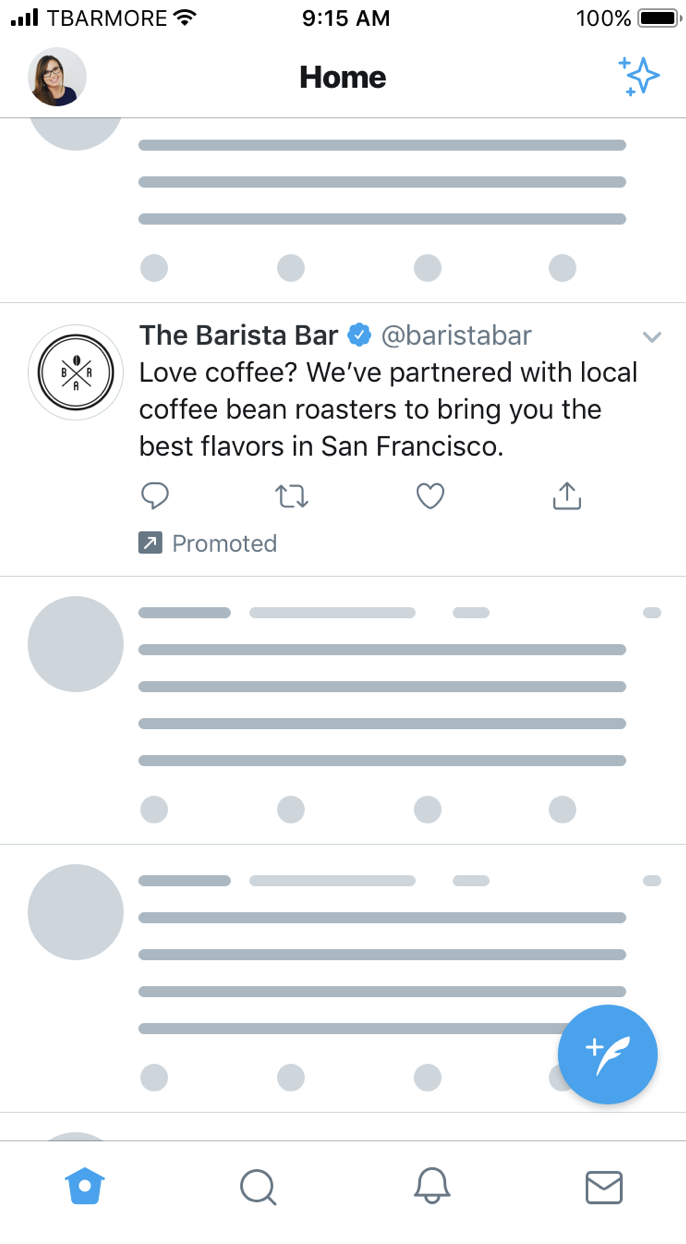 Follower Ads
Follower Ads is a powerful format tailored to boost visibility and expand your audience on Twitter. With Follower Ads, you have the ability to promote your accounts to a specific and targeted audience, driving brand awareness and attracting new followers to grow your Twitter community.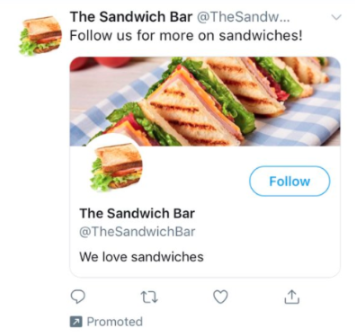 X Amplify
With X Amplify, advertisers can strategically align their ads with premium video content from the most relevant publishers. Amplify offers two distinct ad formats to cater to different advertising needs: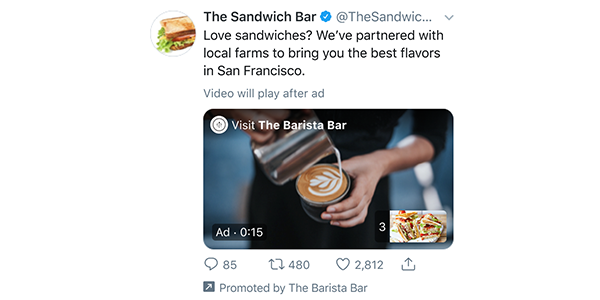 Amplify Pre-roll
This format empowers advertisers to choose the content categories of the videos where their video ads will be served. With over 15 categories, including select Curated Categories (where available), advertisers can precisely target their audience and ensure their ads appear in contexts that resonate with their brand.
Amplify Sponsorships
With Amplify Sponsorships, advertisers get a unique 1:1 pairing with a single publisher during a moment of their choice. They also enjoy Tweet-level control throughout the campaign, allowing for a more tailored and impactful advertising experience.
X Takeover
By taking over both the Timeline and Explore tabs, X Takeover ad placements offer brands exclusive ownership of X's prime real estate on both desktop and mobile, enabling you to unleash the full potential of your advertising strategy.
Here's what X's Takeover offers as placements:
Timeline Takeover
You may position your brand at the forefront of the conversation with Timeline Takeover. When users open X, your ad will be the very first one they see, allowing you to capture their attention and drive engagement.
Trend Takeover / Trend Takeover+
With this placement type, you can get your ads displayed alongside what's trending. It strategically places your messages where the conversation starts on the Explore tab.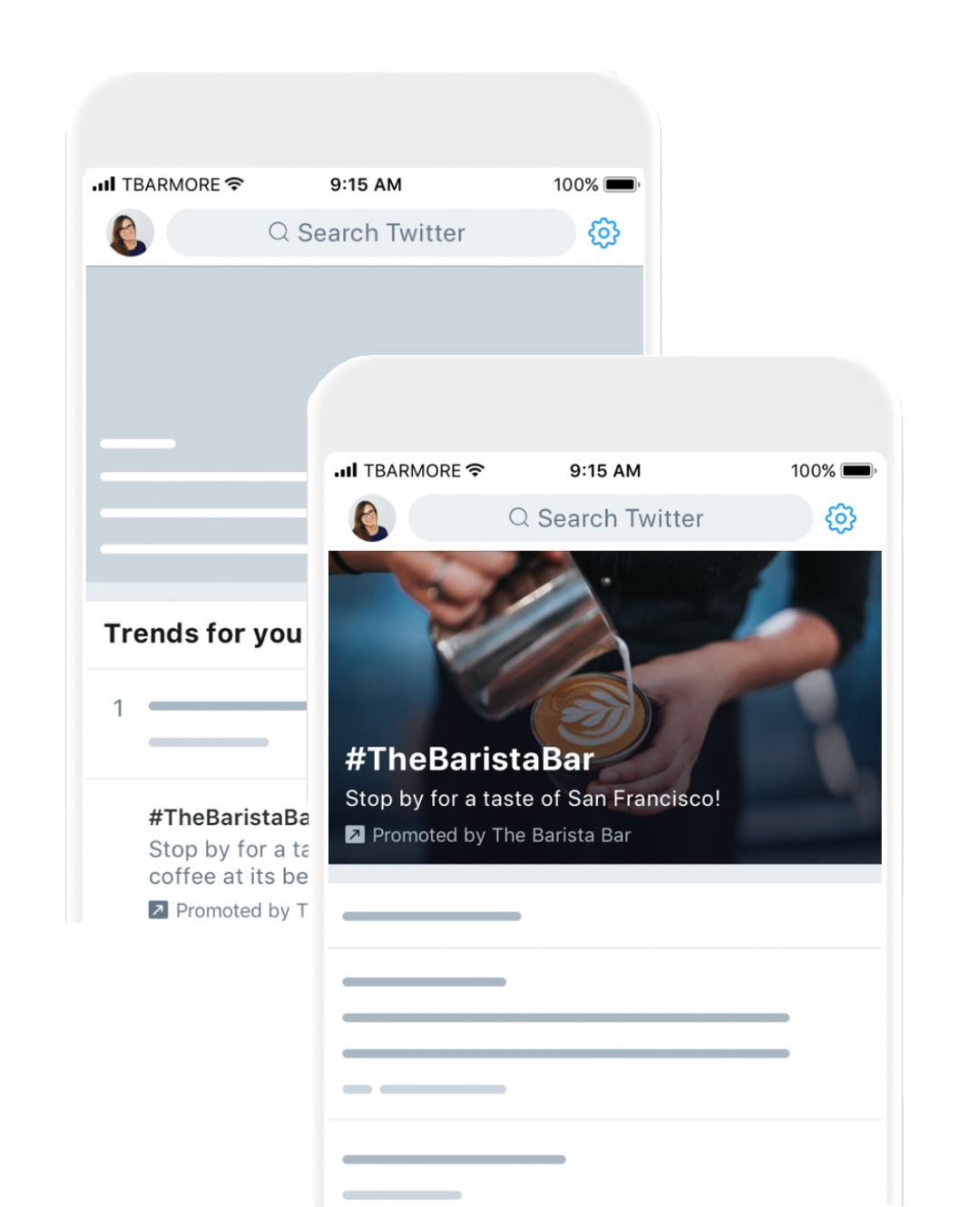 X Live
With X Live, you can unleash the power of live broadcasting and connect with audiences in real-time. By going live, you can create an immersive experience that captivates your target audience and ignites meaningful conversations: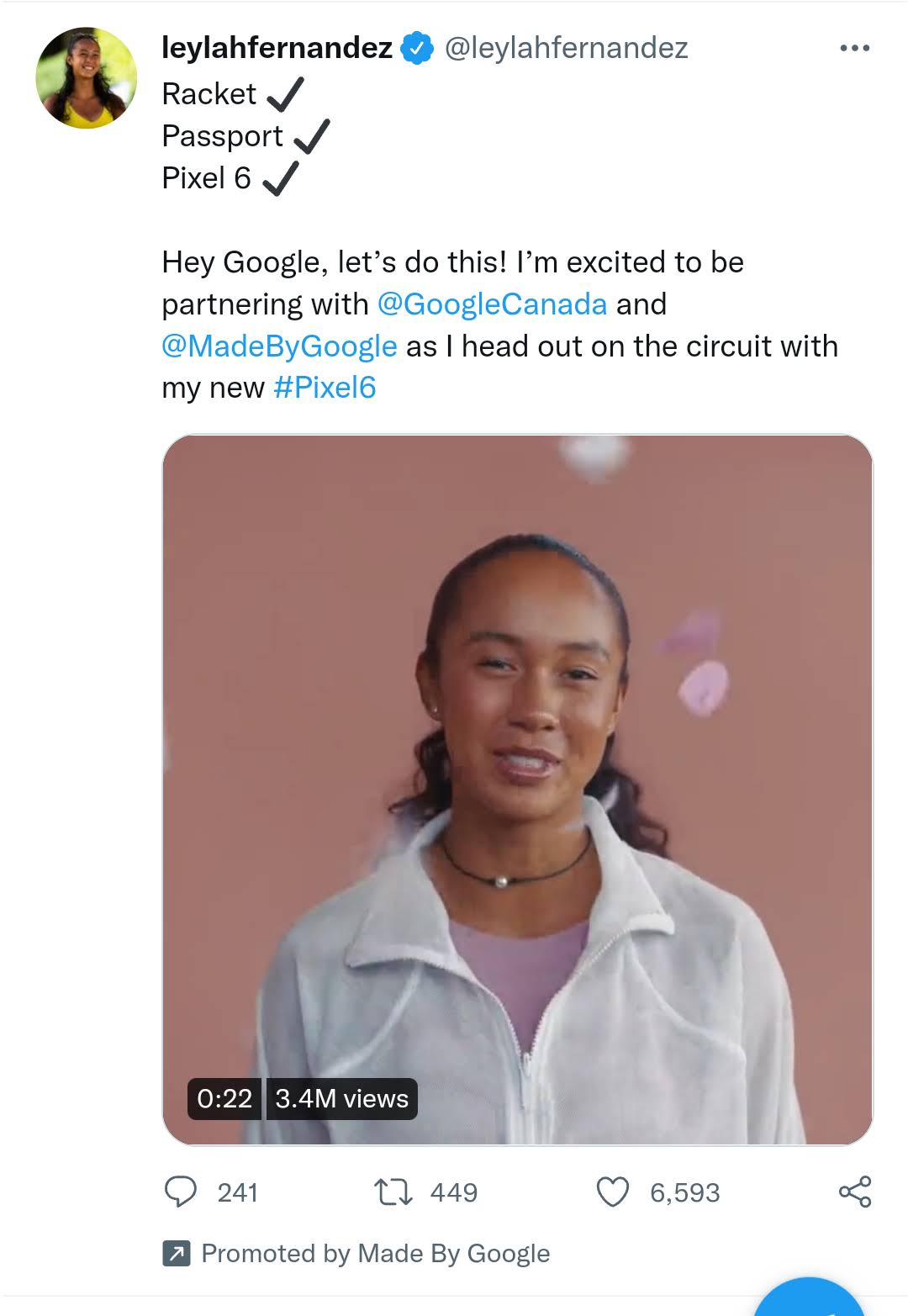 Dynamic Product Ads
Dynamic Product Ads on X allow advertisers to deliver personalized and relevant products directly to the perfect customers, precisely when they need them: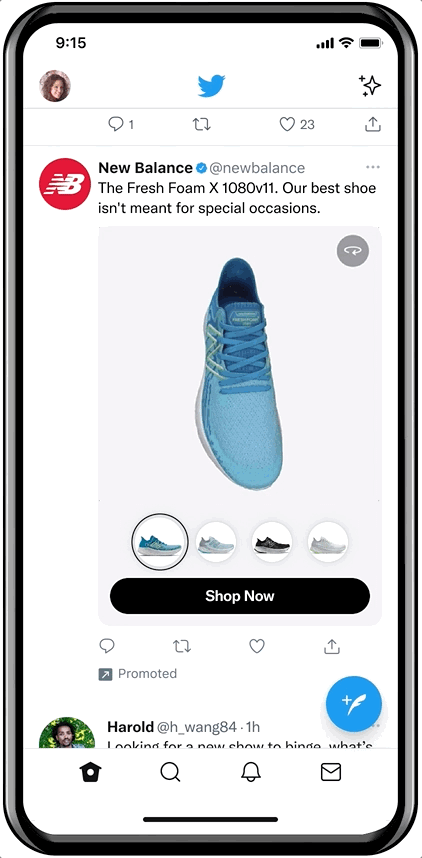 With DPA Retargeting, advertisers can strategically target consumers who have already shown interest in specific products on their website, such as items added to their shopping cart but not yet purchased.
Collection Ads
In this innovative Collection Ad format, advertisers can curate a visually appealing collection of product images, combining a primary hero image with smaller thumbnail visuals below: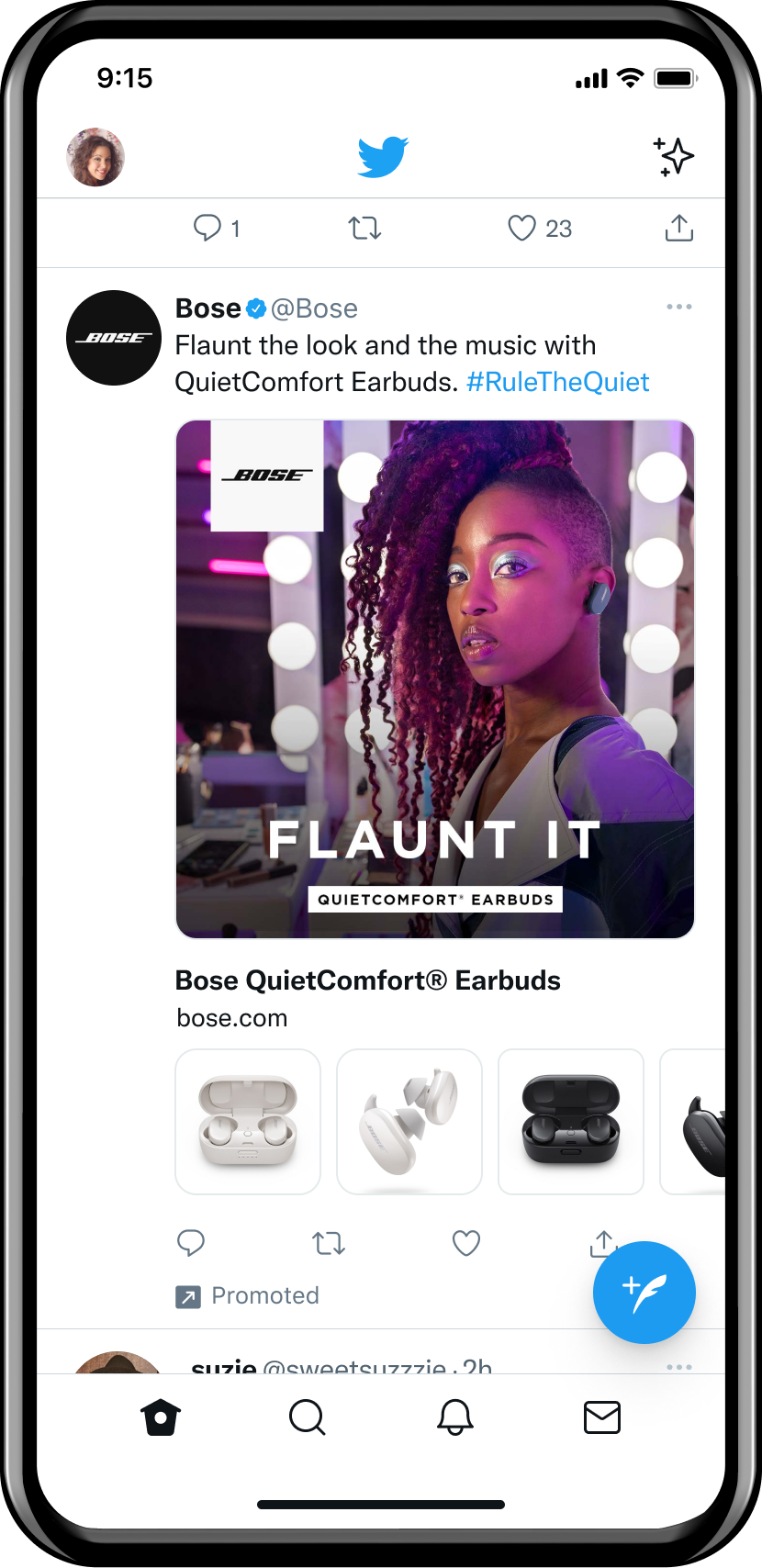 Unlike Carousel Ads, all the product features are elegantly displayed within a single view, making it easy for potential customers to explore and interact with your offerings.
Twitter Advertising Help: Step-by-Step Twitter Ad Campaign Set Up Guide
Now that you understand the benefits of Twitter Ads and have a good idea about the different Twitter ad formats, let's begin the process of Twitter ad campaign creation.
Here is a step-by-step guide to create your first Twitter ad campaign:
Step 1: Create Your Twitter Ads Account
Log in to your Twitter account you wish to promote your posts from. This is the handle that your X Ads account will be associated with.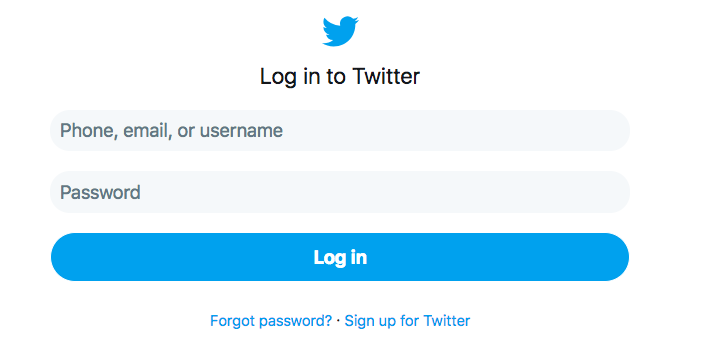 Once you're logged in, make your way to ads.x.com (please note that these settings cannot be changed once your account is created):
Choose your country and time zone.
Select the country whose currency you prefer for billing and the time zone you want your campaign to run.
Now enter your billing information to complete the setup of your ads account: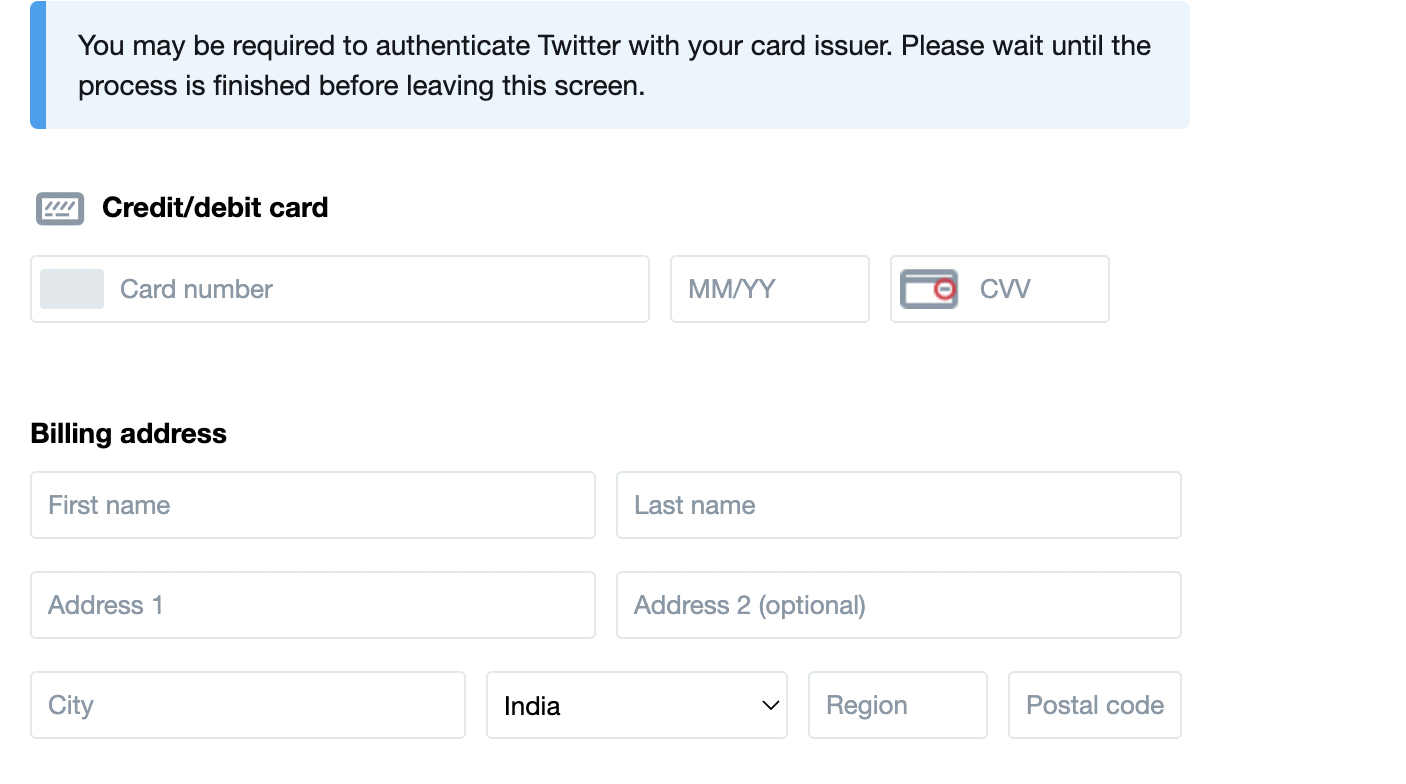 Step 2: Decide the Goal of Your Campaign
Once you have completed your billing information, you can now begin creating ads.
The first step in successful Twitter Ad set up is to create campaigns based on your ad goals.
Click Create Campaign displayed in the top right corner of the X Ads manager:

Twitter lets you create campaigns based on the following objectives:
Reach
Followers
Engagements
Traffic
App installs
App re-engagements
Video views
Pre-roll views
You can choose any one of the above objectives to create your campaign. For example, if you wish to choose Reach as your objective, you can click on Reach: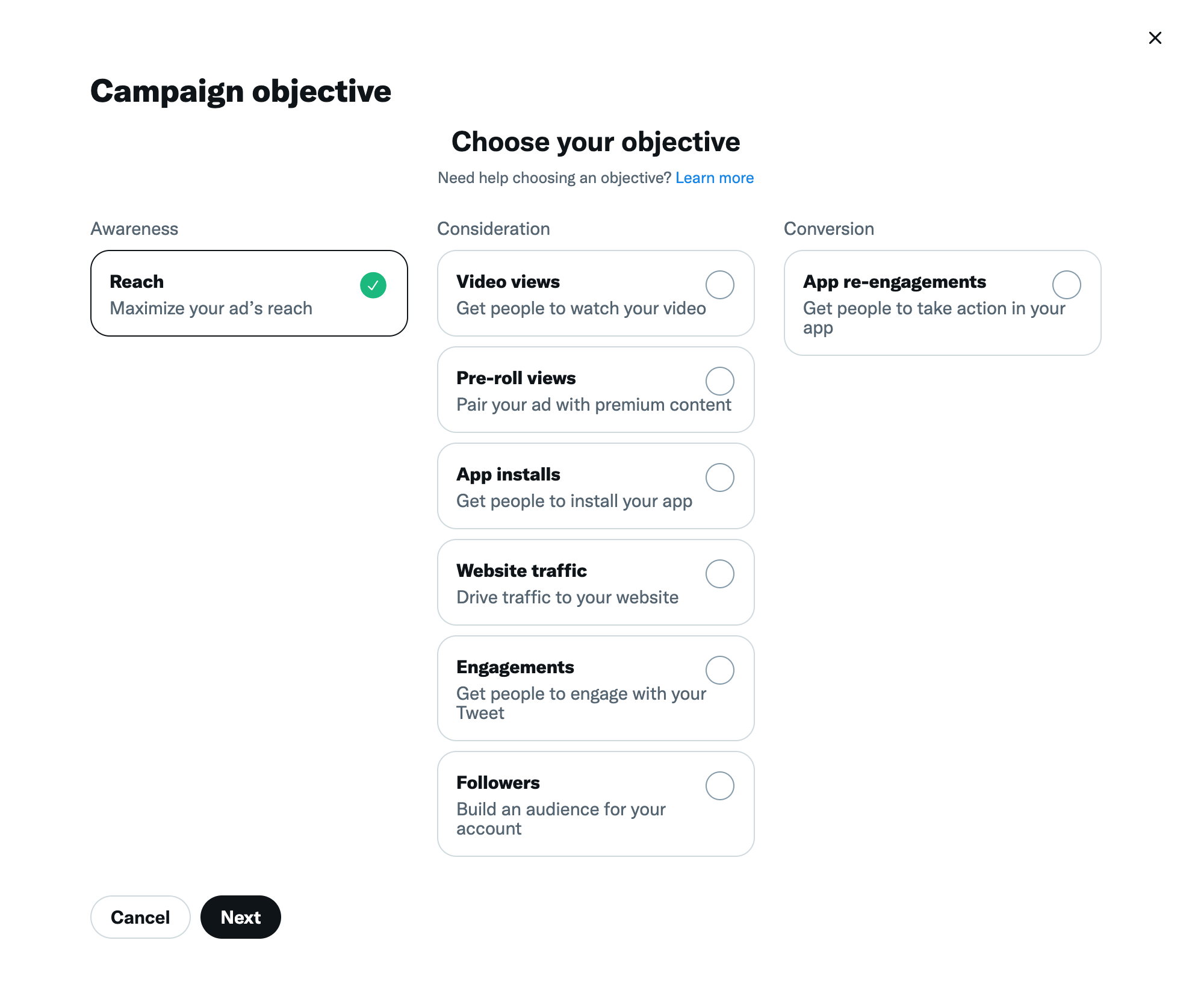 Click Next and you will see the Campaign Details page. Now, name your campaign and choose your funding source.
Step 3: Set Your Ad Groups Budget
Click Next to set up your first ad group and give it a name.
Now, you should set your ad group's budget and schedule.
Enter the amount you are willing to spend daily. Based on that, you can check the box that says Run indefinitely, meaning your ads will continue to run until stopped with no more than $700 (if you've chosen $100 per day) spent per week: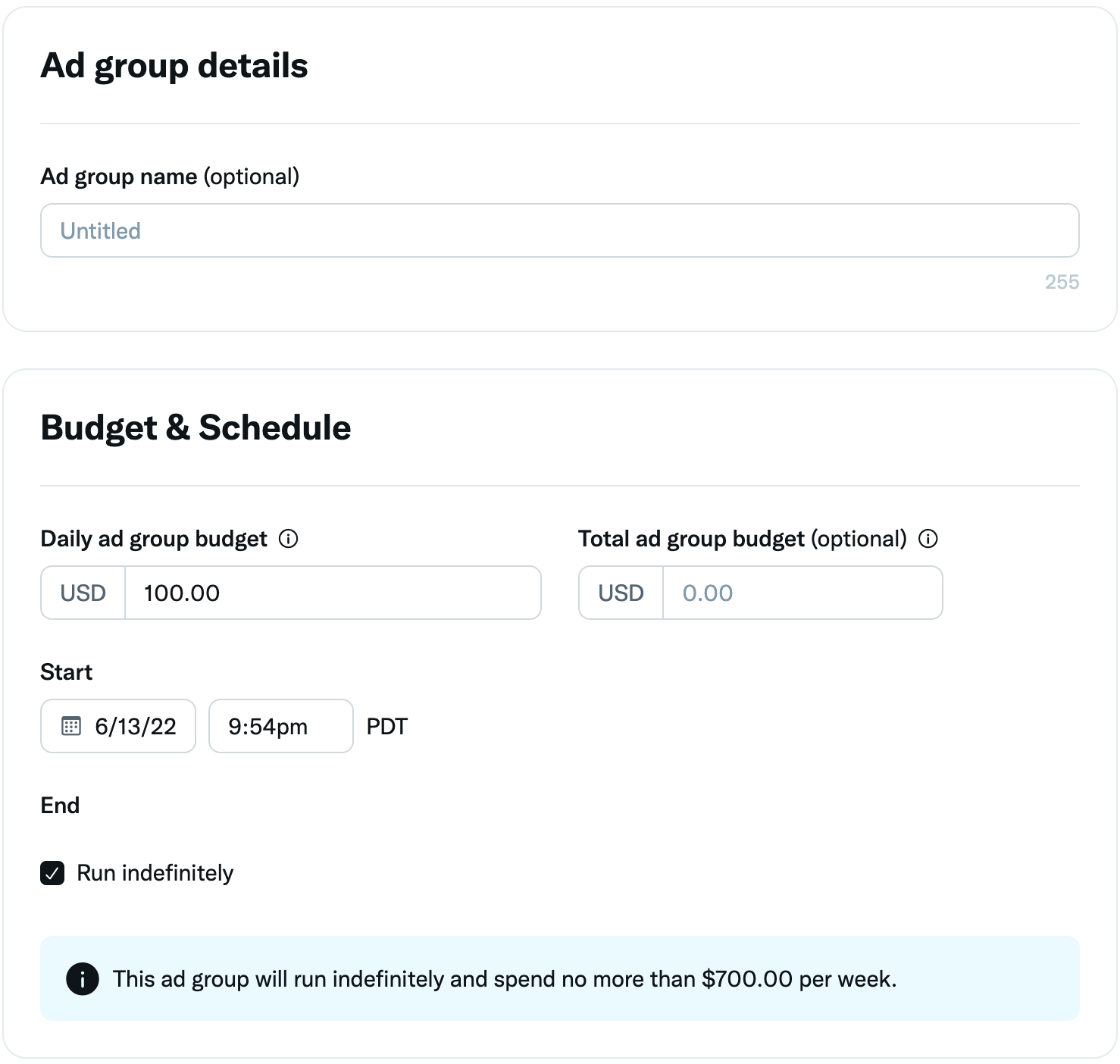 Step 4: Choose Ad Group Goals & Select a Bid Strategy
In the next step, you will see Ad Group goals, which are of the following two types:
Maximum reach (recommended) to maximize the unique reach of your campaign.
Reach with engagement to maximize the reach of your campaign while still maintaining engagements.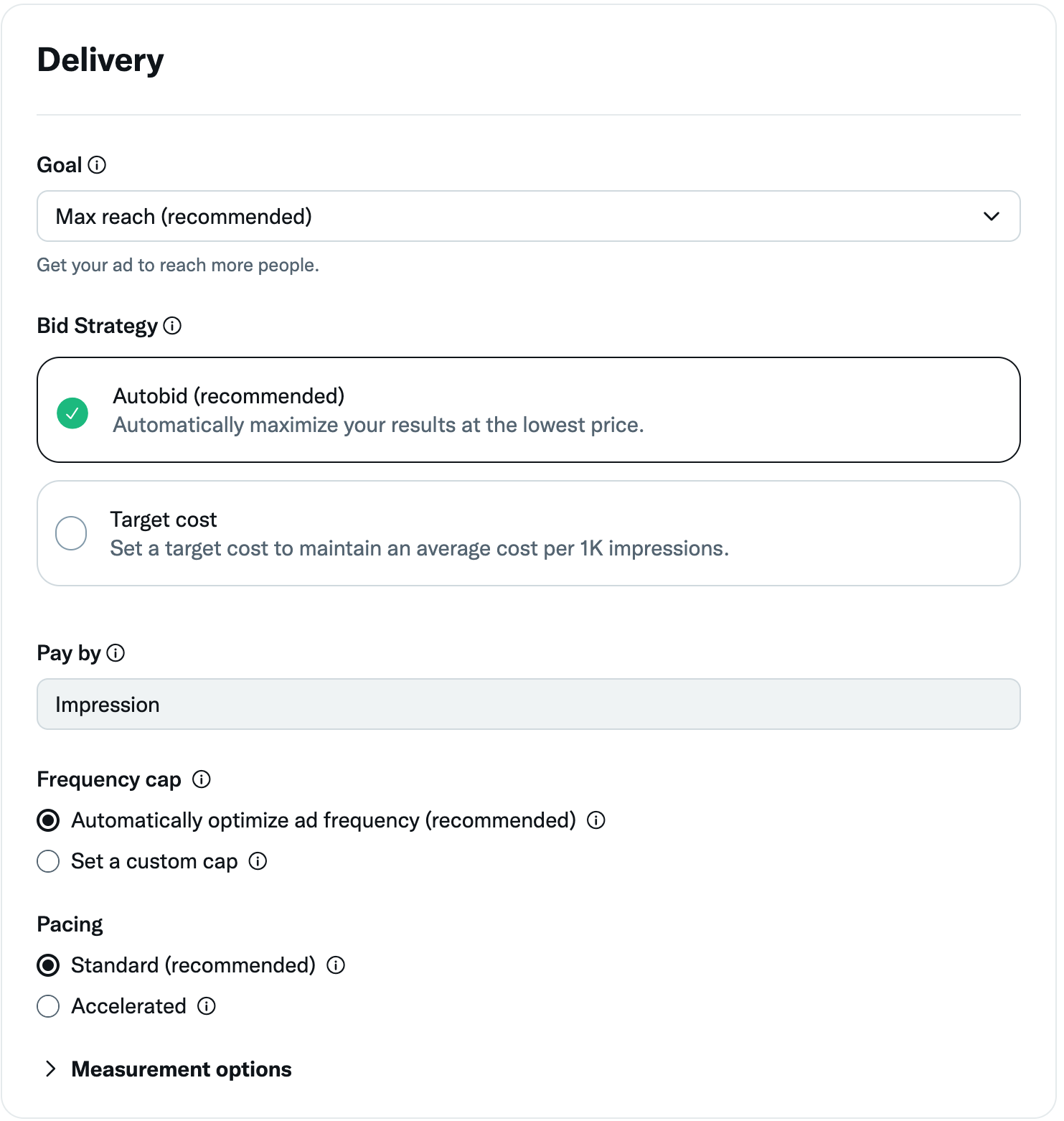 You should choose the one you prefer based on your advertising goals.
Also, there are three bidding strategies offered by Twitter:
Automatic Bid: Automatic bid type auto-optimizes your bid to maximize impressions at the lowest price. You can opt for this strategy as a new advertiser.
Maximum Bid: Maximum bid type offers more control on how you spend your ads budget. In this bid type you can choose the bid you are willing to pay for every engagement.
Target Bid: In Target bid type, you pay the average cost of all ad clicks in a day. The below figure explains the working of a Twitter ads auction: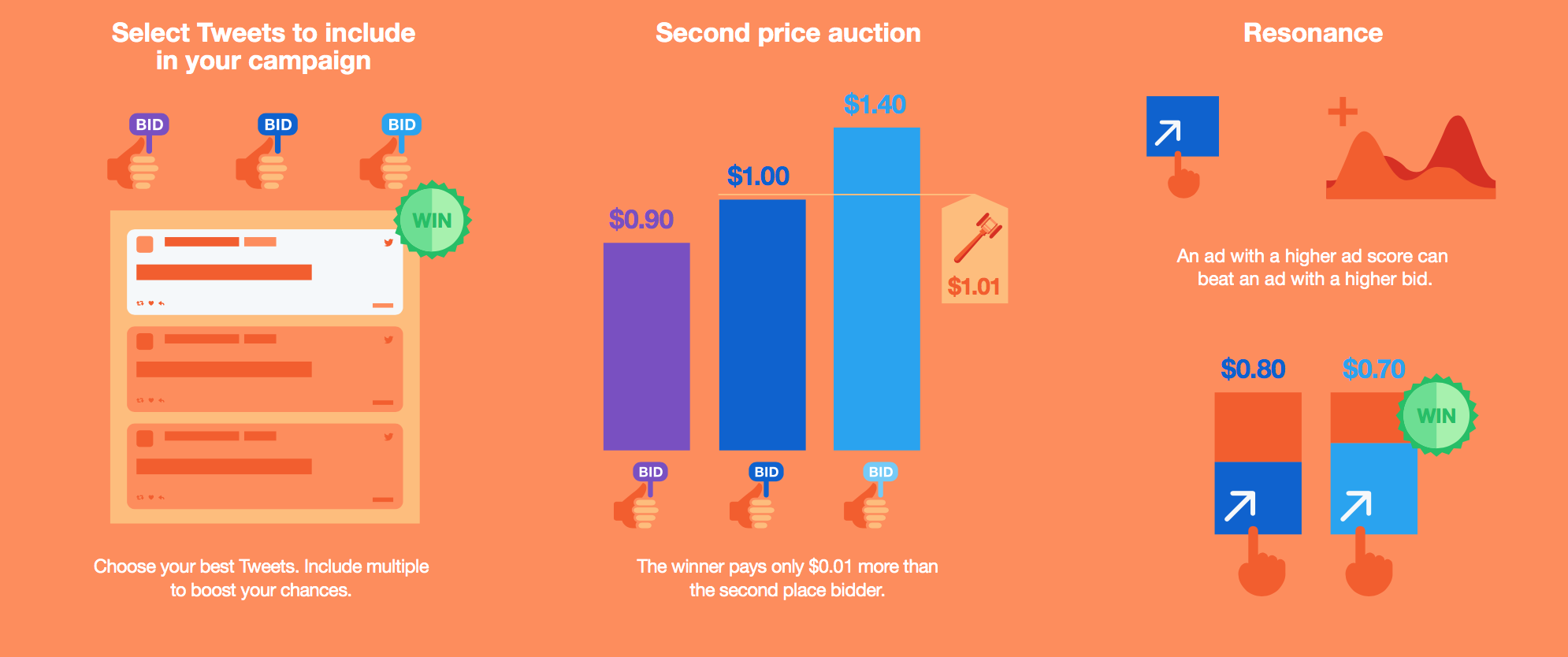 Choose from the available options based on your campaign strategy and click Next.
Step 5: Narrow In on the Audience
Scroll down to the Demographics section to choose gender and age range.
In the Location section, enter the specific geo location(s) you wish to run your ads on. You can target by countries, regions, metros, cities, or postal codes: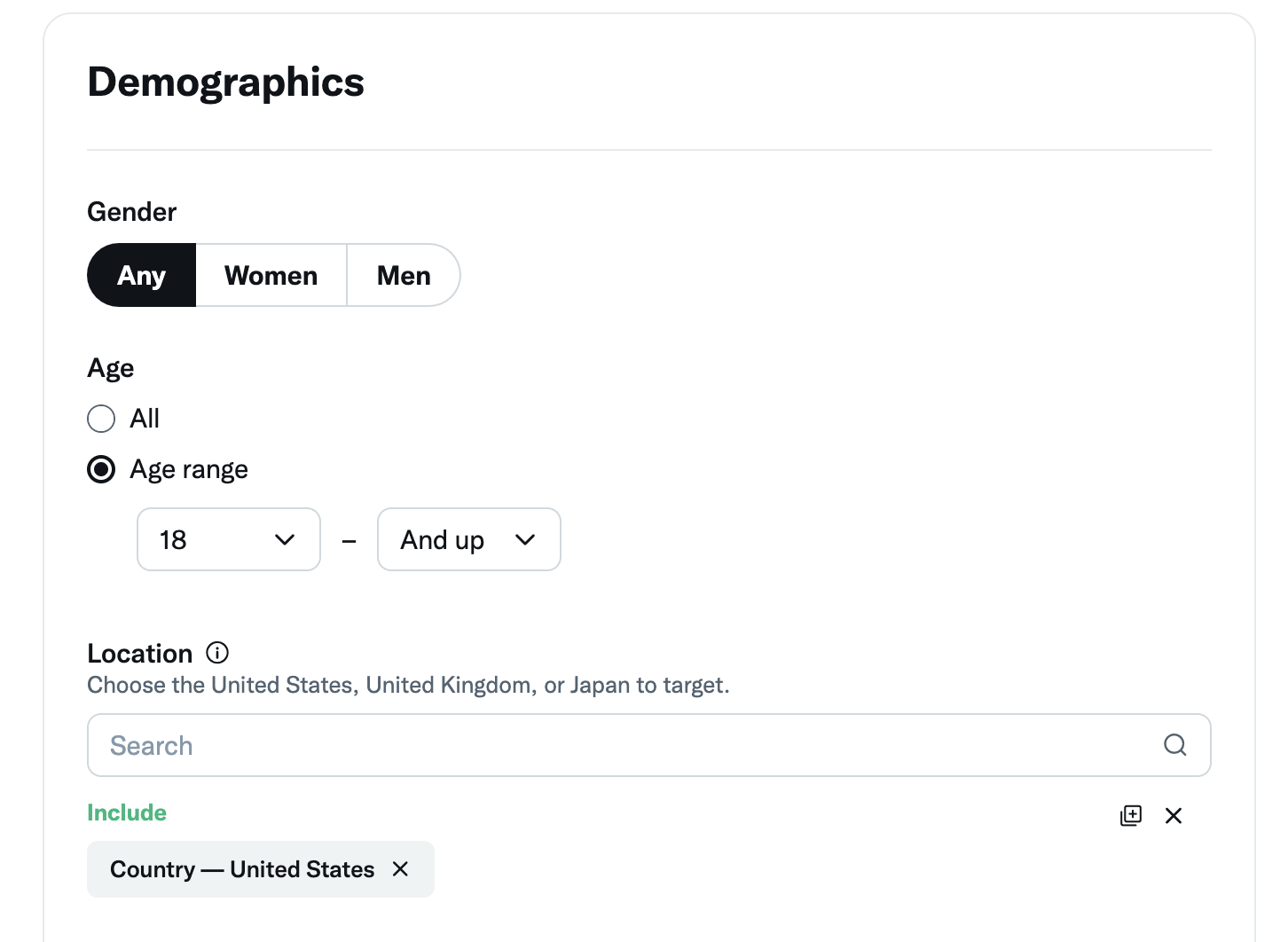 Alternatively, if you prefer to target a specific radius around a location, navigate to the Radius around a location tab. You should carefully choose your audience whom you want to view your ads.
Enter the desired location and specify a radius between 1 mile and 50 miles: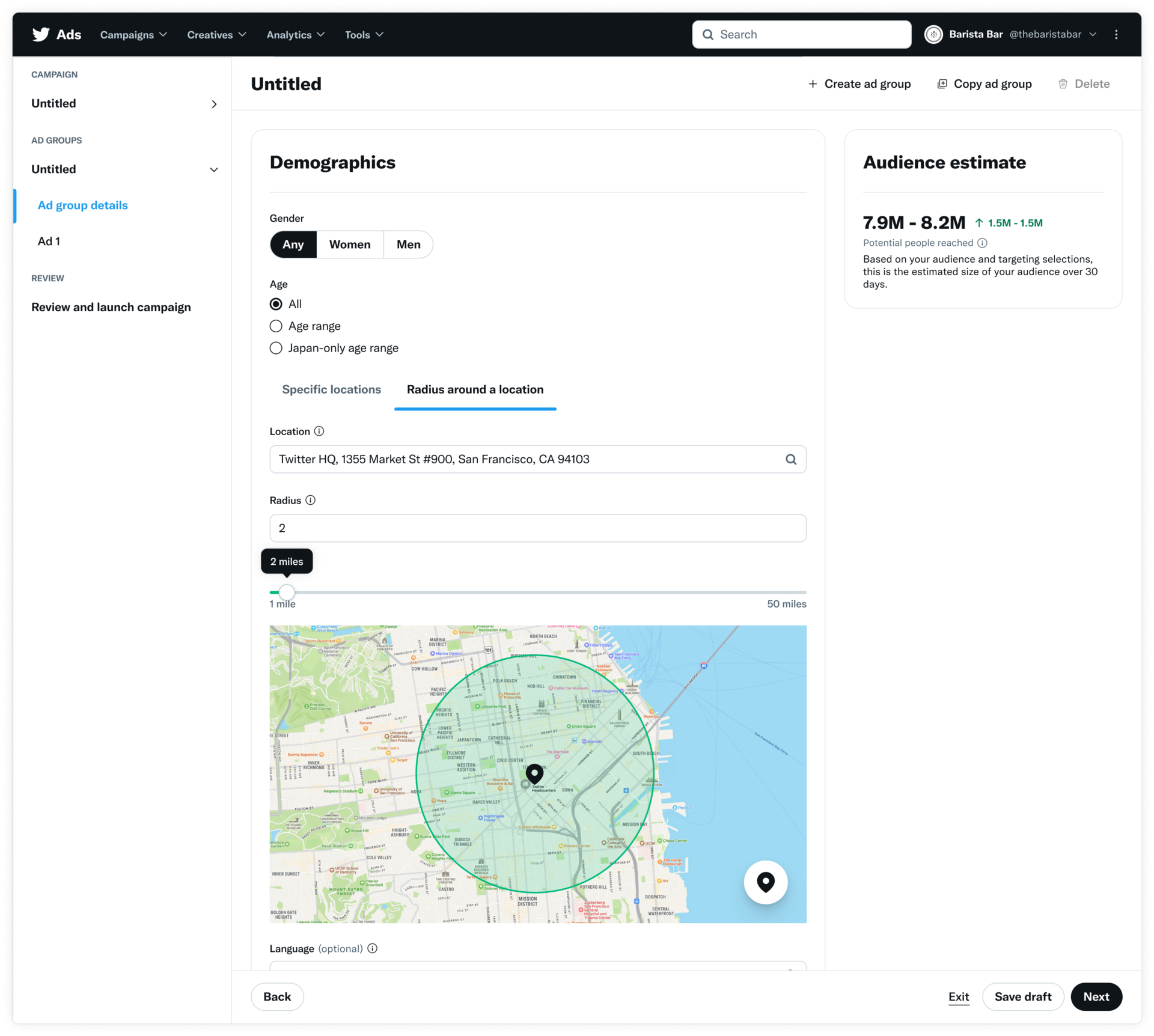 Here are some targeting tips to follow in your Twitter advertising strategy: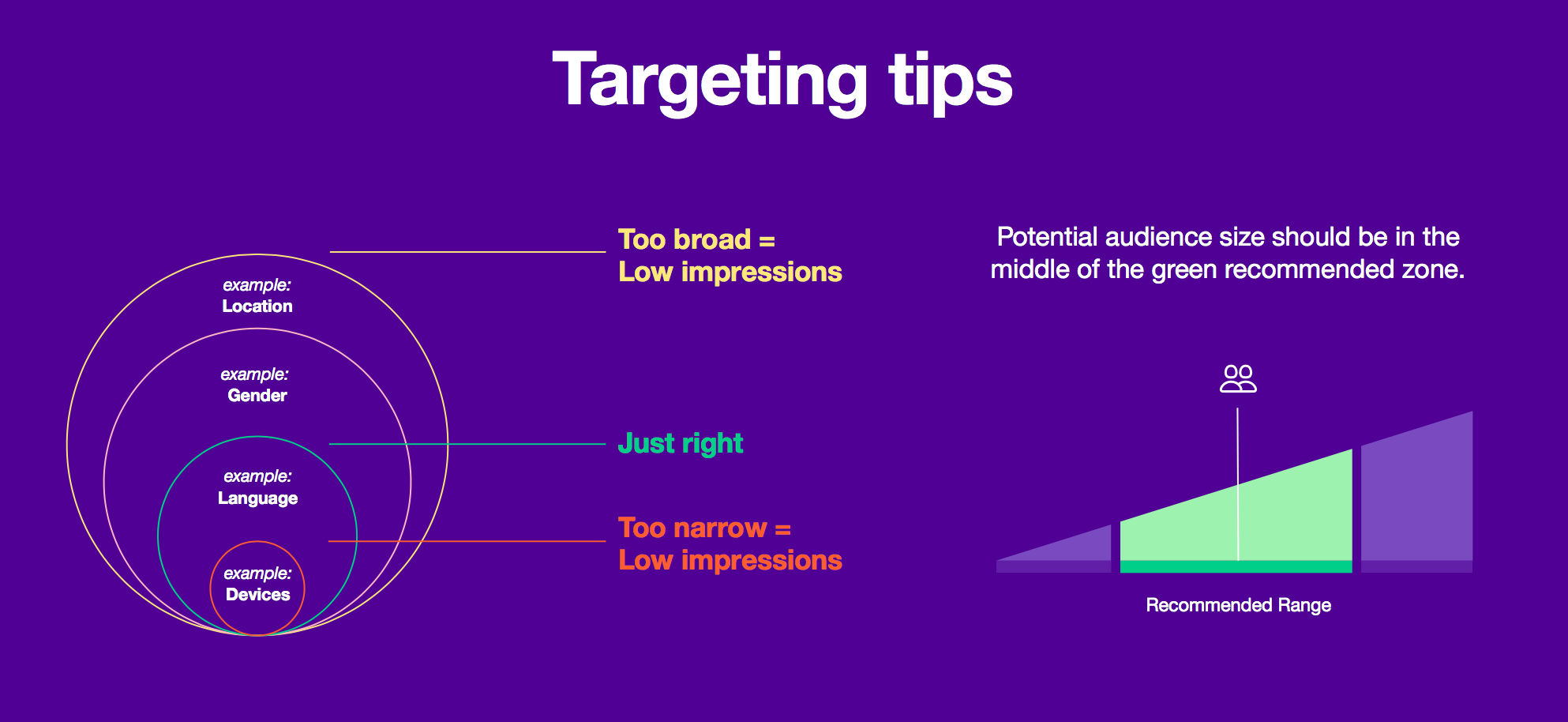 Step 6: Choose Ad Placements
Next, select the placements where your campaign will serve. There are three placement options available:
Home Timeline: It lets you promote tweets on the timeline of the people you're targeting.
Profiles: Under this placement option, you can display your ads to people when they visit profiles.
Search Results: As the name suggests, it lets you show your promoted tweets in people's search results.
The more ad placements you select, the greater your potential reach. Home Timelines are selected by default and cannot be removed:
Step 7: Create Your Ad Based on Twitter Ad Specifications
The next step is designing different ads that you wish to add to your ad group.
Each ad is based on certain predefined specifications. You can request that your creative team prepare images and videos for your ad based on these specifications.
These ad specs will help you create compelling and visually appealing Twitter Ads that resonate with your audience and achieve your advertising objectives.
Based on the specifications, you can create an ad in the Tweet composer as shown below: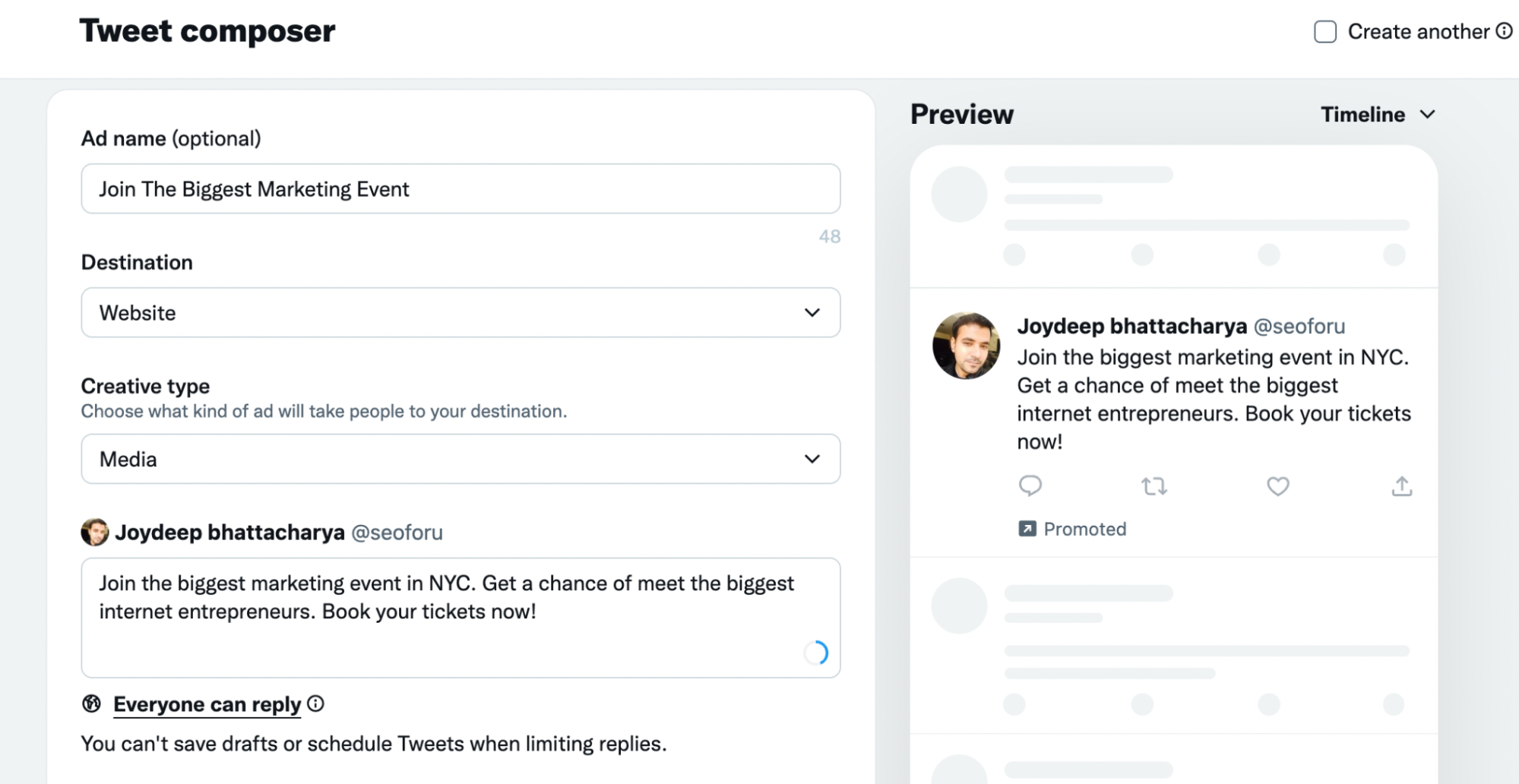 Give your ad a name, select a destination, choose your creative type and enter your ad text.
Also, ensure that you use engaging CTAs. Here are some quick tips to incorporate clear CTAs in your Twitter marketing campaigns:
Use Hashtags. Incorporate relevant hashtags in your CTA to make it discoverable by users who are interested in those topics. Hashtags can increase the visibility of your CTA and encourage users to engage with your content.
Add Tweet Button. Utilize the "Tweet" button in your CTA to encourage users to retweet and share your message with their followers. This can help amplify your reach and increase engagement.
Leverage Urgency and FOMO . Create a sense of urgency or fear of missing out (FOMO) in your CTA. Highlight limited-time offers, exclusive deals, or time-sensitive events to prompt immediate action.
Use Emojis. Emojis can add visual appeal and personality to your CTA. Use relevant emojis to make your tweet stand out and elicit an emotional response from users.
Use Clickable Links. Use Twitter's link shortening feature to make your URLs concise and clickable. This allows more space for your CTA and makes it easy for users to take action.
Tie Trending Topics . If relevant, tie your CTA to trending topics or events to tap into current conversations and attract more attention. Include Images and Videos: Use eye-catching images or videos in your tweets to grab users' attention and compliment your CTA.
Step 8: Review and Launch Your Ad
Click Next to review your final campaign setup. If you'd like to add additional ad groups to your campaign, you can do so here.
Congratulations! You are now ready to launch your first Twitter Ads campaign.
Twitter Campaign Monitoring and Analytics
In your campaign dashboard, you'll find the essential data to optimize your Twitter Ads campaigns.
Here's what your campaign dashboard tracks:
Impressions: This metric shows the number of times your ads have been displayed to Twitter users.
Results: Results represent the actions directly linked to your campaign objectives. For instance, if your goal is to drive website traffic, the results tracked will be link clicks.
Engagement Rate: It is calculated by dividing ad impressions by the number of results achieved.
Cost-Per-Result (CPR): It indicates the average cost per relevant action that your users take when engaging with your ads. You can view these results across all your campaigns or segment them based on:

Different Objectives: Analyze the average results for website traffic campaigns or followers campaigns separately.
Individual Campaigns: Assess how specific campaigns are performing in relation to your goals.
Individual Tweets : Identify which combinations of copy and creative are contributing the most to the success of your campaigns.
Targeting Criteria: Discover which of your targeted audiences are responding most positively to your ads.
With this comprehensive data, you can fine-tune your Twitter Ads campaigns and optimize your strategies to achieve the best possible outcomes.
Last Word on Twitter Advertising Help
So are Twitter Ads worth it? Ads is a powerful marketing platform for businesses to reach their target audience and achieve their advertising objectives.
By understanding the fundamentals of Twitter Advertising, you can maximize your ad spend, increase brand visibility, drive website traffic, and foster meaningful connections with their audience.
Happy X Advertising!
If you're ready to get started with Twitter Ads, Single Grain's

Twitter advertising experts

 can help!👇
Twitter Ads Management FAQs
If you were unable to find the answer you've been looking for, do not hesitate to get in touch and ask us directly.