5 Painless Ways to Build Premium Backlinks and Boost Rankings
Building backlinks may seem intimidating and "high-level," but it doesn't have to be.
Here's how you can go about building premium links to help boost your rankings, even with little name recognition.
What Is Link Building?
Basically when you are looking to rank organically through search engine optimization, you're mainly optimizing for Google because Google is the biggest search engine (at least in America).
Google's algorithm is based off of links. When people are searching for stuff online, you want to rank at the top three positions in the SERPs because those have the highest click-through rate.
Google mentioned a while back that the top two factors to rank well in terms of organic search are:
Content (what you're putting out there)
Links (which are votes of confidence in your content)
Now the question is, how do you go about acquiring these great links?
Keep in mind when you're building backlinks that not all links are created equal.
Click To Tweet
Links are seen as votes of confidence, but let's say you get a vote from the president of the United States, versus a vote from perhaps somebody who's six years old and in the first grade. Totally different right?
Google knows how to discern the authority of each website out there. Every website is weighted differently, so a link from an entrepreneur magazine would be very different than a link from a blog that is first starting out. There are a lot of nuances around link building, but for the sake of this post, we're going to talk about how you can go about acquiring great links. 
Learn More: The Ultimate Guide to Link Building with Content
1) Convince High-Domain Authority Sites to Link to You
I like going to Ahrefs to put in my competitors' URLs and see who links to them. Ahrefs ranks those links based on domain authority.
Remember, the higher the domain authority, the better the link quality.
Click To Tweet
Note that even small changes in domain authority (like from a score of 5 to a score of 6) make a BIG difference. A domain authority of 60 or higher (100 is the highest) is a really good link.
Typically, I hit up each one of the sites that linked to my competitors manually, and I say:
"Hey X, Y and Z, I noticed that you linked to A, B and C website. I want to let you know about our company. We offer this, that and the other that the competition doesn't offer. I think your users will love it. Feel free to check it out. If you want to link to it, great. If not, no worries. Keep up the great work, and I love your site either way! Cheers, Eric."
I know that may sound ridiculous, but it works. Sometimes you may have to send out hundreds of emails, but keep in mind that for every hundred sites you email, roughly three on the low end and seven on the high end should link back to you.
Learn More: Analysis of 1 Million Backlinks: Dollar Shave Club (Part 6/10)
2) Send Outreach Emails
If you haven't tried Outreach, you should.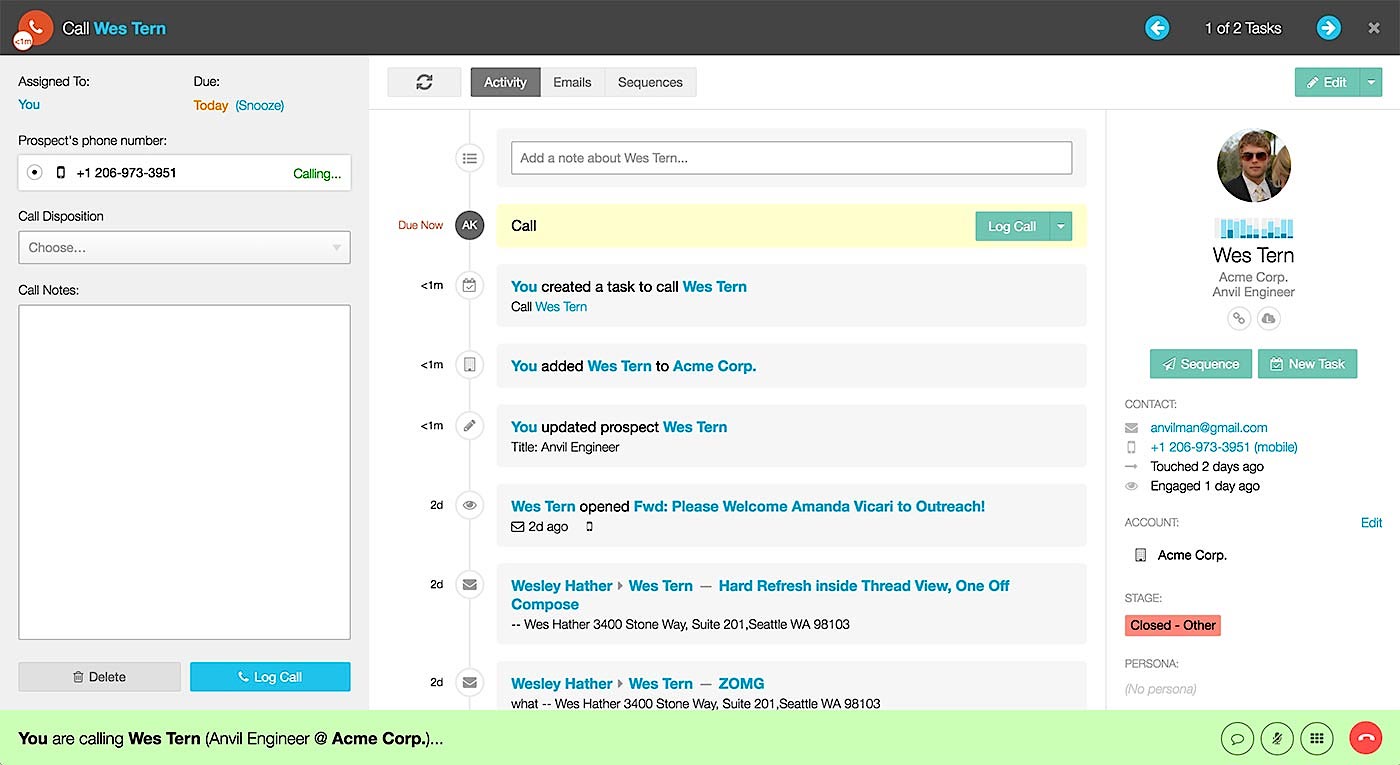 PersistIQ is another good email automator that basically sends out emails for you.
Just remember that whenever you're using one of these tools, you don't want to automate too much. You want to inject a sense of personalization into it, because everybody can sense when something's automated.
I get a ton of emails from people, and I know immediately when something's automated. So just keep that in mind. You want to have an element of personalization.
Related Content: How to Get More Responses From Cold Emails
3) Use the Power of Guest Posting
Another way to acquire a great links is by guest posting. Guest posting is when you pitch and publish a post on a high-traffic site with your byline (and a link of your choice, usually to your website or landing page).
The first step in guest posting is to look for sites that are relevant to your brand and your target audience. You don't always have to aim for the highest-traffic sites or the biggest sites. In fact, when you're starting out, you probably want to go for sites that are a little smaller.
Use a tool like Buzzsumo or even Google search to just look for sites that accept guest posting. Try searching for "Write for us" or "Guest post." There are a lot of different sites out there and they all need more content. Guest posting is another way for them to get more free content and for you to get more links.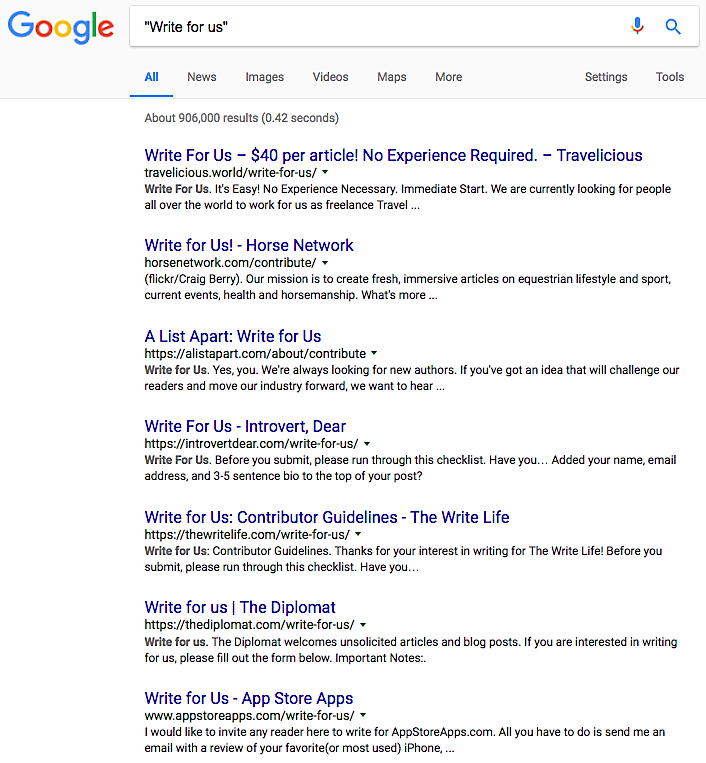 And while all editors will tell you not to send unsolicited manuscripts (i.e., finished blog posts), I think everyone has discovered that the exact opposite works best. After asking about their interest in a potential topic, you can directly send them the post that you've written, which not only shows that you've done the work but it reduces the communication lag typical of guest posting conversations.
Keep in mind that when you're reaching out to these people, you're asking for a favor, so you want to make everything as easy for them as possible. If you give them any additional work (e.g., "approve my pitch before I write a draft, please") it makes them less likely to get back to you.
This goes without saying, but be absolutely sure to proofread your work before you send it in. Nothing says "no thank you" like a post full of spelling and grammatical mistakes.
Guest posting is also useful on many other levels, not just backlinking SEO. Once you've pitched and published enough pieces in a publication, and if your pieces are doing well, they may invite you to become a regular contributor.
Learn More: The Power of Guest Blogging (And How to Get Started!)
4) Take Advantage of Broken Links
The other thing that I love doing is using broken links. Thousands, if not millions, of websites are launched every month. How many sites also go down every day? Probably not as many, but it's still huge. And most of these sites that expire had links into them from other sites. These links are now broken links.
If you just Google "broken link checker," you'll find tons of tools that can help you find broken links within your space. Let's say you're in the travel niche, and you find broken travel links. All you have to do is take the broken URL and put it into Internet Archive.

What Internet Archive does is say, "Hey, although this site's no longer around, this is what that page looked like when it was." You can then make a better version of that nonexistent page and put it on your own site. You don't want to just copy it verbatim, but in essence you want to improve upon it, use your own words, and make it better.
The last step is to reach out by email to each of those sites, saying:
"Hey, I notice you're linking to sites X, Y and Z. I'm not sure if you knew, but that site doesn't exist anymore. They're no longer around or they didn't renew their hosting. I actually have a similar page on my website, and it's more thorough and up to date. I think your users will love it. Feel free to change out the links if you want. It's probably better than linking to a dead site. Cheers, Eric."
It's that simple. If you do it in quantity, you'll get a ton of links. When I send out a hundred emails, 20-30 of them will link back. That's a 20-30% conversion rate, which is extremely high.
Related Content: The Easy Guide to Broken Link Building for SEO
5) Try "Roundup" Building
One final tip is to try out roundup building, which is when you write weekly roundups of news. We used to do one on Growth Everywhere each week called 5 Marketing Bullets: This Week in Growth where I summarized the five marketing-related articles that we loved the most from that week. We actually had people reaching out to us saying, "Hey, we'd love to be a part of your roundup."
Just Google "weekly roundup" with your niche keyword, and then you can start to find more link roundup building opportunities.
This post was adapted from Marketing School, a 10-minute daily podcast in which Neil Patel and Eric Siu teach you real-life marketing strategies and tactics from their own experience to help you find success in any marketing capacity. Listen to the podcast version of this post here.