4 Simple But Useful Conversion Rate Optimization Hacks
Today I want to talk about unexpected conversation rate optimization (CRO) wins and hacks you can use to increase conversions.
What Is Conversion Rate Optimization?
When you have traffic coming to your website, you may generate sales or you may not. You have to test the copy, images, landing pages, messaging—everything on the page—because you don't know if one image resonates more with your potential buyers than another. You don't know if people have a ton of objections. And if they do, are you answering them within your copy?
If you do, of course you'll generate more sales. On the other hand, if people have a lot of questions and you don't answer them within your copy, you're not going to generate many sales. For these reasons, you want to continually test.
Learn More: The Ultimate Guide to Conversion Rate Optimization
4 Simple Conversion Rate Optimization Hacks
1) Test Your Hunches
One of my earliest wins was for an online training site with a lot of different videos. Since search engines aren't able to crawl videos easily (and we had over 600), we made transcripts for the videos and our organic traffic increased by about 10%.
That's not something people would normally point out. Usually, when it comes to CRO, people say things like, "Hey, maybe we should change the color of the button, or maybe we should change the image."
2) Don't Be Afraid to Experiment
One thing that works really well is form fields. When you want a visitor to register for your product or service, you ask them for their name, e-mail and password, right? Those are all form fields.
What Neil decided to do is, instead of saying, "Hey, put in your email and password," he said "Log in with Facebook or LinkedIn or Twitter or even Google." He actually learned this trick from Buffer.
He tested it on Kissmetrics with the word "log in" specifically, not "sign up," and "log in" converted way better. He got about a 90% lift in signups!
Another thing that works really well is using a fill-in-the-blanks story for form fields. For example:
"Hi, my name is ___________ and today I would like you to help me with ___________, ___________, and ___________, and it'll keep going until my budget is ___________ dollars."
We ran this type of story on a consulting landing page and the results weren't too shabby. In fact, we got a 20% lift in conversions by creating a story for contact fields versus just asking leads to fill in their name, e-mail, phone number, budget, etc.
Here's another SEO/CRO win that we implemented on an e-commerce site. They actually had elements, like product descriptions, that were covered by iframes. Now, Google is getting better at crawling these, but at the time Google had trouble crawling iframes.
Because this e-commerce site had so many products, we needed to make sure that content was getting crawled by search engines. We pulled everything out of the iframes and traffic went up by about 25%.
Related Content: 13 Conversion Rate Optimization Case Studies
3) Use the Best CRO Resources
There are a lot of different tests that you can be running and sites like ConversionXL or Conversion Rate Experts are great places to start for that. Another site that shows specific copy tests is Swiped.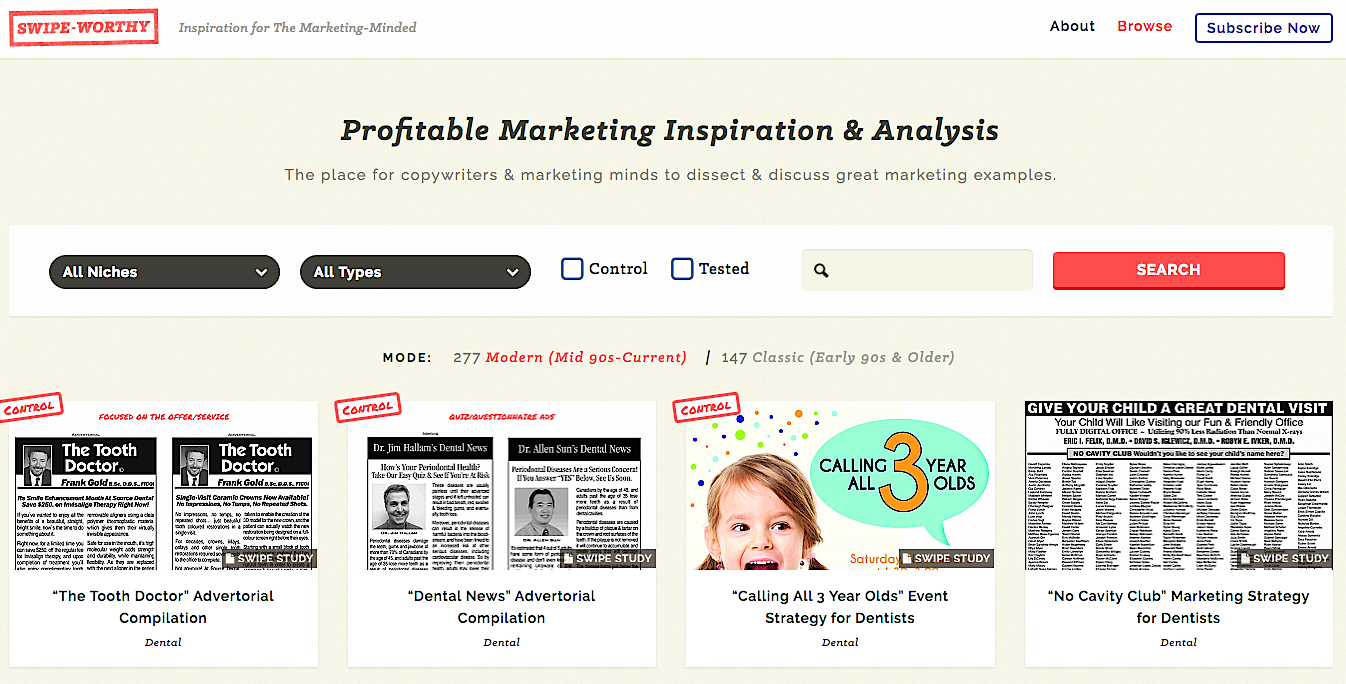 Also, if you use a tool like Wayback Machine, you can look at your competitors and see the different tests they've run in the past. If they're still using the same thing after a long period of time, chances are it's working out well.
Finally, definitely check out Google Search Console. Google shows you your rankings, the position, what keywords are ranked, and what pages you're driving traffic to. You can then take your keywords and run a 30-day test.
Let's say it's the first of August. You can change the title tags by including those keywords that you're ranking for, and make sure they're in your title tag because many times they won't be in there. Seriously, include those keywords into your copy and after 30 days you should notice an increase in traffic.
Learn More: 8 Tools to Help with Conversion Rate Optimization
4) Always Update Your Blog Posts
I do this with a lot of my blog posts. You don't see great results in the first 30 days. You'll see some increase, like 5-10% growth in traffic and rankings, but over a period of six, seven or eight months, you'll notice that the traffic to the posts you tweaked is up by 20-30%.
Here's a final test you can try out that they talked about at the Traffic and Conversion Summit. Back in 2008, Abraham Lincoln's Wikipedia page only had about 2,000 words and then a couple of years later it move up to 5,000 words and a couple years later it went to 10,000 words and now I believe it's at about 15,000 words. The post is continually getting updated. When you're doing that, it moves higher in the rankings because Google likes seeing freshness.
Some people might say, "Well, this isn't really CRO, this is SEO." They're splitting hairs. The fact of the matter is that you're increasing the organic click-through rate for that specific result and you are doing conversion rate optimization. When you're constantly updating a post and keeping it evergreen and updated, you're going to see good results.
This post was adapted from Marketing School, a 10-minute daily podcast in which Neil Patel and Eric Siu teach you real-life marketing strategies and tactics from their own experience to help you find success in any marketing capacity.