We all know that social media outreach is an important component of every business endeavor these days – whether you're using social sites to generate interest in your product or to develop an "online resume" of sorts that'll help to get you hired.
However, there's a big difference between effectively managing your social media activities and simply engaging sporadically with your networks.  You may need a solid social media engagement tool to make all social media ends meet. Good social media outreach requires active management in order to conclusively prove a positive ROI – which is where any of the following tools come in….
1 – Klout

Price: Free
No list of social media engagement tools is complete without Klout, so let's just get this one out of the way right now…
Basically, Klout attempts to "score" social media performance by tracking your engagement on various networks, including Twitter, Facebook, LinkedIn, YouTube, Google+ and more.  Compiling metrics such as number of followers, frequency of engagement and relative standing of your followers, the Klout score is reported on a 0-100 basis with the intent of measuring overall influence on social channels.
On the one hand, Klout is by far the most widely used social media engagement tracking tool, so signing up for an account makes sense in the "see and be seen" world of the social web.  But as far as reporting tools go, the program doesn't offer much concrete data in terms of measuring engagement.  While you can see the change in your overall score, as well as a list of recent interactions, the program can – at best – be used as a general overview to gauge whether or not your engagement efforts are proceeding successfully.
2 – Commun.it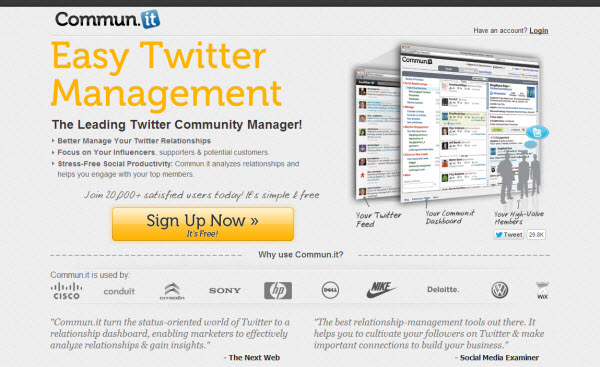 Price:
Free plan available
Paid plans start at $8.99/month
If your social media outreach program focuses primarily on Twitter, Commun.it deserves a place in your marketing toolbox.
Once you sign up for an account, a custom Commun.it dashboard is created for you featuring three columns: your main Twitter feed in the central column, a "Prioritized" Twitter feed showcasing tweets from your most important and influential followers on the right and a series of management tools in the left-hand column.
In this left-hand column, pay particular attention to the following sorting options, which allow you to view specific subsets of your Twitter relationships:
"High Value Members" – This list allows you to pull out tweets from the members of your feed with whom you've had the most interactions.
"Consider to Reply" – This criteria filters out tweets that mention you that you haven't responded to (even adding a handy "Reply" button to the tweet itself).
"Consider to Follow" – This sorting tool pulls a list of Twitter users that you should consider following, based on your existing relationships.
In addition to these and other sorting tools made available by Commun.it, you'll want to check out the program's reporting features, which allow you to compile reports on your profile's activity and engagement levels.  Currently, the free version of the program allows for only 3 days of data reporting, though you can upgrade to a paid plan if you'd like access to longer spans of information.
3 – TwentyFeet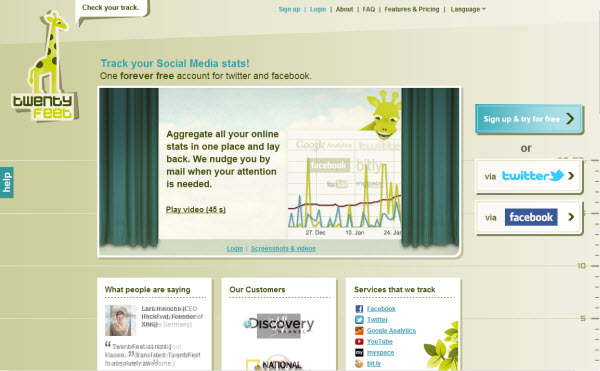 Price:
One Twitter account free forever
Tracking additional services/profiles is paid on a credit basis
Unlike Commun.it, TwentyFeet relies more on metrics reporting than on the tracking of relationships.  If you're a die-hard numbers junkie, this tool absolutely deserves a spot on your list of social media engagement tools!
Currently, the program is able to import statistics from Twitter, Facebook, bit.ly, Google Analytics, YouTube, Myspace, Friend Feed and various RSS feeds.  Once compiled, this information is reported on a series of graphs that measure:
Reputation indicators
Influence indicators
Conversations
Following analysis
Lists
More details
While TwentyFeet doesn't go into detail on who you're engaging with, it does offer a flashy way to visualize your engagement metrics across different networks.  As an added bonus, the program will notify you whenever something noteworthy happens on your profile – and you can even sign up for TwentyFeet's "Battle" program (currently in alpha testing) to race your friends to higher levels of social media engagement.
4 – CROwdbooster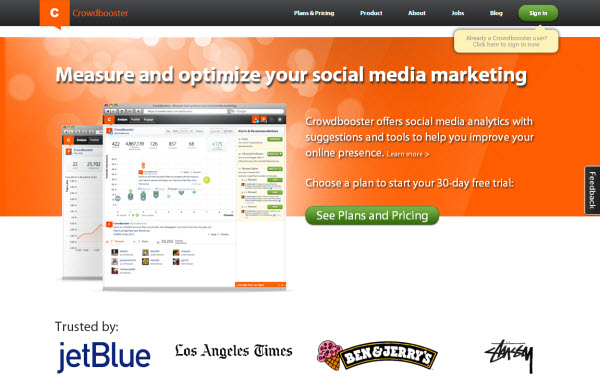 Price:
Free 30-day trial
Paid plans start at $9/month
CROwdbooster functions as an all-in-one database for information on your Facebook and Twitter profiles.  Not only does the program combine many of the features described in the tools referenced above (specifically, the tracking of influential relationships as in Commun.it and the metrics measurements found in TwentyFeet), it offers a number of additional features that social media managers will find helpful.
For example, a few of the different CROwdbooster tools you'll want to pay special attention to include:
Real-time Facebook and Twitter analytics – This allows you to see the performance of your social media updates as they go live, giving you the data needed to plan more effective posts in the future.
Recommended update scheduling times – Based on the activity of your audience, CROwdbooster recommends the times during which your tweets and profile updates will reach the largest number of users.
Internal update scheduling – Using the CROwdbooster interface, you can schedule your tweets and profile updates to go live at specific times.
Personalized recommendations – Based on your social media activity, CROwdbooster develops custom recommendations alerting you to the users and messages you should be engaging with on a higher level.
Though many social media managers will find it frustrating that the program currently only tracks Facebook and Twitter, there's no arguing with the fact that the program's graphic interface is one of the most attractive out there.  If you're called on to present social media engagement reports to your boss or colleagues, you'll definitely want to take a closer look at CROwdbooster.
5 – My Web Career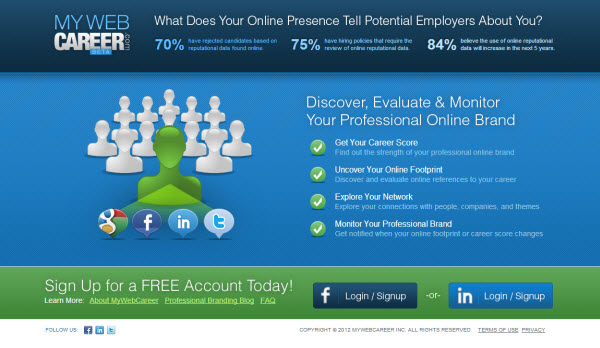 Price:
Free plan available
Paid plans start at $4.99/month
If you're a LinkedIn junkie, tools like CROwdbooster simply won't give you the data you need to actively understand and engage with your professional network.  Don't worry – that's where My Web Career comes in…
My Web Career allows you to uncover and evaluate your career-oriented digital footprint.  The company uses link analysis, visualization and semantic technologies to assign a score to your online presence, in addition to providing recommendations on how to expand your reach even further.
Currently, the tool offers helpful recommendations on three specific areas of improvement:
Your Network – Including how many people you've connected with online and how influential your connections are.
Your Profiles – Including how complete your existing profiles are and where changes should be made to improve the appearance of your profiles for both other users and the search engines.
Your Search Results – Including how and where your social profiles appear in the search engine results pages (available to premium subscribers only).
If you use social media to build your professional network – rather than, say, to respond directly to customers – My Web Career absolutely deserves a place in your social media monitoring arsenal.  But if you're less concerned about the career implications of your social media usage, pass on this tool in favor of others that provide better reporting for Twitter, Facebook and Google+.
6 – Cloze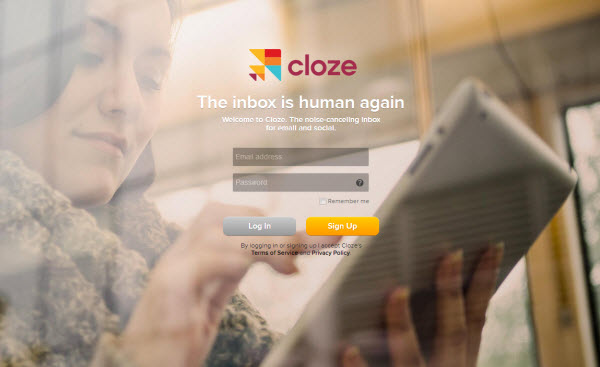 Price: Free
Like My Web Career, Cloze offers a unique way of looking at your digital network and prioritizing the relationships you have with different people.  However, Cloze takes this process one step further by pulling data from your Gmail accounts, as well as your social profiles.
The result is a clean interface that tracks information according to three key areas:
"What's New" – A list of all the different email messages and social profile updates that you haven't responded to (but should).
"Key People" – A list of your 1-100 most important connections (as determined by Cloze or added by you).  Cloze will notify you automatically when something changes with these key relationships and will remind you to follow up with them if you've missed an engagement opportunity.
"All People" – A list of everyone you've engaged with recently, how frequently you've engaged with them and how your relationship is trending, compared with others in your profile.
Unlike some of the other tools listed above, Cloze doesn't offer metric tracking tools that show you how your social media accounts have performed over time.  Instead, what it does is help you to improve the relationships you have with those who are already in (or who you'd like to be in) your networks – helping professionals at any level to make the most out of the social web.
7 – Sprout Social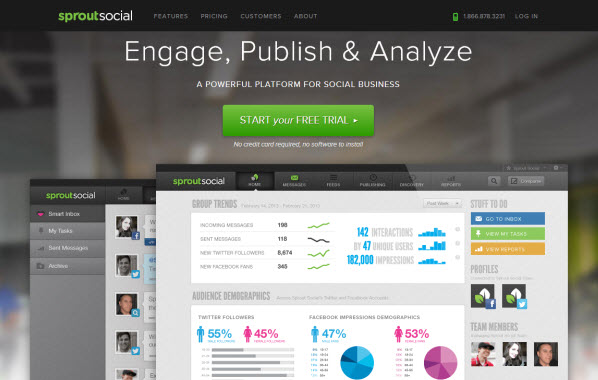 Price:
Free 30-day trial
Paid plan

s starting at $39/month
Finally, let's look at the "mac daddy" of all social media engagement tracking tools – Sprout Social.  At a minimum investment of $39/month, the program isn't cheap, but you do get a lot of bang for these bucks.
In its current incarnation, Sprout Social includes the best features of all of the different programs listed above.  Pulling data from your Twitter, Facebook, Google Analytics, LinkedIn and Google+ accounts, the program's metric monitoring tools enable you to track who's engaging with your brand, how your scheduled status updates are performing and what people are saying about your brand online.
Basically, if there's a type of social media data you want to track, Sprout Social can help you do it!
In addition to these primary features, Sprout Social is set up to facilitate group management of social profiles, making it an ideal solution for larger companies and social media teams.  Of particular interest to these users will be the following advanced features:
"Single stream" inbox technology, which enables Sprout Social users to view social media interactions as they occur – preventing teams from missing any important customer communications.
Collaboration tools, which enable groups to effectively divvy up social media tasks and work more efficiently overall.
Mobile app interfaces, which allow social media teams to manage their profiles anywhere, at any time.
Again, Sprout Social isn't cheap, so put some time into determining whether your company truly needs the features this program contains – or whether you'd do just as well with a more cost-effective alternative.  If your social media management needs are more complex, though, Sprout Social might just be the program for you!
Of course, these are only a handful of the different social media engagement monitoring tools out there.  If you have another recommendation for a program you like, please share your thoughts in the comments below!