Introduction
Digital marketing agencies can help you skyrocket the ROI of your marketing campaign without having to spend tons of money or time to assemble an in-house team.
In this post, we'll talk about what digital marketing agencies do — specifically, what services you can expect them to handle for you with a detailed description of each one.
But first…

How to Run a Marketing Campaign
Here's a
general list
 of what goes into a marketing campaign:
Understand your customer's behavior
Before running a successful marketing campaign, you need to have deep insight into your customer's behavior. Most marketing messages end up sounding generic because most companies don't take the time to fully understand their customers and the stories behind their problems.
Create processes
Scaling anything requires proper documentation of systems, processes, and workflows that go into completing a specific task. That means having a structured system to follow when you create a blog post, run a PR campaign, run social media promotions or paid ads, and so forth.
Gather the right tools
Inbound marketing campaigns require a variety of tools from start to finish. For example, you might need e-mail marketing tools (like MailChimp or Drip), analytics tools (like Google Analytics or KISSmetrics), communication tools like Slack, and more. These tools help accomplish your key tasks and hit your goals more efficiently.
Be consistent
One of the most important skills when it comes to inbound marketing is patience. Typically, noticeable results only come in after several months. Some of the most successful companies have been consistently putting in effort over the course of many years: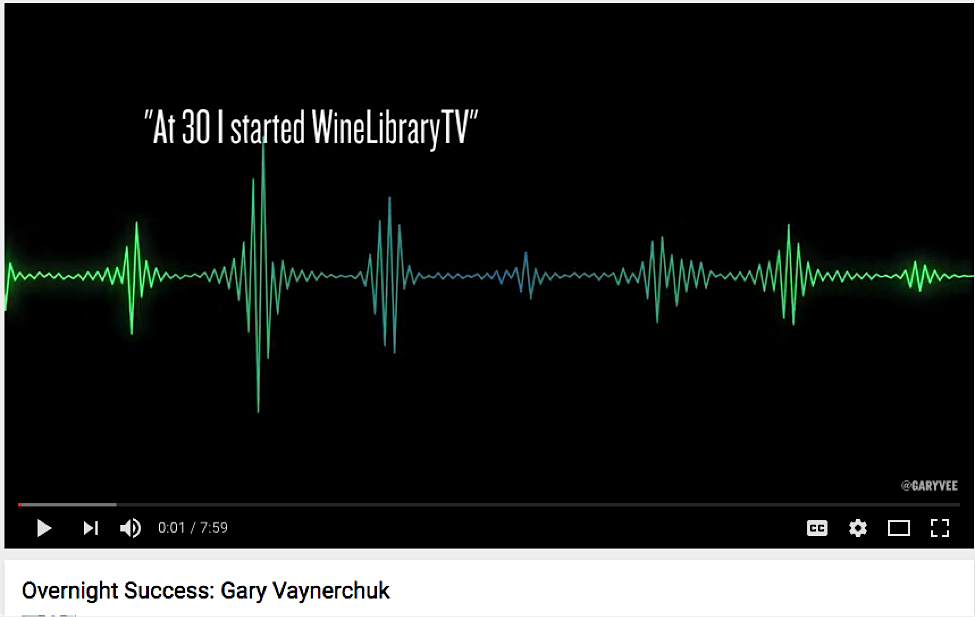 Produce high quality content
It's easy to write random blog posts, but can you write quality content that your target audience loves and needs to read? That's what separates decent blogs from truly great ones.
Pull from past experience
Lastly, you should make sure that you have experience designing and running some portion of inbound marketing campaigns.
Hitting all these points takes time. It's not easy to publish high-quality content consistently or document rock-solid processes that keep your systems on track.
Unless you're committed to learning everything you need to know, hiring an agency is a great way to avoid the cost (of time and money, not to mention sleepless nights!) involved with getting yourself and your team up to speed. Rather than getting sidetracked with the marketing of your brand, you could be spending all this time on other important things you have to do in business (like closing deals or getting investors).
If you hire a digital marketing agency, you'll get a team of experts who work for you every single month so you won't have to worry about assembling your own team. In fact, you'll have more people working for you to get results, which will help accelerate your results.
However, the downside is that you won't be able to oversee every tiny detail of what the agency does for your company on a day-to-day basis. Because of that, there is a risk that the relationship won't work out, which is why it's important to choose an agency that also vets you as a client to ensure that the relationship will be a successful one.
Since entrepreneurs tend to crave control, this might be be more difficult than it sounds for some people!
Some people might think the expense is a downside; however, it can often be more expensive to hire and train a team in-house to fill necessary roles.

Why You Should Hire an Agency
The biggest pro of hiring an agency to handle your marketing is that you can spend all your time and effort on running your business. That means getting more investors, closing more deals, forming new partnerships, setting the long term vision, etc.
You can work on the big picture without getting bogged down in the details of learning how to run an Facebook paid advertising campaign, for example. You don't have to worry about hiring new marketing employees, growing your marketing department, or losing ridiculous amounts of money on bad full-time hires.
In fact, the average ROI of a bad hire is -298%. And 66% of U.S. employers say that bad hires can cost up to $50,000 each. That's way more expensive than hiring a marketing agency.
Assuming you hire an agency within the $2,000-$10,000 per month range (which are reasonable rates for retainers, depending on what you're looking for), you'll get access to a team of experts with a variety of skills and specialties for the price you'd normally pay for one or two mid-level full-time hires.
For example, Amp Agency helped Hasbro better understand how to optimize their marketing spend through advanced data analysis done by statisticians.
They analyzed third-party data to uncover browsing patterns of customers before they even landed on Hasbro's site, conducted high-value behavior analysis to map out user interaction throughout the purchase process, and even mapped out high-level econometric models to see how ads performed on different marketing channels.
This is something that would've been extremely expensive to replicate in-house.
Some companies start out by hiring interns or junior employees. However, as the company scales, it's important to either train them to handle higher level tasks or hire an expert.
Most marketing budget for companies gets tied up in payroll and salaries, and the actual marketing suffers. But by hiring an agency that's focused on delivering ROI, you can put yourself in a position where you'll get significant ROI from every dollar you spend.
Now let's talk about the types of services that digital marketing agencies offer, and what you can expect when you hire them.
Digital Marketing Agency Services
SEO
Getting your articles to rank high in search isn't just about building "brand awareness" or getting more page views. Because 72% of people turn to Google when they first realize that they have a problem, it's important to leverage SEO to present the right type of content to the right people at the right time in their buyer's journey.
Digital marketing agencies can do any or all of the following to help boost your SEO:
Infrastructure analysis.
Your website's infrastructure is what provides information to search engines about what they're looking for when crawling a site. There are various technical requirements when it comes to your site's infrastructure that you need to follow to get the best possible rank.
Link profile audit.
SEO audits help you understand where your backlinks are coming from and which types of sites are most likely to link to your content. This way, you can improve the quality of your links and double down on links that perform well.
UX evaluation.
A surprisingly overlooked SEO factor is a UX evaluation. Search engines have lately been emphasizing site user experience when it comes to prioritizing rankings, so it's important to have a good layout so that customers can easily perform the desired actions.
SEO campaign management.
Running an effective SEO campaign is not just about getting backlinks or stuffing keywords into your post. It's about creating content that your target audience finds useful, and helps them move down your funnel.
Broken link identification and outreach
. Finding broken links and reaching out to site owners are quick ways to boost the number of backlinks you get to your site.
Before hiring an SEO agency, it's important to know whether they know how to calculate ROI in the right way. Here's a general way to calculate ROI from an SEO campaign:
Anticipated ROI = anticipated revenue from SEO efforts – proposed cost of SEO project / proposed cost of SEO Project.
Let's say you run an e-commerce site. Your anticipated ROI can be calculated based on the average monthly visits to your site, average conversion rate of the site, and average order value.
For example, suppose your average monthly visits are 50,000, your conversion rate is 0.68%, and your average order value is $176. And your agency tells you that you might have to spend $20,000 for your SEO project.
From there, you can determine your "break even" point. This is the point at which you will generate a positive ROI from your agency and can be determined by proposed cost of project / average order value. If your proposed cost of project is $20,000 and your average order value is $176, then your break even point is 114 sales.
You can also determine the additional traffic you need to break even by number of orders needed to break even / e-commerce conversion rate. So if you need 114 orders to break even, and your conversion rate is 0.68%, then you need 16,765 visits to your site to break even.
Of course, this is just a break even rate. To see significant ROI from the campaign, you'd probably want to see at least double those results as a client. So your ideal number of visits should be over 32,000.
This is just one example of how to calculate expected ROI for a marketing campaign, so you know exactly what results to expect from your marketing agency.
Infographics
When done correctly, infographics can skyrocket the number of shares you get on your content. In fact, infographics gets the highest number of shares, on average.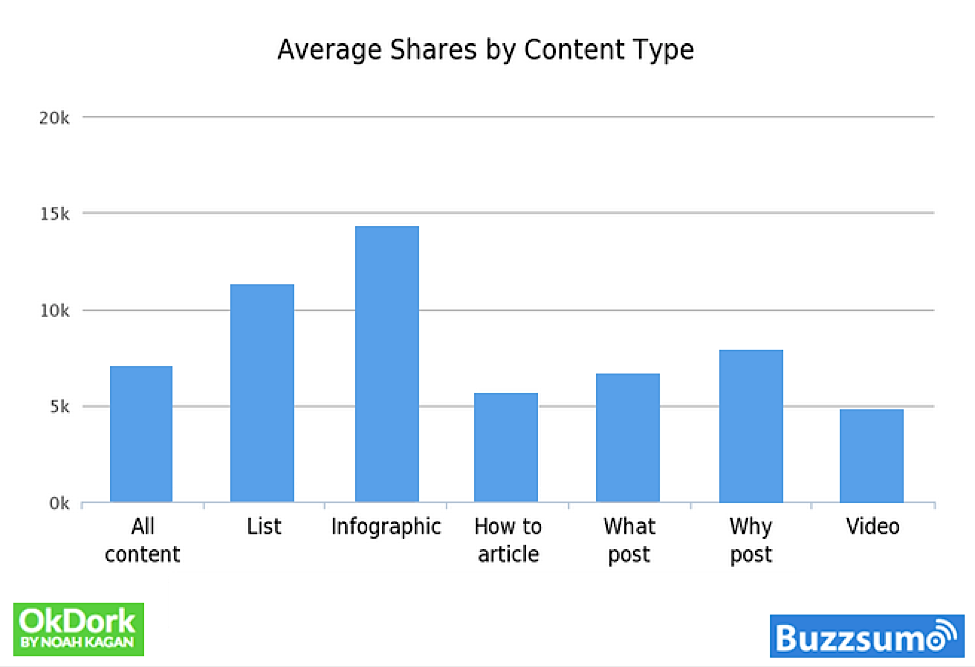 But there's a big difference between well-researched, high-quality infographics and most infographics that are cobbled together by those who aren't graphic designers.
When it comes to infographic creation, here's the overall process:
Select the right topic. While infographics are the most widely shared content, you can't just throw one up and expect it to go viral. You have to understand your customer's pain points at a deep level and create graphics that capture their attention. For example, here's one that we produced called The Anatomy of Going Viral [infographic].
Perform in-depth research
Once the topic is selected, it's time to find the right data points for each "section" of the infographic so that it adds value for readers.
Wireframe
Once the sections of the infographic are defined, you have to start mapping out how the infographic will actually look when it's complete so that it has maximum visual impact and reflects your brand.
Design
The wireframe is then filled out with images and data displays.
According to Social Media Explorer, there are a few major metrics that can be used to measure the value of your infographics. For example, you can measure you awareness and engagement in a variety of ways, such as:
Inbound links
You can use tools like Moz or Google Analytics to track how many sites are linking back to your site. This also helps you measure how well you're doing when it comes to your SEO efforts.
Page views
As long as the rest of your funnel is in place, top of the funnel metrics like page views can make a noticeable difference to your bottom line.
Searches
Through Google Analytics, you can also see how many people are finding your infographics through specific keywords.
Average time on page.
This statistic can also be measured through Google Analytics. This way, you can measure the boost in engagement you're getting from your infographic.
Facebook Advertising
Facebook's targeting features combined with their massive user base make it a fantastic platform for virtually any business to see ROI.
You can target by gender, education level, income, location, interests, status updates, and even major life events. Facebook ads can be even more powerful than other forms of targeted advertising because of the amount of data Facebook has to pull from.
Calculating your Facebook advertising ROI is more straightforward compared to calculating ROI for many other marketing strategies.
Facebook has its own built-in conversion tracking that tells you exactly how many people clicked on your ad, visited your landing page, and signed up for your free content.
For example, you can gauge your number of conversions, your cost per conversion, your total reach, and more: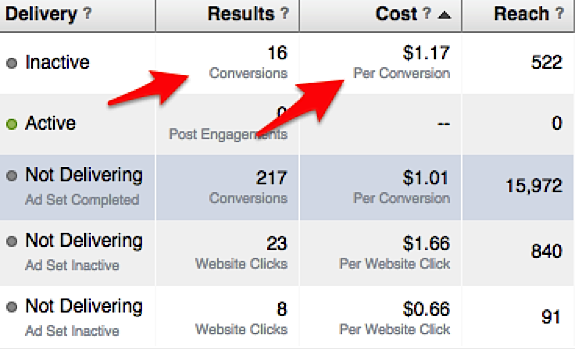 Video Advertising
People's attention has been moving from television to online media platforms like YouTube. In fact, YouTube reaches more 18-49 year olds than the top 10 primetime TV shows in the U.S. This huge audience combined with increased engagement that comes with video marketing also makes video ads a great place to see ROI. Consider this: video in e-mail leads to a 200-300% increase in click through rate and including a video on a landing page can increase conversions by 80%.
Video can also help cement your company's message in the minds of your target audience. People are only likely to remember 10% of the information they hear three days later. However, if you pair information with video, then people remember 65% of information.
Video ads can be targeted by demographic, online behavior, location, interest, YouTube channel, and more.
There are different options of video production that each agency can provide for you. For example, they might create customized text advertisements, retarget videos on Facebook or YouTube, optimize videos for different platforms, produce pre-roll and mid-roll videos, etc.
Measuring ROI for video marketing isn't as straight forward as paid advertising. In fact, measuring ROI for video is the biggest obstacle to adoption of video marketing in 44% of small-medium businesses.
According to Animoto, there are a few metrics to keep in mind when measuring your video marketing return:
Lead generation
One of the biggest uses for video marketing is to generate leads. For example, having the right explainer videos can help you get more opt-ins on your landing page. Some e-mail hosting platforms give you the option to capture e-mail addresses within the video itself, like Wistia: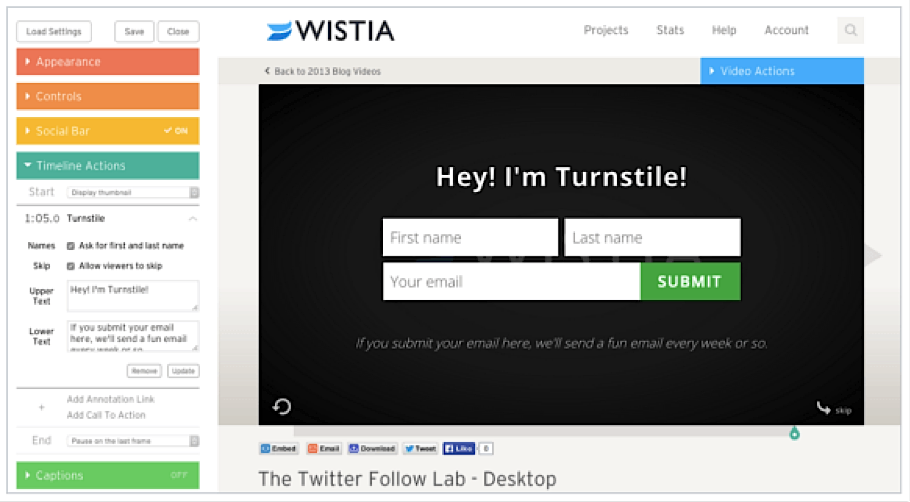 Tracking links
You can also understand how much traffic your videos are driving to your website and landing page by adding UTM parameters alongside your videos to track them in Google Analytics. So if you run different ads that link to your videos, you can embed a different UTM parameter in each link in order to track how many people come from each traffic source.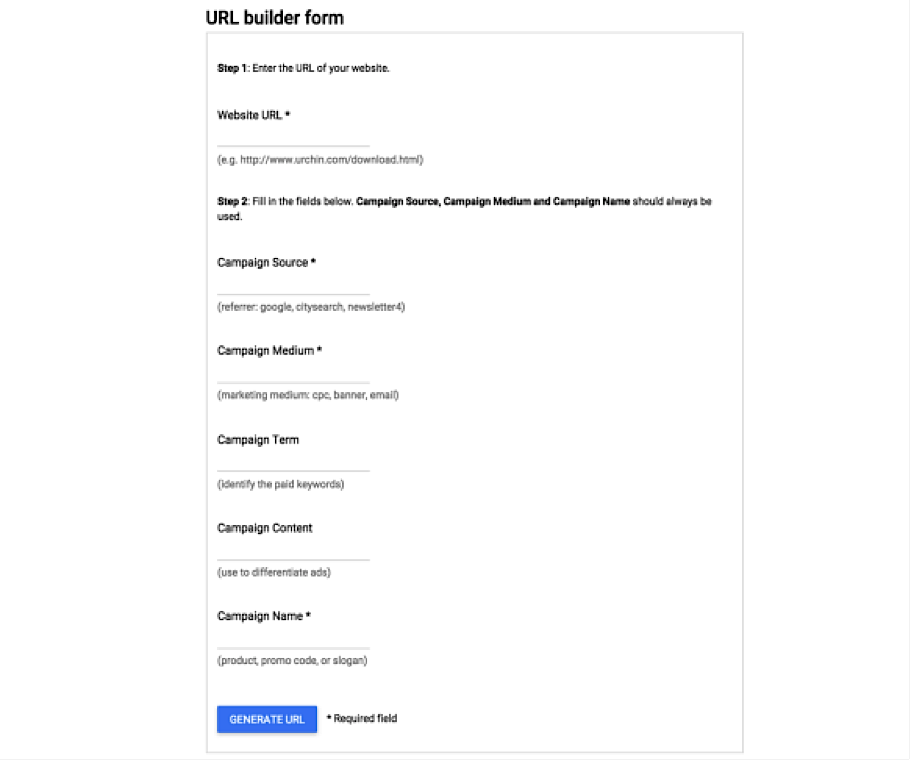 Tracking revenue
Tracking revenue generated through video marketing is quite difficult. But one way you can do this is by comparing revenue generated by products before the video was added on the product page with after the video was added.
Agencies might have different ways of measuring return on investment, but what matters most is that they focus on the numbers that affect your bottom line as much as possible, and not just how many "likes" it gets.
Mobile Marketing
Over 50% of mobile searches lead to purchase. When that search is related to a local business, that number is even higher: 78% of local-mobile searches result in offline purchases, and search terms indicate high intent to purchase as well.
There are a variety of options that agencies have when it comes to mobile advertising. They might focus on things like mobile YouTube ads, in-app advertising, campaigns to boost mobile app installs, and so on.
Content Marketing
Content marketing is the fuel that built many multi-million dollar businesses. Most companies think that creating content means writing a few blog posts every week and slapping them up on a website. But those who care about sales over vanity metrics realize that it's more complicated than that.
Services that agencies might offer within content marketing include blog post generation, infographic creation, SEO writing, content analysis, and social media promotion.
E-mail Marketing
E-mail still generates the most ROI for marketers, even with all the new social networks popping up. In fact, for every $1 spent, email marketing generates $38 in return.
The audience for e-mail is also significantly larger than any other social network. In fact, according to KISSmetrics, e-mail has nearly three times the number of accounts as Twitter and Facebook combined.
Also, consumer behavior around e-mail is different from other platforms. Business people often use e-mail to have private, one-on-one conversations with both their colleagues and with strangers. It's unlikely that the same people would turn to Facebook for similar conversations.
This is what makes e-mail a transactional medium. People are primed to expect offers, deals, and cold e-mails, and they expect to be able to buy things through e-mail. On a site like Facebook, however, users are only there to chat with their friends and see what everyone is up to. They're in a different frame of mind.
Agencies might offer services like list building, engaging with your list so that it doesn't go cold, segmentation, or autoresponder sequence optimization.
Conversion Rate Optimization
At the end of the day, there's one main factor that determines if your website gets sales or not — and that's whether or not your visitors take the action that you want them to take. That means having the right site UX, form design, and other elements to boost your lead generation and conversions.
A big part of conversion rate optimization is running tests in the right way. For example, it's easy to sit around and test variations on button colors all day to see what converts better, but it's also important to understand how to communicate your brand's message in a concise way.
The tagline that KISSmetrics used for a long time was: "Google Analytics tells you what happened. KISSmetrics tells you who did it." A concise, descriptive statement like this will do much more to boost conversions over simple design tests.
Agency services in this area could include conversion path analysis, CRO goal setting, identification of conversion metrics, or collecting data from website visitors.

Conclusion
Digital marketing agencies offer a wide variety of services. You can get SEO help so you skyrocket your rankings in search, get paid traffic support so that you don't waste money trying things that don't work, or practically anything else when it comes to marketing.
The main thing to look out for when hiring a digital marketing agency is how much they focus on ROI and how they measure it. At the end of the day, that's all that matters when running a business.