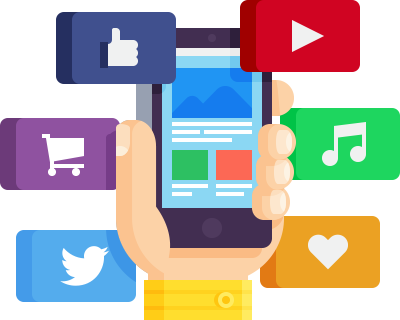 90% of mobile searches lead to action, over 50% lead to purchase. That's a telling sign of where things are going.
At Single Grain, we see mobile advertising as the way of the future – not something that businesses should "tack on" as an afterthought. The fact that most of us spend our days with our smartphones and mobile devices glued to our hips represents a huge opportunity for businesses to increase their incoming leads and sales. By taking advantage of mobile's unique location and social interaction features, we're able to create custom campaigns for our clients that lead to major business results.
How Can Mobile Help My Business?
There's no "one size fits all" approach to mobile advertising, as this unique platform offers a wide variety of ad options and formats. That's why we customize our mobile campaigns to suit the needs of your potential clients by including any of the following ad types:
Mobile YouTube Ads
In-App Ads
Click-to-Call Promotions
Click-to-Download Programs (mobile app installs)
Product Extension Ads
Video Ads
Mobile Search Ads
Sitelink Ads
Expandable Video/Image Ads
Instant Preview Ads
Promotion Code Ads
FAQ
Do you offer guarantees?
Single Grain does not offer guarantees. If we were able to offer guaranteed results on any kind of advertising we would be sitting on a beach right now ?
How long will it take to get results?
With typical paid acquisition campaigns you can expect to see results in the first 3 months.
How do you charge?
Our fees are based on a monthly retainer. Typically a percentage of your advertising spend (or a small management fee).
What makes you different from other agencies?
We're not just paid acquisition experts, we have people on our team that have worked for tech startups to large companies and we have a growth oriented mindset that you'll be hard pressed to find at other agencies.
Just a Few of the Companies Whose Revenues We've Grown
We Do the Same for Lots of Smaller Companies, too
Uber
Amazon
Recurly
SalesForce
Trustpilot
Intuit
We really lean on Single Grain as an extension of our team, which enables us to increase our impact without increasing our headcount.

Single Grain team have been instrumental in providing us with forward-thinking, growth-impacting marketing support. Their expertise has helped Nextiva grow its brand and overall business.

Single Grain has been an important force for guiding our digital marketing. They act like an extension of our team, proactively coming to us with ideas and fixing issues as they arise; exactly what we look for in partners.

Single Grain has been key in helping us generate B2B engagement across digital channels. We can count on them to bring new ideas to the table consistently and that's why we love working with them.

Not only did Single Grain deliver strong results — markedly increasing unique, new web traffic and engaged users — but they provided us with key learnings about our messaging that we are now using.

SingleGrain has been there to help take a lot of the stress out of the process. We can always count on them to deliver high-quality content on time, and knock it out of the park.

What stands out is that they have a skilled team with subject matter experts in each digital marketing discipline. These guys are very good.

Single Grain has been the strongest outside force in helping our business "level up". Since engaging with Single Grain our revenue has increased more than 300%.
Friendly Chat
Marketing Gameplan
Low Hanging Fruit
Full Rollout
Learn & Adjust
Can We Help with Your Unique Situation?
Let's have a friendly chat to find out
Top marketing content from our blog