Why T-Shaped Marketers Make Millions and Most Specialists Don't
Let's talk about the importance of being a T-shaped marketer.
What's a T-shaped Marketer?
Simply put, most marketers fall into two categories: specialists or t-shaped marketers, also known as growth hackers. Check out this post for a full description of growth hacking.
Growth hackers understand the different disciplines of digital marketing (the horizontal part of the T), from the concepts behind email marketing to pay per click and marketing funnels, but they also specialize in one area specifically (the vertical part of the T). Hence, T-shaped marketer.
The difference between a T-shaped marketer and a specialist is that the specialist might understand a little bit about the other areas of marketing, but not too much. If you're on a budget, you want someone that's a T-shaped marketer because they bring a lot more benefits to the table.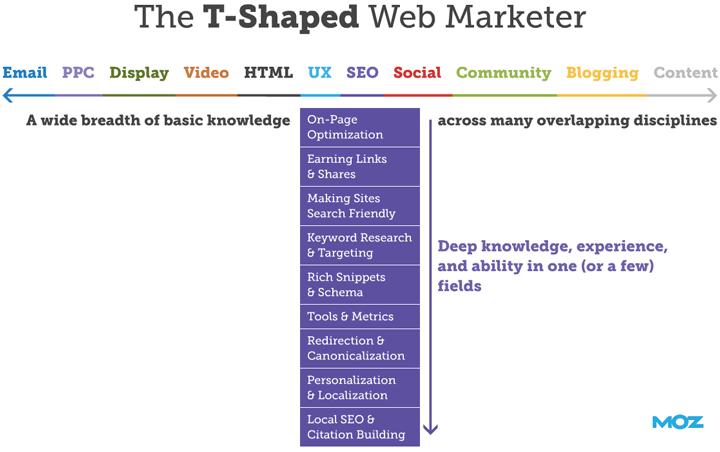 Source: Moz
Why You Want to Be a T-shaped Marketer
If you're a really large corporation like Microsoft and you have tons of divisions and layers and 100,000 people, by all means, hire some specialist marketers. But most companies aren't that size and, especially if you're starting off, you need a T-shaped marketer. Or, if you're getting into the marketing space, that's what you should aim to be.
Why?
If you have a good understanding of a lot of different digital marketing concepts, then when one tactic doesn't work, you'll know how to leverage others. With marketing, you have to work across channels. In other words, your paid ads affect your landing pages. Your email marketing affects your conversions. Your landing pages affect your paid ads. Your SEO affects your conversion optimization. Your SEO also affects your social media marketing and vice versa.
If you don't know how all these channels work and how they can be integrated together, you won't grow as fast.
Related Content: Effective SEO Techniques that Work in 2017
The Drawbacks of Marketing at a Large Corporation
As a marketer, I've been part of organizations that have thousands of people. Here's the thing: you're embedded in one area and put on this island and that's just how it works. You're scheduled into meetings and things like that, but you aren't really allowed to explore other areas.
I remember in one meeting I was sitting with the product team and brought up the idea of A/B testing. The product guy stepped in and said, "Well, that's not really our role." You have a lot of politics to deal with when you're working with a big company.
On the other hand, in my tech startup days, I really had to make use of all of the skills I had picked up. I had to roll up my sleeves and do paid ads, SEO, as well as manage the editorial team while hiring other people for different roles and managing them, too. When startups are hiring VPs of marketing or marketing leaders, they're looking for people who can also execute.
Being a T-shaped marketer is going to help you get hired, especially when you go to a startup, because you're going to be required to do a lot of different things. I remember at one tech startup there were a couple people in the running for a marketing position, myself included, and the CEO said to me, "Well it's a good thing that you're not a one trick pony."
In the Long Run, T-shaped Marketers Are Worth More
If you're a T-shaped marketer, your value is going to be much greater. When companies are laying off people or when they're trying to figure out who to hire for a small company, they're going to look for someone like you versus a specialist due to the fact that the specialist can only do one thing.
The thing about being a specialist? Marketing changes and it changes a lot. For example, back in the day, affiliates used to make all their money purely from Google paid advertising. Paid advertising on Facebook is quite a bit different than Google AdWords, so if you're really good at Google AdWords, it doesn't mean you're going to be good at Facebook advertising.
If you only know Google AdWords and they change the way the algorithm works, the type of companies they're going to allow bidding, or if it gets too expensive, then you're out of luck. What could you do? You're pretty much going to be surpassed by everyone else. That's why you need to be well rounded.
Related Content: How to Set Up Google AdWords Ads in Google Maps
But if you're a T-shaped marketer, everything's different. In fact, in the exact same situation (when a fundamental marketing technology or strategy shifts), you're going to be able to contribute to all these other departments. When layoffs are happening and the company is downsizing, you're going to be able to jump into other areas and fit into another slot pretty easily.
Every single person I've interviewed for the Growth Everywhere podcast has told me that they're looking for more well-rounded marketers. They don't want just specialists; they want people who have done multiple things in marketing, not just one thing at a time.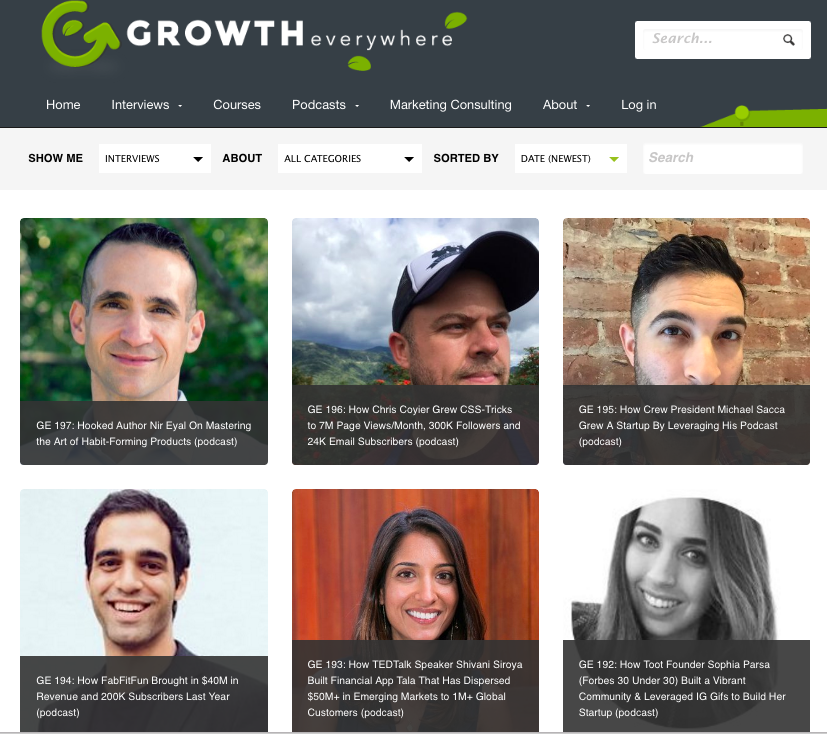 Unsurprisingly, T-shaped Marketers also Make More
And when I look at the marketers who make the most money, they're typically not specialists. Specialists do well in a 9-to-5 job and, don't get me wrong, you can make six figures as a specialist. But it's really rare for a marketer to generate millions of dollars unless they're a T-shaped marketer.
When I was at the last Affiliate World Europe Conference in Berlin, there were a ton of people there making $150,000-$400,000 per month in profit. That's not bad for a one-to-four-person operation.
On the flip side, I was at an e-commerce conference a couple months ago and everybody was talking about Amazon. Well, if Amazon dries up, what's going to happen? It's better to continue to learn and pay attention to your surroundings.
Because if you wait until the last minute, it will be too late to catch up.
This post was adapted from Marketing School, a 10-minute daily podcast in which Neil Patel and Eric Siu teach you real-life marketing strategies and tactics from their own experience to help you find success in any marketing capacity. Listen to the podcast version of this post below: