You're writing content. You've perfected your SEO. You've covered all the usual marketing channels, but you still feel like you aren't seeing the kind of growth you know your company is capable of.
If you feel like you're struggling to produce results, you're not alone. Research shows that 76% of people think marketing has changed more in the past two years than it did over the previous fifty.
Just think about it. Fifty years ago, marketers had word-of-mouth advertising, print, TV and radio to work with. Today, you've got dozens of new channels to manage – and even if you're using all of them, it can still feel difficult to differentiate your brand from your competitors and connect with the people who need your products or services.
If you're in this position, you've got to start thinking outside of the box when it comes to attracting new prospects. If you aren't using any of the seven strategies I describe here, take a few minutes to evaluate whether or not they make sense for your customers and your company.
Strategy #1: Send Text Messages
I got this idea from Neil Patel, who's tested sending really simple text prompts to his contacts. Here's how the conversations usually go:
A member of Neil's team will text a message like: "Eric?"
His contacts typically respond with something like: "Who's this?"
That gives his team the opportunity to respond with something like: "Hey, I'm [name] from Neil Patel's team. I just wanted to talk to you in regards to [some program or offer]. Let me know when you're free to chat."
In Neil's experience, it's a great way to get in touch with more people, especially since most of your contacts will be more likely to open text messages than they will emails from random people.
Having said that, it's important to remember that you still have to comply with any applicable regulations (such as the Telephone Consumer Protection Act, if you're in the U.S.), which affects whether or not you can text prospects or customers. Generally, you need to have earned their consent to receive text messages at some point (which isn't necessarily the same as opting in to receive marketing emails).
One way to get around this is to incentivize new website visitors to opt in to receiving text messages from your brand in exchange for some kind of promotion. Then, wait a few weeks. When you reach out again with a personalized message, enough time will hopefully have elapsed that you're able to use the conversation structure above.
Strategy #2: Use Facebook Messenger
Facebook Messenger is another really underrated avenue for connecting with prospects. But if you use a tool like MobileMonkey or ManyChat, you can broadcast messages to them once you've collected their information. Think of it like an email broadcast, except with higher open rates.
Again, you'll need to get people's permission to reach out in this way. But once you've earned their opt-in, you can see huge returns with these types of messages. As an example, Lego's Facebook Messenger chatbot campaign produced:
3.4X higher return on ad spend for click-to-Messenger ads (compared to ads that linked to the LEGO website)
71% lower cost per purchase when clicking through to the Messenger experience
1.9X higher value for website purchases made from click-to-Messenger ads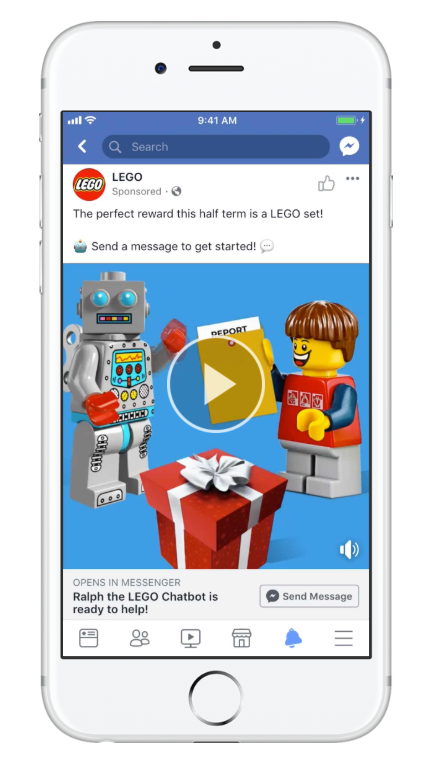 Building a Facebook Messenger chatbot may be easier than you think. ClearVoice claims it can be done in about 10 minutes, though timeliness isn't the only factor here. If you're going to automate engagement in this way, make sure that you've built a system that represents your brand as well as you would if you were talking to message recipients face-to-face.
Dive Deeper:
Strategy #3: Schedule Calls
Another thing you can do when prospects reach out to you is to direct them to a calendar system that'll have them set up a call as soon as they enter your funnel. There are tons of different systems that will help you do this automatically (ScheduleOnce, Calendly and Acuity Scheduling are great examples), and once they're set up, that appointment goes into their calendar. Then, you can follow up with text-based reminders.
For example, you could reach out to them:
The day before the call
An hour before the call
15 minutes before the call
Not only do all these reminders increase the odds that your prospect will show up for their scheduled session, it also gives you an extra three touch points that keep you top-of-mind. Even better, you've found your way into their text messages, so now messages sent through that channel won't feel as jarring to recipients.
Strategy #4: Broadcast Text Messages
Rather than texting contacts on a one-to-one basis, you can also use tools like CallLoop to broadcast text messages to an entire group: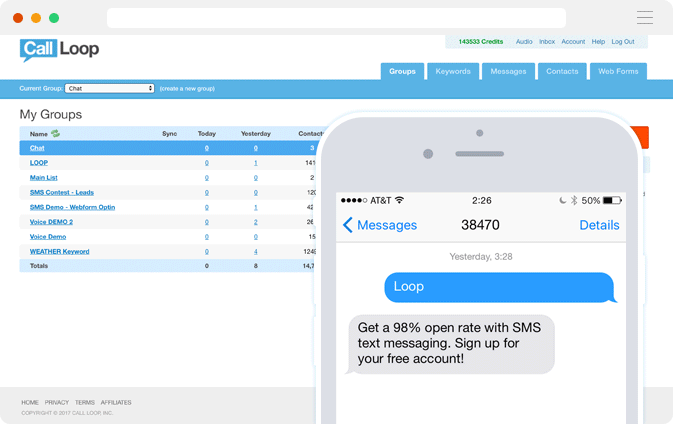 A while back, I was seeing text message open rates in the high 90% range using this service. And I understand why. I don't always respond, and it can take me some time when I do, but I definitely read all my text messages.
Research backs this up. Data from Juniper Research shows that 97% of SMS text messages get read and 90% of those are read in the first 4-6 minutes upon delivery.
That said, you do have to be careful to make sure that whatever system you're using is in compliance with whatever the rules and regulations are in the countries you're sending to. But any broadcast text service you use should be able to help you figure out what's kosher and what you can't do.
Learn More: 
Strategy #5: Call Back Quickly
It's kind of a no-brainer to say that if you want to connect with more people, you need to actually get a hold of them. But what most people don't realize is how much the timing of those connections matter.
If someone calls in to your business or fills out your contact form, it can be easy to put off getting back to them. We're all busy. We all have a million things on our plates, and it doesn't always feel worth it to stop what we're doing to respond.
The problem is, when someone's engaging with your company, not only do you know they're free, but you know that they're engaged. And if you don't get back to them right away, they're going to take that interest over to your competitor's website and reach out to them instead.
In fact, according to research from Harvard Business Review:
37% of companies responded to their lead within an hour
16% responded within 1-24 hours
24% took more than 24 hours to respond
23% of the companies never responded at all
And, most importantly, HBR found that:
Companies that returned potential customers's calls within an hour were almost 7X as likely to qualify the lead as those that returned the call even one hour later — and over 60X as likely as businesses that waited 24 hours or more.
It doesn't matter if you're a small mom-and-pop shop or an enterprise company: If you make it a priority to get back to any prospects within five minutes of their contacting you, the number of people you're able to connect with should be at least double.
Strategy #6: Throw a Live Event
You may have heard that Neil and I are throwing a live event in June. We're excited to be able to share our knowledge and help educate attendees, but I'll be honest with you: One of the reasons we're doing it is that running a live event lets us connect with more people – and more potential leads – in person.
We're not alone. Sarah Bolt, Events Manager at InsightSquared, shares in an interview with Bizzabo:

Of course, you don't have to rent out a big hotel ballroom or plan a fancy event to take advantage of this effect. It's all about creating those in-person touch points. Even if you can meet someone face-to-face for 5-10 minutes, that encounter will be so much more personal and engaging than connecting with them by email or phone.
Strategy #7: Speak at an Event
Another great way to connect with potential leads in person is to speak at an event where your target audience is. I speak at conferences, and so does Neil (most recently, SXSW 2019):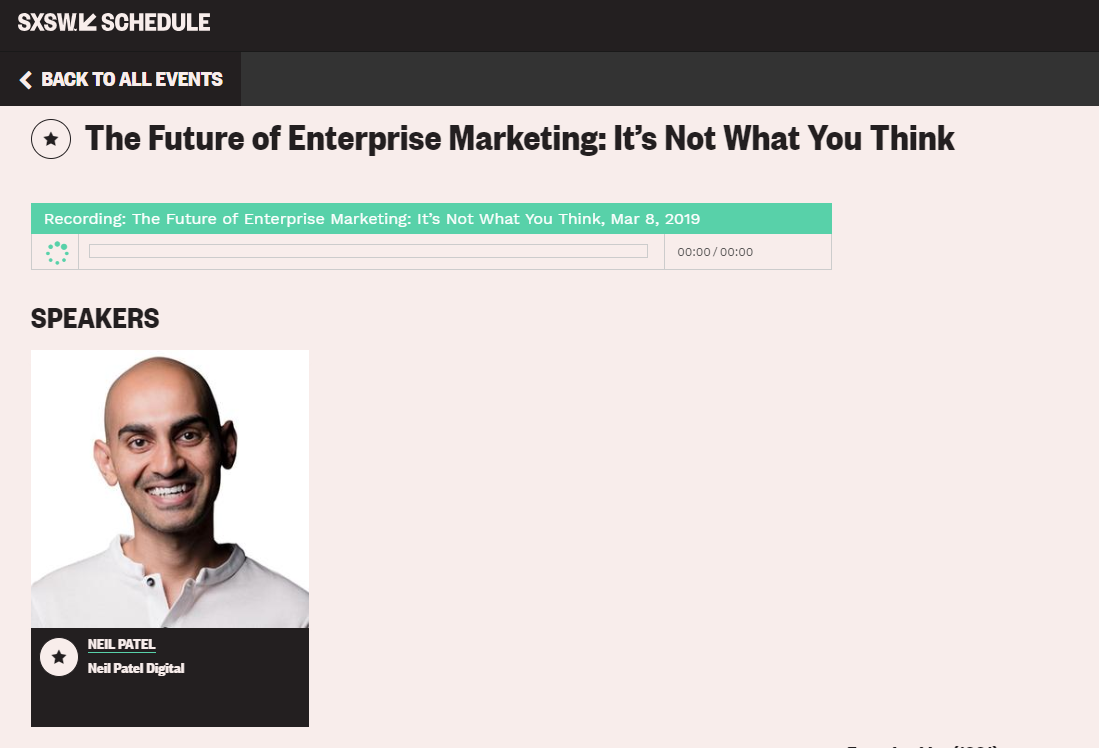 When you speak at events, several great things happen.
First, because you're speaking to a large group, you're effectively asking attendees to self-select themselves. If people like what you're saying, they can come up to you personally and learn more about working together. You don't have to explain what you do or try to figure out whether you're a good fit for each participant individually.
You can also prep for the event by reaching out to your community, your mailing list or any other list of leads you have and asking if they'll be attending the event. If they are, you can invite them to set up a meeting and chat with them in person at the event. Here's a quick script to help you do so:
Hi [name],
I'm excited to share the big news that I've been invited to speak at [event]. I'll be covering [topic] on [date] at [location].
Any chance you'll be there as well? If so, let's set up a time to connect at the event.
Cheers,
[signature]
Customize this template as needed with the details of your presentation and the type of meeting you want to set up. If you have geographic data on your community members, you can also target your mailings to those closest to the event. You can even batch send to your most important prospects or customers, sending more invites only if time remains on your schedule.
Get Creative When Connecting with Leads
I hope the seven strategies here give you some inspiration in terms of adding new tactics to your arsenal for connecting with new prospects. But don't think of this list as final. There are as many ways to get in touch with people as there are individual consumers. The right combination of strategies is going to look different for every business.
So spend some time experimenting. Think through everything you know about your prospects and your community, looking for the hidden opportunities your competitors are missing. Then, put them to the test. Continually iterate your approach based on the results you see and you'll never lack for qualified leads again.