The larger the number of people who are trying to execute on a marketing tactic, the harder it becomes to get a high ROI from it.
It wasn't uncommon to see e-mail open rates reach the upper 80% mark in the mid 1990s. In AdWords, some of the most popular keywords could be purchased for 5-10 cents per click.
The list goes on and on.
If you're an entrepreneur, you already know how important it is to stay on top of the latest marketing techniques so you can beat your competition in the customer acquisition race.
Google launched initiatives in May 2016 that are related to local search results and are helpful if you have a retail or services business with a physical location because the ads appear in the "Local Finder" results in Google Maps. For example, if users search "Personal Injury Lawyer New York City," they'll be taken to a search results page with the top three results from Maps.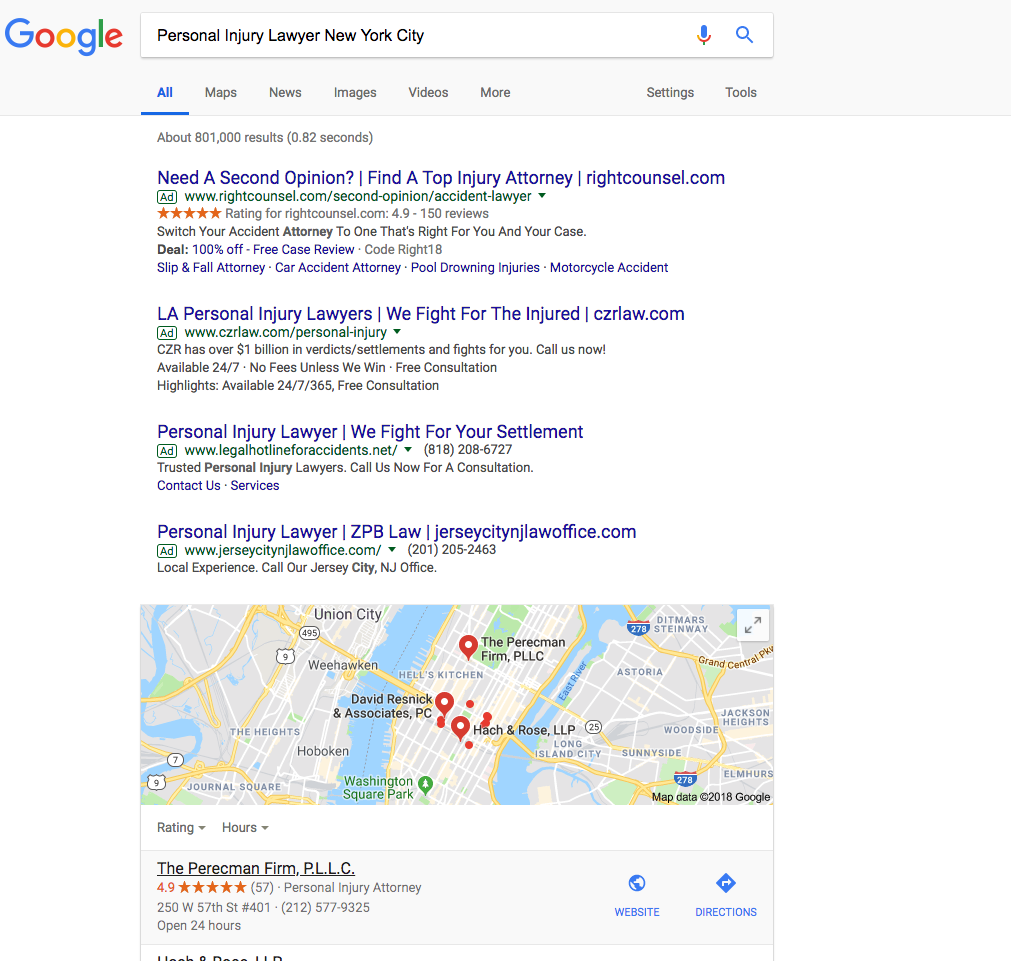 When users select the "more places" option, they'll be taken to an extended list of results within the "Local Finder" of Google Maps. That's where users can click to see sponsored ads listed at the top.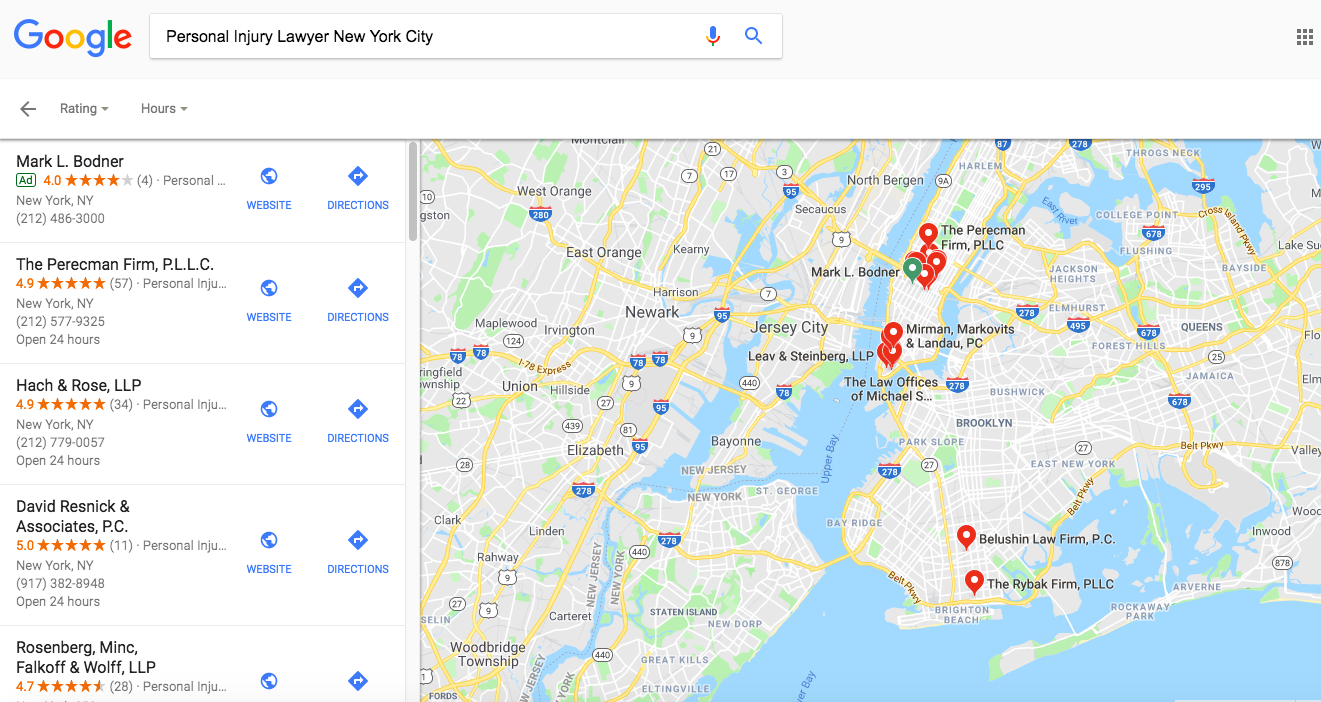 At Google's performance summit, they said that offline foot traffic and conversions often deliver stronger ROI for many marketers compared to e-commerce sales. In fact, offline sales account for over 93% of all retail sales in the US.
Although customers typically use the Internet to help them with buying decisions (like research), many of them still make purchases in-store. Location-related mobile search is growing 50% faster than all other mobile searches on Google — nearly one third of all Google searches are related in some way to location.
That's why Google seems to be doubling down on expanding options for marketers when it comes to local search. In addition to letting business owners display ads at the top of organic results within Maps, they've also introduced the "promoted pins" option. Through this, users would be able to see certain pins on Maps near their location.
For example, here's what it looks like for a Walgreens in San Francisco: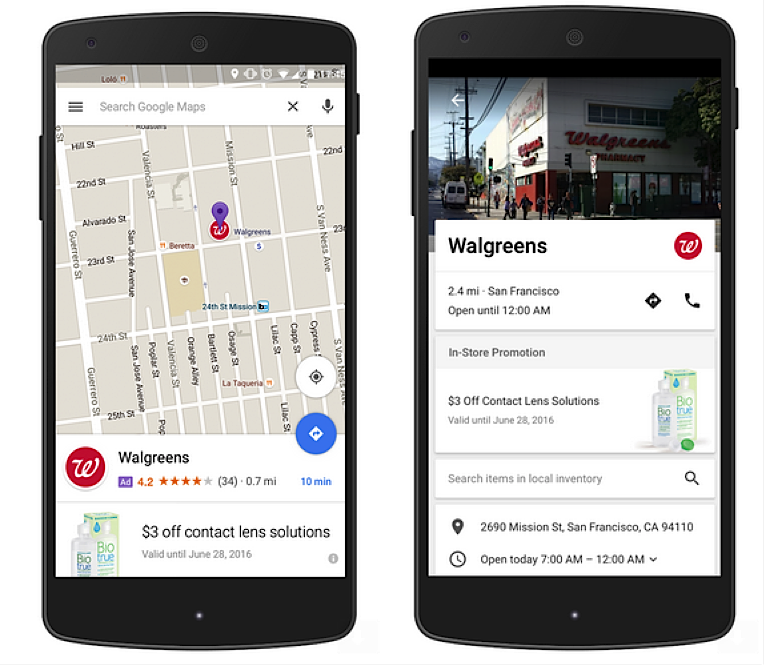 Not only are potential customers able to see sponsored pins near their location, but they can also see specific promotions, discounts, etc. In the image above, you can see that Walgreens was offering $3 off contact lens solutions up to a particular date.
If you run a business that sells at a physical location, running Google AdWords in Maps could be one of the best marketing decisions you'll ever make.
Learn More: The 9 Marketing Mistakes You Don't Realize You're Making (And How to Avoid Them)
In one case study, Google presented the results of Nissan UK, which found that "six percent of mobile ad clicks result in a trip to a dealership." This delivered an estimated 25x ROI.
With a few simple steps, you can set up a Google AdWords campaign within Maps and boost your revenue by converting online users to offline sales.
How to Set Up Google AdWords in Google Maps
Many people turn to Maps to find restaurants, retail stores or services businesses near them. By running an ad within this application, you make it easier for potential customers to find out about you and make their way to your business location.
In fact, research shows that 50% of consumers visit a store within one day of searching for local information on their phones. People are heavily influenced by what they see when they search for location-based services, so setting up ads in Maps will help you make sure that you're at the top of the list that they see.
There are two different places where ads can appear on Maps:
In the search results box…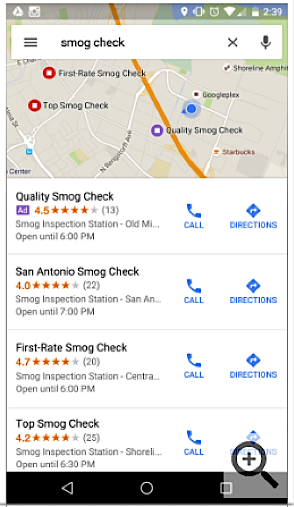 And on the map itself.
From there, potential customers can either call you, get directions to your store, or view more information like reviews and store hours.
To show ads on Maps, you need to first enable Location Extensions for your AdWords account. Here's how.
What Are Location Extensions?
Local extensions are what show your business information on Maps — like your address, phone number, ratings, hours, etc.
Through location extensions, users would be able to tap to get directions to your physical location via mobile, or call you on the phone. Google enabled location extensions partly to encourage users to visit stores in person.
Location extensions allow your information to be displayed through rich text instead of just a normal search result. For example, these businesses at the top of the search rankings have them enabled.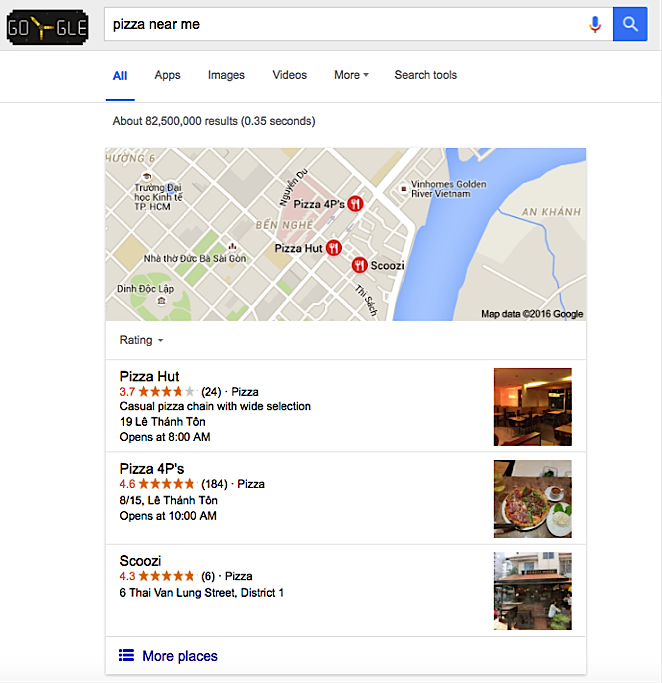 According to Google, ads with local extensions see a 10% boost in click-through rates. Apart from paid advertising, results that are displayed in rich text are heavily prioritized by Google when it comes to determining rankings — so it will boost your business's SEO.
Step 1: Setting Up Location Extensions
Google uses a tool called "Google My Business" to help customers find your business online. This tool makes your specific business addresses available for ad campaigns on Google AdWords, so that you can produce ads that will be displayed locally.
You can also use it to make sure that your business information is displayed correctly, manage your reviews, track insights (i.e. number of clicks, calls, views, and how many people are getting directions to your business).
Read more about Goole My Business:
The first step in setting up your location extensions is linking your Google My Business account to AdWords.
First, sign in to your AdWords account. Then click on the "Ad Extensions" tab. Select "View: Location extensions" from the drop down menu. Next, click "+ Extension."
You'll be asked to link and use your Google My Business account for AdWords.
Then make sure that your Google My Business locations are synced. This way, any other ads you run on AdWords will show your location information — which will help boost offline conversions to your physical location.
To sync your "Google My Business" locations, look for your account under "Account extension" and you'll see how many addresses are synced. If your account isn't there, click "+ Extension" to link your Google My Business account.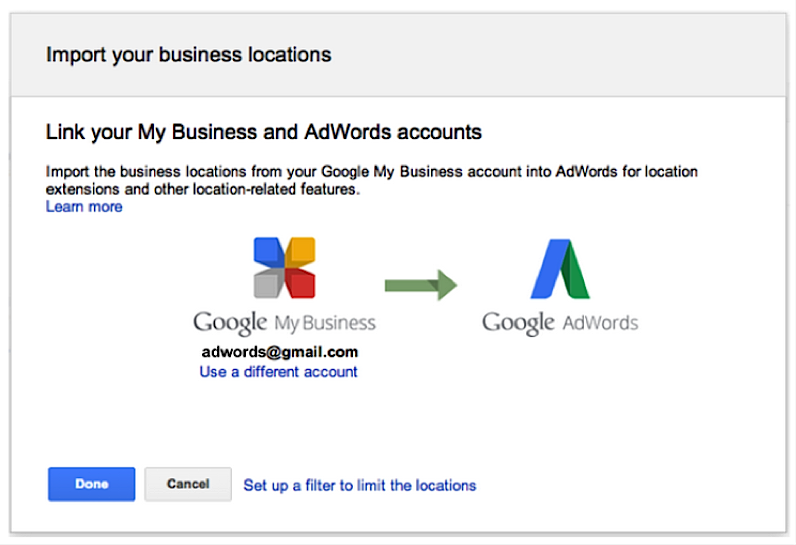 Once you've linked your Google My Business account, your addresses are eligible to show with any text ad in your account.
If your business information ever changes, it's important to immediately update it in your Google My Business account.
Check out this quick video by Google on how to do that:
Once you sign in to Google My Business and choose the address you want to update, click "Info" at the top of the page.
Click on the section that you want to change, then enter the new information in the box.
Google may take up to 60 days to delete previously added information, which is why it's important to update your business listing as soon as possible whenever there is a change.
Step 2: Targeting a Specific Location for Your Ads
Now that you have location extensions set up, you'll find that you can use them for much more than just displaying your business location, phone number, and map marker.
In fact, you can specify a particular distance around your business locations in which you'll show your ads. You can also set different bids for customers that are at different locations. For example, you might want to place a higher bid on customers that are closer to your physical location because they might have the highest chance of showing up in person. Using this method, you can focus more on customers who are most likely to convert.
Read More: Here's How Targeting Cold, Warm & Hot Traffic Builds Successful Customer Relationships
Of course, you can also target people by keywords searched like any AdWords campaign. This is one of the best ways to convert customers from online to offline sales.
To target areas around your defined location extensions, first sign into your AdWords account. Then, click the "Campaigns" tab. Select the name of the campaign that you would like to edit, and click on the "Settings" tab within that campaign.
Under "Locations", click the "Edit" link and you'll see a settings box appear.
On that settings box, click "Location Groups." From the "Choose Location Group Type" drop down menu, select "My Locations."
From there, you can enter the radius that you want to target around each of your business locations.
Once you've collected data on how much foot traffic your ads have been generating, what geographic location converts best, etc., you can modify your bids based off of that data.
Just go to "Settings," then select "Locations," and you can adjust your bids from there.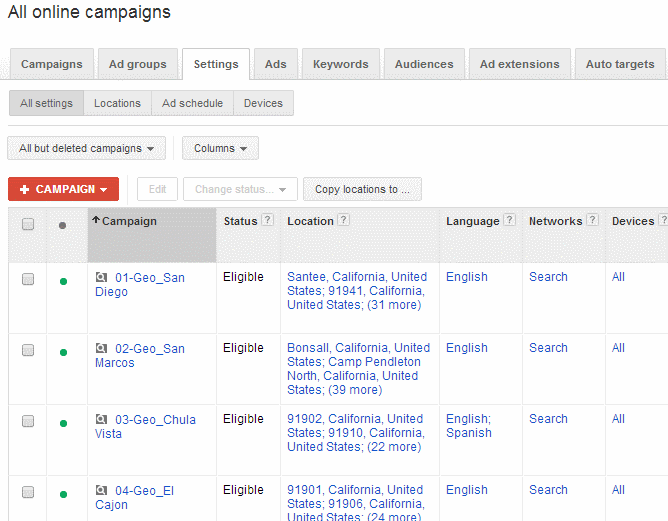 Source: CPC Strategy
Step 3: Using the Right Keywords in Your Campaign
Once you've narrowed down a target location for your ad campaign, you can start identifying keywords for your campaigns to maximize the amount of clicks and engagement your ad gets.
When it comes to location specific targeting, it's important to choose keywords that are similar to what people are searching for locally as it relates to your business.
Since you're trying to convert more people from online to foot traffic to the physical store, the keywords to target would be the ones most closely related to your store.
Selecting more specific keywords would allow you to reach a narrower, more targeted audience that has a higher chance of converting. For example, if you run a pizza joint, "pizza places" would be a high-converting keyword to focus on. If you run a restaurant that serves burgers, then "burger places" or "burgers" may be the keywords you'll want to target.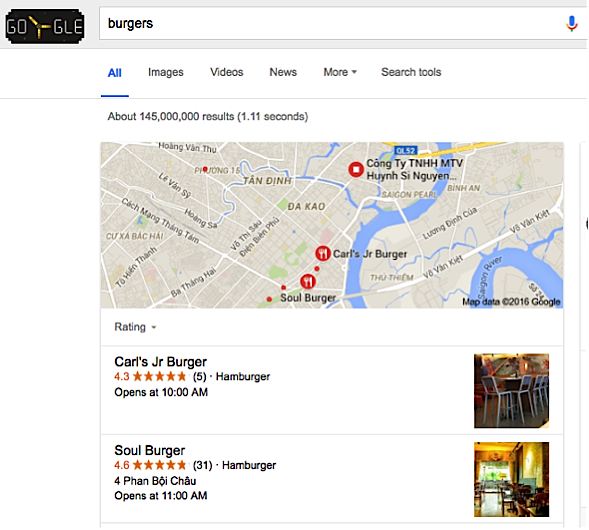 If your target audience sometimes searches general terms with an interest in purchasing a variety of products, you can also focus on broad keywords.
For example, if you're running a burger place, you might also want to select the keyword "fast food" to appeal to a larger market.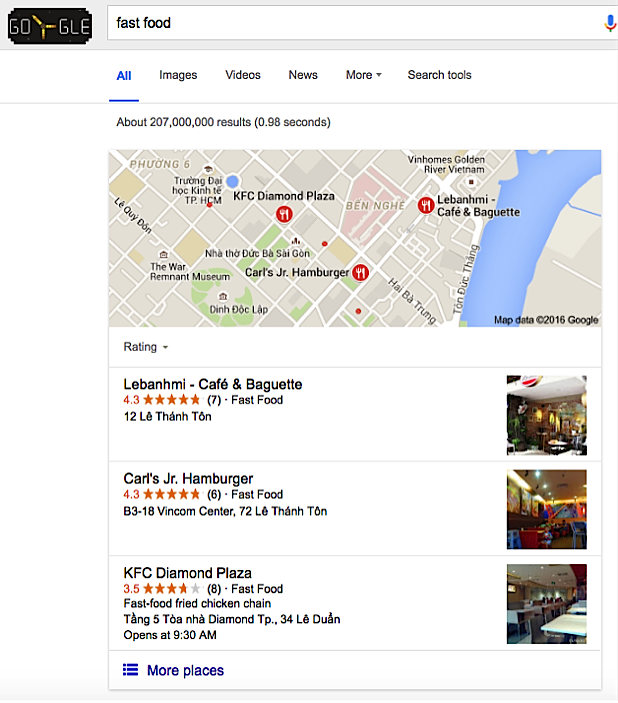 In the search result examples from the last two images, you can see that Carl's Jr. Hamburger ranks near the top of both "burger places" and "fast food," so they're likely targeting both keywords to maximize their reach.
However, if your target audience consists of people who are in the market for a very specific service, then it's probably not necessary to select broad keywords. For example, people who are searching for lawyers usually have some specialty already in mind, like personal injury, real estate, business, immigration, etc.
In cases like this, it would be more useful to focus on specific keywords.
You could also group similar keywords into ad groups to show more relevant ads to customers in their search.
For example, if you run a law firm that offers different types of legal services, you might create different ad groups: one for "real estate lawyer," one for "business lawyer," and so on. The ad group could include common searches from people who search for specific specialities that you offer.
If you place all your keywords into one ad group, then customers who search for "real estate lawyer" might see an ad for a different specialty.
This helps ensure that you're showing the right ad to the right customer.
Conclusion
Most of the marketing hype we hear today is all about finding the right social media channels, creating content, and taking advantage of platforms like Snapchat.
And that's all important. Implementing strategies like content marketing can skyrocket your business.
But for local business owners with physical locations, it all comes down to one thing: how many people call or come through the door? It can be tough to figure out how to leverage content creation or social media to bring people to your building and make a purchase.
However, focusing AdWords in Google Maps is one of the lowest-hanging fruits for local business owners.
Google says nearly one third of search traffic is in some way related to location. And 50% of consumers visit a physical store within one day of searching for local information on their phones.
So when it comes to local searches, the intent to purchase already exists in the mind of the customer. You don't have to pull any teeth to try to convince them. You just have to let them know that you exist — and placing your ads in Google Maps is the easiest way to do that.