It varies for different businesses, of course, but here are a few of the biggest marketing wins I've seen (directly or through Neil).
For software companies, one thing that we do is when you want to sign up, instead of having the user type in their name and e-mail address, we have you authenticate through Google. Think of it this way: How many times have you signed up for a service using your name and e-mail and had to create a password? Once? Twice? Chances are it's more like 100 plus.
You already have a Facebook account, you have Twitter, you have LinkedIn, you have a Gmail account. Why ask for a potential customer's name and e-mail all over again when they can just click a button through Google authentication, or Facebook authentication, or Twitter authentication, and generate more signups? In that sense, you're taking out the friction of someone having to input their information.
We got this test idea from Buffer years ago and it's been a big win for every single business that I've tested it on. When we switched from requiring people to enter their name, e-mail and password to authenticating with Google, we got almost double our signups. That's crazy! Just think about that, almost double.
Two reasons. One, because we removed the friction. Two, we found that the word "log in" converts way better than "sign up." When you use the word "sign up," we saw a huge decrease in sign ups, versus when we used the word "log in." I would say that is my biggest marketing win.
Another would be adding content upgrades. This was a concept introduced by Brian Dean of Backlinko a couple years ago. The idea is this: You write a blog post and what is your goal? For a lot of people it's collecting more e-mail addresses because e-mails can be tied to the bottom line a lot easier.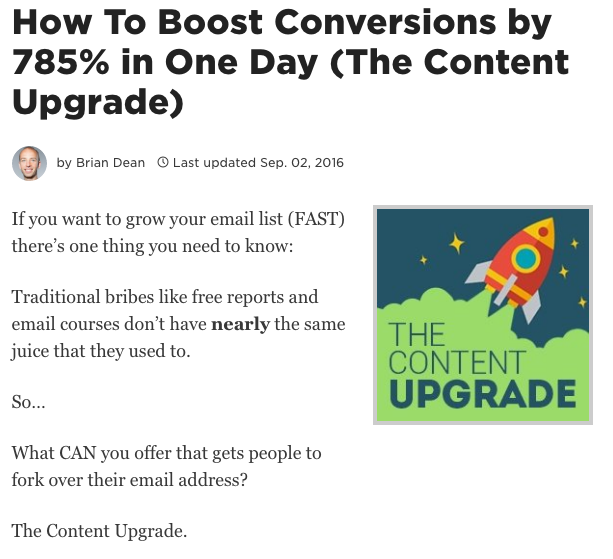 Basically, a content upgrade is when you include a specific downloadable PDF or some type of e-book for that specific post, and people can click on it and opt in for it by just supplying their e-mail. If you're writing a post about, say, content upgrades, you might want to offer a free PDF on that subject because people can use that resource to execute on down the road.
This is a trend, too. This is kind of sidetracking a little bit, but a lot of people are running ads to a lead magnet, which is a downloadable. A lot of these lead magnets are free templates because people just want to be able to execute on something quickly and efficiently. They don't want have to create something from scratch.
Coming back to the content upgrade, before we started doing content upgrades, our blog posts were converting at maybe 1% for e-mail signups. After we started adding content upgrades, our conversion rate shot up to 5% and then all the way up to 15%. Right now we have a post on Single Grain about marketing funnels, which converts at 15% in terms of driving e-mail signups.
Read More: Step by Step Guide: How to Build a High Quality Marketing Funnel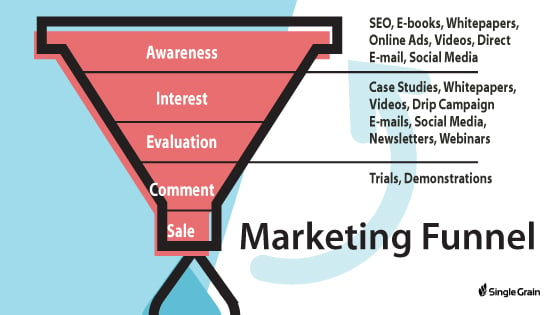 If e-mails are important to your online business, and I trust that is the case for most of you, then content upgrades are something you want to look into. There are many tools out there that will actually make it much easier for you to start pumping these content upgrades out.
Because when we first started doing it, we'd put it together ourselves. We'd do a checklist. Then we'd have a designer come in and we paid a lot of money for that. Then we'd have to mess with lead pages and make sure everything was working. It's getting easier and easier. If you're not doing it yet, I encourage you to give it a shot.
There's also a plugin called Thrive, which makes the whole process simpler. I combine that with Leadpages, which provides the template to collect the e-mails. Thrive makes the functionality work. It's like a plugin, so that way you can have content upgrades in each of your blog posts.
The key with content upgrades is that the e-mail opt-in has to be relevant. If you have a post on "seven advanced SEO tactics that will double your search engine traffic," your content upgrade might be "seven more advanced tactics that will increase your search engine traffic," right? You see how it's really relevant? If you have a post on "seven SEO tactics," you wouldn't want to create a content upgrade that breaks down "10 ways to increase your conversion rate." People are reading a post on SEO, so your content upgrade needs to be relevant to the subject.
Another win, which has been huge for Neil, is detailed guides. If you go to QuickSprout, they link to all these detailed guides. Some of the guides are 30,000 words. That's as much as a book. That's a shitload of words. Just think about that, 30,000 words.
What I've learned is if you go above and beyond, so much so that the competition is just too lazy to copy you because it would be way too much work, you'll find that you'll have some of the most detailed content in your space for a very long time. Then when you link to them in the sidebar, it also gets more internal links. All those guides rank really well on Google.
There are two key strategies that I mentioned in this:
Be really detailed. The more detailed you are, the more keywords you're going to rank for. You don't want to just add fluff into the guides because if you add fluff, people will see that the content quality is low and won't share it on social media or link to it.
Link to the guides from everywhere on your site. If you Google "online marketing," chances are you'll find Neil Patel as number one or number two, or maybe number two and three. Neil has two unique websites ranking for that term, which is one of the most competitive terms in the industry, because he wrote detailed guides and went above and beyond more so than anyone else.
I actually did some analysis into Neil's guides. Our whole interview is actually on Growth Everywhere and you can check it out right here:
Listen Here: Why Neil Patel Pays $30,000 for Content & Gives it Away For Free (& MUCH More) [podcast]
There's a method to the madness. If you run his guides through a tool called SEMrush, which is one of my favorite SEO tools (not affiliated in any way!), you're going to see that these posts ranked for a couple thousand keywords. If you have one post ranking for 3- or 4- or 5,000 keywords, that is well worth the investment at the end of the day. This is why Neil puts in that type of money for these guides.
Here's another marketing win that I've had. When I was working at an online education startup, we saw potential with YouTube advertising. Now imagine it this way: If you are teaching people how to do coding and web design, people are probably searching for that on YouTube. It would make sense that that would probably be one of the places you'd go to first because the demand's already there.
What we saw was that there was a semblance of traction in the old campaigns that we ran before. The thing with advertising (and I'll be talking more about this in future posts) is that you're aiming for traction in the beginning. You're not aiming to hit a home run right off the bat. You've got to hit some singles first before you start hitting those home runs. You've got to start building on that. That's how paid advertising is. When you start a new paid advertising campaign, you'll probably going to lose money.

Basically coming back to YouTube advertising, we saw that traction. I said, "Okay, I think this is something to bet everything on." I basically bet all our advertising budget on YouTube advertising and we accelerated our learning. We got even more traction and that became their number one user acquisition channel, driving more signups. This is us literally driving people from a YouTube video cold to a free trial, where people put in their credit card and started paying from there.
Think about it. I mean, if it makes sense for your industry, if you're doing courses, if you're doing online education, YouTube is great. You know people talk about it.
Video's going to get bigger and bigger. That's something to pay attention to. Also, take a look at Facebook video as well.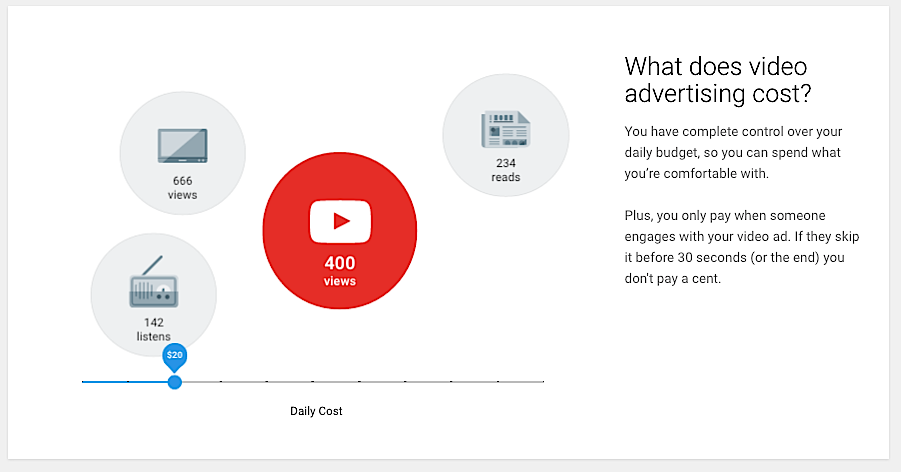 Source: YouTube
Learn More: A YouTube Video Marketing Guide to Increase Prospects in Your Funnel
And this is my favorite win. A lot of people don't want to leverage this tactic because it's too much work. Funny enough, the things in marketing that are too much work usually are the best ones.
Neil's been going crazy on international expansion. Every time we talk, he's always like, "Dude, you got to check out the international expansion I'm doing. Look at these numbers. I'm in Brazil. I'm in all Spanish speaking markets. I'm in Germany now. I'm in Italy. I'm going to be expanding to all the Arabic nations close to the end of the year."
Think about it this way. Most of the content on the internet is for people who speak English. The majority of the population in this world cannot speak English. You might be thinking that people in Brazil might not have as much money as people in the U.S., UK, Canada, Australia, etc., but you know what? The competition isn't even one one-hundredth of what it is in the U.S. So translate your content into other languages.
To give you a brief overview, Neil's website NeilPatel.com has over 4,000 plus unique back links and roughly 200,000 unique visitors a month. Marketing de Contenidos, which is his Brazilian blog, has roughly 400 backlinks. All right, that's 1/10 of what his own blog has but he's going based on unique referring domain names. What that means is if one person links me five times, you only count it as once because it's one link from one unique domain. You can use tools like Ahrefs to see how many links you have versus the competition.
International expansion is one of the best things you can spend your money on. No, it isn't as competitive, but also keep in mind that they don't have as much money. In the long run, you will make a return on your investment.
This post was adapted from Marketing School, a 10-minute daily podcast in which Neil Patel and Eric Siu teach you real-life marketing strategies and tactics from their own experience to help you find success in any marketing capacity.