Where do you go to learn marketing?
I wouldn't go to college. That's the last place I would go to learn online marketing. First of all, their textbooks are out of date. Secondly, the professors who teach you this stuff have never really done it themselves. And the way I know this is, I get so many e-mails every single week from colleges saying, "Hey, can we teach your materials?"
And when I ask what kind of marketing they've done online or what kind of companies they've helped, you know what they usually always say? "Oh, well, I haven't really worked for any companies or done anything like that. I've been a teacher or a professor my whole life."
I'm not saying there's anything wrong with that, but they do not have practical in-field experience, so if I was going to go learn marketing today, especially online marketing, here's what I would do:
Read articles (lots of them!) on blogs like Backlinko, Moz, Search Engine Land, Quick Sprout, Single Grain, etc. and then implement what you are learning on your own website.
If you don't have a website, go to WordPress.com or WordPress.org and build one. It's not difficult or expensive. There's even a lot of free hosting solutions out there.
Go buy a domain name for six, seven bucks.
Write tons of content.
If you don't do that, you'll never really learn marketing, and every single good online marketer that I have met, they first got started by practicing stuff on their own website.
Venture capitalist Marc Suster has a blog post called "Is It Time For You to Earn or to Learn?" and I think that's the exact scenario here, especially when you're first starting out. I use none of those skills nowadays that I learned in college. It's totally useless. As a matter of fact, the first job I got coming out of college was a dead-end job doing data entry, and my friend introduced me to Internet marketing, and that's when I started learning everything.
You just have to be good at finding things, and you have to be persistent. When I first started learning this stuff, I would go to music festivals, and I was really interested in how those light shows turned out when you go to those big EDM music festivals, so I made a site called Light Show Videos. Here's a blast from the past: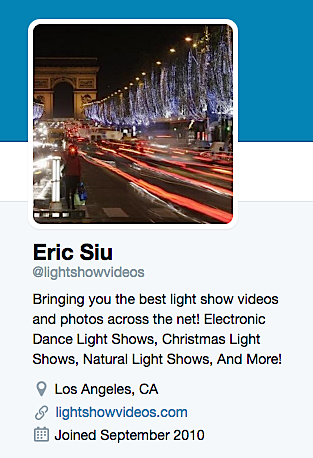 I learned how to set up a blog. I learned how to set up hosting. I learned how to set up and start doing things with SEO, and before you know it, I started getting rankings, I started getting organic traffic, and I started ranking number one for the keyword "light show videos," which I thought was a major feat at the time.
Learn More: Effective SEO Techniques that Work in 2017
But these small wins all start to add up over time, and as I learned more and more, I actually ended up on Neil Patel's blog, Quick Sprout, which is one of the most well-known marketing blogs out there, and there was a lot of stuff I didn't understand.
A lot of concepts were foreign to me, and I came across this post on link blending, and I was like, "What the heck is link blending? What is this guy talking about? I never heard of this before." So that concept, in itself, got me e-mailing Neil, and I just kept e-mailing him over and over. If you want a mentor, if you want somebody to learn from, and you're persistent, they're going to notice you over time. I kept pestering Neil, and finally he was just like, "You know, dude, let's just get on the phone."
And we got on the phone, we talked about it, and I started learning more and more. You just have to be very, very focused on learning, and don't even think about the money. Just think about what you're learning, and then try to become a well-rounded marketer, like maybe go into one discipline first, but expand into other disciplines.
So it's not just about creating your own website and implementing what you're learning online, but you also want to connect with other people within the space and start trading knowledge. Go to industry events, e-mail people, go to networking events, whatever it may be, and start trading knowledge in person or over the phone, or Skype, etc.
I want to close this post by talking about how I learn marketing now. I have an app on my phone, it's called Nuzzel, and it will tell me what the people that I follow on Twitter are sharing. So if seven people are sharing something, it's going to pop to the top of my feed, and I follow a lot of different Internet marketers, so I can see what's trending and then I can save it to Pocket so I can read it later. And if I'm lazy, I can have Pocket dictate it for me so I don't even have to read it.
I really like Quick Sprout, I like OkDork, which is Noah Kagan's website, Search Engine Land is good, Marketing Land is good as well, Search Engine Journal. There's a lot of good ones out there. Kissmetrics is really good, too.
What else do I do?
Well, I also go to Twitter and I make lists, so I use Tweetbot and I make a list of best SEOs, I make a list of venture capitalists I like, things that I'm interested in, and I follow those.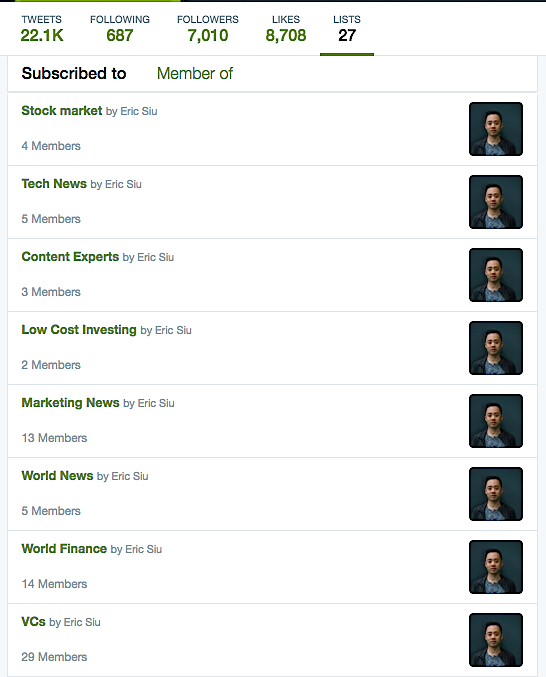 And last, but not least, for now, there are certainly a lot of different ways to go about this, but I use Feedly as well, so I follow a lot of my favorite online marketing blogs. Oh, Jon Loomer is another great one. He teaches a lot of great stuff around Facebook ads.
Related Content: Facebook Lead Ads: Everything You Need to Know To Increase Mobile Conversions
A lot of these sites produce so much content, it's too hard to read them all, so I go based on social shares, the ones that have the most Facebook, Twitter, LinkedIn shares, etc. Those are the articles that I typically read. I also specifically only read detailed articles or guides.
So if someone like Brian Dean did a blog post on Backlinko that breaks down, "How I Increased My Search Traffic by 110% in 14 Days," I'm going to read that. Why? Because you can tell just by the headline that it's an actionable post, you can learn something from it, take all that knowledge, implement it on your website, and hopefully, you'll see similar results.
That's the key thing, I think, talking about actionable posts. You don't want to waste your time reading something that's a couple thousand words and have nothing to show for it, so we want to go into a no-theory zone and avoid that stuff.
And last, but not least, one of the biggest hacks is listening to podcasts, and they're great because you can listen to them anywhere, in your car, on the subway, at the gym, while you're running.
This post was adapted from Marketing School, a 10-minute daily podcast in which Neil Patel and Eric Siu teach you real-life marketing strategies and tactics from their own experience to help you find success in any marketing capacity. Listen to the podcast version of this post below: