Google is always working to improve the overall search experience and provide the most relevant results to searchers. The search algorithm has evolved a lot over the years, but what hasn't changed much until recently is the actual look and feel of the SERPs. Google often talks about improving the search experience and it appears that their main focus over the past few years has been to make that experience more visual. This has been evident with changes or additions including rich snippets, place search, Google+ authorship, Knowledge Graph, and the local carousel.
1 – Rich Snippets
Rich snippets were introduced back in 2009 as a way to display structured markup. At the time, it was a minor change in terms of impact. Many sites were not implementing structured markup, and the rich snippets were not rolled out in a majority of search listings. However, over the past few years, structured markup and rich snippets have become increasingly popular especially in the ecommerce space where sites can display ratings, price, and availability of products. In 2011, the major search engines (Google, Bing, and Yahoo) launched http://schema.org/, an initiative to create a unified set of schemas for structured markup.

Effects on Search
All of the different schemas help sites to customize their snippets in the SERPs allowing them to stand out from competitors and improve CTR. With tools such as the Structured Markup Data Helper and Rich Snippets Testing Tool, Google has made it easier than ever for webmasters to implement structured markup on their sites.
2 – Place Search
In October of 2010, Google announced its Place Search. This was a way of presenting local search results, and at the time that it was announced, it was a dramatic change to the look of Google search. Place search added a group of 7 local search listings (often referred to as a "7-pack") within Google's traditional organic search listings. This 7-pack included a Google map of the location as well as the address, phone number, and number of Google reviews. The data for local search listings was taken from Google Places, which in May of 2012 was replaced by Google+ Local.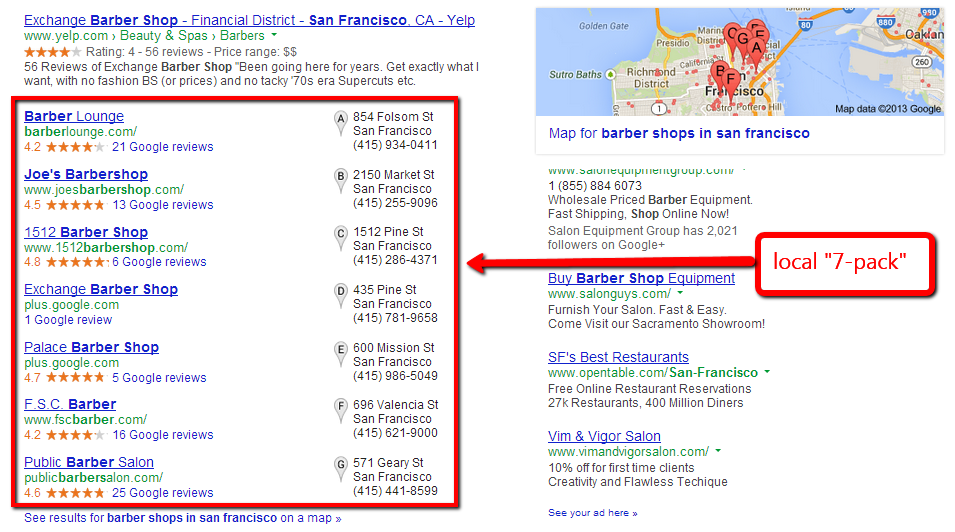 Effects on Search
Users who are searching for local businesses aren't looking to get to a website. They are looking for quick information on the business such as a phone number, address, or reviews. Local businesses can take advantage of local search by setting up a Google+ Local business page and filling out as many of the information fields as possible.
3 – Google+ Authorship
Authorship is a specific markup that's tied to Google's own social platform, Google+. It was announced in 2011 as a way for users to discover content written by authoritative people. Rich snippets for sites that have authorship markup implemented displays the author's Google+ profile picture along with the number of people they have in their Google+ circles and also links to other content that they've written.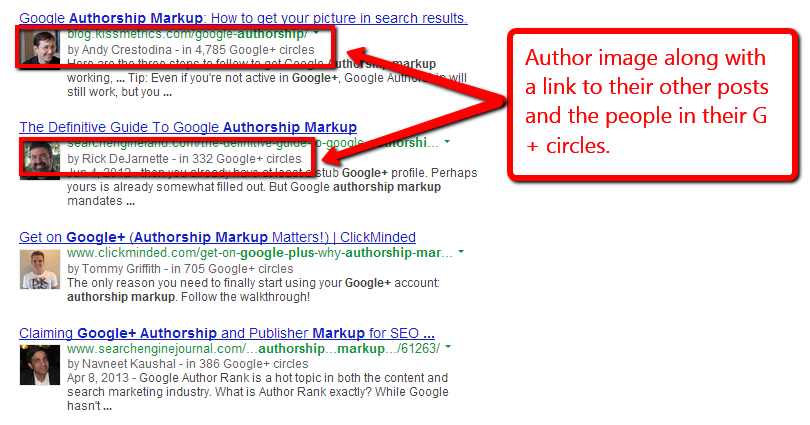 Effects on Search
Authorship is easy to implement and can improve user trust, CTR, and return visits. The author photo helps users to recognize authors not just for a particular post, but also for future posts. The photo, link to other articles written by the author, and number of people in their Google+ circles all help to increase user trust.
4 – Knowledge Graph
In May 2012, Google introduced Knowledge Graph, an intelligent feature that draws information from the ever growing web to better understand what users are searching for and display more relevant information. Knowledge Graph also allows users to get quick snippets or summaries of the information they are looking for. For example, if someone searches for a celebrity it will display their date of birth, name of family members, where they went to school, and relevant pieces of work (music albums, movies, sports teams, etc.). This information from Knowledge is displayed in a side panel on the right side of the SERPs. Finally, it allows Google to better link to sites where you can visit to find more in depth information for whatever users are looking for.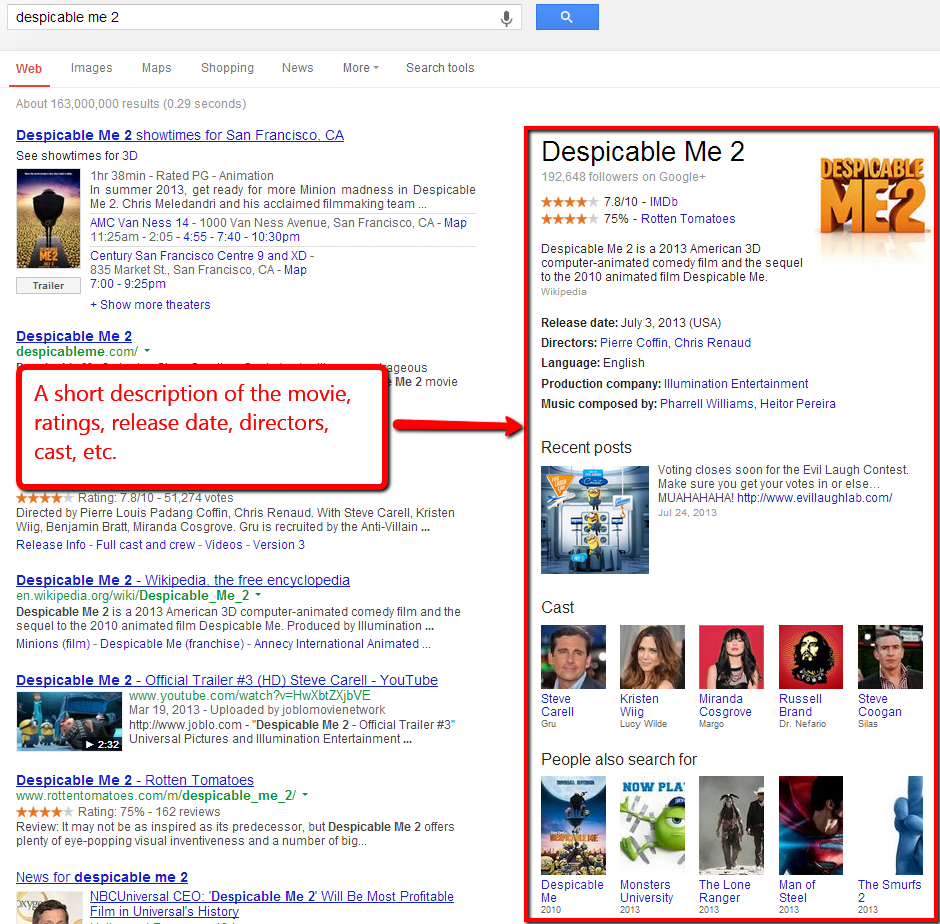 Effects on Search
The screenshot above is an example of how Knowledge Graph works for the search query "despicable me 2". You can see a summary of the release date, ratings, directors, cast, and related searches. Each of these bits of information includes a link to a relevant site where you can find more detailed information. Knowledge Graph makes it easier for users to quickly get information, but hurts informational sites that provide things such as sports scores, movie times, and nutritional information.
5 – Local Carousel
The most recent change to the look of the SERPs rolled out just this past June. The local carousel combines information from both local results and the Knowledge Graph to present results for local businesses in a more visual way. The local carousel introduces a horizontal bar across the top of the SERPs that includes a name, image, and number of reviews of each local business over a black background. Clicking on a restaurant image brings up a side panel similar to that from the Knowledge Graph. This side panel has more detailed information on the restaurant including a map, address, phone number, hours of operation, and reviews.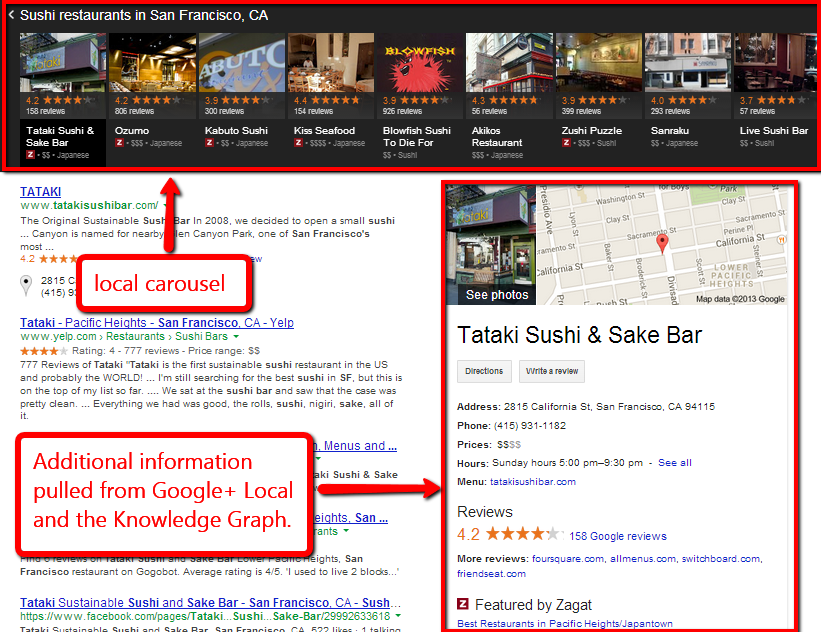 Effects on Search
The black background, along with the images and star rating system catches the attention of users and entices them to click on the carousel. This is a big feature for local search, and early studies have shown that the CTR for the local carousel is as high as 48%. Just like when Place Search was introduced, local businesses can take advantage of this new local carousel by making sure they have detailed pages on Google+ Local.
As Google search continues to evolve, it's likely that Google will continue to move away from the look of traditional search listings. Each type of search query has different user intent and therefore should have a different type of SERP, and Google has started to figure this out. Local results are designed to give specific information to users searching for local businesses (address, phone number, maps), Knowledge Graph is for users who are looking for quick information (stats about people, places, things), authorship is for users looking for articles from a specific person, and so forth. The SERPs will become more visual and include more snippets of information to provide users with the most relevant information in as few clicks as possible. We can only wait to see what Google has in store for search.
Image Source: googleplussuomi.com