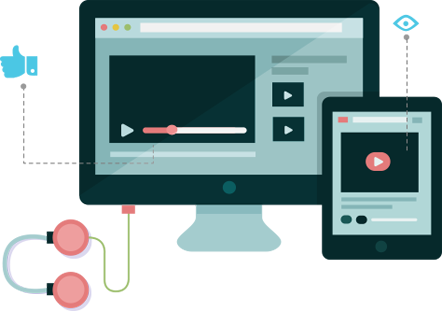 World Class Video Advertising
Between YouTube and Facebook you can reach virtually anyone on the Internet. Did you know that 52% of consumers say that watching product videos makes them more confident in online purchases but only 24% of national brands are currently utilizing online video?
YouTube alone gets over 1 billion (1,000,000,000) unique visitors a month and is growing rapidly. If you aren't already capitalizing on video advertising there's never been a better time to get started. Whether you want to test your video against different demographics or generate direct response sales we can reach your goals with the power of online video.


Sign Up for a FREE video advertising consultation
What To Expect

Demographic Targeting
We'll target your ideal demographic based on age, gender, location, and interests.

Real-Time Bidding & Optimization
Our team of paid acquisition experts will optimize your campaigns giving you the best placements and lowest fees possible.

Mobile Video
With mobile now accounting for over half of all web traffic it's important to have a strong mobile presence, especially when it comes to video.


What Do I Get Exactly?

World Class Video Advertising

Google certified professionals
24/7 ad monitoring, bidding, and optimization
A/B testing of video creative
Mobile, desktop, and tablet campaign management by world class media buyers


Video Campaign Setup & Research

YouTube video placement research
YouTube keyword research
Competitor research and targeting
Facebook precise interest targeting research


Ongoing Optimization & Reporting

A/B testing and video rotation
CTR optimization
Bidding & budgeting optimization
Bi-weekly reporting with campaign performance & next steps
Sign Up for a FREE video advertising consultation