Case Study
Behind the scenes when working on an NFT-related marketing project
Many things go on behind the scenes when working on an NFT-related marketing project, from the idea stage to incubation, launch and promotion.
The Leveling Up Heroes NFT project was created to provide its owners with the keys to increased productivity, a positive mindset and repeatable success.
Introduction
Eric Siu, the founder of the LUH project, created it with one core mission: to level up the world. Although the mission was challenging, it forced us to push ourselves to our limits.
Ultimately, the goal was to create a community of growth-minded individuals interested in helping each other level up, in both their business and their personal lives. So, unsurprisingly, a lot of focus was put on the community-building aspect of the project.
By fostering supportive communities with strong leaders, people can achieve remarkable things that will help level up the LU Heroes community and the world.
In this case study, we will share our successes, failures and lessons learned from our own NFT launch.
Background on NFT Project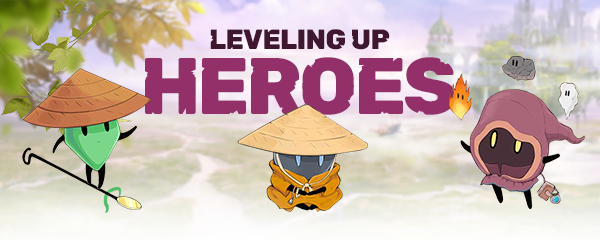 The Leveling Up brand was the mothership of this NFT project, and its mission was to level up the world in a gamified way. Creating the Leveling Up Heroes NFT project seemed like a no-brainer to Eric.
NFTs are a great community-building mechanism since, as the brand becomes more successful, its community members are incentivized to continue promoting it for the group.
Furthermore, with the brand's success, its tokens will also become more valuable. Eventually, the token holders might even be able to work together and come up with more powerful ideas than one person could imagine on their own.
Leveling Up Heroes is a perfect mix of crypto, gaming and personal development.
The Challenges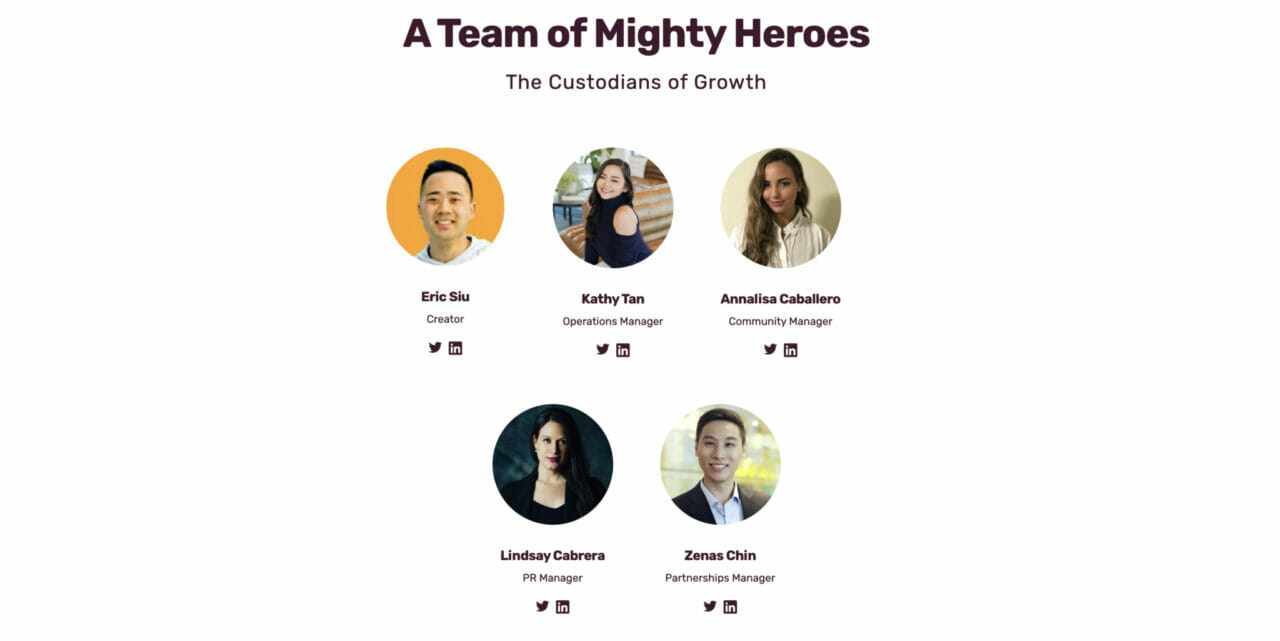 The initial plan was to launch our NFT project at the end of 2021, which would have been ideal, considering the trend was peaking at the time:

However, like any new NFT project, Eric and his team faced a few challenges with the initial launch of the Leveling Up Heroes NFTs, such as:
Market Timing: We initially planned to launch in December 2021 or early January 2022, which would have been the perfect timing, considering trends at the time. But due to several technical and operational delays, we were forced to launch at the beginning of the devastating Ukraine/Russia war in February 2022.
Market Trends: We noticed that, at the time, the PFP collection was much more popular than the membership pass NFTs. Another thing we overlooked was that many people were confused about the reveal of the NFTs: They thought the images were a placeholder and the actual NFT image would be revealed after the mint. However, the Leveling Up Heroes NFT collection was a membership project, so a reveal was never intended.
Resources: Although we had collaborative posts on Twitter, it wasn't enough. In the future, we will increase the number of collaborations by reaching out to more projects and influencers, start the promotions much earlier to create more hype, and have dedicated resources, such as a Twitter manager on social media.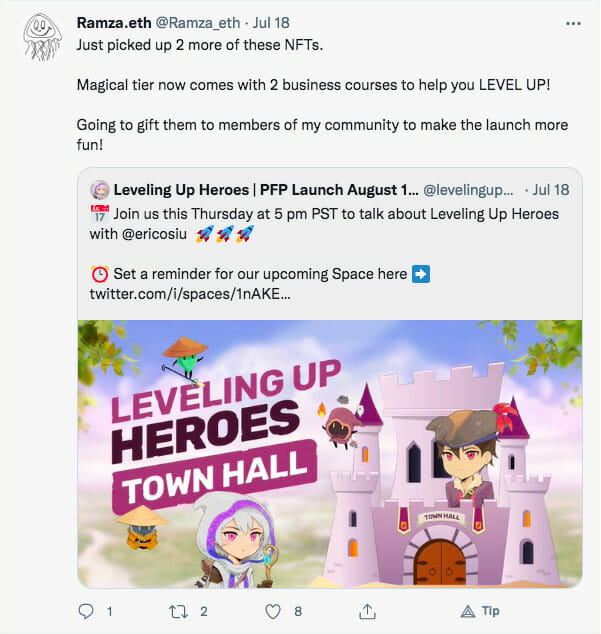 The Approach
Based on the challenges mentioned in the previous section, we will take the following approach in the future:
Do an NFT reveal instead of simply providing the membership perks.
Communicate better with the community and let them know what they will receive in more detail.
Increase the number of talented NFT marketing experts and get more of the best resources, such as a dedicated social media manager.
Conduct PR activities for six weeks before the launch.
Do ten times more collaborations and partnerships one month before the launch.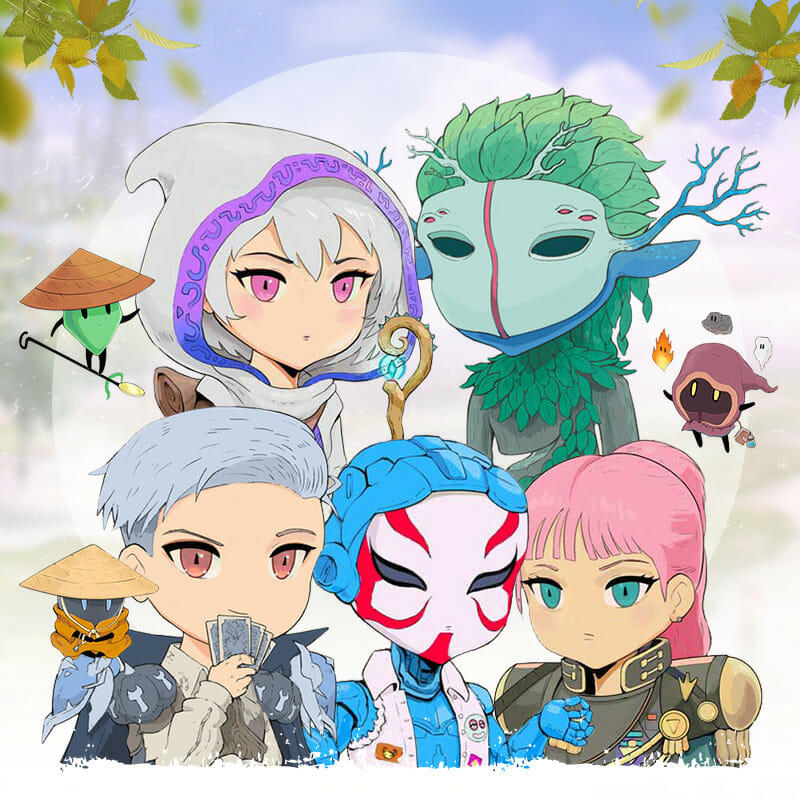 The Outcome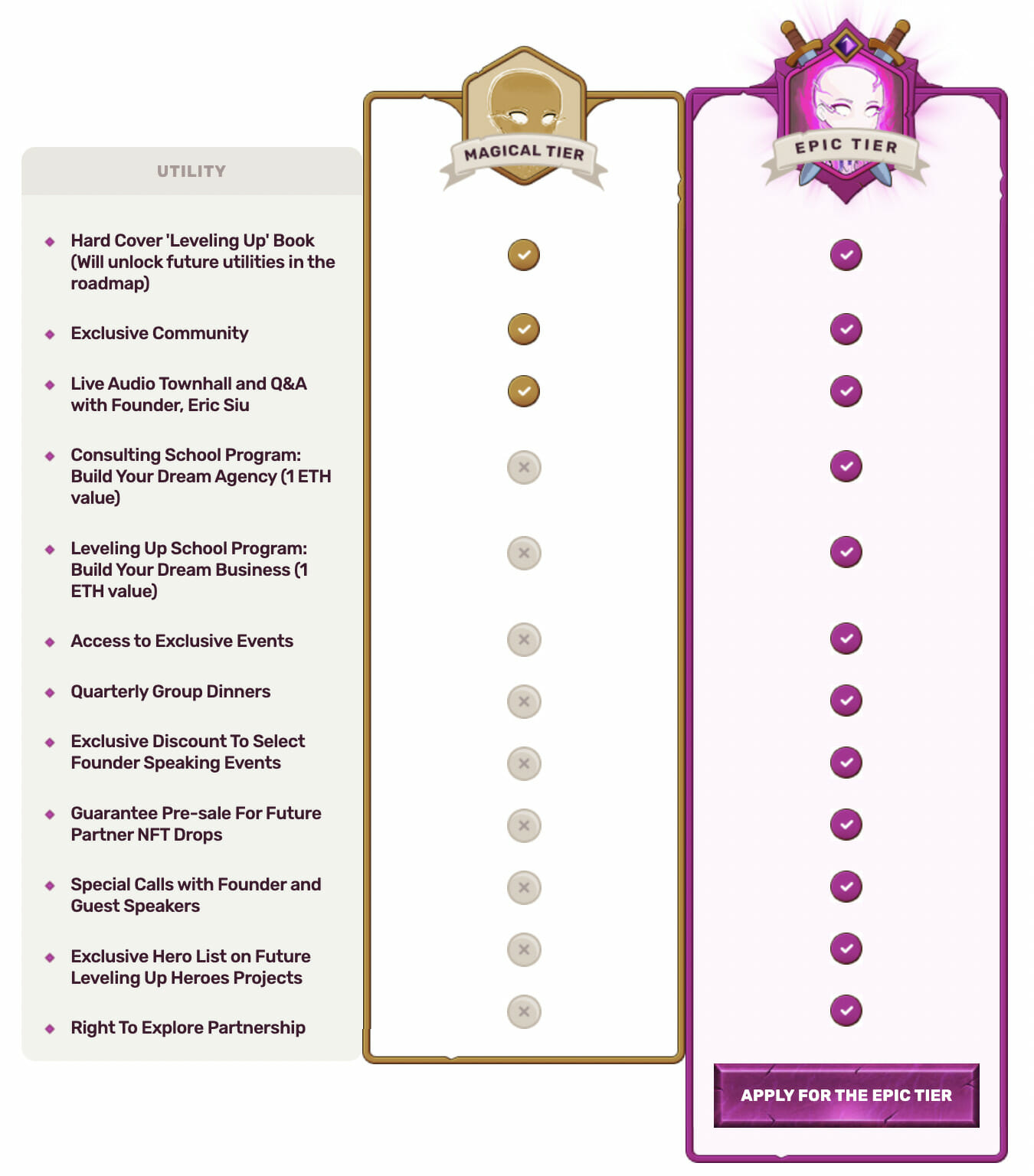 The Leveling Up Heroes NFTs are separated into two tiers, each with specific benefits:
The Magical Tier was open to everyone, and despite the various challenges we faced, we sold roughly 600 NFTs at 0.078 ETH, coming to a total of 46.8 ETH (~90K USD).
The Epic Tier was only accessible through an application process and had various perks, including access to three masterminds per year filled with 7-to-9-figure founders/investors/creators. We managed to sell 70 of the NFTs at 1.5 ETH, reaching 105 ETH (~200K USD).
In addition, during the promotion, we closed more than 30 collaborations with significant projects, such as Fame Lady Squad, WoW Pixies, and Ethereum Towers.

NFT Marketing Strategies Used
Promotion is essential to an NFT launch. Here are the strategies we used to get the best possible results at the time.
First, we turned to influencers, who play a significant role in promotion, especially when it comes to NFTs.
After choosing the right influencers for our NFT promotion, we did AMAs (Ask Me Anything), collaborated with Twitter influencers, engaged with well-known NFT thought leaders, and offered free Allowlist spots to their audience. This allowed us to develop a robust and reliable network that we can call on for future projects.
We did collaborations with The Ascendants, Alien Frens, Creature World, Doodles Alpha, Capsule House, WoW Pixies, Fortune Friends Club, Fame Lady Squad, Ethereum Towers, Illuminati NFT, and 8SIAN.
On Twitter and Instagram, we dropped hints about the project and gamified the whitelisting process by adding a raffle contest and competitions with giveaways. And in the case of Twitter, we also engaged with the private BAYC group.
In addition to posting on Twitter, we also used WhatsApp (private NFT groups like JPEG Morgan), Telegram (Asian Web3 Mafia), and Clubhouse Spaces to keep people updated, share some behind-the-scenes content, and engage with the community.
For community-building, we mainly used Discord to keep the community hyped (both in our space and in others like Ywhales, Cool Cats, Apes, Punks, Wow, Veefriends). We also set up an auto-ban on Discord and hosted weekly Q&A spaces with the community.
We promoted our NFT content through our email lists.
To educate the audience, both beginners and advanced people, about NFTs and their utility, we created content about the NFT space for YouTube and TikTok, which was also shared in Discord.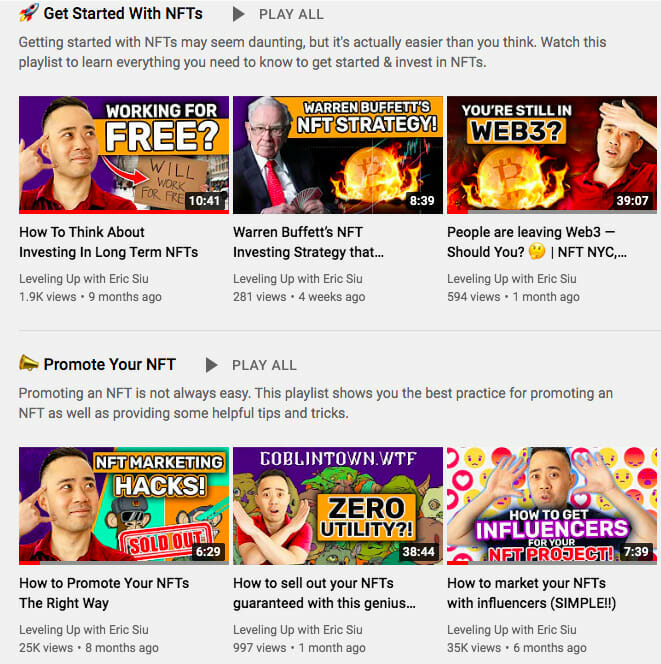 Need to Hire a Web3 / NFT Marketing Agency & Advisory?
Single Grain has been in the marketing sphere for over a decade and has managed to scale from a company on the brink of bankruptcy into a 7-figure full-service digital agency. We have worked with prominent clients in various industries, such as Amazon, Nextiva, Lever.co, and Bittrex, to help them grow their businesses.
An NFT marketing agency like Single Grain can help businesses and artists turn their creations into profitable digital assets. With the expertise, experience and passion of our Web3 and NFT team, you can count on us to skillfully play the marketing and NFT promotion "game" for you.
If you're working on an NFT project and want to level up your promotion game, schedule a free call with Single Grain, or apply for a free marketing plan personalized for your project. 👇
More like this
Major Laser Hair Removal Clinic Group