Seth Godin's explanation of a brand is as simple and complex as any of the big ideas that keep us up at night: "it's an expectation".
Businesses have invested unmeasurable resources to build a brand that their customers love. Traditionally the brand is defined by a set of visual guidelines – colors, logos, icons, fonts, style, etc. – and a writing style that includes a tone of voice, a certain perspective, and the relationship the brand has to its audience. These guidelines work for print, radio and television because the conversation only went one way.
Over the past few years businesses (and their brands) have been faced with the harsh reality that everything is now open to conversation, whether they like it or not. So, if you use the wrong tone of voice in an ad, people will tell you. If your visual style isn't spot on, you're going to hear about it. And so on, and so forth. This has rattled several businesses to the point of avoiding the internet as much as possible. For others it has presented an opportunity.
I won't say 'newer' brands have the advantage because age has nothing to do with it. Instead, I'll say 'flexible' brands do, in fact, have a significant advantage over their less pliable competitors. What many companies have failed to comprehend is that the customer can now tell a business exactly who they want their brand to be. And, if that company listens, there's an greater opportunity to earn more lifetime customers than there has ever been before.
While your customers may not be writing you to tell you exactly what they want, they are doing several things that can cue you in to what they're looking for. They're engaging, or not engaging, with your brand on social networks daily. Their actions can reveal their preferences about the content you share which then reveals insight into how they view your relationship.
Do they want to be entertained or do they want you to solve their problems? Do they prefer a little snark or are they more into the traditional journalistic style of writing?
Here are a few social tests and metrics to help pinpoint who your customers want your brand to be.
1. Use Twitter To Find The Best Writing Style For Your Brand
Things To Know Before You Start: Twitter is a wonderful and simple network that limits your posts to 140 characters. This limit offers the perfect control for a little social experimentation. Tweets move quickly on and off the feed, so tweeting frequently is expected. This makes it easier to run this test over a shorter period of time.
Step 1 – Set up a dashboard that allows you to schedule your tweets. (We recommend Tweetdeck or Buffer)
Step 2 – Set up an account with a trackable link shortener like Bit.ly or Bit.ly feelings if you want to have more fun.
Step 3 – Choose 7-10 pieces of content that you think your audience would respond well to.
Step 4 – Think about 3-5 different style elements you use in your copy writing and write a tweet for each of the pieces of content you chose in those styles.
Explained further:  If you used sarcasm, alliteration, and puns often you would write three tweets for each piece of content. If you had found 7 pieces of content you would end up writing 21 total tweets.
Step 5 – For each element of your writing that you identified and wrote tweets for you will need to allow a day for the experiment. If you had three elements you wanted to test (like in the example above) then you would run this over a 3 day period.
Step 6 – Schedule your tweets throughout the testing period. Be sure not  to repeat the same piece of content within a 24 hour period and also not to schedule the same piece of content for the same time of day.
Analyze the Results:  Start by identifying the tweets that received the most engagement. From there look for commonalities in the times they were published and then in the style used. This is enough to give you an educated assumption. We recommend running this test several times over the span of 6 months to get more conclusive data.
2. Analyze Your Top Performing Posts on Facebook
Facebook Insights are absolutely wonderful. Not only do they give you information on your audience demographics and behavior, they also keep track of all the posts in the history of the page, allowing you to look at trends and  compare posts over an extended period of time.
Step 1 – Access your Facebook page's insights and click on the 'Posts' option in the menu.
Step 2 – Scroll down to see a chart of your most recent posts. From here you can choose to sort by reach or engagement (See Images Below)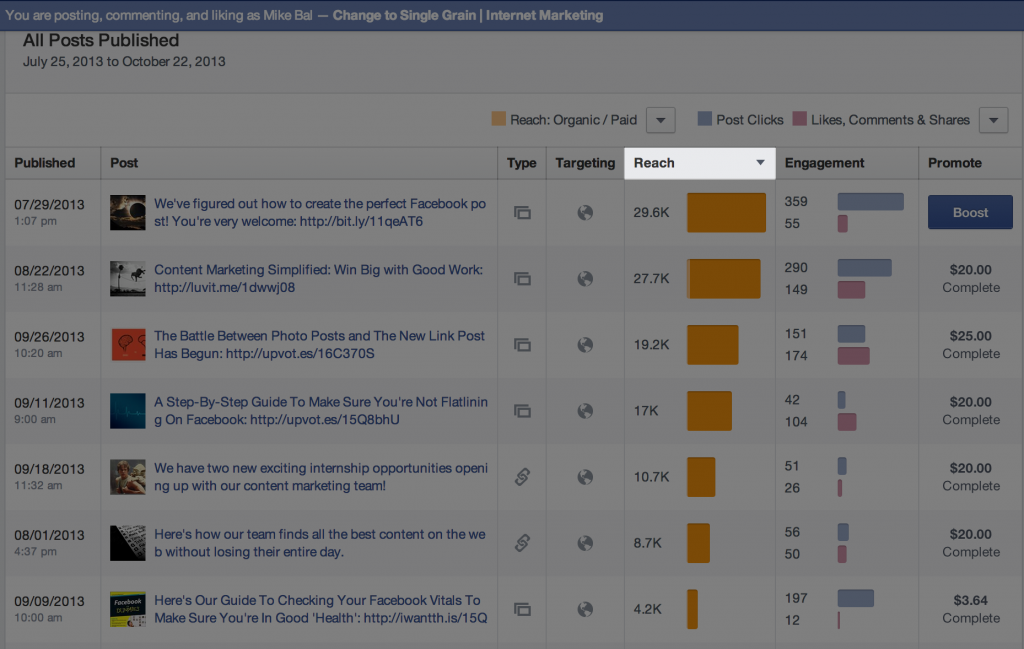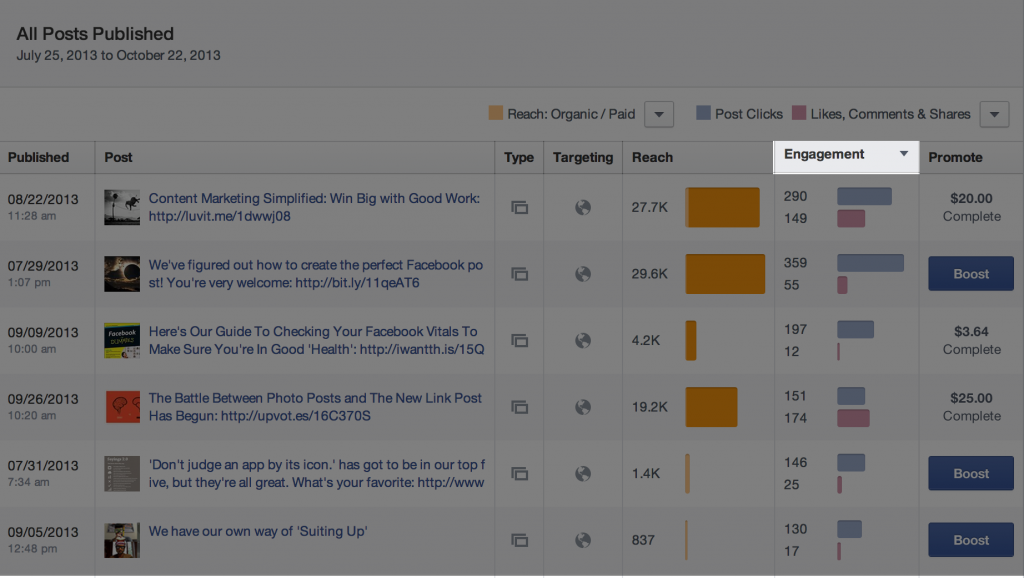 Step 3 – Look through your top 50 posts for commonalities in post formats, style, and content themes.
See our post on Checking Your Facebook Vitals for more on leveraging the data in Facebook Insight.
3. Analyze Your Top Tweets Through Buffer
While we don't recommend relying on Buffer for all of your Twitter management needs, we do feel that it's a great tool to assist with regular publishing. It also tracks your tweets and, more importantly, how well they performed. They mark your 'Top Tweets' in their analytics section so it's easy to scroll over hundreds of Tweets and pick out the ones that did best. There are really two simple steps to this:
Step 1 – Identify your top 50-100 tweets.
Step 2 – Find the commonalities between them. Look for similarities in the copywriting, structure, hashtags, and content.
These three tests can give you more direction on who your fans/customers want your brand to be and you can then use that information to build a longer lasting and more loyal relationship with them. The more refined brand personality also helps you attract new fans who are more likely to become customers, increasing your ROI.