We very carefully monitored not only the daily spend, but the ROI of each channel and every ad
The Opportunity
Scooters have been around for decades. What originally was a type of skateboard with handlebars for kids has evolved into a vehicle that attracts a much-larger market. High school and college students commute on scooters, and serious riders have created athletic events around them. The demographic has disposable income, and our client wanted a healthy share of that market.
The Challenge
The client approached Single Grain because it was expert at scooters but relatively new to the digital arena. The advertising budget was limited.
The Approach
When budgets are tight, it's easy to conclude that paid advertising should be back-burnered in favor of organic-traffic efforts. In our experience, sometimes that is a mistake. If you really know your way around paid traffic, it's possible to get surprisingly high visibility with relatively few dollars.
For this client, we launched cross-device campaigns through multiple platforms, including Google Adwords, Bing/Microsoft Adcenter, Yahoo! Stream Ads, and Amazon product ads We didn't spend a lot in any one area, but made sure that the company had visibility on just about every type of device (especially mobile, considering the demographic) and on every major ad platform.
The campaign ran the gamut from display campaigns that drove brand awareness, right down to product-listing ads when someone was searching Amazon for a competitor's scooter. We very carefully monitored not only the daily spend, but the ROI of each channel and every ad. It would be fair to call us ruthless in killing underperforming ads and expanding the winning ads.
Since campaign launch, we have driven close to $1,000,000 in revenue for this client. Here is what the ROI looked like: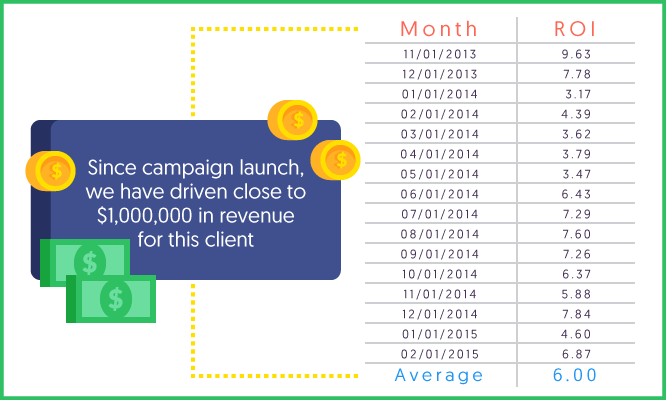 Can We Help Your Business Grow?
Let's have a friendly chat to find out