See how we were able to identify a few combinations that delivered the most visibility
The Opportunity
All across America, grocery stores have traditionally been known as good community citizens, in the sense that they sponsor school sports teams, road races, and holiday events. Harris Teeter was just that sort of good citizen, but it also wanted a robust online presence. It engaged Single Grain to boost its visibility in social media.
The Challenge
The grocery business is famous for razor-thin profit margins. That means there's not a lot of room for error when exploring ways to gain market share. To add to the challenge, shoppers tend to come from only a fairly small radius around each store and–similar to gas station customers–they are constantly on the lookout to save dollars or even pennies.
The Approach
We performed rigorous testing within Facebook of different ad creatives, targeting segments, and placements. This allowed us to identify a few combinations that delivered the most visibility for our client.
Once we had grown the social-media fan base, we focused on growing the engagement rate of posts.
We employed behavioral targeting to get in front of potential new customers. This involved geographic targeting of ads, extensive use of Lookalike Audiences, and oCPM ("Optimized Cost Per Mille") bidding to stretch our ad dollars the furthest.
Because social-media users can be so voracious in their consumption of new posts, tweets, likes, shares, etc, we've found that images become stale sooner than in other channels. We therefore shortened the duration between rotating in fresh images.
Single Grain drove 15,000 people into the Harris Teeter stores during one campaign. We doubled our client's Facebook reach in 6 months, and monetized those new fans. One coupon campaign drove more than 25,000 conversions during the holiday season. We increased post engagement rate by 400%.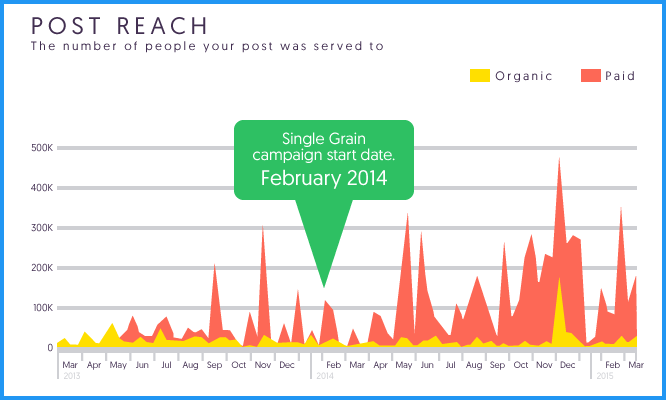 Can We Help Your Business Grow?
Let's have a friendly chat to find out